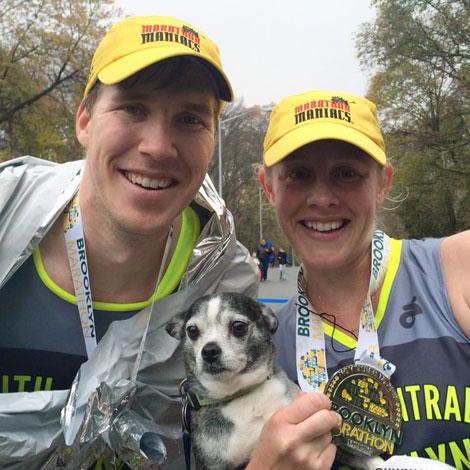 ouch. I am very sore. And very happy.
How did I even end up running the Brooklyn Marathon yesterday?? A year ago, when NYC was cancelled, Travis and I made a mad dash to get signed up for an alternative race. NYCRuns had hoped to be able to allow more people in the 2012 Brooklyn Marathon. We signed up, but the plans to expand the field fell through. Bummer. Everyone who had signed up could transfer their entry to 2013. But even though I was registered for over a year, I wasn't ever totally convinced that I would actually run it…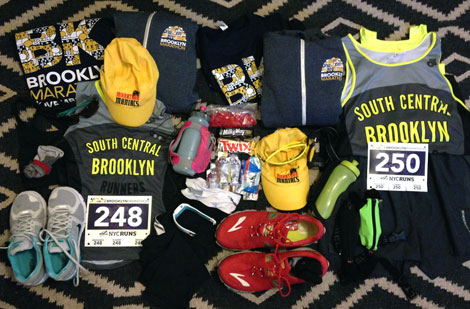 The three marathons that secured our membership in Marathon Maniacs earlier this year were plenty for me. I didn't NEED to train for another fall race. But I guess I was curious to see what I could do. To see if my personal best time at Philly a year ago was a one-time thing and/or if I could consistently run sub-5-hour marathons.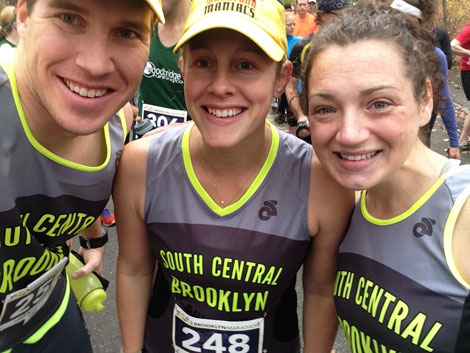 I trained on my own. I mean, I am participating in the Winter Team in Training season (it is great!) but my long marathon training runs were done solo. I completed both a 19-mile and a 20-mile run completely on my own leading up to this race. I have never done that before. And even more incredible, my pacing was actually pretty good, at around 11-11:30/mile. Those runs, plus a few faster, shorter runs gave me confidence that I was actually ready to run a marathon. I didn't really have an excuse not to…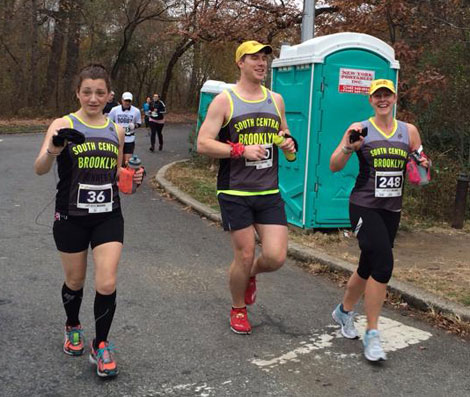 I was more nervous than I'd like to admit leading up to this race. Marathons are fun, but also RUNNING, EFFORT, PAIN! You can never predict exactly how the day is going to go. But I had my truly sweet and patient husband (who ran NYC two weeks ago) running it with me. And SO MANY supportive friends. I knew that whatever happened, it would be a good day.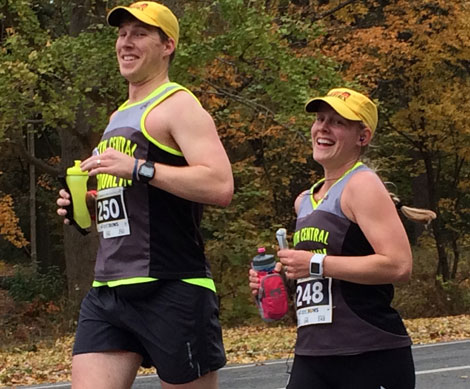 And it was. I completed my 9th marathon and it was my fastest yet at 4:46:01. Travis stuck by my side even when I got cranky. I listened to my favorite songs. Nine loops of the park didn't even seem so bad. My fueling was smart & consistent (MilkyWay, 6 Gus, brownies, and gatorade). We took it easy on the six trips up the North hill, walking some. I was in pain for most of the race, but also felt strong. I concentrated and I fought for it.
It seems crazy to run for nearly five hours just to gain two little minutes… but it was worth it.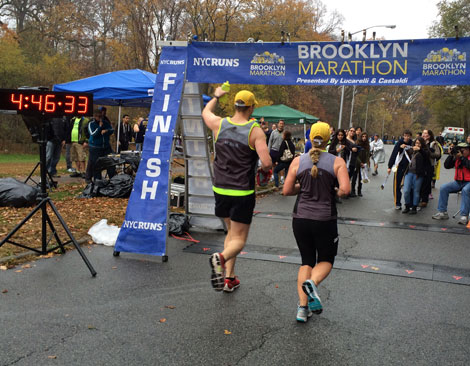 But the race, my time, those are not even the best parts. The most amazing part of the whole day was seeing so many friends in the park! So many. This race comes at the end of a long, strenuous fall race season. All of my friends have already trained and raced and coached and cheered at plenty of events. I didn't expect anyone to spend their Sunday watching me (and all the other racers, of course) run in a circle around Prospect Park. But they did. Plus, did I mention that it rained?!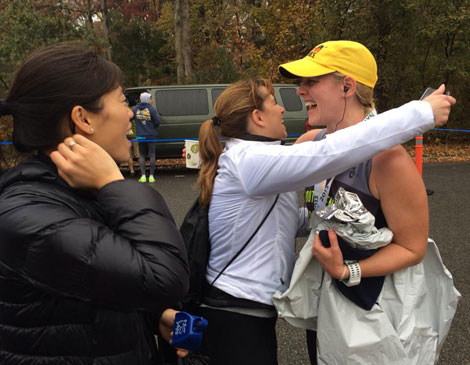 THANK YOU: Suzy for bringing my treats and gatorade and being my personal pit crew, Pam for being there from the start and taking so many great photos, sweet Sarah Y. for pouring my gatorade, Joel and Amanda for surprising me with my baby, Crusher, on the sidelines, Jessica for keeping me pumped up and running those first two loops with us, Lisa for making me a sign and coming out after already coaching another race that morning, Matt for running a loop with us and not minding that I was totally brain dead, new marathon maniac, Meghan T., and all of our CHEERful friends, Emily C., Nate, JP (and Beau!), Dory, Amber, Cynthia, Kristen (and Mike!), Emily H., Judith and John, Kitty, Louis, Flegar, Sarah W., Sarah K., Josh, Tony, Shanna, and many more that I am probably forgetting. (Blame it on marathon brain.) You all MADE MY DAY and make me feel very fortunate. (And get this: The rest of our SCBkR crew was in Philly yesterday cheering on the racers there. Amazing.)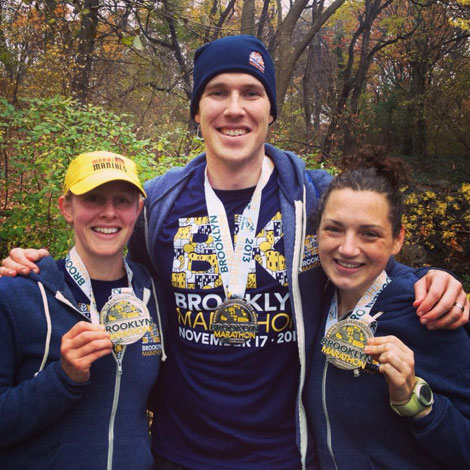 Running is just a hobby. But it is healthy. And challenging. And fun. And the friends I have made doing it are incredibly supportive and encouraging and silly and sweet and fun. Team in training + Brooklyn + the running community at large = so many good vibes.
I could blame it on the marathon endorphins, but I think it is true love. This South Central Brooklyn Runners community that we've all created is something special. Maybe even magic. I hope we can keep it going… forever.
—————
Watch a news report about the Brooklyn Marathon here. (You can see me & Travis run by for a second.) And view all of the photos (mine and my friends') from the day here.
—————
Random personal note for future reference: Don't put too much stuff in the side leg pockets of Lululemon crops. Not only is it unattractive, but it causes major bruises!