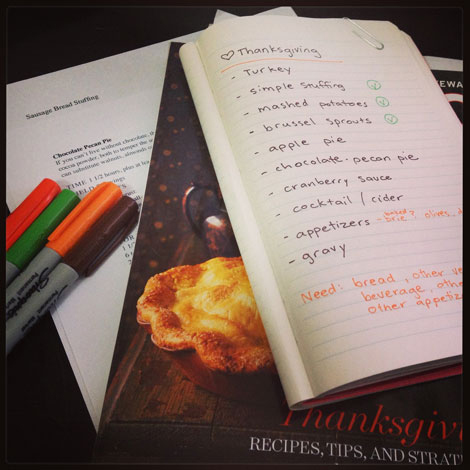 I really love Thanksgiving. I love roasting a turkey and sitting down to a big meal! I've made full Thanksgiving meals many times, like in 2005, 2008, 2009, and last year. It is a good amount of work and takes some planning and coordination, but I really enjoy it!
This year, I've invited some friends over. I think there will be eight of us and I am making the meal basics: turkey, gravy, stuffing, mashed potatoes, brussels sprouts, cranberry sauce, pecan pie, apple pie, mulled cider, and a few appetizers. (Check out my Pinterest Thanksgiving board for most of the recipes.) It sounds like a lot, but it is my usual, practiced menu. My friends are bringing extra side dishes, drinks, etc. There will be too much food, but I love it!
So, right now I am in prep mode. If you spread the shopping and preparation out over several days, it makes things easier. I had some of our groceries delivered by Fresh Direct and I ordered our pre-brined turkey from Williams Sonoma. Getting stuff delivered really helps, especially since otherwise I shop for all my groceries on foot and carry them up many flights of stairs. I saw my neighbor in the hall yesterday and chatted about our Thanksgiving plans and she was astounded that we were making the full meal in our apartment. Our place is quite small. But anything is possible!!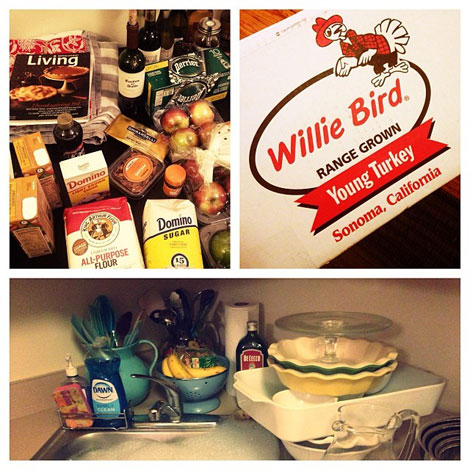 I thought I'd publish my Thanksgiving Day Countdown check list here for fun and for future reference…
Tuesday:
clean bathroom & kitchen
Get all serving platters and extra dishes out of storage.
wash platters and dishes
cut bread for stuffing
make pie crust
Wednesday:
get last minute groceries
Make apple pie
Make pecan pie
Make cranberry sauce
Assemble baked brie
Assemble apricot appetizers
Chop and cook veggies for turkey & stuffing
Get out folding table
Get nails done (if time allows…)
Thursday – Thanksgiving!!
Run Turkey Trot
Take turkey out of fridge
Watch the National Dog Show!
Prep turkey, put in oven
Start mulling cider in crock pot
Prep stuffing, put in fridge
Set up drink & appetizer table
Set dinner table
Greet guests!
Put brie in oven
Make mashed potatoes
Make brussels sprouts
Take out turkey, let rest
Put stuffing in oven
Make gravy
Put food on table and EAT!
What am I forgetting?? What else should be on the list?
(For more Thanksgiving prep inspiration, check out Martha Stewart's timeline checklist.)