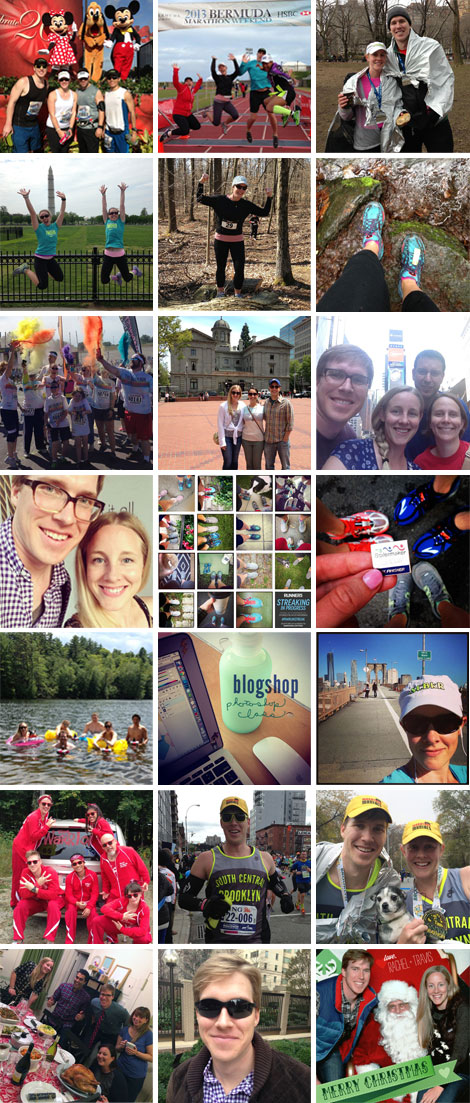 Happy New Year's Eve!! Another year down.
2013 wasn't the year I was expecting, but I had a lot of good times and made some excellent memories. I have more big plans for 2014 and can't wait to get started on them!
…but for now, here are some of my favorite blog posts from the past year:
January
My word for 2013 was sweetness, but it could have been RUN! The year started off with running… Travis and I ran the Goofy Challenge and the Bermuda Triangle Challenge back to back.
February
My birthday! I ran another marathon (my 8th!) and lost someone special to me.
March
Not much happened in March…
April
In April, I did a craft project.
May
Lots of running in May. Many half marathons and a few trail races.
June
I traveled in June, to Kansas to run the Color Run with the fam and to Portland to see Adam and Nina.
July
July was busy! Stephanie and Bill visited New York, I continued my Summer Run Streak, Travis and I celebrated our 10 year anniversary and went on a big date, and we ran the Boilermaker.
August
In August, I went camping, ate some cronuts, attended Blogshop, and did more running.
September
I was digging navy blue in September. I also finished my 101-day Run Streak and Reached the Beach.
October
October brought a sweet wedding, my dad's first half marathon, and my fastest 5k – all in one big update.
November
Travis ran the NYC Marathon in November and the helped me run my fastest marathon ever in Brooklyn. Plus, Friendsgiving!
December
Travis got Lasik this month and we had a relaxing and lovely Christmas together in Brooklyn.
————
Travis and I are celebrating tonight with friends at a big prom party (a lot like last year!) What are your plans???