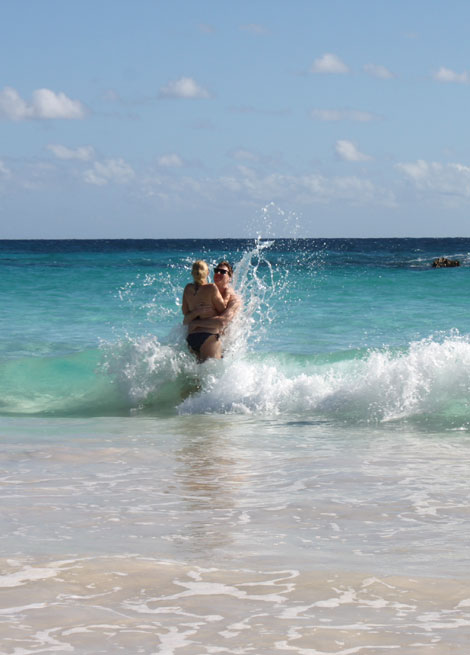 It is snowing and nineteen degrees in Brooklyn today and I am really missing Bermuda! Turquoise water + pink sand + sun = a welcome combination in the middle of a NY winter.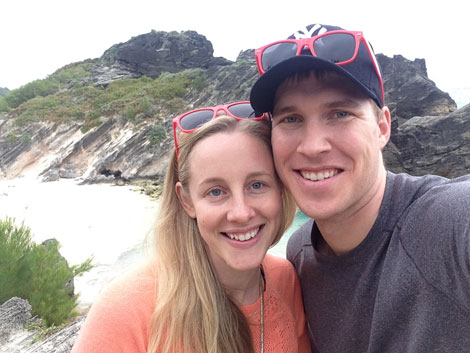 Travis and I took our second trip to Bermuda last weekend. We took our first trip to the Atlantic Ocean island last year to run the Bermuda Triangle Challenge, and we returned for the same reason… and because it is such an easy trip!
Bermuda is just a two-hour flight from NYC. Since it is the off-season, plane tickets are cheap and we split a hotel room with two other friends. So, overall, a relatively inexpensive and quick island adventure!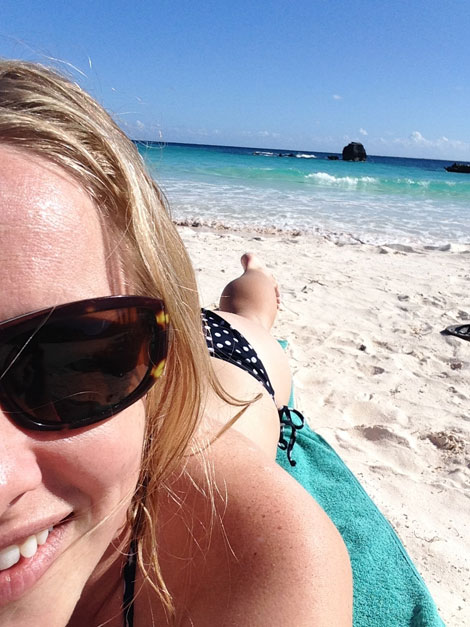 We stayed at the Fairmont Southampton hotel again. The hotel is across the bay from the main city of Hamilton, but it is right near the most spectacular beach on the island, Horseshoe Bay. (Rated the #8 beach in the world!) It also happened to be the team hotel for our New York City Team in Training Chapter.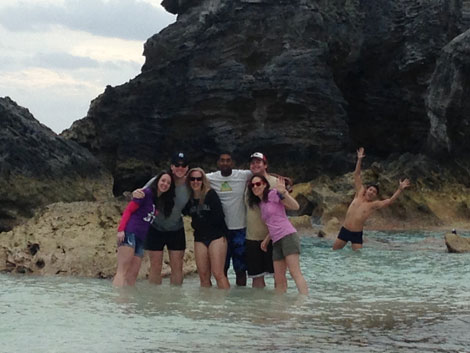 Travis and I are a mentor and social captain for our Brooklyn TNT group and even though the New Orleans Rock N Roll Half Marathon next weekend is our official winter season event, we couldn't pass up going to Bermuda with the Team, too. It was a much smaller TNT group than last year, but we still had a wonderful time.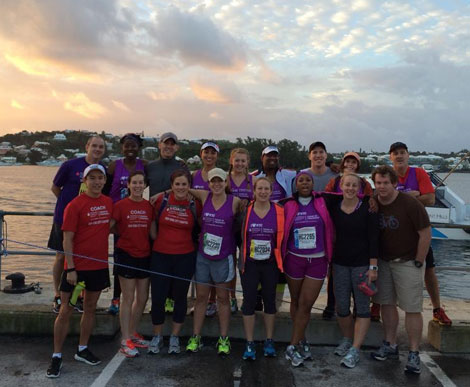 We got in late on Thursday night, ordered room service, and hung out with our BK roommates and friends. (Hi Joel, Amanda, Roshan, and Jon!) Friday was overcast, but we still made it to the beach. We checked out the private cove, saw the parrot fish, climbed some rocks, and checked out the beach cave. It was too cold for swimming, but we waded in the water a bit.
Then, we headed into town for the first event of the Triangle Challenge, the Front Street Mile! I ran the mile slightly faster than last year, with a finish time of 8:35. Not too speedy, but I haven't been doing any speed training this season, so it serves me right. After, we hung around and watched all of the mile races, from the kids to the elites. It was a fun and exciting parade atmosphere in Hamilton, with everyone out on Front Street to spectate.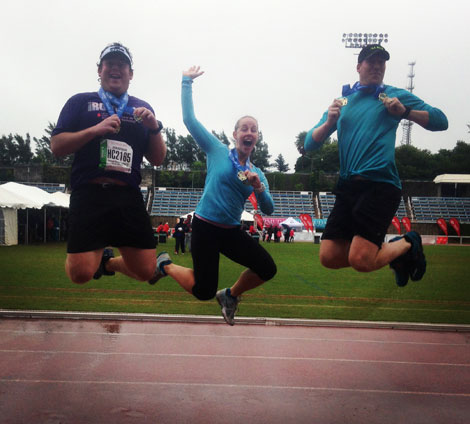 Saturday we got up early for the 10k. It was raining. Boo. I was cranky. I was worried about the success of the weekend when we arrived at the race start and our tiny Team was all huddled under a tent trying to stay dry. But everyone brought their PMAs (positive mental attitudes) and headed out in the rain to tackle 6 miles of hills. Despite the rain, everyone was thrilled to finish their race and I was feeling much more positive after – as evidenced by this epic jump shot!
It rained and rained and rained all day on Saturday. We basically napped the day away before heading to the Team inspiration dinner. Our friend and teammate, Shelly, told her story of how she has been living with leukemia for nearly 10 years. She is so sweet, and funny, and inspiring. It was a wonderful evening.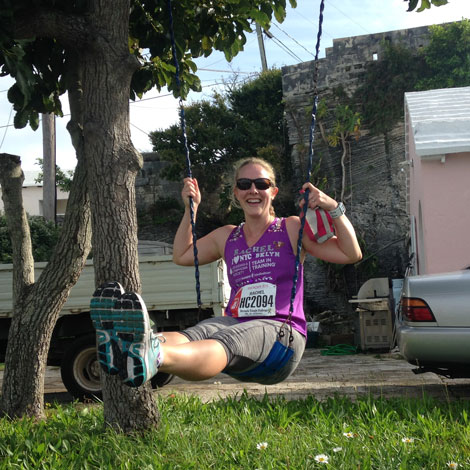 The weather was MUCH better for the half marathon – a little overcast and cool. I ran the race nice and easy with my friend Jon. We goofed off with our teammates, stopped for some swinging and some beer, and I managed to take a few photos. I felt really strong and steady for the whole race and I look forward to pushing it a bit harder next week in NOLA.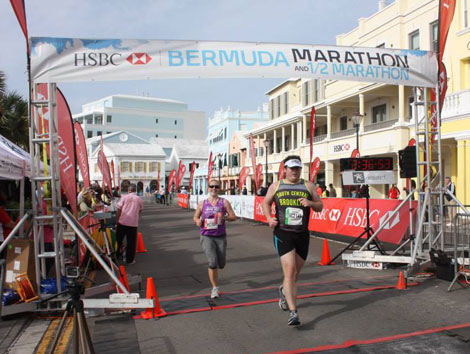 After the race, we ate at Travis' favorite restaurant, Bouchee, and rode the water ferry back to our hotel. A successful morning followed by a successful evening of celebrating with our friends and teammates! We even made it to the hotel pool and hot tub!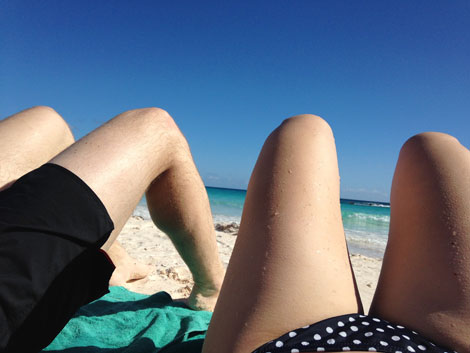 Monday was our perfect, sunny beach day. We only had a few hours to enjoy it before heading to the airport, but we took full advantage. We headed to Horseshoe Bay, sunbathed, swam in the ocean, took lots of photos, and basically tried to soak up all of the Bermuda we could before heading home to Brooklyn. We couldn't have asked for a better end to the trip.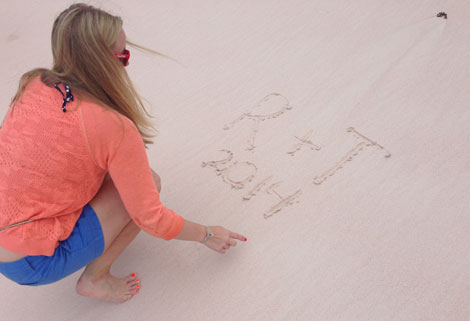 Bermuda was such a quick, little trip, but it is so wonderful to get to spend time with Travis away from work and our normal, day-to-day life. We really love our life in the city, but taking breaks now and then for travel is really fun. And worth the expense, I think. We are currently saving up for our next big adventure… Stay tuned!