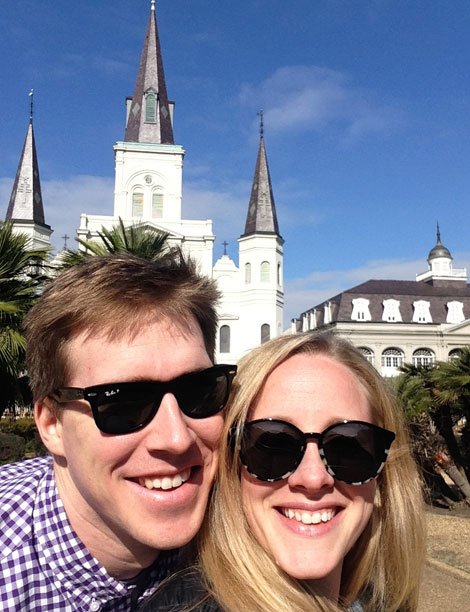 I was really looking forward to our trip to New Orleans earlier this month. I had so much fun visiting the "Big Easy" with my brother Seth in 2012, I was eager to go back. The history, culture, and food in New Orleans is so unique and exciting… but the trip didn't quite live up to my high expectations.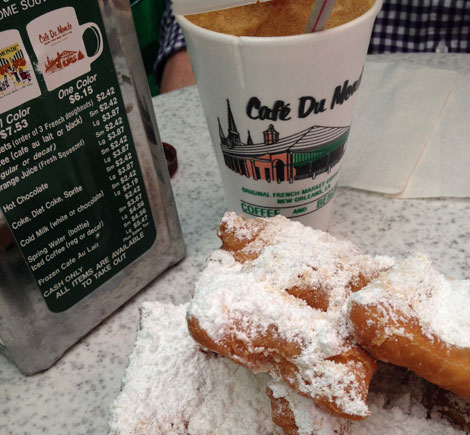 The bummer stuff:
We really had a perfectly fine trip, but there were some things that brought the experience down a bit…
We had a few good sunny days, but mostly we had a lot of foggy, overcast weather.
I'll give more details below, but my Half Marathon was really tough! I had wanted to run hard for this race since it was my official winter Team in Training event, but I couldn't get my pace up and I felt sluggish the whole time. I was also inexplicably REALLY sore after the race.
I rolled my ankle pretty badly while walking around the day after the race. It is still a little swollen.
Our trip was longer than planned, March 30th to February 5th — a full week!! Our flight home was cancelled on Tuesday and so we ended up staying an extra day. But then the flight was delayed multiple times on Wednesday, which basically wasted the whole day. I tried to enjoy the extra time, but I was very ready to be home!
We didn't take any tours or go to any museums. I love the history of New Orleans and didn't feel as immersed in it this trip.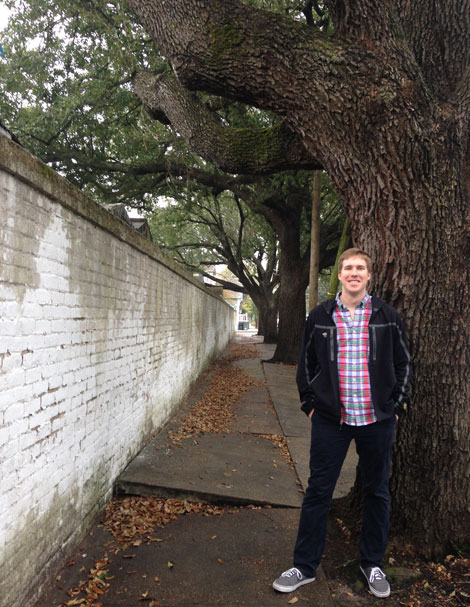 So, nothing too terrible happened… I got to spend a lot of quality time with Travis and hang out with many of our good friends. Plus, we WERE there to run a race with Team in Training, so that was the main focus. Here is my overview of the race…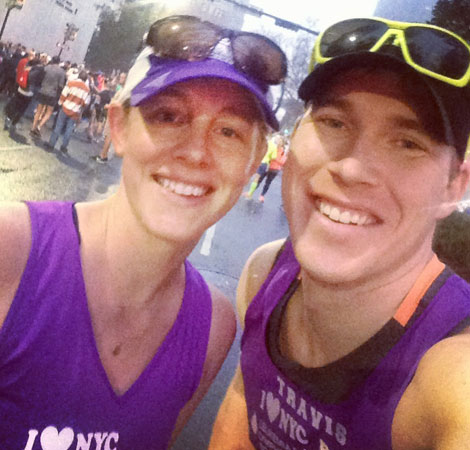 New Orleans Rock N Roll Half Marathon:
Rock N Roll races are large, well-organized events and New Orleans was no different. (I've run the Rock N Roll marathon in San Diego twice.) The race started near Lafayette Square near our hotel in the Central Business district.
The temperature in the 50s was perfect, but it was extremely foggy!! It might have been the foggiest race I've run, even more so than the Nike Women's Half Marathon in San Francisco when we couldn't see the Golden Gate Bridge! The air felt a little thick and humid, and it was hard to see the lovely scenery as we ran through the mansions of the Garden District and the streets of the French Quarter. You couldn't even see the cathedral across Jackson Square! It was intense.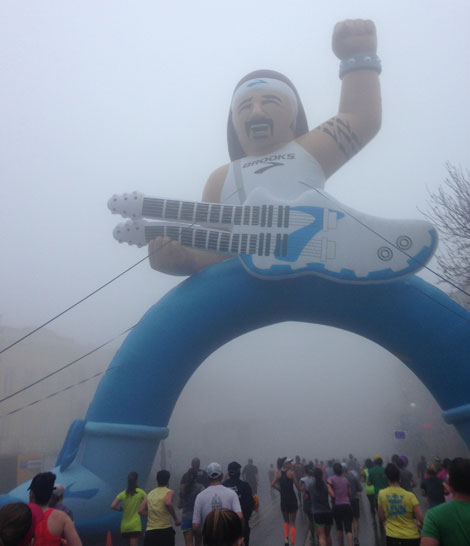 I woke up cranky, but I tried to feel confident for the first three miles. I thought maybe my sluggish legs would shake themselves out, but it didn't happen. The course was completely flat, but I still struggled through the whole race. I ran alone the entire time and sprinted the end only because I wanted to be done. It was overcast and cold by the time the race ended, but we received two medals — a beaded one for the race and an extra one for doing it with a charity organization — and my 20th official Half Marathon was completed!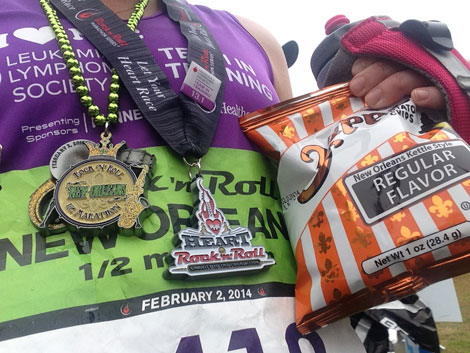 The finish area was in City Park. It was a little muddy and crowded, but they gave out lots of great food (including chocolate milk) and the Team in Training tent was stocked with goodies. I met Travis (he PRd!) and lots of my friends (Hi, Brian! Hi, Jess!) on the sidelines and we waited to cheer in our full marathoners. Travis and I waited until our friend Nate finished (with a PR!) and then headed back to our hotel.
I was exhausted after the race and must not have been good about replacing my electrolytes. I was too wiped out to enjoy our team victory party or to watch the Super Bowl with the team, but Travis and I did manage to go out to dinner at Sylvain's which revived me a bit.
Second only to our fun friends and awesome Brooklyn team, the food was the best part of the trip!!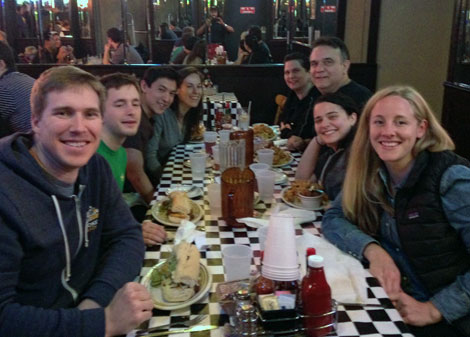 Restaurants:
New Orleans food is heavy and rich — lots of fried food, seafood, and meat — but it is delicious. I would recommend all of these restaurants we tried…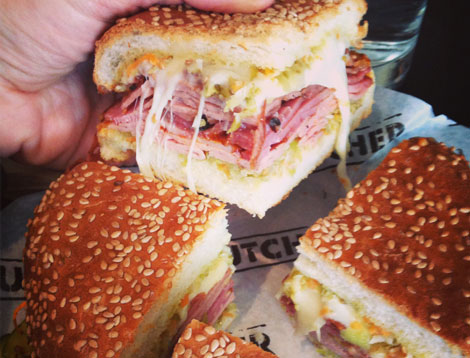 Cafe Du Monde – The classic breakfast place for beignets and coffee. Open 24 hours!! I really like their coffee. A lot. Get the frozen cafe au lait.
Cochon – My favorite! Lots of meat. We ate a fabulous dinner with friends at the "sit down" restaurant and ordered just about everything. (I loved the fried alligator!) Then, Travis and I also got amazing sandwiches for lunch one day at the Cochon Butcher next door. I ordered the muffuletta, which was nearly as good as the original from Central Grocery…
Central Grocery – Grab a giant muffuletta sandwich and Zapp's chips to go at this French Quarter store front and eat them in Jackson Square or on the water front. It is the best sandwich I have ever eaten. Seriously. I dream about it.
Sylvain's – Sort of fancy "new southern." I had a tiny quail. It was delicious.
Elizabeth's – A New Orleans MUST with a relaxed, slightly hipster atmosphere. Go for brunch. Get the best bloody mary ever and the praline bacon.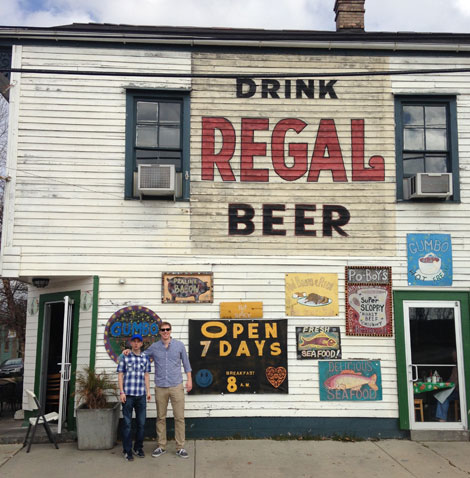 Court of the Two Sisters – We went for the all you-can-eat Jazz Brunch. It was plenty good with tons of options, but a little pricey and very touristy.
Acme Oyster House – Fresh oysters, charbroiled oysters, fried oysters – I tried them all! And Travis said this was his favorite po'boy of the trip. You almost always have to wait in line for a table at the French Quarter location, but it is fun and worth it.
Mother's – Classic southern comfort food. You might have to wait in line, but the tables turn over really fast in this large, totally casual, 80-year-old restaurant. Get a po'boy with "debris" or the jambalaya or the baked ham.
Magasin Cafe – There is a very large Vietnamese population in New Orleans, so there are many restaurant options for delicious pho, and banh mi, and spring rolls. Travis and I chose Magasin on the suggestion of a friend and we loved it. It's a great spot to eat after walking around the mansions of the Garden District and the shops on Magazine Street.
Sucre – My favorite New Orleans bakery with my favorite King Cake. (FYI: You can get the cakes delivered anywhere in the US!) Travis loved it and we visited Sucre three times during the trip! Wow.
Other fun New Orleans stuff:
Food really was the highlight of the trip, but we managed to fit in some other fun stuff. Riding the street car from the French Quarter over to the Garden District was fun and easy. Once there, we walked around checking out the pretty mansions and the fascinating cemeteries. Of course, strolling through the French Quarter is a MUST. We walked down Bourbon Street and I stopped in Marie Laveau's House of Voodoo. (Travis thought it was a little too spooky.) I think a photo op in Jackson Square is a requirement of every Nola trip, and a stroll through the french market near the river front is great for souvenir hunting. The Carousel Bar at the Hotel Monteleone is a fun evening stop. I had a milk punch — pretty tasty! We had the opportunity to visit with our friend Amanda's cousin at his beautiful home near Lake Pontchartrain one evening, which was delightful. I would definitely recommend getting out of the city center if possible and talking with some locals. It is amazing to hear how the city has come back after Hurricane Katrina.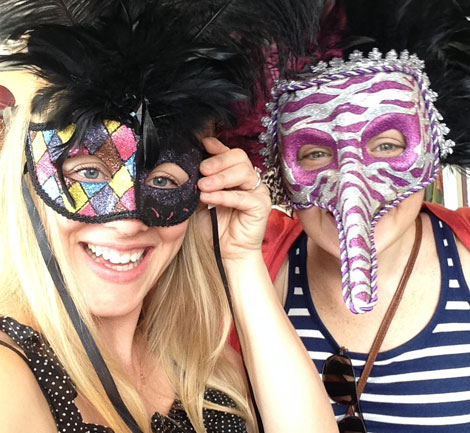 Overall, it was a good trip and I'd totally recommend visiting New Orleans to anyone. But just like anywhere else, things could not go as planned, so it is helpful to stay flexible… and maybe not have TOO high of expectations. I think that was my major downfall this trip. Maybe some day I'll go back and JUST visit every museum in the city!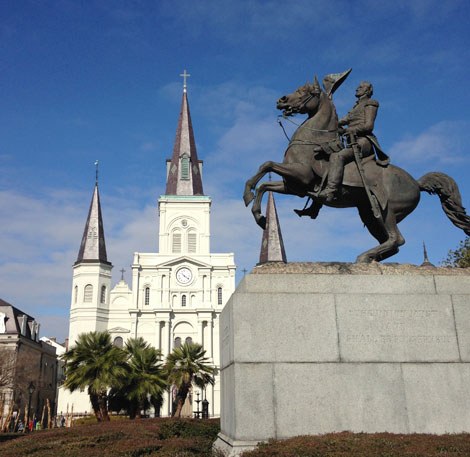 Check out all 100+ photos from New Orleans on Flickr.