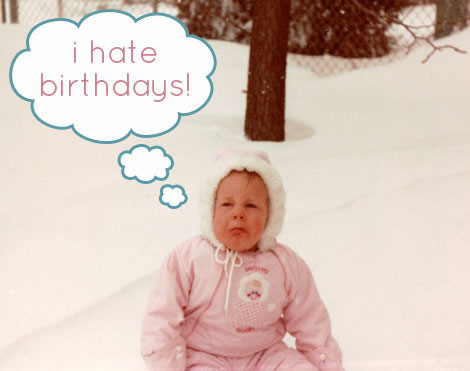 I was born in the middle of a snow storm in Saint Louis, Missouri. You would think that would make me like winter more… It does not.
My 33rd birthday was sort of a bummer. Travis had to work late and I picked up my own cake and sat at home alone. Sounds depressing, but I am an adult. I can deal. Plus, my sweet friends and family sent lots of greetings and gifts, so I know that I am loved. My thirty-third year was really tough and I didn't feel much like celebrating anyway… but the cake was delicious all the same!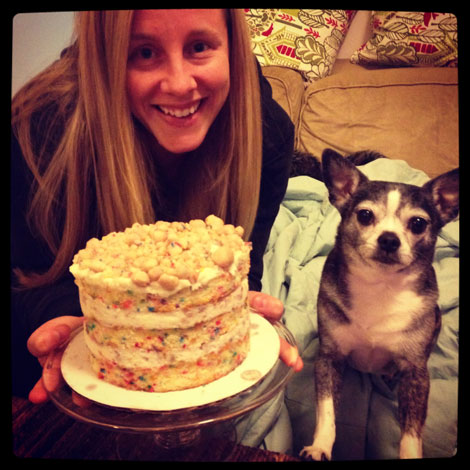 Since today is the very last day of my birthday month, I figured it is my last chance to continue my birthday list tradition…
What now seems like a very long time ago, I made a list of 30 things that I wanted to accomplish before turning 30. I didn't get all of the items completed, so I converted it to a 30 WHILE 30 list, then a 31 while 31 list, etc. I carry the list over each year, crossing off the things I finish and adding new items to fill out the list to match my birthday number — this year, 33!
33 things to do while 33:
♥ Eat at the Chef's Table at Brooklyn Fare.
♥ Go to Canada. I've never been!
♥ Visit Dollywood. Yes, I'm serious. I love Dolly Parton.
♥ Go kayaking in the Hudson. (Or paddleboarding!)
♥ Get super-comfortable using our DSLR camera.
♥ Bake a loaf of bread from scratch.
♥ Visit the Museum of the City of New York.
♥ Visit the New York Transit Museum.
♥ Eat the Moules Frites at Balthazar.
♥ Stop biting my nails. For good.
♥ Create a new craft tutorial for Swap-bot.
♥ Redesign the Swap-bot homepage.
♥ Set up an online Swap-bot merch store.
♥ Lose 15 pounds. (Isn't this on everyone's list?)
♥ Make marinara sauce from scratch.
♥ Visit the Bronx Zoo.
♥ Make Crusher a super-cute Halloween costume.
♥ Buy a brownstone! (A fantasy, but a girl can dream…)
♥ Do all of my mending.
♥ Make cupcakes with some sort of filling.
♥ Reduce my internal negativity.
♥ Call my brothers and sisters-in-law every week (or at least more frequently).
♥ Read a novel. (Maybe this one?) Still not done! I'm not counting Game of Thrones or all the nonfiction I've been reading.
♥ Promote peace.
♥ Get a unicorn face painting!
♥ Be noticeably sweeter to my husband.
♥ Run a full marathon in 4:30.
♥ Run a sub-2-hour half marathon. (This may be impossible.)
♥ Run a trail marathon.
♥ Make a quilt.
♥ Travel to Europe!
♥ Try to live in the moment.
♥ Embark on a grand adventure!
————
Completed items:
This list could get really long!
♥ Become an adult. Tough times make tough people… and I think I'm getting stronger.
♥ Eat less candy. I've been having a good amount of success eating whole, real food, and a lot of it!
♥ Start taking a weekly yoga class. Changing this to: Cross train once a week. No problem. I now cross train more than I run: swimming, spinning, yoga.
♥ Experience Mardi Gras in New Orleans! Had a great time with my brother Seth.
♥ Learn to tell a really funny, family-friendly joke. Why did the fish get kicked out of school? ………because he was caught with sea WEED!
♥ Figure out how to style my hair in loose waves/curls. I think this counts.
♥ Visit The Cloisters. Went with mom & dad in June.
♥ Run the San Diego Marathon. For the second time. Done!
♥ Attend a taping of the Wendy Williams Show. Done and it was awesome.
♥ Take an overnight trip with my husband that is not at a relative's house.
♥ Take my donation pile to the thrift store. Housing Works got a big pile!
♥ Buy a really beautiful and practical dress. Thank you Rebecca Taylor!
♥ Go to dinner at Al Di La.
♥ Run the NYC marathon!
♥ Watch every episode of Tosh.0.
♥ Make blueberry pancakes.
♥ Get the Florence + The Machine album on vinyl.
♥ Watch Meet Me in St. Louis again.
♥ Drive upstate to see the autumn foliage.
♥ Visit all five boroughs in NYC (should happen during the marathon).
♥ Get a new laptop. Love my Air!
♥ Reduce the amount of time I spend on Facebook. Done, except for today.
♥ Vote! Always.
♥ Buy awesome, new, flattering jeans. These from J.Crew.
♥ Force Travis to watch Star Trek: Generations with me. He loved it.
————
You can check out my past lists here:
————
What is on your list? What should I add to mine?