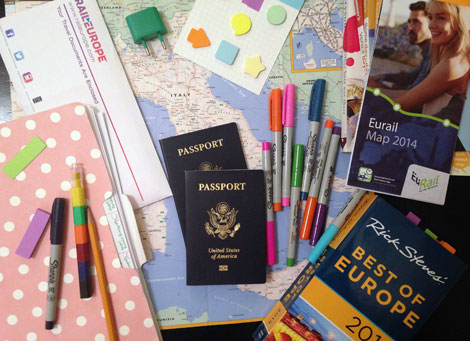 Today is the day. Travis and I are leaving on our big, month-long European adventure!
I'm nervous and excited. Our hotels and train tickets are booked, plus a few touristy things: museums, a few tours, and my favorite, dinner at the Eiffel Tower! I think we are set.
Our travel plan: Amsterdam > Bacharach in the Rhine Valley, Germany > Munich > Vienna (Travis runs a marathon there on April 13th!) > Night Train to Venice! > Rome > Florence > Varenna at Lake Como in Italy > Lauterbrunnen in the Swiss Alps > and finally, Paris!
How could we possibly swing this huge trip? A lot of things came together, but mainly, Travis was given a three-week sabbatical from his job (as a 5-year anniversary gift) and I'll be bringing Swap-bot with us. We saved up our credit card points for a decade (literally) and used those to pay for our plane tickets. The hotels, food, and sight-seeing will not be cheap, but we've been thinking about and saving for this trip for years. We really feel like it is a once-in-a-life-time, now-or-never opportunity and we are thrilled!
We plan to have access to the internet all along the way. I hope to post here on the blog with short, daily recaps of our activity. And of course, you can follow us on social media:
@rljart on Twitter
@rljart on Instagram
@travisj on Twitter
@travisj on Instagram
Travis' Europe blog
Four weeks is a long time! Wish us luck!
For those concerned about burglars using this info, our apartment will not be empty. We have a friend house-sitting and caring for Crusher while we are gone.