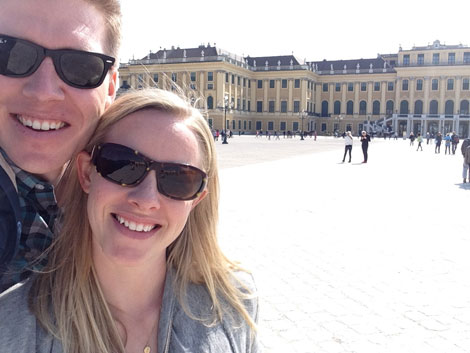 Wow. Vienna was very impressive. We made a stop in the Austrian city mostly to meet up with friends and so Travis could run the Vienna City Marathon. I hadn't totally planned all of our sight-seeing in advance, but it didn't matter. There is way more to see than we could ever have fit in! I think we did a good job hitting some highlights and getting a feel for the city…
Day 1: Naschmarkt, Marathon Expo, Prater, Schönbrunn Palace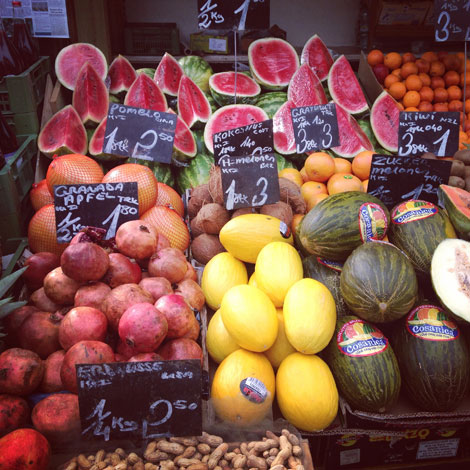 We were staying with our friends at an AirBnB apartment near the Naschmrkt, a great place to pick up fruit, snacks, and breakfast. There was so much beautiful produce and great Turkish candies and snacks!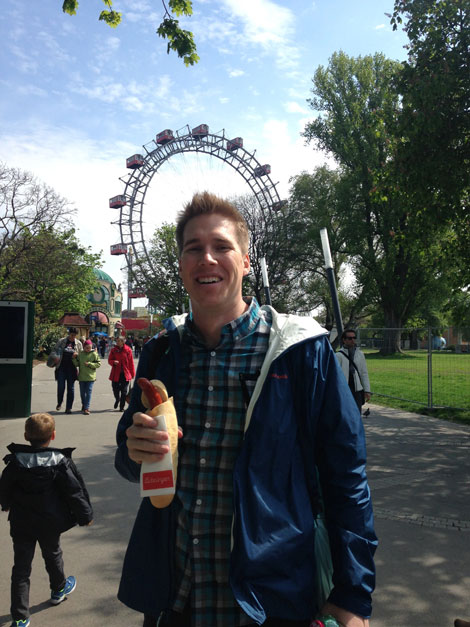 After a morning market stop, Travis and I headed to the marathon expo, which just happened to be near the Prater. The Prater is an amusement park a lot like Coney Island, but a bit nicer. We couldn't resist riding the giant Ferris Wheel and getting a cheese sausage for the road.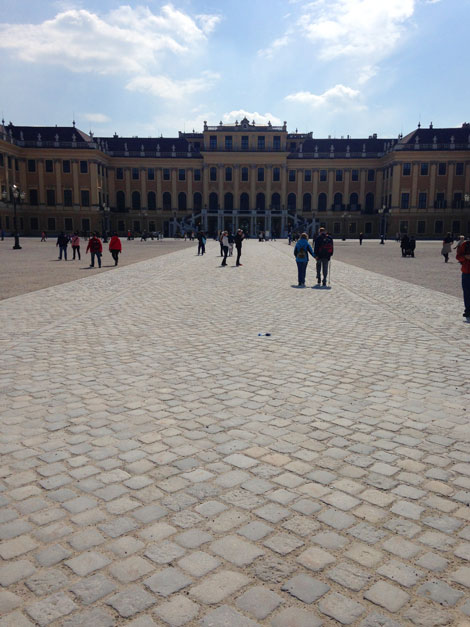 In the afternoon we headed out to the Schönbrunn Palace, the summer palace of the Hapsburg emperors. It is hard to capture how huge the palace and grounds are in photos.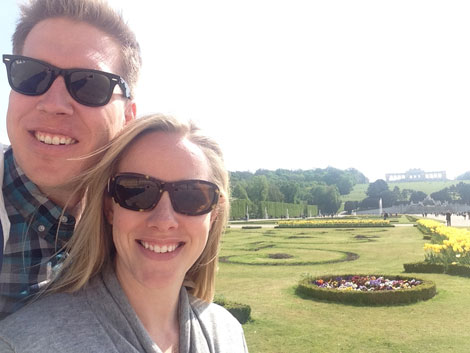 We took a tour of the inside and walked around the grounds some. The inside was very gilded and mirrored. We got to view 40 different palace rooms and listen to an audio guide, but the history of the Hapsburg family was hard to follow. So many generations of rulers! I need to get a book on the topic…
Since it was marathon eve for Travis we tried not to stay on our feet for too long, but we probably still over-did it. Schönbrunn Palace was just such an enormous complex!
Day 2: Marathon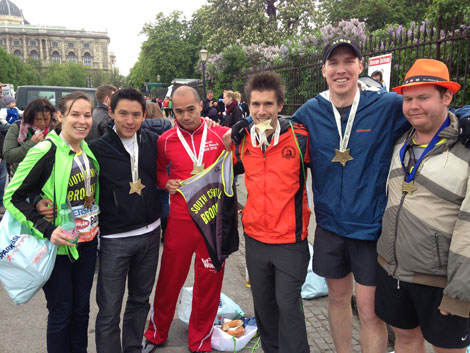 Quite a few of our friends from Brooklyn came to Vienna to run the marathon. (Amanda, Joel, Kris, James, Travis, and Jon, seen above. Plus, Alison and Gabriella!) They all had great, fast races, including Travis. I was very impressed.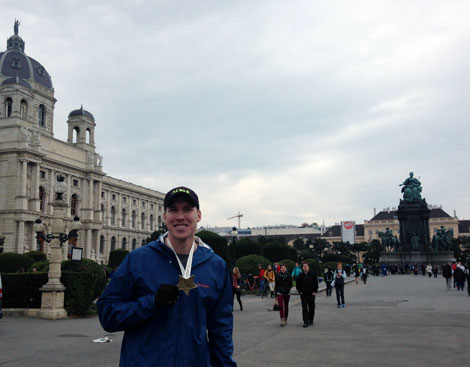 I stayed out on the course all day (shivering in the rain) to cheer and try to take photos, but it was hard! I missed a bunch of friends and didn't take many good photos at all, but I did get to see Travis in two different spots. He had a fun race and basically tied his previous PR.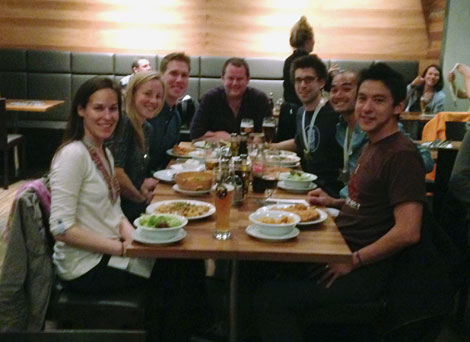 Travis and I rested after the race (and did a bit of work, laundry, and blogging) and then went out for dinner to celebrate with our friends. It was so much fun to have some quality time with familiar Brooklyn (and London!) peeps in the middle of our trip.
Day 3: Saint Stephen's Cathedral, Sacher Torte, Imperial Crypt & Imperial Treasury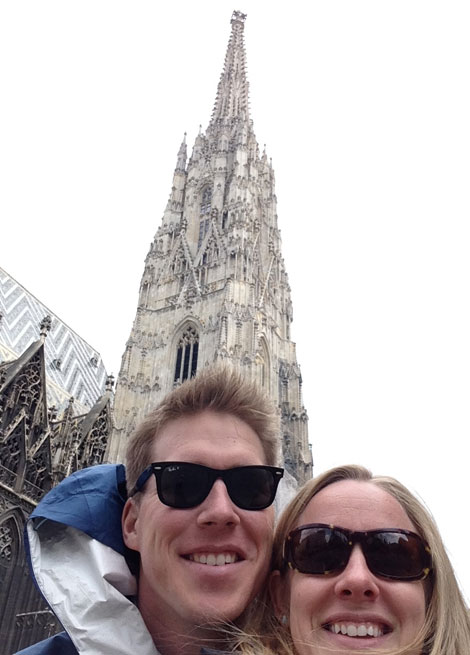 We have been doing a really good job checking off almost all of our sight seeing wish list so far on this trip… and I wanted our success to continue. But a week of European traveling (plus a marathon day!) seemed to have sapped some of our energy reserves… but we pressed on!
In the morning we stored our bags at the train station and then went to check out St. Stephen's Cathedral. Thanks to unused tickets from our friends (thanks Joel & Amanda!) we got to go see the church treasury. Wow. So weird. So many relics (think thorns from the real crown of thorns, saints' blood and bones, etc) and fascinating, bejeweled monstrances. It was hard for me to wrap my head around all of the religious artifacts…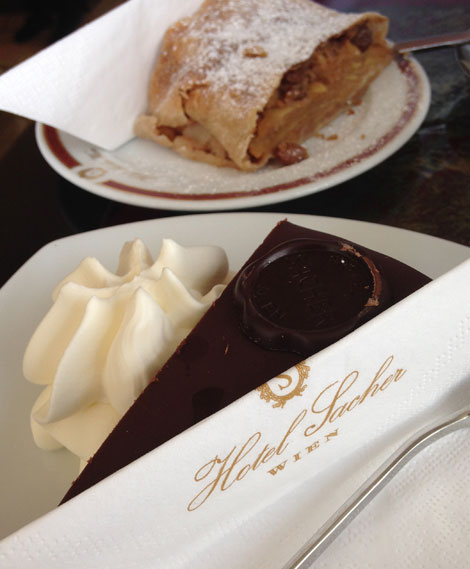 After the cathedral, we took a break at Hotel Sacher to try their famous chocolate torte and some traditional apple strudel. The torte was a little dry, but delicious, and Travis loved the strudel. I mostly loved my cafe latte. Yum.
Next stop was the imperial crypt. We had seen the crypt on a Rick Steves' episode and thought it would be interesting to see in person. It was a bit spooky, but also fascinating to see all of the death and skeleton iconography. It was also sad to see so many coffins for young babies and children. Overall, sort of a sad stop and maybe not a "must see" in Vienna, but it was interesting.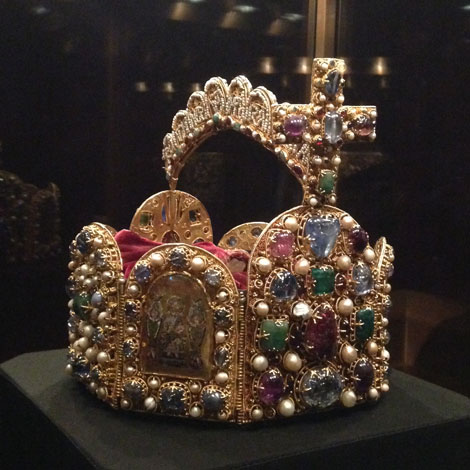 After the crypt, we headed to the main Hofburg Palace complex to check out the Imperial Treasury. Wow. I didn't realize how vast the treasure collection would be! We explored room after room filled with jewelry, crowns (including my favorite, the crown of the Holy Roman Emperor seen above), vestments, relics, and unicorn horns….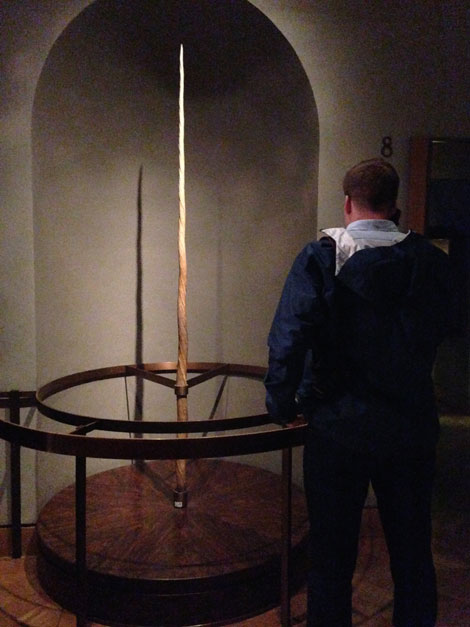 You guys, I have something to admit. I thought narwhals existed in the same fantasy realm as unicorns. I did not know they were real! So I was quite confused by this display described as "a giant narwhal tooth which was thought to be the horn of a unicorn." I thought both animals were mythical! Thank goodness for wikipedia… I learn something new everyday!
There was more and more to see in the treasury, not to mention the entire rest of the Kunsthistorisches Museum, but I was getting much too tired and hungry. The trip caught up to me and I crashed hard. We got some easy dinner and then said goodbye to Vienna…
Then, we boarded the night train to Venice…