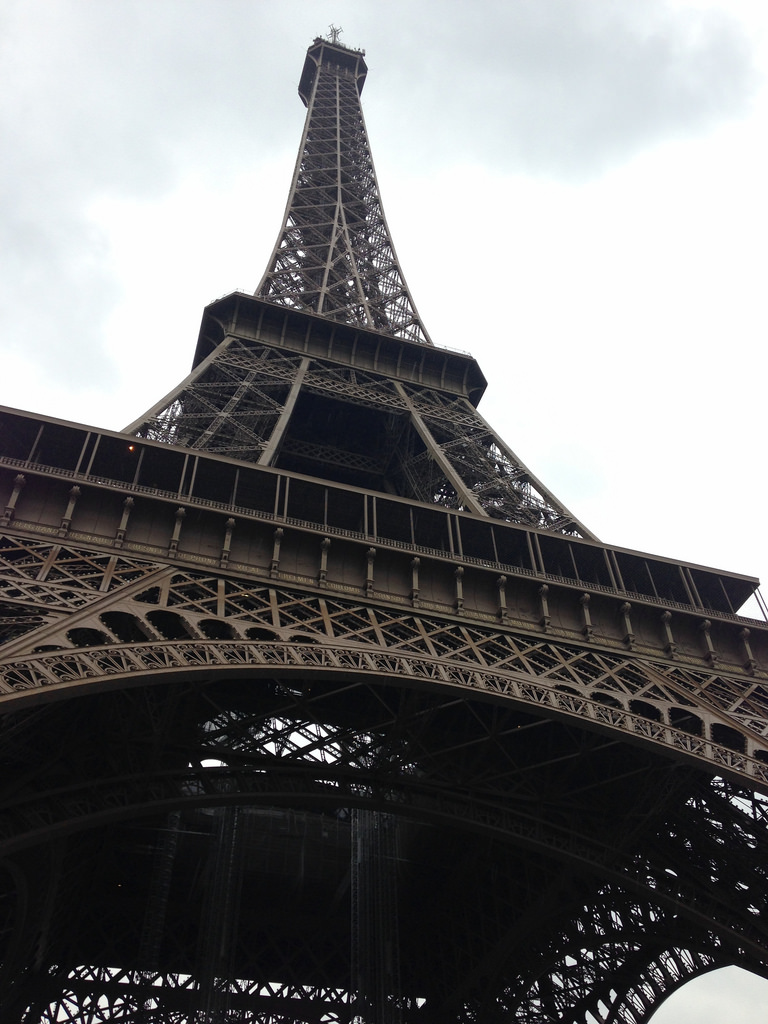 Paris! I loved the City of Light more than I even expected to, and I was expecting to really love it! I guess I was most impressed with the beautiful architecture of the city and its fashionable residents. It was also easy to get around via the subway system and I felt like everyone was friendly and welcoming.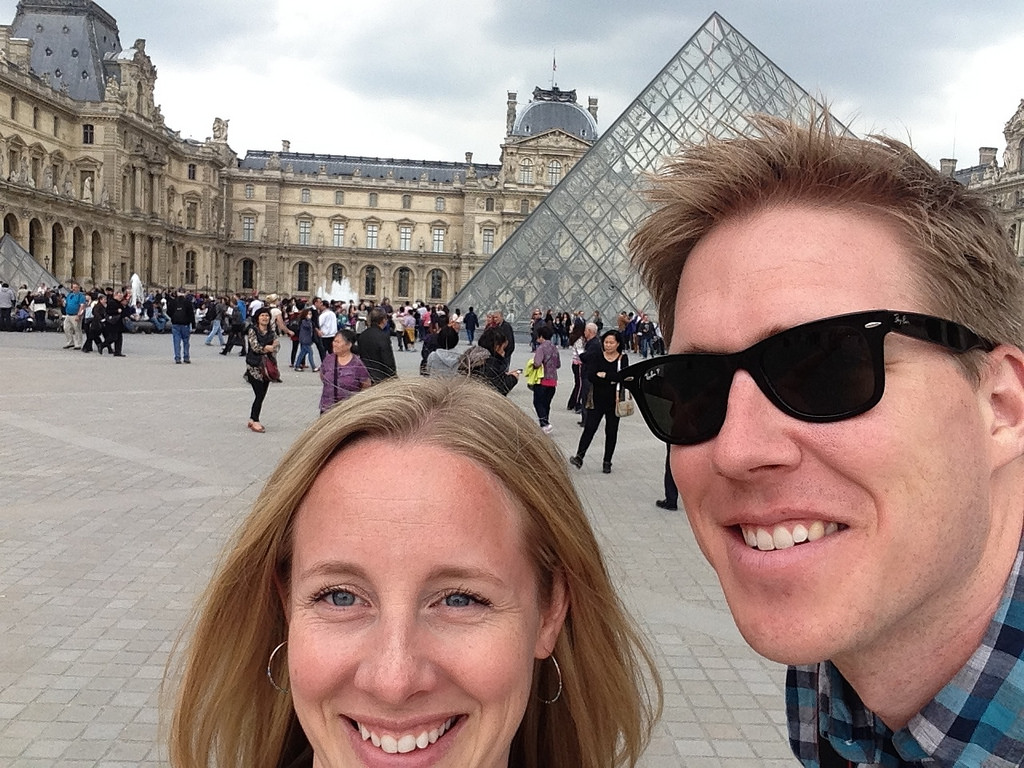 Since Paris was our final stop, we splurged on a slightly nicer hotel in the Rue Cler district near the Eiffel Tower. I was so thrilled that we could see the Eiffel Tower from our room!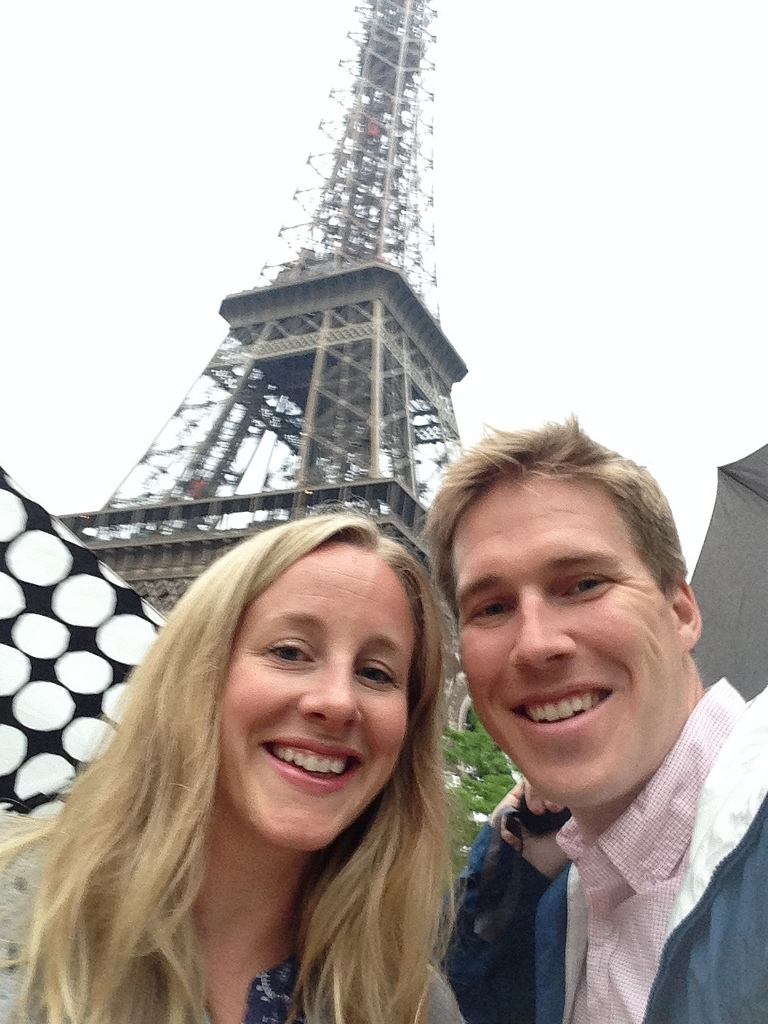 We were hungry when we got in and could not resist trying the Bedford Ave Brooklyn Diner right on our hotel's street. It was funny to be eating in a Brooklyn-themed restaurant, but the burgers were actually great. From there we headed straight to the Eiffel Tower to walk around its gardens. (And take too many photos.)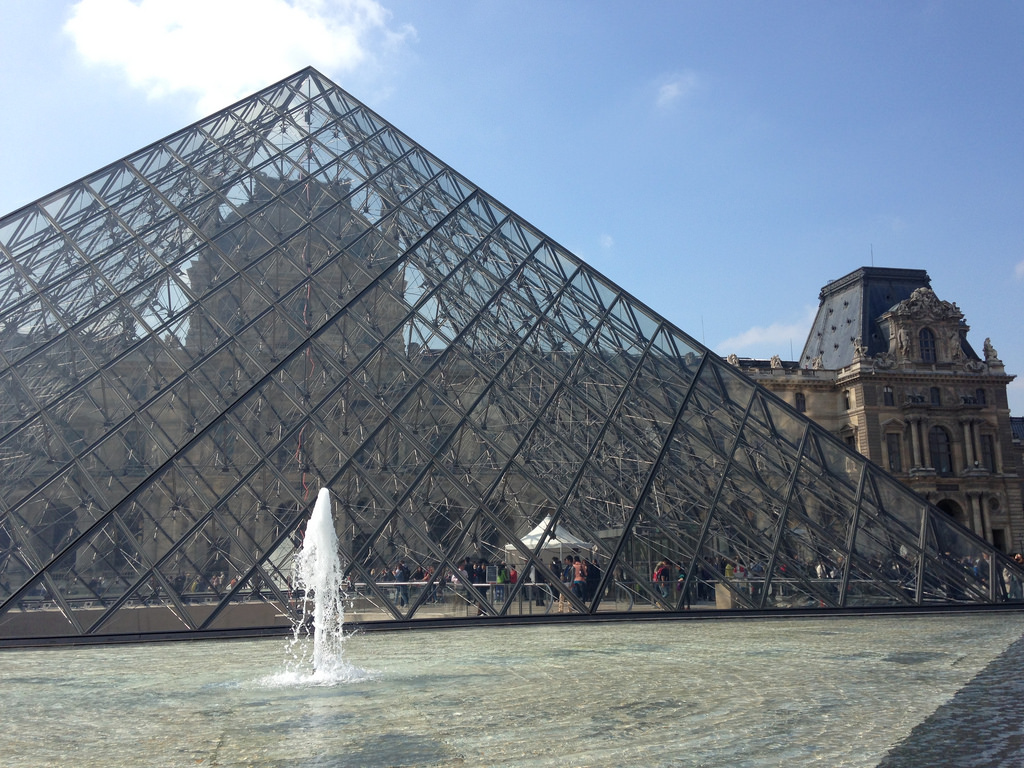 We started our first full day in Paris at the Louvre. I have always dreamed of going to the Louvre. But I was also nervous. After being a little overwhelmed and disappointed by the Uffizi Gallery in Florence, I was afraid the Louvre might make me feel the same way. Plus, everyone talks about the Louvre being way too big and hard to navigate. But I shouldn't have worried. I LOVED the Louvre. I was so happy to be there.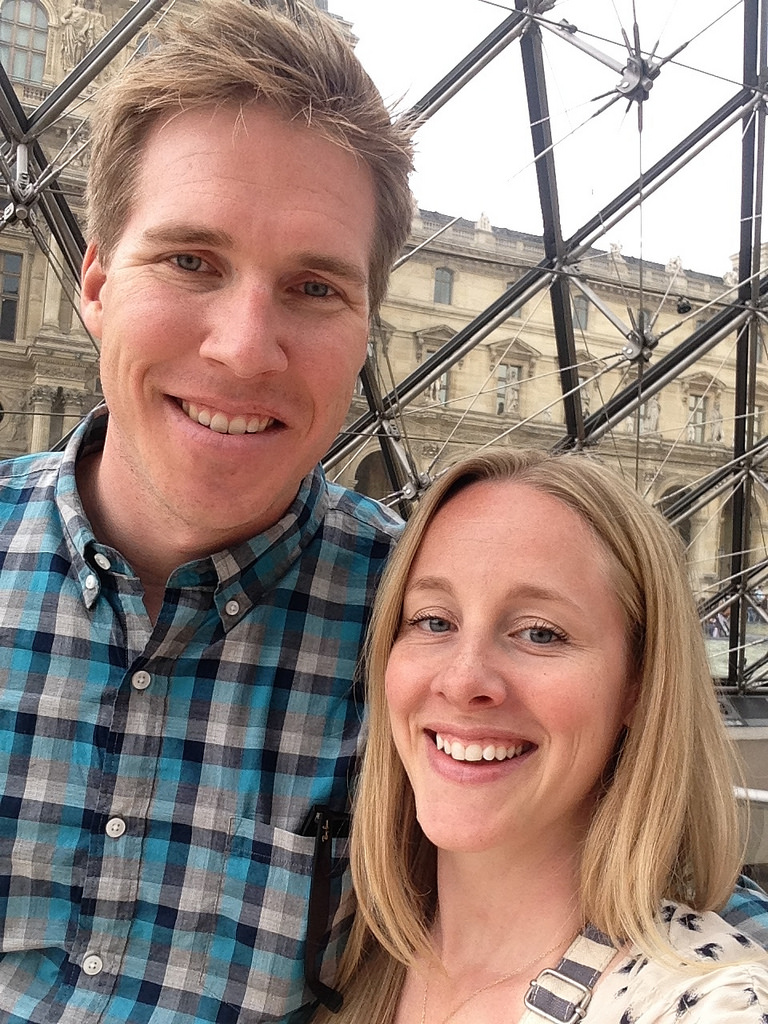 We spent about four hours wandering around the museum, from the Mona Lisa, to the French painters, to the Egyptian and Near East collections, to the Medieval moat. I wish I could have seen the Winged Victory, but it was out for conservation.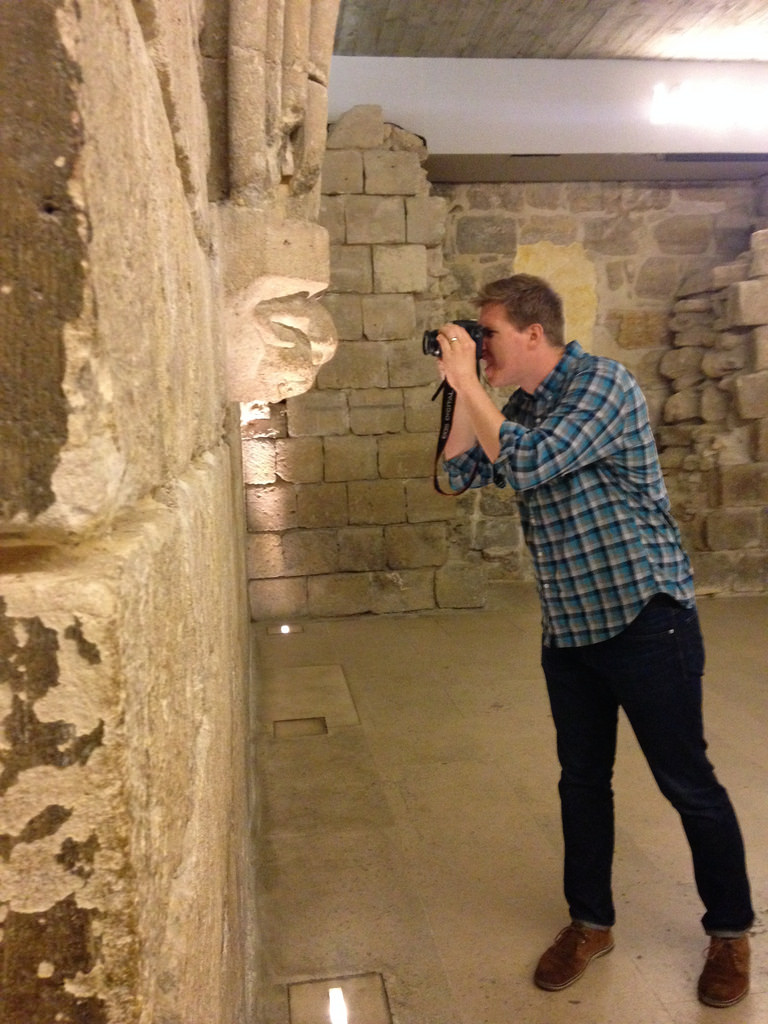 Thankfully, I didn't really feel overwhelmed. The museum was crowded, but there was a lot more room for everyone to spread out, so I didn't feel boxed in or overwhelmed. The entire complex was lovely and clean and easy to navigate. And ALL the BEST art! Did I mention I loved the Louvre?!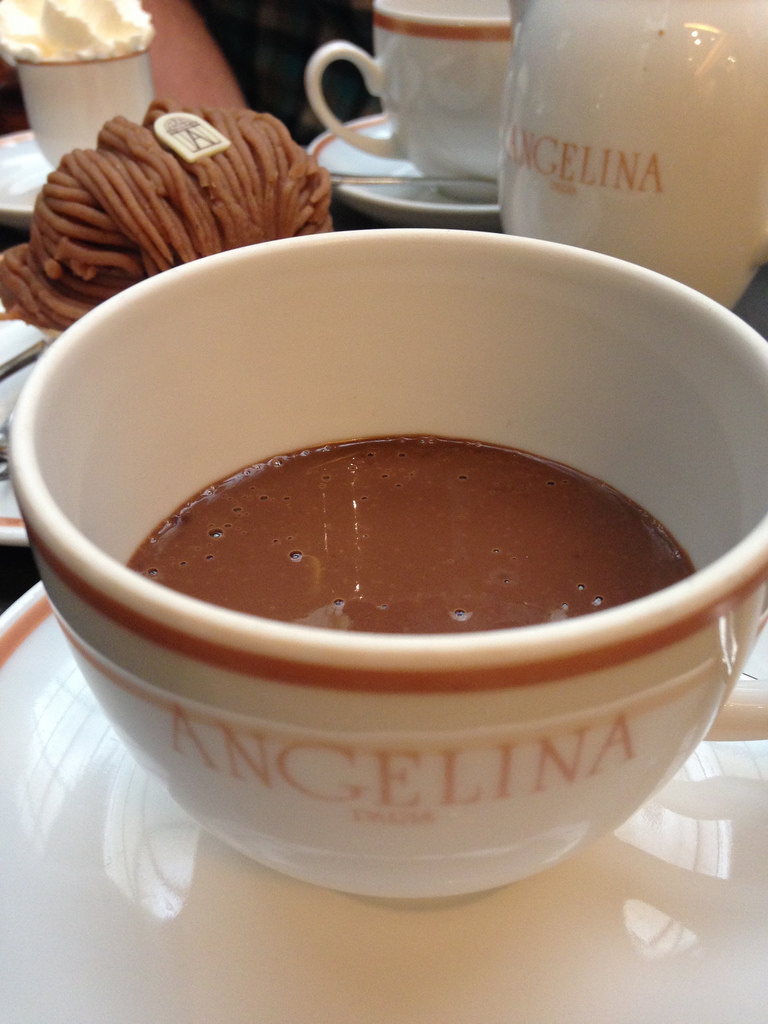 After the Louvre, we headed to Angelina for hot chocolate. We'd heard the line for the famous cafe would be long, but we actually got to walk right in and be seated. We had a delicious lunch, plus the hot chocolate and their signature dessert. Yum!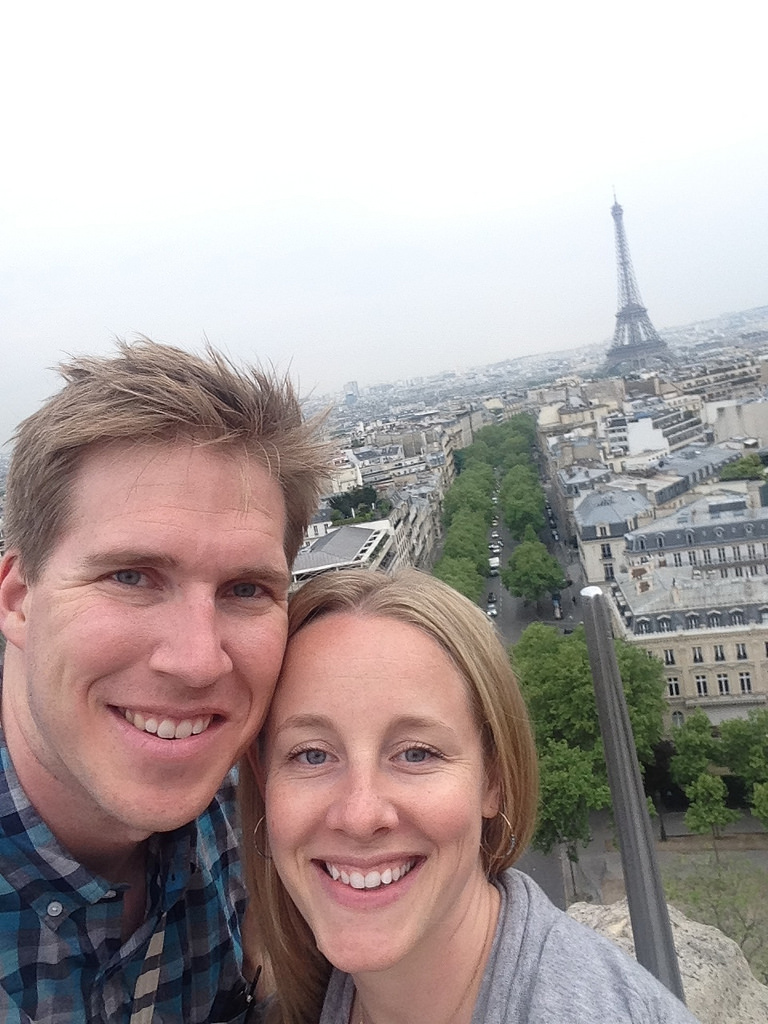 Next we walked down the Avenue des Champs-Élysées (with a stop at Fauchon for macarons) to the Arc de Triomphe.

We climbed to the top and took in the panoramic views of the city. So amazing! (I took a few iPhone panorama shots like the one seen above.) After getting our fill of the city views, we went to a delicious and lovely dinner at Les Cocottes near our hotel… and then zzzzzZZZZZZ.
Our second day in Paris turned out to be May Day, a major French holiday, which meant most sites were closed. It was also raining. Ick. But we tried to make the best of it. We took the train out to Versailles.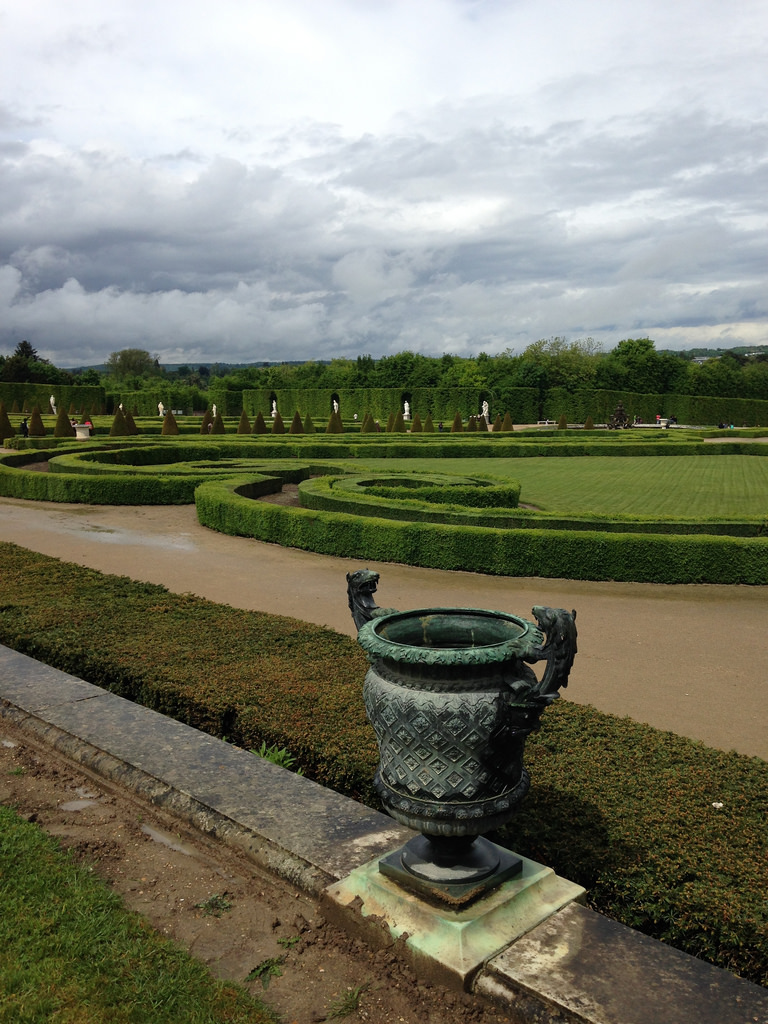 The palace was closed but we were able to walk around the grounds and gardens, which were huge! We couldn't help but compare Versailles to Schönbrunn Palace in Vienna. Both were gigantic, gilded, and beautiful.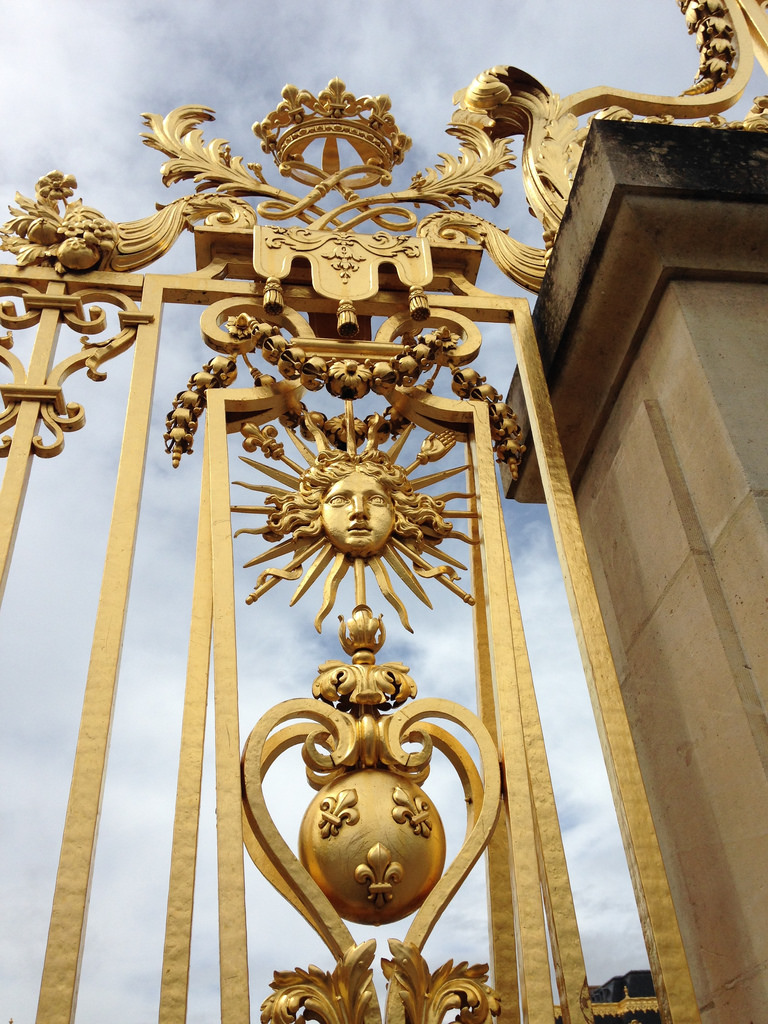 Before we left for our Europe trip, I booked one of our most touristy and most anticipated activities: Dinner at the Eiffel Tower! We felt a little dorky, the dinner was pricey, and the food wasn't incredible, but we had a lot of fun. There was a diverse mix of diners at the restaurant (tourists from all over the world!) and the staff was very nice and accommodating.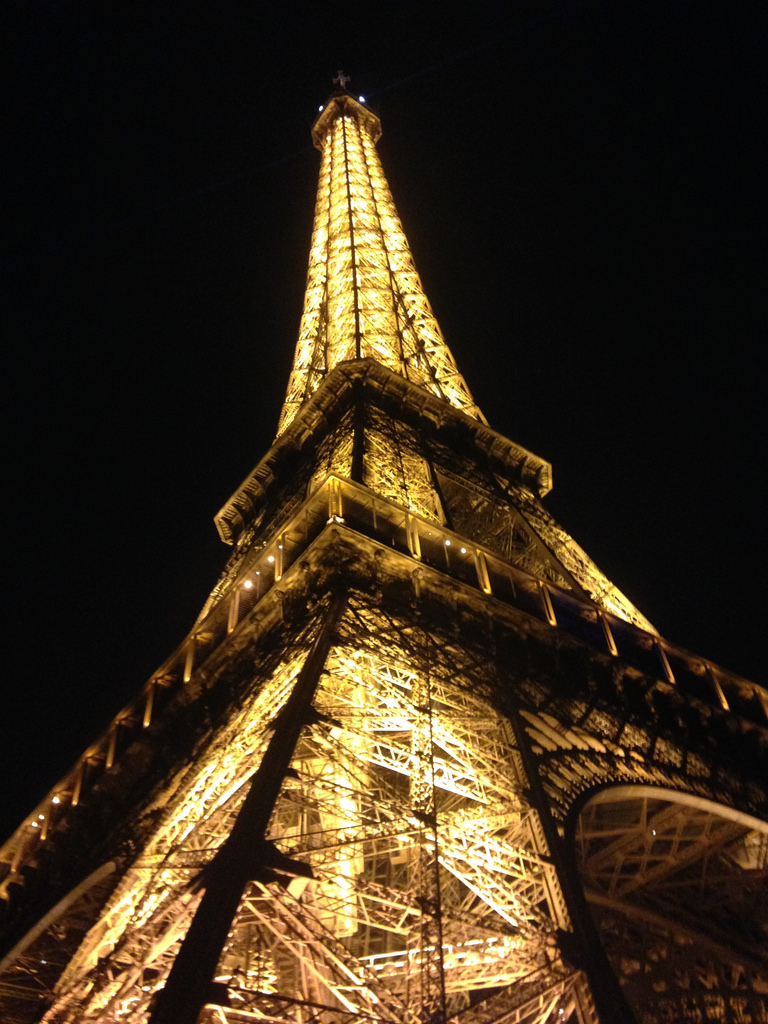 After our relaxed two-hour dinner, we got to go out and explore the Tower. The restaurant was on the first level, but we were able to take the stairs up to the second level. It was after 11 pm and it sort of felt like we had the Tower to ourselves! We took a bunch of photos and then managed to buy two of the last elevator tickets to the very top. It was scary at the top of the Tower — so high! — but it was also magical. It was raining, but I didn't mind. It was romantic to be up in the Tower at night with Travis. We even caught the final sparkling Eiffel Tower light show on our way back down the Tower. I loved it! So sparkly! Such a perfect night.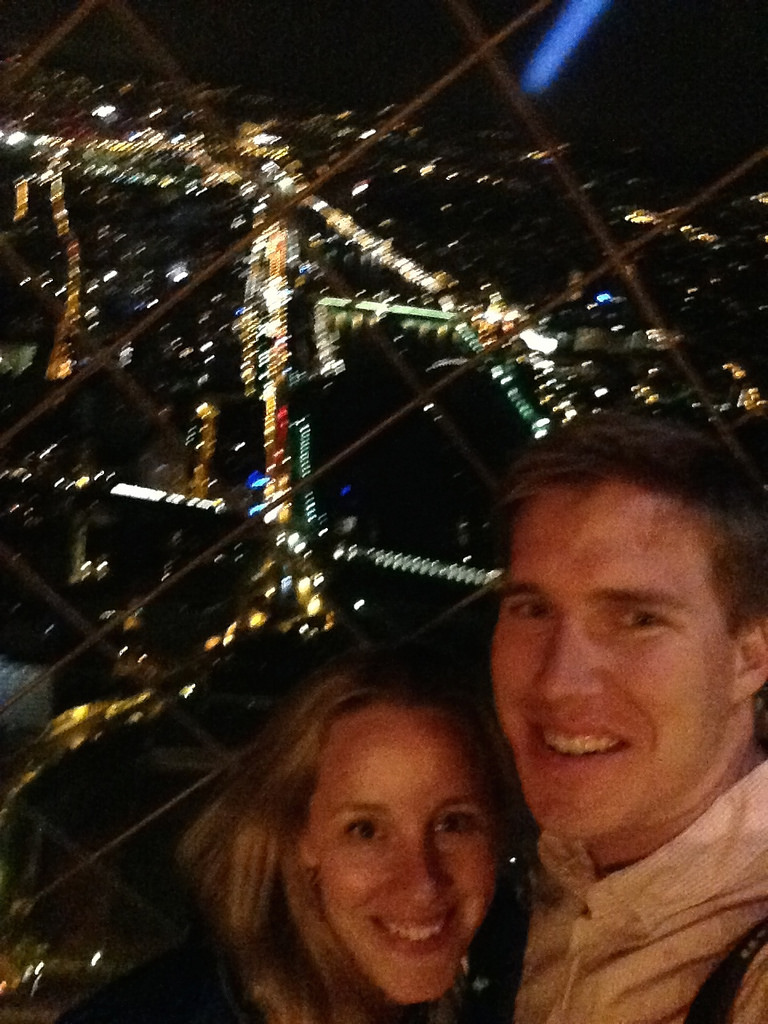 On our very final day in Paris, the very final full day of our European trip, we did a lot of strolling around the city. After a stop at the too-crowded Museum d'Orsay, we headed to lunch at the famous cafe, Les Deux Magots. It was charming sitting out on the covered patio watching the fashionable Parisians walk by. For dessert, Travis took me to Pierre Herme for absolutely delicious macarons and chocolates. Such a fancy, perfect shop!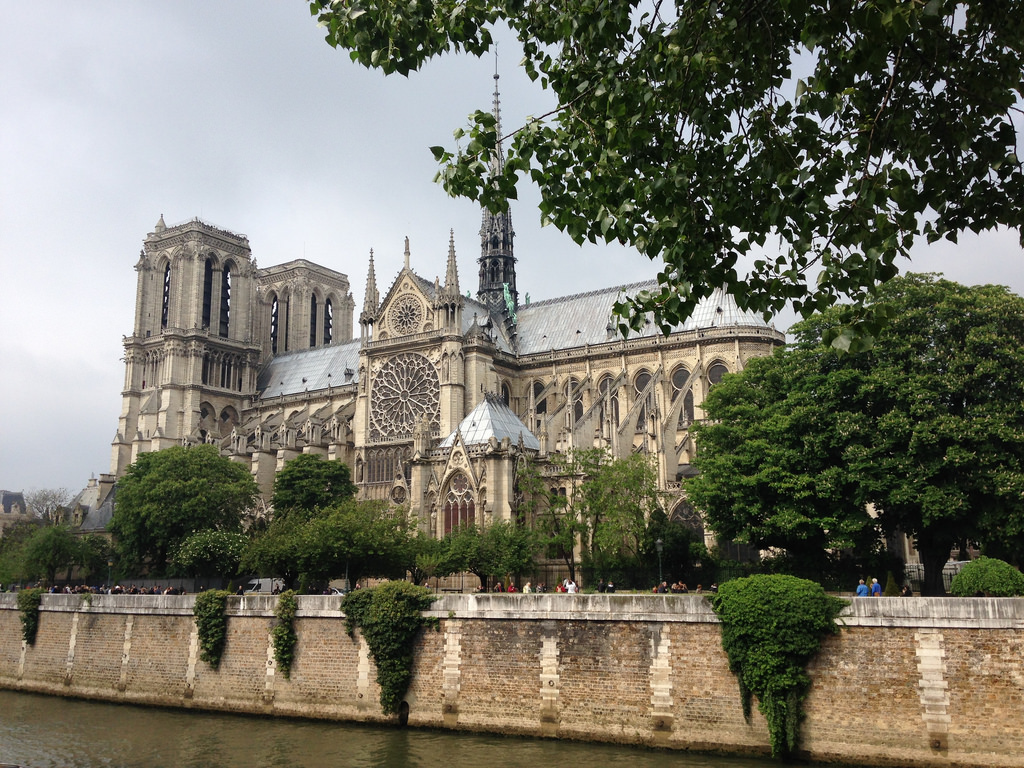 We continued on to Notre Dame. It was crowded as well, so we opted out of going inside. We wandered around outside the cathedral, avoided pick-pockets, took photos, and continued on to Île Saint-Louis for ice cream at Berthillon. I had the roasted pineapple and basil flavor. Very unique and good!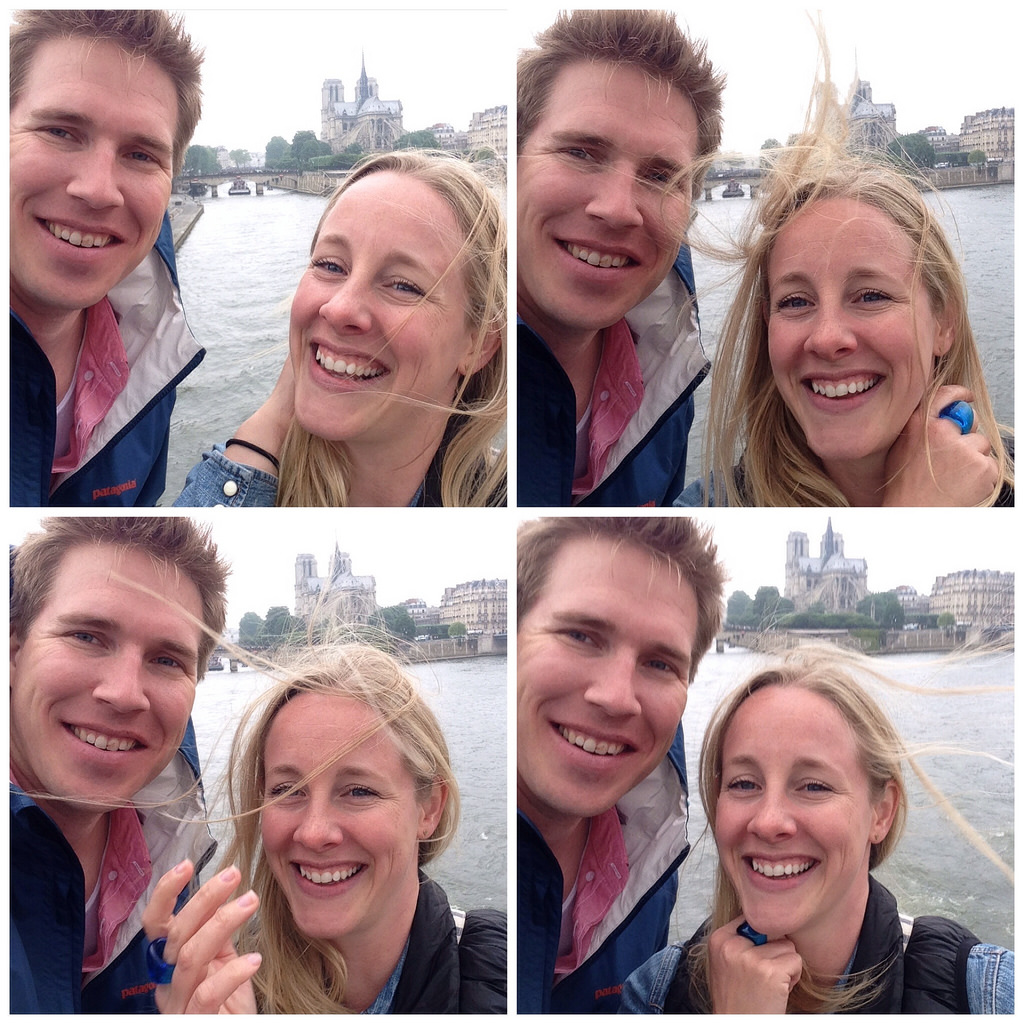 We finally made our way back to the d'Orsay where the lines were a little shorter. We got inside just in time to do a sprint, one-hour viewing of the huge Impressionist museum. The converted train station building was impressive. We saw many Monets!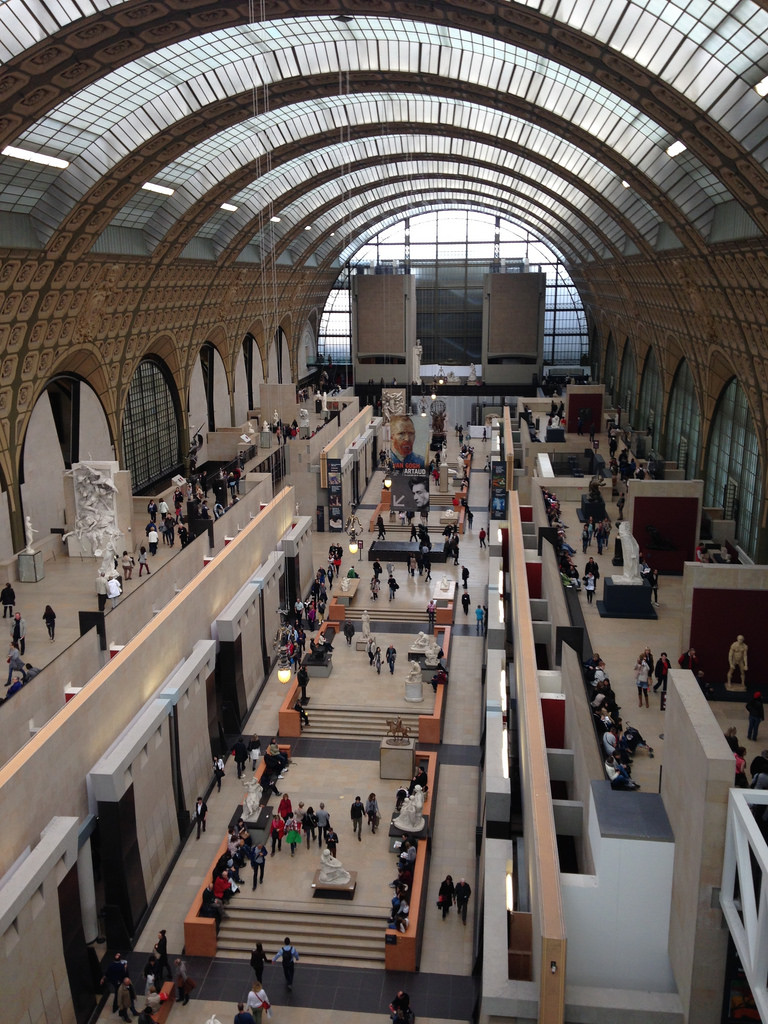 A little dinner near our hotel, and that was it for our grand European adventure! So much sight-seeing exhausted me. Travis and I had a lovely, romantic, fun, relaxing, exhilerating month traveling together and it was sad that our trip was over, but I was also tired and ready to get home to Crusher. Au revoir, Paris! I'd love to return and see more of the city someday!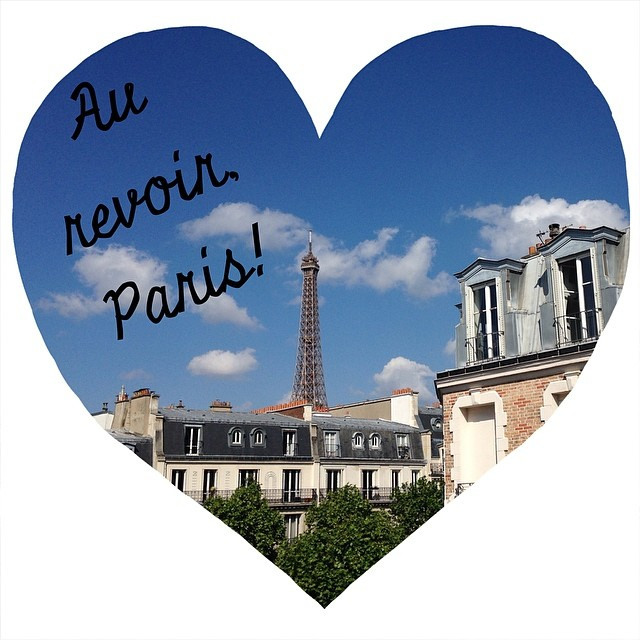 ————
We are STILL working on compiling our photo highlight album, but I did manage to put together a complete set of all of our Selfies of Europe. Check us out at all the major sights!
————
Read Travis' posts about Paris HERE, HERE, and HERE.
————