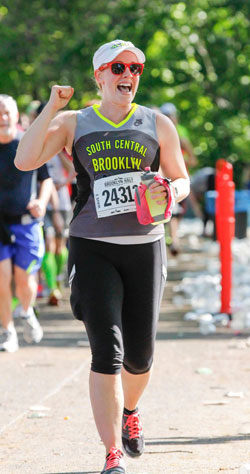 I ran my fourth annual Brooklyn Half Marathon on Saturday. Travis and I ran our first Brooklyn Half in 2011, and we've just kept it up since. It is always fun running around Prospect Park and then down Ocean Parkway to Coney Island, but the race seems to come at an odd time of year running-wise. I am never quite in shape and it is always just a slow, fun run for me.
This year wasn't any different. Since I hadn't run much at all on our Europe trip during April, I wasn't sure if I could survive 13.1 miles. Thankfully, I actually felt great during the race. I took it very easy, but my time actually ended up being almost identical to the New Orleans Half I ran in February. I guess that isn't necessarily a good thing, because that was a tough, sluggish race for me, but I am just glad I didn't lose too much fitness. I ate potatoes as my fuel and drank a lot of water. I think that they really helped me feel my best.
Running hasn't been my main focus for a while, but I am glad that I can still participate at a recreational level. South Central Brooklyn Runners is continuing to grow. It is a fun, enthusiastic group. Last week we were filmed for a segment of the NYRR Brooklyn Half coverage. I think we had as many as 50 club members running the Brooklyn Half, and we have more than 400 people in our Facebook group. Wow!
Usually we top off the Brooklyn Half with a Coney Island ride — we've rode the Screaming Eagle, the Cyclone, and the Wonder Wheel in the past — but this year we simply met our friends inside the Cyclones baseball stadium and hung out on the field for a while. It was a good day. …One that exhausted me for the rest of the weekend!