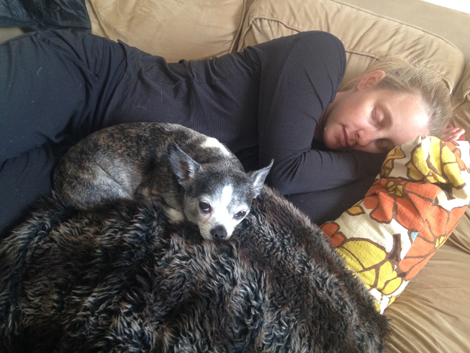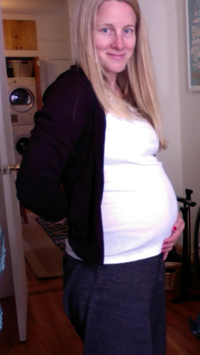 Wednesday, September 17th – I am feeling down today. It has taken me longer than I'd like to recover from the fun of Reach the Beach weekend. I am behind on work and feeling tired. And even though everything is going very well — BabyJ is super active these days! — the smaller annoyances of pregnancy are getting to me today. I woke up three times in the night to pee. My boobs have gotten gigantic and just keep growing. I always feel full and bloated. I get completely out of breath every single time I have to climb the stairs to our apartment. And I am sick of not being able to have coffee or any type of easily obtained or prepared meat. Wah wah. I guess it is just hard to picture ever being able to feel normal again. In better news, Crusher loves laying by my baby belly whenever we rest. It is sweet.
Thursday, September 18th – I am feeling a little better today. I have been working on a blog post about my short, but scary struggle with infertility and it just reminds me that pregnancy at my age (or any time) is not guaranteed. I don't have to enjoy all of the symptoms of pregnancy, but I do want to really embrace the experience. I hope to have more children, but who knows what will happen. This may be my only pregnancy. I want to take it all in and remember it. Lately I've been manifesting this intention by being a little easier on myself. I've been resting a bit more and trying not to beat myself up for being behind on work. I've also treated myself to a few pregnancy goodies, like this lotion, that I really probably don't NEED but that make pregnancy feel special. I'm also getting into nesting… but that is somewhat stressful. I want everything to be clean and organized!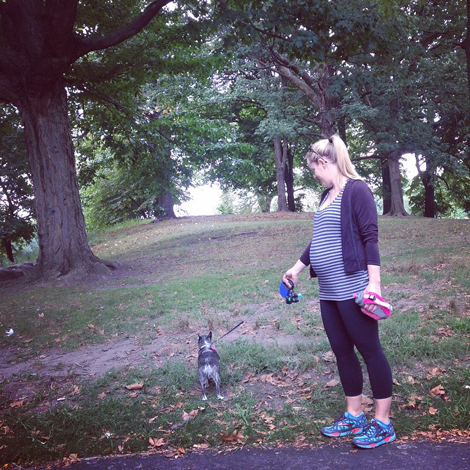 Sunday, September 21st – As of yesterday, I am 23 weeks pregnant! The weeks are flying by! This week I have been sleeping a lot and eating a lot. I need to get back to being more diligent about healthy food choices. I have been craving sweets and sugary drinks, which isn't good. Travis is making me a fruit smoothie right now for breakfast… he is sweet to me and BabyJ. I have also been really itchy lately, on my belly and boobs (which feel totally stretched to the max!) but also on my legs. I bought basically all the pregnancy lotions from Mio Skincare. I think they do help, but I reapply multiple times a day. Overall, I am really loving BabyJ and he seems to be happy as can be swimming around in his uterus home.
Monday, September 22nd – I dreamed about eating candy and drinking milk last night. I think lil' BabyJ wants calories.
Wednesday, September 24th – I feel like this log is getting a bit repetitive… I don't have much new to report. I have been pretty happy and in love with BabyJ over the last few days. He likes food, music, and sunlight. They all make him move around a lot! My belly is getting a bit unwieldy and sleeping is getting a little more difficult. And a bad night's sleeps means I take a daytime nap, and then the nap causes night time sleep to be harder… it is a self-perpetuating cycle. Good thing I really like naps! I am also starting to gain weight at a pretty quick pace. I am still within my "goal" range, but I am getting a little scared. I am hungry a lot of the time. It is still a little early to start REALLY prepping for BabyJ's arrival, but I figure I can start washing some of his blankets and clothes… of course, I had to test them out on Crusher first!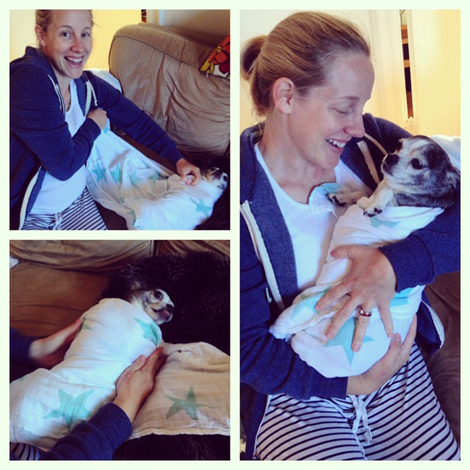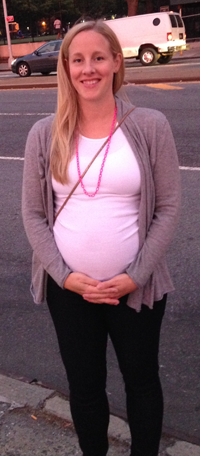 Thursday, September 25th – Oh man, I am emotional today. I have so much work to catch up on, but I just keep looking at pregnancy stuff online and reading birth stories (like this one) and crying. I hate feeling so uncertain about how the birth will progress. SO many of my friends and acquaintances have had c-sections that I am starting to lose hope when it comes to trying for a natural birth. I broke down earlier in the week and bought a bunch of pregnancy books. I told myself I wasn't going to — there is too much info and too many opinions out there!! — but I met with an awesome mama friend on Monday who suggested a couple… I'll let you know which ones I end up liking best. I think I may need an intervention, though. I need to take a step back from researching all of the birth videos, baby registry suggestions, pregnancy exercises, and placenta services. I am falling too far down the rabbit hole…
Friday, September 26th – I am skipping pre-natal yoga today. An hour and a half is just such a long time to take out of my work day. BUT I got a big exercise ball to sit on at my desk. It will supposedly help stretch my pelvis and perineum in preparation for labor.
Saturday, September 27th – Today I am 24 weeks pregnant! It feels like a milestone because it is the age at which NY state officially considers your fetus to be viable outside the womb. Woohoo! BabyJ seems to have shifted position considerably recently. He seems to be laying horizontal now because I am feeling kicks and punches on both far sides of my belly. He also seems to be fitting in there better because my belly feels a little flatter. BUT I also had awful heartburn all last night… so maybe he has just moved up closer to my stomach. His kicks are feeling a little stronger these days and I still love them. My current craving: Sweets! So many sweets. All I want is donuts and I know that isn't good. I am trying to resist. My exercise/activity level was lower this week than I would have liked, but otherwise, all seems to be going well.