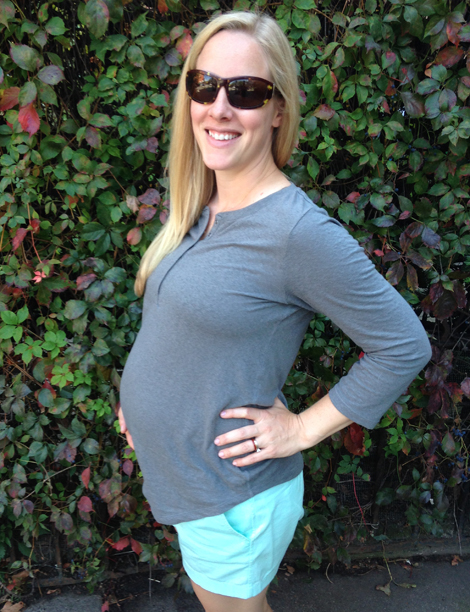 Monday, September 29th – Feeling good today! Travis and I had a really relaxing weekend (although with less exercise than I had planned) and I am feeling very comfortable and ready to get some work done today. Yesterday, we started rearranging the bedroom to make room for BabyJ's crib, and we have been researching our stroller and carseat options. I think I'm leaning toward the lightest and most minimal models of everything. I don't want to carry a 35-pound stroller up our stairs! Last week I met with an awesome mom friend (Hi Rebecca!) who lives nearby who gave me a lot of baby gear suggestions. She also lives in a walk up apartment and has two totally awesome and adorable kids. She is a complete pro and I basically plan to copy everything she does.
We still have 3.5 months to go, but Travis and I are getting really excited to meet this new, little human. I just hope he likes me!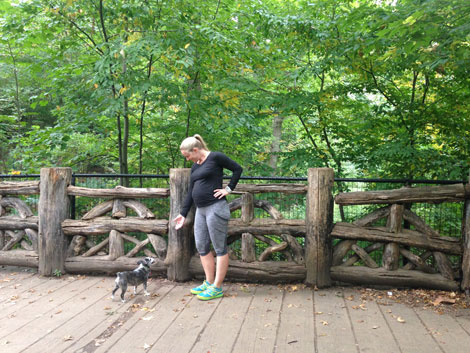 Thursday, October 2nd – I've been feeling pretty good lately. I have a bit more energy during the day, even if my sleep doesn't seem to be excellent during the night. My biggest issues/challenges/things right now are: (1) my increased weight gain, and (2) my obsession over researching baby and nursery gear. My weight is increasing rapidly now. I know that it is what is supposed to be happening and it means that BabyJ is growing big and strong, but it is taking much of my mental power to stay positive about my bigger and bigger body. My body fat percentage is also definitely increasing and I am scared. I am just going to try my best to stay active — even though a 3 mile walk with Crusher (self timer pic from our excursion seen above) kicked my butt yesterday! — and eat as healthily as I can. It just feels so unfair that thinness is so highly valued in women, and yet we are the ones that MUST gain weight to ensure the continuance of our species. Anyhoo, I am totally obsessed with this rocking chair and feel like I NEED it to cuddle in with BabyJ… never mind that we have no room for it.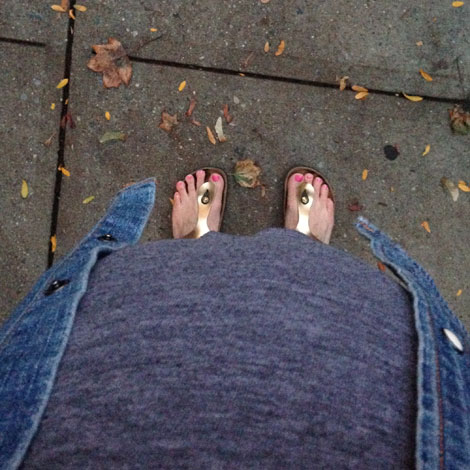 Monday, October 6th – As of Saturday, I am 25 weeks pregnant! It was a fabulous weekend. I just felt really comfortable, content, and happy the whole time. My only complaint is really itchy skin.
On rainy Saturday we basically just had a lazy day and rested around the house, ate healthy snacks, and took Crusher for a good walk. Sunday we went into the city to look at baby gear. We went to Babesta in Tribecca and Giggle in Soho. Both places have really cool stuff, but they didn't have everything that I had wanted to check out. I didn't get to see the rocker or the bassinet I have been dreaming about… We did get to see our crib and stroller choices, though. And we couldn't resist buying BabyJ a few outfits at Polarn O. Pyret, a Swedish children's store. I had a lot of fun. I know we have three months to go, but I really want to start getting the apartment ready… I don't want to leave all of the shopping and set up for right around the holiday season!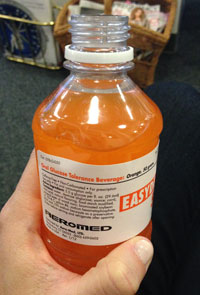 Friday, October 10th – Yesterday was another pre-natal doctor appointment. Everything looks good. My blood pressure is low and BabyJ's heartbeat is about 140 beats/minute. He probably weighs over 2 lbs now and is more than a foot long. Wow! I did the initial glucose tolerance test to check for gestational diabetes. I had to drink some sugary liquid and then get my blood taken an hour later. I had read online that women hated the test and that the sugar drink tasted terrible… but I didn't really mind it. It wasn't a big deal at all. I need to keep that in mind. You can find so many anecdotal horror stories about all aspects of pregnancy online and they don't necessarily represent the truth. I shouldn't read them. I am also somewhat regretting reading the midwifery books I got recently. I asked my doctor some of the questions from the books (whether I can move, eat, or drink in labor, what some of her c-section policies are, etc.) and she was not amused. Now, my doctor is never amused, so I am trying to take it in stride. BUT I was a little more concerned that she called Ina May Gaskin an "extremist" and told me not to read her books. I understand where my doctor is coming from (I personally do not want to give birth at a commune in Tennessee with no electricity) but I wish there was some middle ground. I agree with a lot of the natural birth stuff AND a lot of the medical stuff, but I feel like both sides refuse to meet in the middle. It feels like you have to chose a side. Anyway, I am on board with my doctor and hospital and am fine with a lot of their procedures. I just hope everything goes as smoothly as possible… and I wish I could make my doctor be my friend. ha!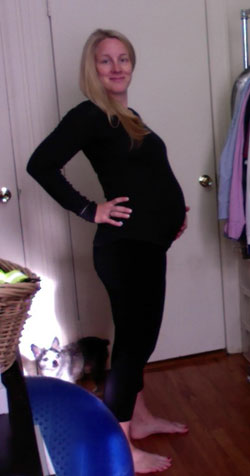 As for BabyJ, he sort of has a routine and a favorite position now. He mostly snuggles down low in my belly facing the ground. Most of his kicks and punches are extremely low and directed downward. He seems to only move now when I am resting, like before bed or during a nap, and after I eat. I am still working on washing all of his little clothes and obsessing over organizing and cleaning the apartment. Overall, I have been feeling extremely good the last few weeks and I feel fortunate. I also feel huge… but as of right this minute, I am at peace with it.
Sunday, October 12th – As of yesterday, I am 26 weeks pregnant. BabyJ is either the size of a head of cauliflower or a butternut squash, depending on which app you are looking at. I wanted to take a fancier "belly pic," but once again, you get a blurry photo from my computer's Photobooth app. I am still feeling good. Travis and I exhausted ourselves by cleaning and rearranging the entire apartment yesterday. We still have some work to do — shelves to hang, crib to order — but it is looking pretty good. We are making room for the crib in our bedroom, which means the office has basically turned into a floor-to-ceiling storage room… but it is working out so far. (The exciting news is that I caved and ordered the rocker that I've been drooling over! We are making room for it in the living room.) Starting a family in an 800-square-foot, fourth floor walk-up apartment is not really my dream, but I am trying to roll with it. It will be difficult, but also cozy.