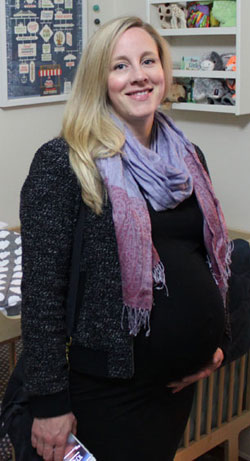 Tuesday, December 23rd – Happy Christmas Eve Eve! We are getting so close to the end of this pregnancy adventure! I am still feeling good, but having some major hip pain when sleeping and an even more increased need to pee all the time. I think I pee every 45 minutes! Oof. But overall, I am appreciating the awesome fact that I have a little human inside me. I want to absorb the experience and be able to remember it all. After he is outside and I get to know him, I feel like I will look back and appreciate the pregnancy even more. For now, BabyJ is still a bit abstract — what will he look like? what will his personality be? — but he is getting more real every day! His movements are a little more, um, I guess, uncomfortable. They are sort of bigger, but also sort of cramped, so he really presses on my belly and organs. He is probably about 6 lbs and 20 inches long at this point — which is basically getting very close to what his birth size will be.
I feel so big and unwieldy that I want to sit on the couch all day and hibernate, but I am forcing myself to stay a little bit active. I went to pre-natal yoga last night and it was really good. It is lovely to see all the other pregnant ladies. Today I am going to try to force myself to do my Pilates dvd. I have another doctor appointment tomorrow, and of course, I am nervous about getting weighed. I am trying to drop my anxiety over my weight, but it is just so hard when the doctors are charting and judging you every week. I want to tell them, "hey, it is the holidays, I'm sorry if my weight is one pound over your precious weight chart!" But I will try to stay calm and just keep my mouth shut.
I am going to try making these Lactation Cookies today as a semi-healthy holiday treat… and to just test them out to see if they are something I will want to keep making once BabyJ is here and needing lots of milk. I am a little nervous about breast feeding, but maybe it will come easily. You never know!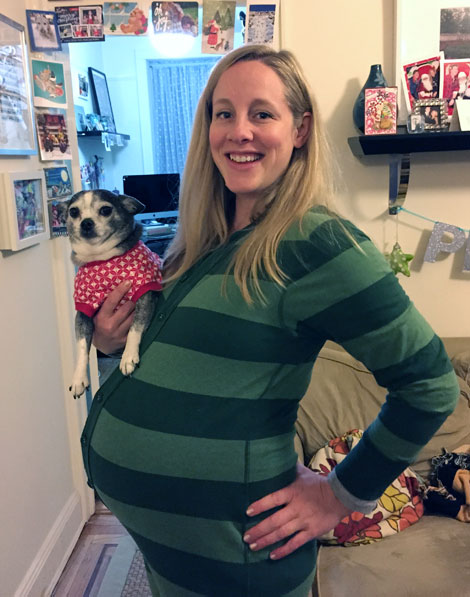 Thursday, December 25th – Merry Christmas! Travis and I stayed in Brooklyn again this year for Christmas. I've passed the "ok to fly" stage of pregnancy and I am also pretty tired in general, so it was good to have a low key holiday. My Christmas pajamas just barely fit over the belly…. next year I hope to get brand new matching PJs for the whole fam!
My doctor appointment yesterday went well. All my stats look good and my Group Strep B test came back negative, so that is fantastic. I am still feeling good, but I have a lot of aches and pains while trying to sleep. I also have to pee about every 30 minutes. It is getting annoying. My belly button is entirely stretched out and now it is looking bruised. Ick. I am really doubting its ability to return to normal after all of this… but we'll see.
We took a really nice hike to Prospect Park this afternoon and I felt great! But then after getting home, I was really worn out. I napped, but still couldn't quite recover. I think my body is just getting tired. I definitely feel like I am nearing the end of this pregnancy… or at least, I feel like I can't make it much longer! BabyJ is pushing on my pelvis a lot and it can get quite intense. I think he is running out of room!
Sunday, December 28th – Yesterday marked 37 weeks of pregnancy. BabyJ is officially considered full term now. I still feel like he will come a week early, but who knows! Whatever happens, I only have a few more weeks left of being pregnant. It feels almost sad except that I am so ready to meet this little baby… and get to hold him, and cuddle him, and kiss him, and take too many photos of him!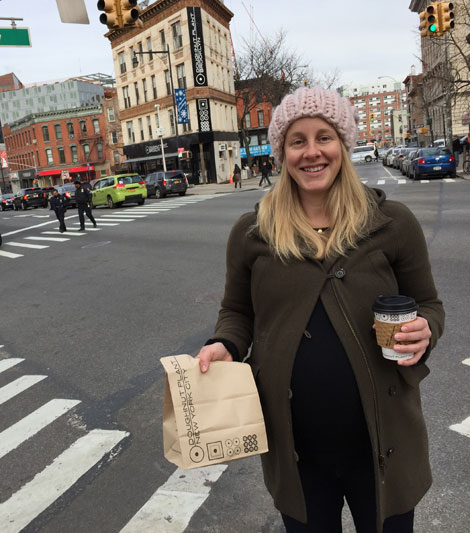 Monday, December 29th – So… the weird thing is that I haven't really gained any significant weight now for about 10 days. Travis calls me crazy because now I am worried that I am starving BabyJ… but I am not overly worried. They say weight gain can taper off in the last few weeks as you wait for delivery. As long as the baby is healthy, that sounds fine to me! I figured a little Doughnut Plant treat was allowed if my weight gain is under control…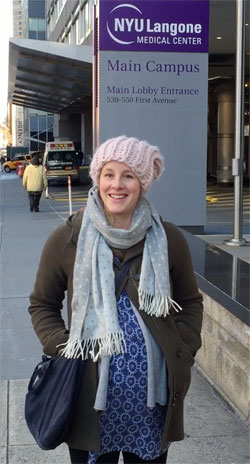 Thursday, January 1st, 2015! – Happy New Year! It is very exciting to have officially entered the year in which BabyJ will be born. We are eagerly awaiting his arrival! My weekly doctor appointment was yesterday and it went really well! (This is a photo of me outside the hospital where my appointments are and where BabyJ will be born) All my stats are still good and I didn't gain any weight. I got to see my favorite doctor and she did my first pre-labor internal exam. She says that BabyJ's head is definitely down low and engaged in my pelvis and my cervix is softening (but not opening yet). So, we are definitely making progress toward delivery! Of course, they can't really predict when labor will actually start, but I'm thinking this baby will arrive within the next two weeks. I have a LOT of pelvic pressure and discomfort and BabyJ seems to be pushing for more room from my ribs to my cervix! He is usually positioned with his back against the left side of belly and his right leg kicking up under my right ribs. My belly button is stretched completely flat at this point! eek.
After the appointment, Travis and I went to lunch and shopping in Soho. We had a great time. Despite the discomfort of being 8+ months pregnant, I have been feeling really happy and content lately. I think it must be a hormonal thing because I feel overly happy and excited. Of course, today I am doing a lot more couch sitting and resting to recover from the 5 miles we walked in the city yesterday, but I still feel good. I'm focusing on resting, staying positive, reading my baby & birth books, and trying to stay somewhat caught up on work.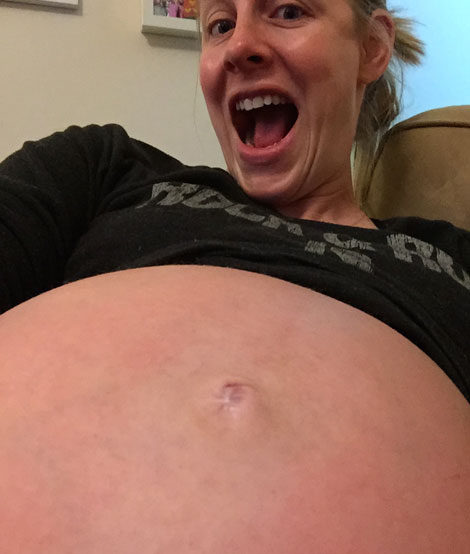 Saturday, January 3rd – Today marks 38 weeks of pregnancy. I had another really great day yesterday. I went to prenatal yoga, felt productive, did some work and cleaning, and even went out to dinner with friends. Pregnancy seemed totally doable yesterday. BUT today I am wiped out again.
I can only sleep for 30-60 minutes at a time before needing to get up to pee. Last night I got up eight times! It is getting tough. I feel like I got my hopes up too high thinking that BabyJ could come anytime from here on out… But in reality, it could be another two weeks, or more! I'm feeling a little overwhelmed.
This might be my last two-week pregnancy log. I'm thinking I'll just post updates as they occur… Hopefully we will have baby news to share sooner rather than later!