It has been three weeks since Kenneth arrived on January 8th. I have been thinking a lot about his birth and have wanted to write it all down before I forget all of the details. I know that I am already revising the experience in my mind and underestimating the pain and intensity of the day…. but hopefully, I can get as close to the reality as possible. I will try to be somewhat discreet about the medical stuff, but proceed with caution if you don't want to read the details of labor and birth!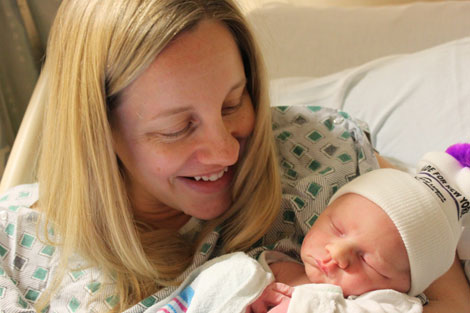 THE SHORT VERSION:
My labor and Kenneth's birth was fast, intense, mind-blowing, painful, overwhelming and amazing. It was my dream birth situation, but it was not what I was expecting and it caught me off guard. Ken was born nine days before his due date at NYU Langone hospital in Manhattan. I was in "real" labor for just six hours and we barely made it to the hospital in time! The labor and vaginal delivery were totally natural and medication-free. They were also scary and all-consuming. Travis was the perfect husband, dad, and birth companion, and Ken and I both made it through the experience totally healthy and happy. January 8th was a very good day!
THE SUPER LONG VERSION…
The Day Before:
On January 7th, I had what turned out to be my final prenatal doctor appointment. The doctor checked my cervix and said I was about one centimeter dilated, but not efaced very far. She didn't think it meant much and told me that if I hadn't gone into labor by the next week's appointment, she would strip my membranes then. She also discussed what would happen if I went past my due date.
So… I wasn't feeling very optimistic about BabyJ arriving early. I was a little bummed to think that I still had a long time to wait, so despite the very cold weather, Travis took me out on a date to Stone Park Cafe to cheer me up. We shared a really delicious meal (not too big or rich, which turned out to be a very good thing) and had a great night together.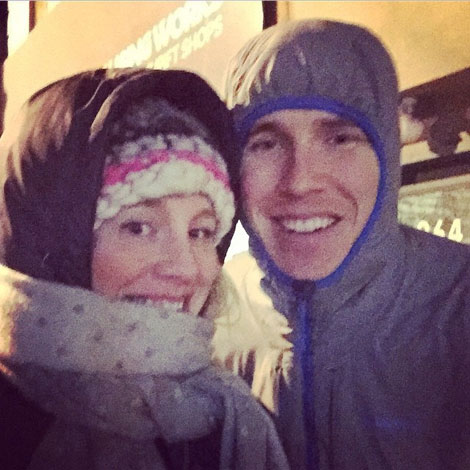 Labor:
After going to bed around midnight, I woke up with some minor cramping at about 3:00 am. Being woken up by contractions is a definite sign of labor, but I really didn't think much of it. The cramps didn't hurt much and they were really sporadic. I had maybe four or five of them between 3 and 4 am, and then I sort of fell asleep on the couch until Travis woke up at 7. I told him I was having some light contractions, but that they had pretty much dissipated and that it was probably just Braxton Hicks or practice labor. I think we ate breakfast. I told him to go to work.
I thought that even if it was early labor, I had hours and hours until the real deal. In our Prepared Childbirth class our instructor really reinforced the fact that first baby labor can last a REALLY long time, on average 18-22 hours. We spent a LOT of time in class discussing all of the things a woman can do while in early labor — get her nails done, make cookies, go out to eat, watch movies, etc. I figured that I was NOT even in early labor yet, since there wasn't much pain, and once I was, I would still have tons of time.
I did some computer work, took Crusher for a walk, vacuumed, texted with some friends, and started thinking about what I wanted to get done before going to the hospital IF I really was in labor. My list included going to get a pedicure, cleaning the bathroom, baking cookies, and showering. I actually texted Travis and asked if he thought I should try to make an appointment to get my hair highlighted, too. ha! But I was feeling a little worn out and decided to nap before tackling my list…
This will be too much info for most, but another sign of labor that I sort of ignored? I had three bowel movements during the course of the morning, which is three times what is normal for me. Clearing your system out can be a sign of early labor, which I knew, but didn't think much about at the time.
At about 12:30 I woke up from my nap to a really painful contraction. I tried to get up during it, but couldn't walk until it passed. I think it was actually when my water broke. There was some liquid, but not much, so I wasn't sure. I also might have lost my mucus plug then. All of a sudden, I got worried. It was real pain. I actually thought, "this whole labor thing isn't going to be easy." I started texting Travis even though he was in a meeting…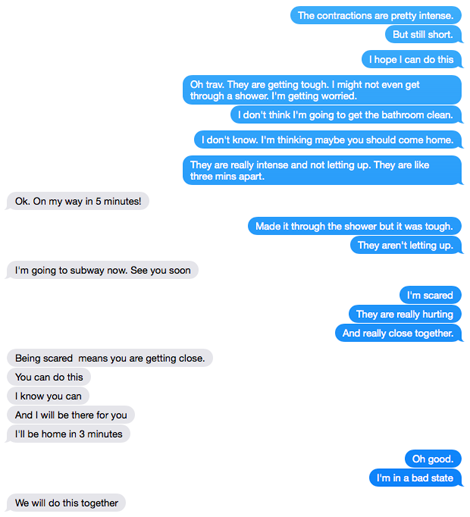 The contractions started at about three minutes apart before 1 pm, but quickly sped up. I tried using my app, but I couldn't really time them. I was still thinking that once Travis got home maybe he could time them while I watched a movie (I was thinking Aliens)… but the contractions just kept coming faster and were getting more intense. I got through a shower, but had to stop to lean against the wall for each contraction. The pain was intense. It is hard to be objective about it, but it was definitely white-knuckle, stop-what-you-are-doing, focus-on-getting-through-it pain. Sitting on the toilet or being on all fours on the bed helped.
Our hospital bag was already packed, but I managed to round up a few extra things in between contractions (including snacks — thank goodness!). Then, I called my mom at 2:30 pm. She says I didn't sound like I was in pain, but I was. I thought I sounded terrible. I was on all fours in bed with wet hair and I finally admitted to her (and myself) that I thought the baby was coming that day. She said that if I thought he was coming, he was!
Travis got home shortly after that at about 2:45. I think my water sort of broke again then. More liquid came out, anyway. At some point I called my doctor's office. I talked to a nurse and told her my water had broken and that the contractions were a minute a part. She clarified that they weren't actually AN HOUR a part and when I said no, she told us to come in to the hospital asap.
Getting to the Hospital:
Travis stayed calm, took Crusher out, and rounded up all of our things while I worked on drying my hair. (It was very cold that day and I didn't want to go out with wet hair.) We called an Uber car at around 3:20 and I quickly made it down the stairs from our apartment in between contractions.
The car ride was one of the most difficult things I have ever withstood. It was a bumpy ride and the contractions seemed to be coming less than 30 seconds apart. There weren't really any breaks, just waves of pain. I think I might have held Travis' hand, but I also remember worrying about hurting him. I was grasping the car door with white knuckles and just trying my best not to make too much noise. The driver was really nervous and asked us whether we needed an ambulance instead. I was definitely getting worried and was in focused survival mode, but I still didn't really know how deep into labor I was. I certainly didn't want to show up to the hospital in an ambulance and then be told that I was barely even dilated!! Despite the intensity of the contractions, I was still afraid that I might show up and they would tell me I had hours and hours of labor left…
A natural, medication and intervention-free delivery was my goal, but during the car ride I decided to ask for an epidural if my labor was not very far progressed. I felt weak for mentally giving up on my plan, but I couldn't have handled hours more of those extreme contractions.
It turns out that I should have been a little more worried about not making it to the hospital in time…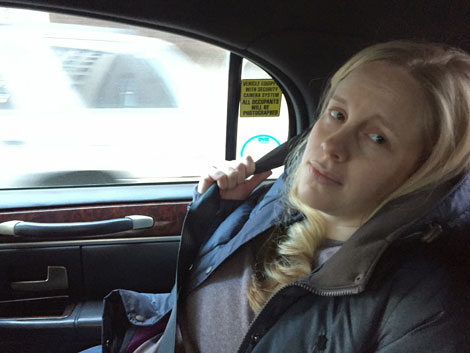 Delivery:
We made it to the hospital at around 4 pm. I thought I could make it up to the Mother and Baby unit on foot, but as soon as I walked into the hospital, I doubled over a trash can to get through a contraction. A woman in the lobby scolded Travis and told him to get me a wheel chair. I was so focused on getting through the pain that I didn't totally know what was happening, but somehow I got in the wheel chair and they got me into an elevator and up to the check in desk. Travis checked me in — i think — and they took me to triage.
I had been dreading triage because it is in a more public area and you have to stay there while they monitor the baby and your contractions for 20 minutes. I was thinking of this when we arrived, but really, I wasn't thinking of much but getting through the pain. I don't even know if my vision was working. I don't know how my clothes were removed. I do sort of remember the nurses putting the monitors on me, and me saying that I couldn't lay on my back for 20 minutes. I asked if I could be on all fours instead. The resident doctor (I think) did an internal exam and… OMG guys… I was fully dilated!!
In retrospect, I think I was in transition while we were arriving at the hospital. My body was doing what I described as "convulsing" but I think it was actually pushing. They quickly transported me to a delivery room.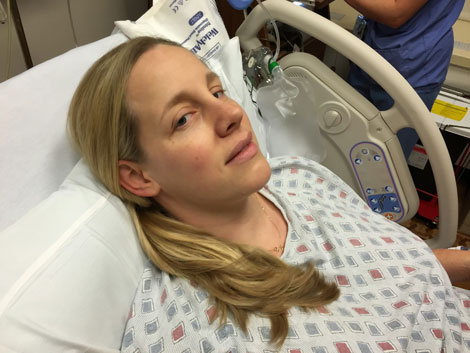 The doctor excitedly said, "You are going to have a baby today!" There was no time for an epidural, and I am glad that I didn't have to make a decision about getting one. I think the nurses and doctors thought I would have the baby within a few minutes, and maybe I would have, but once I transferred to the delivery room at 4:25 things seemed to slow down. (How did I get in the new bed? I don't know.)
I was scared. Much more scared than I thought I would be. I needed a mental break. I hadn't anticipated the labor progressing so quickly and I felt like I had to catch my breath. I had more time in between each contraction during the pushing stage, like 2-3 minutes, to rest. Maybe my own anxiety slowed things down. I know that it decreased the efficiency of my pushing. I had thought I was going to be really good at pushing — empowered and strong — but I felt weak and scared. I felt bad for wanting a way out. If I had been given a way out, I would have taken it, which is humbling. I even thought about asking for a c-section, but I don't think I said it out loud. Travis tried to remind me that I would be meeting our baby soon, but even that didn't feel like sufficient motivation. I didn't really care. I just wanted the pain to stop. But I kept going.
The nurses and Doctor Erin Conroy (who I loved — she was wearing a NYRR race t-shirt under her scrubs) coached me through pushing during each contraction. The last book I had read was Hypnobirthing, which describes labor as "breathing your baby out" and advises against coached, forced pushing. So I was confused about whether I needed to follow the pushing instructions. I felt a little annoyed at the doctors and nurses for telling me what to do. I wanted to do things my way… but thank goodness I listened to them instead. I pushed for two and half hours, which isn't a short time period, but it would have been way longer if I had been left up to my own devices. I think I would have just held the baby in indefinitely. I really hadn't anticipated being so scared of the actual birth.
I was half sitting up in the hospital bed and pushed while pulling on a bar over the bed, on handles by the side of the bed, and even while pulling on a sheet held by the doctor. Eventually a nurse and Travis started holding my legs while I pushed and they set up a mirror for me to watch my progress. I was fine with having the mirror, but it definitely was not an attractive sight!
The two+ hours passed quickly with what seemed like little progress. The doctor was a little concerned about Ken being in distress during contractions and they encouraged me to keep working hard. I think I asked the doctor how long it would take. They wanted me to hold my breath while pushing and do two or three per contraction. Many of my pushes were ineffective. They only seemed to work when I could push in conjunction with my body's natural pushing action. The doctor suggested Pitocin to get things moving faster, which I didn't want. I was a little frustrated but tried to muster up my courage and determination to just GET THE BABY OUT!
Ken is here:
Finally, at 6:41 pm, Ken's head was crowning and he was born quickly after that! They had moved the mirror, but I looked down and could mostly see him being born. Following his head, he had his little hand up under his chin. "He's waving at you!" the doctor said and she helped pull him the rest of the way out. It all happened so quickly that I couldn't tell you the exact details. They quickly put him up on my chest. I was very happy and relieved and in love with our new little baby.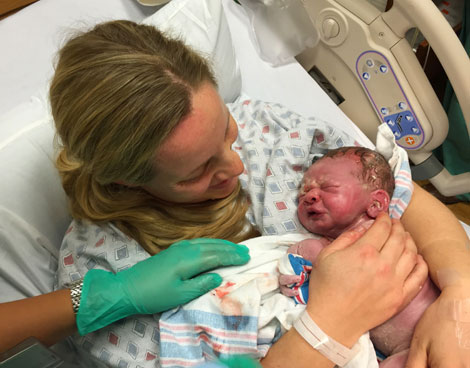 I got to hold Ken for a bit. I did not cry, which is a little strange. I was just so happy and overwhelmed. Ken cried a bit, but not loudly. Travis cut the cord at some point. Time passed quickly. The nurses rubbed Ken clean — he had a lot of vernix on his body. The nurses called him "cheesy" — yum. He also had a lot of mucus in his nose, mouth, and lungs, so a nurse had to take him for a bit to suction it out, but she did it right by my bed. He also got foot printed and "tagged" with all his hospital bands.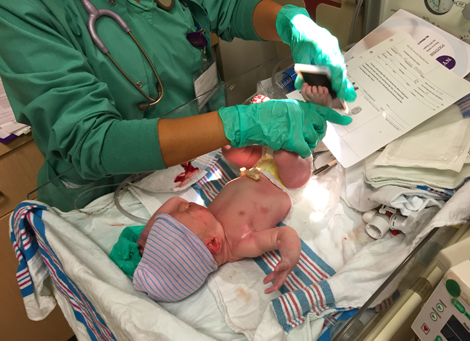 Unfortunately, I did have a second degree perineum tear, but I couldn't tell you when it happened. It didn't hurt as far as I could tell. Maybe my anxiety (and all those Kegels I had been doing) prevented me from relaxing my pelvic floor during the birth, but who knows. While Ken was cleaned up, I had to get a few stitches. That was NOT fun. I wanted a break from all the discomfort, but I was also really happy and excited, so I got through it. Another pre-birth fear that I really didn't need to worry about? Pooping during labor. I do not think I did, but I really couldn't tell you, and no one in the room would have cared at all either way. I was so focused on getting through the pain and getting out the baby, that I was not worried about much of anything else. I also didn't care that I had an IV in my hand or the fetal monitor around my waist — two things that I had anticipated not wanting. Everything happened so quickly and I was very happy with the help that the hospital staff gave me during labor and the birth.
After Ken was suctioned and cleaned, he was put on my bare chest. I am so glad Travis took photos because the time went so quickly. I just enjoyed holding him. Travis and I ate some of the snacks we had brought, and Ken nursed a bit while we waited for his eye ointment and Vitamin K shot. I think this is also when they gave me the Pitocin drip, but I am not sure. I had been suspicious of the hospital for requiring Pitocin after every delivery, but in the end, I did not care at all and I had no side effects from it. If anything, I was just insanely happy, excited, and at peace.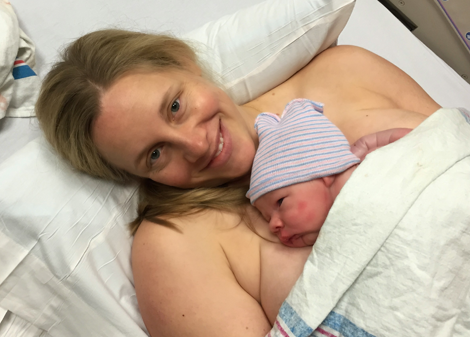 Hospital Stay:
Staying at the hospital was not something I was looking forward to, but despite my anxiety, I was very happy with my stay and care at NYU Langone hospital. The nurses were all fantastic. I saw two lactation consultants, two pediatricians, and took a breast feeding class and baby care class all within my 40 hours at the hospital. The nurses helped me breastfeed and taught me how to use a breast pump.
I ended up with a private room, but only because the other bed in the room was broken. Despite the privacy, we decided Travis should go home to sleep at night and to take care of Crusher. The hospital food actually wasn't bad, but Travis also brought me Doughnut Plant donuts the day after the delivery. Our friends, Joel and Amanda, came to visit on Friday evening.
It must have been the hormones, but I just felt thrilled and at peace in the hospital. I felt like I had accomplished something big and I was just so pleased that Kenneth had arrived.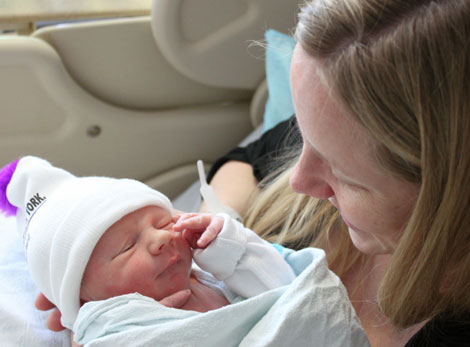 Bringing Ken home:
On Saturday morning we got discharged really quickly. We were out of our room by about 10 am. They require that you sit whenever you carry your baby in the hospital, so I got to take another wheel chair ride down to the hospital exit. You can tell by my goofy smile, I was just deliriously happy and excited.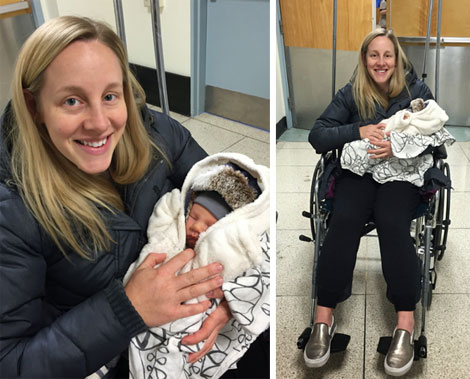 Travis had borrowed Joel's car and had already installed our car seat. He went to go get the car while I waited in the lobby. (Side note: as far as we can tell, you do NOT officially need a car seat to leave the hospital in NYC. No one checked us or asked us how we were getting home. Of course, you SHOULD use a car seat.)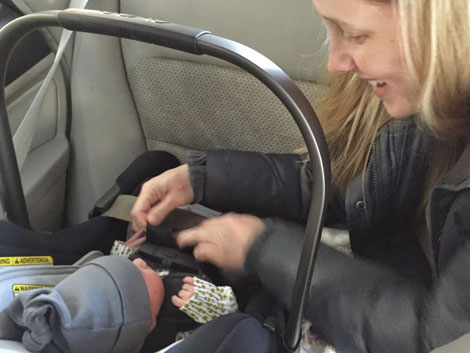 There wasn't much traffic on our way home. Travis says he wasn't very nervous while driving. I sat in back with Ken and told him all about his home borough of Brooklyn.
Crusher was very excited to meet his new brother when we got home. He went a little crazy and both wanted to get close to Ken, but also was a little nervous. He has since warmed up to him, but he doesn't like his crying.
The four of us have spent the last three weeks getting used to the very literal blood, sweat, and tears of caring for a brand new baby. We are having fun together and slowly finding our rhythm. My recovery has gone well, but between that and breast feeding, there has been a lot of pain and discomfort. But things are getting better. I had felt so proud and pleased to have gotten through the pregnancy and birth, but bringing home a newborn is a fresh new challenge that may be the hardest yet.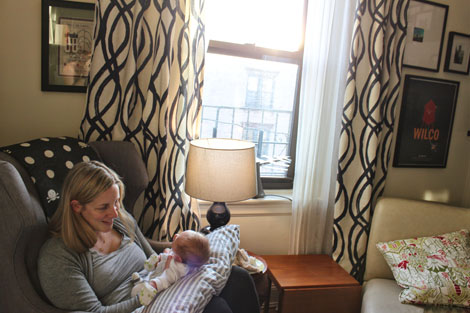 Childbirth vs Marathoning:
I was very interested to learn how the experience of labor and birth compared to running a marathon. Prepping for childbirth was not my main motivation for running marathons, but I'd be lying if I said it wasn't one of my reasons.
I AM very glad to have had nine marathons under my belt before giving birth because it gave me a lot of self confidence and knowledge that I could endure pain and hard physical work. BUT, childbirth was MUCH more difficult than running a marathon.
I was lucky in that my labor was super-short, but even so, it was six hours of intense pain. Some marathons are six hours long, but you aren't in pain that full time. Labor pain is like the last hour of the marathon, but for a much longer period of time.
Other differences: In a marathon you can adjust your pace or even stop if needed. You don't have much control over labor. And you don't know how long it is going to be. During my marathons, I've definitely thought, "I'm never doing one of these again." But I've never thought about quitting. Labor was much scarier. I am sad to say that I think I would have quit if I had been given the opportunity. It is definitely hard to remember and compare pain, but I do know that I was thinking I would much rather be running a marathon than trying to push out a baby. But of course, a sweet, little baby is a much better prize than a medal!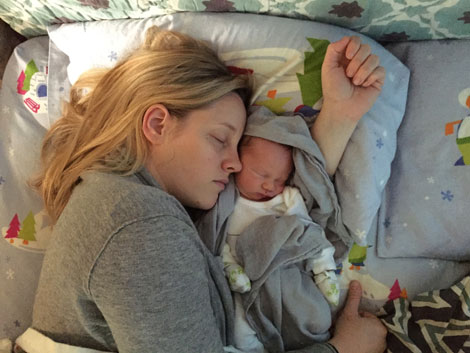 Don't worry. I don't actually sleep with the baby like this. We were just lounging.
————
You can see LOTS more photos of Kenneth in his Flickr album.