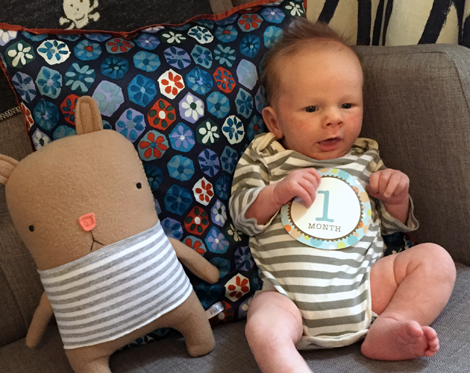 Little Ken is one month old! We are extremely fortunate and grateful that he is healthy and sweet and progressing perfectly. It is amazing that he is a miniature human made of equal parts Travis and me. He is not quite what I expected, but instead a unique individual with a distinct personality starting to emerge. He is a lot of fun. He looks like Travis, my brothers, my dad, my father-in-law, and myself all at once. The last month has flown by and dragged on. I hope Kenneth has enjoyed getting to know us as much as we've loved meeting him.
Facts about Kenneth at one month:
He weighed 9 lbs 10.5 oz at his four week doctor appointment. Two pounds more than at birth!
He sleeps in 3-4 hour chunks at night… which isn't too bad on his mom.
He is a champion eater and has been meeting all of his dirty diaper quotas.
It took a few weeks, but he has been making eye contact, making lots of cute noises, and even cracking a few adorable smiles.
He loves riding in his baby carriers and being swaddled at night.
He makes endless funny faces, especially when I give him kisses on his face.
He has had lots of visitors and he has been on trips to Shake Shack, Ample Hills, Calexico, and Prospect Park.
He is the best baby in the world!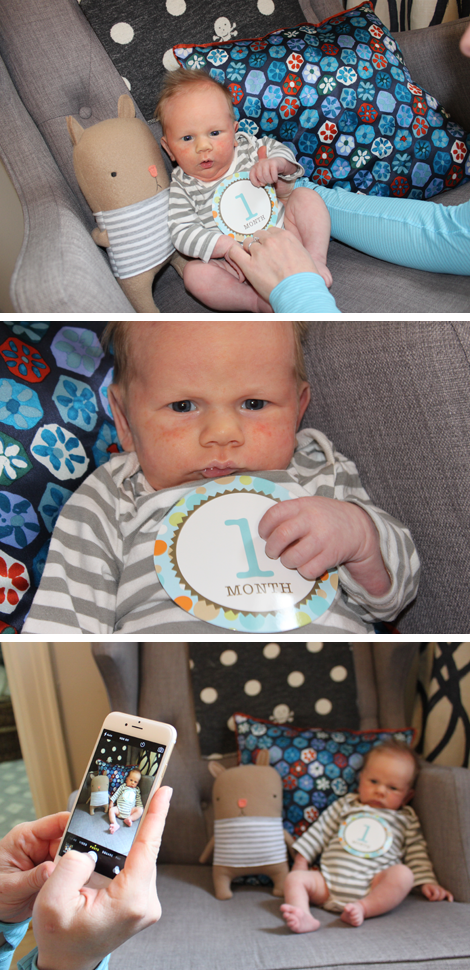 Postpartum Update:
I was ready for a lot of the things that come with bringing home a new baby — sleepless nights, getting little accomplished except baby care, dealing with a flabby, out-of-shape, recovering body, emotional highs and lows — but you add it all together and this new life can feel TOUGH sometimes. Thankfully, Travis has been a huge help. He has done the grocery shopping and much of the cooking. And despite being back at work full time now, he stays up with the baby when I desperately need to sleep. We are adults and I know we will get through this early baby time just as billions of other parents have. Hopefully, we will even remember it fondly. I try to keep things in perspective and remember that everything is actually going very smoothly…
BUT I need to vent about one major challenge… breast feeding. Ugh. Overall, Ken and I have had a lot of success and I am going to stick with it, but I am sad to admit that I don't really like it. I had high hopes in the first week, but then the pain set in. It was excruciating for about a week. There was blood and blisters and a lot of tears. It felt terrible to dread feeding him. But as all of the lactation resources predicted, things have gotten better. (These nipple pads and this lanolin help.) I no longer dread it, but it is still uncomfortable, time-consuming, and utterly (udderly?) draining. I have a low level dehydration headache at all times despite my best hydration efforts. Also, my boobs are unmanageably huge and sore and stretched to the max. I know Ken is getting plenty to eat (he makes lots of dirty diapers and is gaining weight) but his feeding schedule is still unpredictable, and he can be quite demanding! Oh, and my weight is absolutely NOT "falling off" as everyone said it would if I breast fed…
It has only been a month and I know things will continue to get easier, but even compared to my fertility struggles, the pregnancy, and childbirth, I consider breast feeding during this postpartum period to be my least favorite and most difficult challenge. Of course, maybe my feelings will change once I get through it…