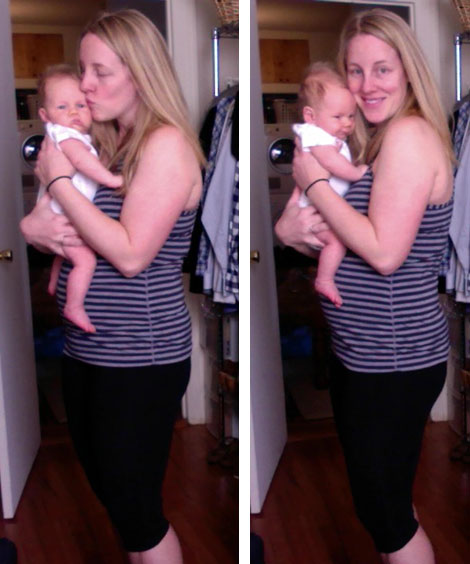 So… I had a baby. It has been eight weeks since Kenneth's birth and I have started to try to "get my body back" in earnest now. I thought I should write an initial "before" post so that I (and you) can track my (hopeful) progress.
I feel like I was prepared for a change in my body and was ready to accept the downsides of growing a human inside my abdomen along with the awesome miracle of it. In my rational, positive brain I know that even though my body is not where I would like it to be, it isn't so bad, and with hard work and patience I can definitely lose weight and get to a place where I feel good about myself again. BUT, in my tired, illogical, overwhelmed brain I am freaking out. I hate the way I look! My clothes don't fit! Everything jiggles! Stretch marks! How will I ever lose all this weight?! Sometimes I feel utterly destroyed and really sad that I will never have my old self back.
The weight facts: I gained 30 lbs during my pregnancy. I was proud to have stayed within the 25-35 lb weight gain recommendation and I believe I ate extremely healthy. (Despite craving donuts constantly, I really only had like 4 of them all pregnancy. I swear!) Not a terrible weight gain, but after all of the fertility issues over the previous year and our trip to Europe, I started the pregnancy at a higher weight than I would have liked. I lost 14 lbs after the delivery and within the first week. I have NOT lost anything else since then! And at six weeks postpartum, despite exclusive breast feeding and constant hunger, I was on the precipice of starting to GAIN weight. Breast feeding has not meant easy weight loss for me.
I need to lose about 16 lbs to get to my pre-pregnancy weight. And I'd like to lose another 10-15 lbs to get to my dream weight. This seems daunting.
The exercise facts: I exercised throughout my pregnancy. I ran up until about 28 weeks. I went to pre-natal yoga 1-2 times a week, I did pilates, swimming, and I walked a lot. The last few weeks of pregnancy were tough, but I made sure to walk Crusher at least once a day. I think I did a good job staying active. Post-pregnancy is a different story. Leaving the hospital they tell you not to start exercising until you get your doctor's ok at six weeks postpartum. I followed the rules because I didn't want to hinder my body's healing process or cause any additional problems for my pelvic floor. I was also worn out and focused on caring for my baby 24/7. So… I spent about six weeks sitting on the couch. In addition to just having a baby, I am downright out of shape. But, now I've gotten my doctor's permission to start being active again! woohoo!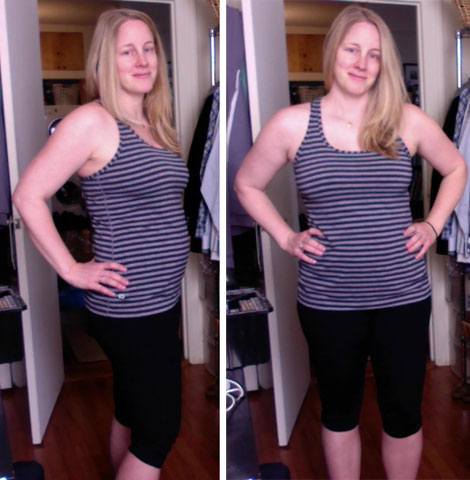 The plan:
Workout Videos – Currently I am trying out this Moms Into Fitness 30-Day Postnatal Slimdown Challenge. It is free on YouTube and seems really smart about easing back into abdominal work.
Running & Walking – I know that I need to be patient and that recovery from pregnancy and birth is ongoing… but when it comes to running, I am so frustrated and disappointed. My hips are really messed up. They are weak, and loose, and wonky. After running a mile, I can barely walk. So… I am going to try my best to ease in slowly. In the meantime, I am trying to walk Crusher every day with Ken in the baby carrier.
Postnatal Baby & Me Yoga – I am trying to attend this class with Kenneth at Bend & Bloom once a week. It isn't a strenuous workout, but it feels good to move and see other new moms. Plus, it is good to expose Ken to new things and baby friends!
Calorie Counting – Most lactation resources recommend avoiding extreme dieting while breastfeeding. They tell you to "eat to hunger and appetite," which is what I have basically been doing since Ken was born, but if I truly ate to my appetite?? I'd be eating a dozen donuts a day washed down with eight cups of coffee and a chocolate bar. So… I need to watch what I eat. I am aiming for less than 2000 calories a day, with extra calorie allowances added depending on my activity level each day. Nothing drastic. I'm using the Lose It app to record my food and exercise. Travis and I have a goal of eating four dinner salads a week… so far, success!
Looks are not important. Especially at this point in my life, no matter what I do, a super-model body is not in my future. If you think about all of the people in your life that you care about, what impact do their looks have on your love? Probably zero. So, I know that being a mom is my top, best priority and Ken will love me no matter my jean size or how many miles I can run… BUT I'd love to wear my old clothes again. And, I want to stay healthy and feel fit. So, I am going to work hard to get back in shape and stay within a healthy weight range. I'll keep you posted on my progress!
This cute face will help keep me motivated…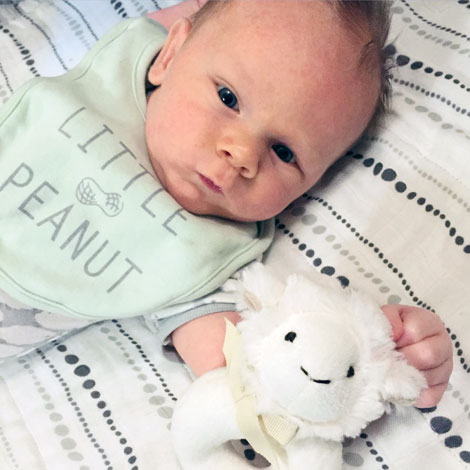 Have you had success losing the "baby weight" recently? What are your tips?