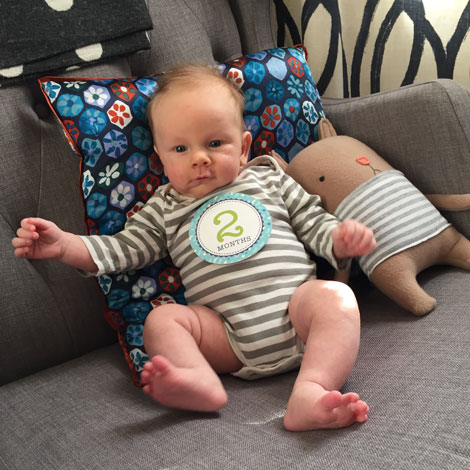 On Sunday, Kenneth turned two months old. He seems so big and so old now! It has been fun to watch him awaken to the world and start interacting with us a bit more. What else has he been up to? Practicing his smiles, discovering toys, requesting kisses, and of course, sleeping quite a bit.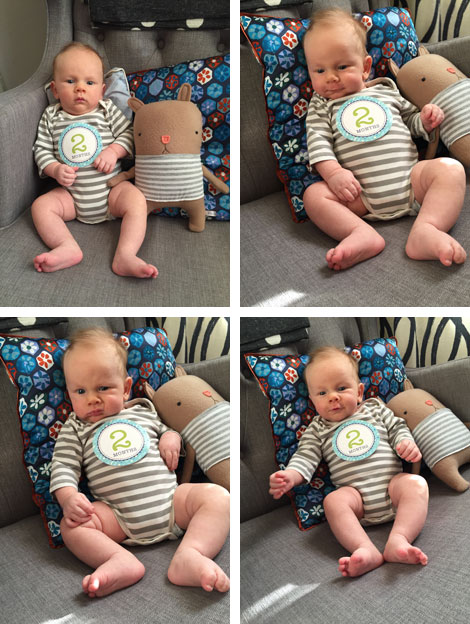 Facts about Kenneth at two months:
At his two-month doctor appointment last week he weighed 12 lbs 10 ozs and was 24.25 inches long! Very tall (99th percentile!) and a bit skinny, but the doctor was pleased with his weight gain.
He has been sleeping longer at night, which is amazing. On Sunday night he slept for eight full hours straight! That was a big deal, but on most nights he gets in at least one 4-6 hour chunk. Not bad at all on his parents. We are feeling good!
He has started smiling a lot more and even initiates smile conversations. He giggles a bit, but we can't wait for more!
He is not a big fan of sleeping in his crib and isn't really on a strict nap schedule. But he does like looking at his play mirror in his crib.
He likes blowing drool bubbles. Bibs have become a necessity.
He loves getting kisses on his face and even "asks" for them by putting his mouth up in the air. Very cute.
He still likes being swaddled at night and loves riding in his baby carriers during the day.
He seems to have noticed Crusher and sometimes watches him walk around. Crusher has attempted to "play" with Ken by barking at him and teasing him, but Ken doesn't seem to understand the game.
All four of us have really started to get to know one another and become a more cohesive family. It is a fun time!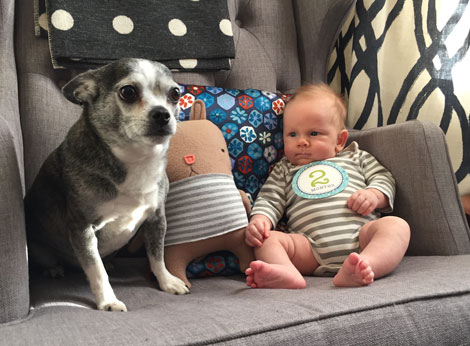 Mama Update:
You guys, things are getting SO MUCH BETTER. (I had real coffee for the first time today, which may be positively affecting my mood.)
Breastfeeding can still be uncomfortable and demanding, but Ken seems to be eating less frequently and my boobs are feeling much better. Feeding him feels more natural now, even if it is still time consuming. I am proud of myself for making it for more than eight weeks of exclusively breastfeeding. I plan to try to make it a year, but whatever happens, I am happy that I have stuck it out as long as I have.
Over the last two weeks I have started working out again. It feels great. I am out of shape and running is still nearly impossible with my wonky hips, but I really like my video workouts and can already notice strength improvements. And I have lost two pounds! Thank goodness for progress!
The weather is finally better this week and I have actually been getting stuff done. Ken and I have met up with a few friends for food, we've gone to mom & baby yoga, and we've even gone to the grocery store AND fixed dinner on the same day! I didn't know if that last thing would ever be possible again. I feel confident taking Ken out and even feeding him in public.
Sunday was a down day after attempting to run and then attempting to buy new workout clothes. Neither attempt was very successful and I started feeling sorry for myself again… but I am having many more good days than down days lately and I feel like I am coming into my own in this new mommy life. Hooray!
And that is all I can post for now because Ken just started crying for his afternoon snack…