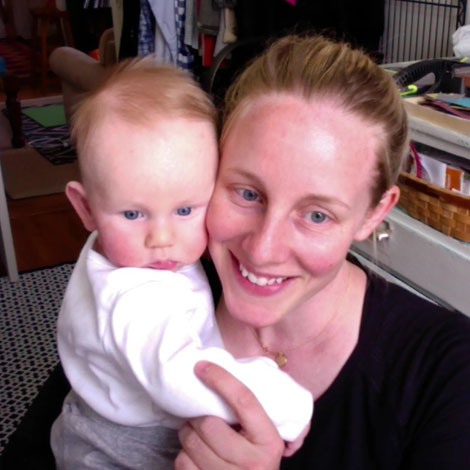 In some ways there is a lot to report, but in others, I feel like a body update might be premature…
The good news is that breast feeding has gotten SO MUCH BETTER! We had Kenneth's tongue and lip tie treated two weeks ago. That, in combination with a prescription medication to treat thrush, has resolved the breast feeding pain. Thank goodness. Amazingly, I am already starting to forget how much pain I was in. ("It wasn't so bad." ha!) Sticking with breast feeding for a year feels much more doable now. Plus, not having to deal with pain constantly has really made me more relaxed and more able to focus on other things, like falling even more in love with my sweet baby… and also my physical therapy and exercise.
Physical therapy is going quite well. My hips are getting stronger and I feel more comfortable while walking and doing daily activity. I am still going to a PT appointment in the city at Renew once a week where the therapist does some external and internal massage, assesses my progress and strength, and adjusts my daily exercise routine. I have been pretty diligent about sticking to my daily exercises. My only complaint is that my hip pain seems to have migrated into my lower back. But… it is probably mostly from using the baby carrier too much. Last Thursday I carried Ken around Manhattan in it for seven hours! That was a mistake. I know I push myself too hard, but that is basically the story of my life.
I am still not running. My doctor told me that I do NOT need to avoid high impact activity or running, but my physical therapist has recommended that I continue to hold off until I get a little stronger. My hope is to start the process of trying to run at the end of May. I have started to get my hopes up about training for the NYC Marathon this fall… but I still don't know if it would be smart. We'll see…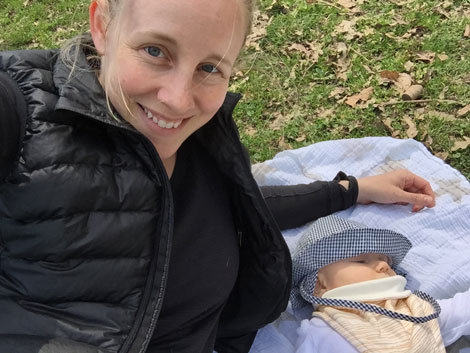 My exercise routine these days mostly consists of my PT exercises (core, pelvic floor, and hips) and lots of walking. (Walking to the park often, as seen above, now that the weather is so much better.) I have also added in a few strength training video workouts (with lots of squats!) and on Tuesday I went to a SoulCycle class, which was great. I am hoping to continue taking a cycling class once or twice a week. I also want to get back to Baby & Me Yoga with Ken!
As for food, I have given up calorie counting. When I was dealing with so much pain, tracking every baby feeding, all my PT exercises, and all of the food I was eating got to be way too much to handle. In an uncharacteristically logical move of self acceptance, I decided that calorie counting was one thing I needed to drop. I am still trying to eat more healthy, whole foods and less sugary treats.
Because I am a crazy person who expects immediate, impressive results, I am not thrilled with my weight loss progress. I gained 30 lbs during pregnancy. So far, I've lost about 21 lbs. Over the last six weeks since my last update, I've lost about 5 lbs. I know that any loss is definitely better than nothing, but I am impatient and daunted by the fact that I still have so much to lose. I know that comparison is completely unproductive and immature, but it is still hard to ignore all the success stories online of women dropping their baby weight in record time. Ugh. I'd love to lose 15+ more lbs, but I will try my best to be patient about it. I may start up calorie counting again at some point, but for now I am trying to be more relaxed and see where it takes me.
These mirror pics are embarrassing and difficult to post (maybe I shouldn't have shared them! gah! my mirror is filthy!) but hopefully they will be a way (other than weight) to track my progress. I also took my hip, waist, and bust measurements, but I am not brave enough to share them. My goal is to lose 2-3 inches in each area.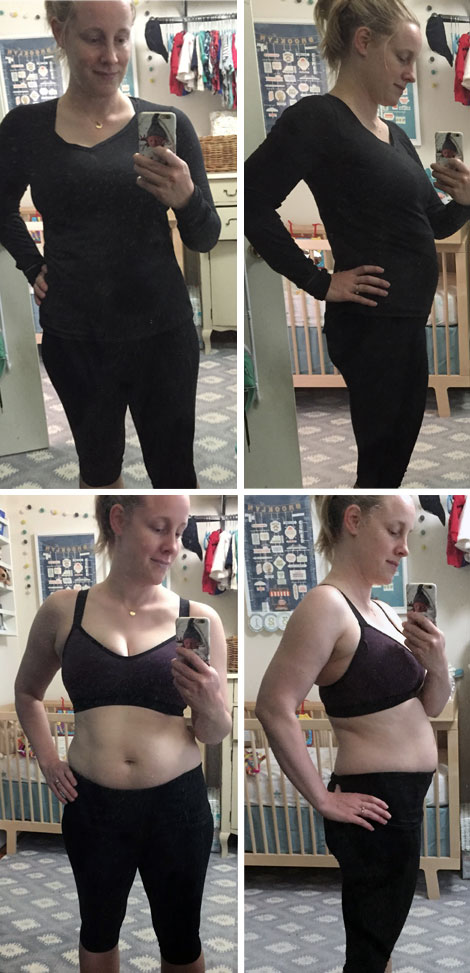 These body posts feel quite self-centered and a little obsessive. But it also feels good to attempt to stay on course and be proactive about getting fit and healthy. It is helpful to write out my thoughts and track my progress. Body image issues have been one of my biggest, life-long, mental challenges and one of the things that scared me most about pregnancy… which I know may be quite vain and ridiculous, but it is the truth. I feel like I am making progress in accepting myself and valuing my body for its health and what it can accomplish… but I still struggle. (I want to do MORE! Get MORE accomplished! Lose MORE weight!) My hope is to stay motivated to continue to shape the body I want, while staying relaxed and patient with my progress. I'll keep you updated!
————
Catch up on my progress with my first post pregnancy body post and my 10 week body update.