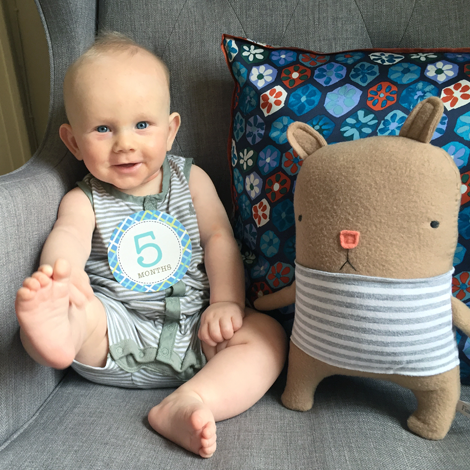 So much fun! That is how I would describe Kenneth at five months old. He loves playing with toys (especially new ones!) and moving all around. He loves for us to read him books, looking astounded at each new colorful page. (He even seems to be attempting to turn the pages himself, but maybe I'm reading too much into his grabbing reflex.) He likes his dad and me to sing him to sleep, that or talk to each other about something very boring. He doesn't have any teeth yet, but he definitely wants to put everything in his mouth to chew on. And he drools. A lot. Sometimes he is very serious, observing the world around him intently. But overall he is just a sweet, easy-going, happy baby.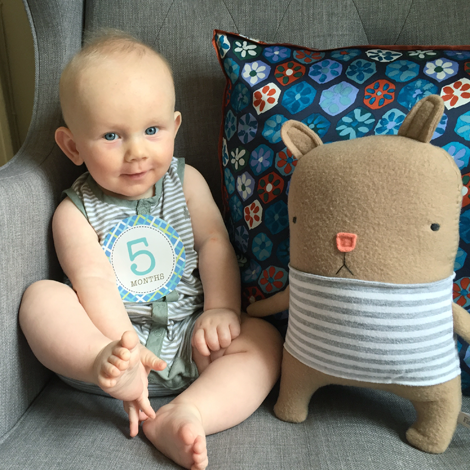 I know that I can't really be objective, but to me he is absolutely perfect. I love him so much.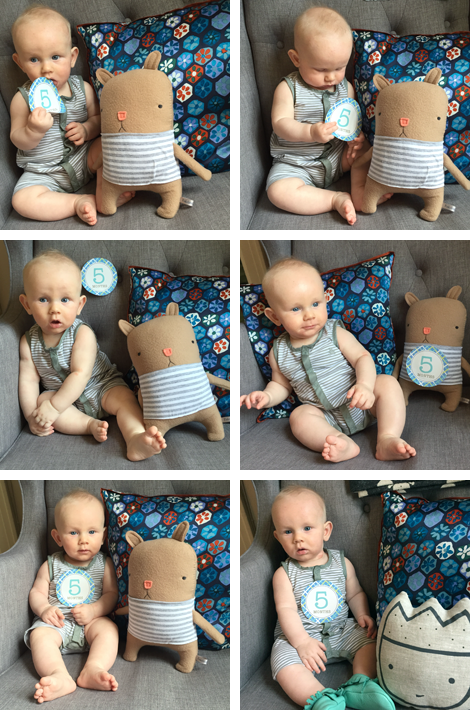 Some Fun Facts…
Kenneth weighs 17.5 lbs and is somewhere over 27 inches tall. He went into the doctor's for an extra 5-month weight check last week since his weight hadn't been increasing as quickly as his height. The doctors were pleased with his gain and didn't even check his height… so I guess that means all is good.
Kenneth's two passions lately seem to be blowing spit bubbles and doing backbends out of mom or dad's arms. Both of which I don't love. But I try to support him in his interests…
In addition to the backbends, Kenneth is much more rolly-polly and movement-focused lately. He loves to try to sit, and stand, and roll, and even attempt to crawl. He sort of throws himself out of our arms in an attempt to get places, which makes him somewhat difficult to wrangle. He is a boy who loves to move!!
He can sit unassisted for a few seconds at a time… and he is very proud of himself when he does!
He giggles when I kiss his neck and pretend to munch on his fingers or toes, and he LOVES "flying" around as Super Baby with his dad.
We started feeding Kenneth a bit of solid (ish) food just after his four month birthday on the advice of his pediatrician. So far he has had rice cereal, mashed bananas, a little steamed and mashed carrot, sweet potatoes, and a little avocado.
Ken went on his first plan ride to Kansas City on May 22nd to visit his grandparents and aunts and uncles. He was an awesome travel baby, sleeping for the majority of the flights and barely fussing. The entire trip went well. Ken went to his first Royals game on the 23rd, spent a lot of quality time with his grandparents and great Grammy, and got to meet most of his aunts and uncles for the first time.
Nearly all of Ken's brownish-red baby hair has fallen out and fine, white-blonde hair is taking its place. He looks like such a different baby than he did at one month!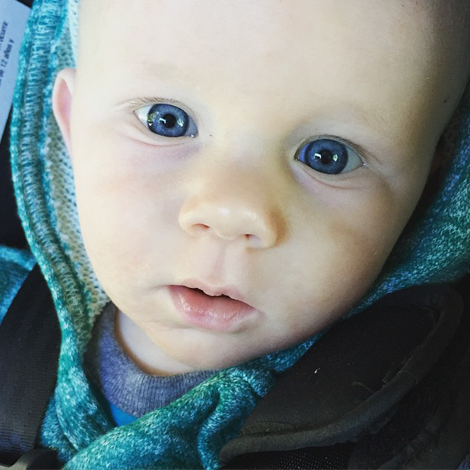 I read somewhere that the only thing more profound than the love you have for your child is your fear of losing them. That thought has stuck with me. I am a defiantly optimistic person and try hard not to dwell on fear and worry, but Kenneth is so precious to me that it is scary. I just hope and pray that I can give him the love and support he needs to have an incredible, rewarding, happy, long life.
————
Also, check out Kenneth at one month, Kenneth at two months, Kenneth at three months, and Kenneth at four months.