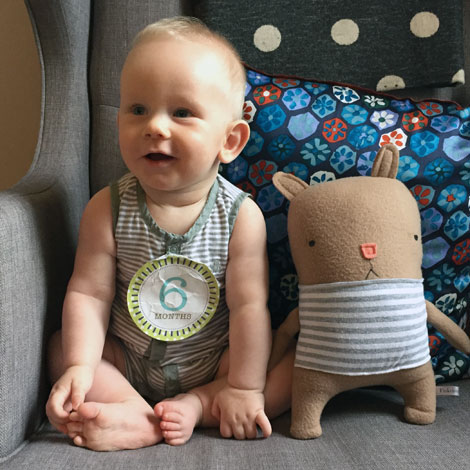 Kenneth is six months old! This feels like such an epic milestone. Like, we should have a 1/2 birthday party to celebrate. Happy 1/2 year of life, Baby Boy!!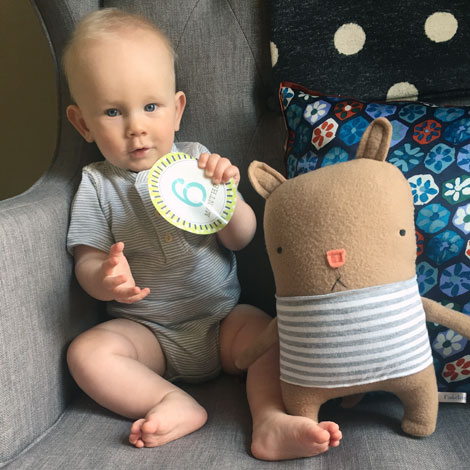 Ken has been simply amazing over the last month. He has mastered so many new skills: rolling over all the time, sitting up unsupported, standing on his own while holding onto something, getting into the crawling position, using a high chair, riding in the big jog stroller, and most amazingly, sleeping in his crib every night. I know that I am biased, but I'm impressed. He most definitely inherited Travis' hard working and chill demeanor.
That being said, he is also a six-month-old baby, a rolly-polly wiggle worm who loves to move, kick, squeal, and grab anything within reach and put it in his mouth. Taking his portrait this month was a challenge. He was quite upset with me for not just letting him chew on his sticker the whole time. The word I would currently use to describe him is determined. I think he gets that from me.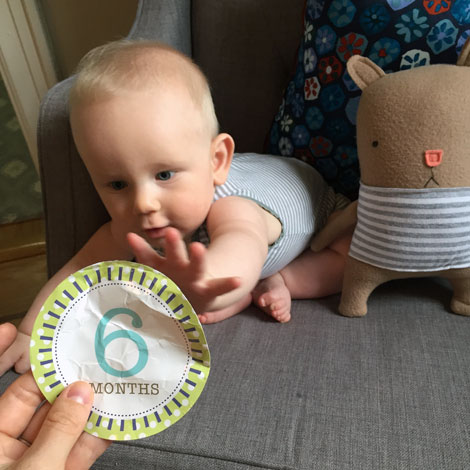 He is definitely expressing himself more strongly these days. This is what happens when he doesn't get his way with the sticker…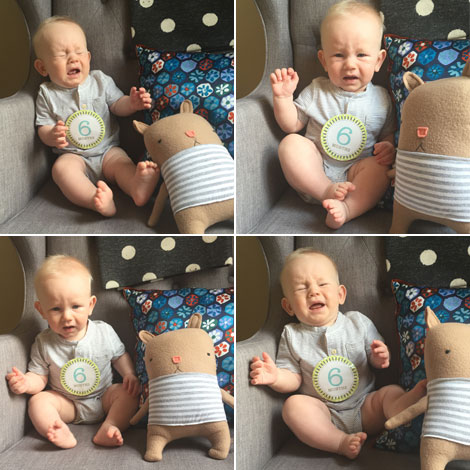 Fun Facts about Kenneth:
At his 6-month doctor visit today, he weighed 18 lbs and 12 ozs and he was 28 inches tall. He is still above the 90th percentile for height, but his weight, although growing steadily, is around the 70th percentile. The pediatrician said his stats were "perfect" so I will try not to worry that he weighs three pounds less than his dad at the same age.
He is eating all sorts of solid food now. He loves chomping on bananas and plums, and eating bits of avocado and bread. We've also been giving him a few ounces of these organic baby foods each day. He seems to love it all!
No teeth yet, but he has grown a whole lot of white-blonde hair!
He is REALLY into toys these days. Especially new ones. He studies them intently and loves any type of moving parts that he can fiddle with.
He seems to respond to his name, but he has so many different ones — Kenneth, Ken, Kenny, KennyG, SpecialK, BabyJ, Gunner, G4, hashtag — that it must be confusing!
He is very interested in Crusher and always reaches for him when he is near. Crusher seems to be more open to interacting with him, too. I hope they become good friends.
Just within the last few weeks, he has started trying to crawl. He can get up on all fours and rock forward and back, but he can't actually go anywhere, yet. He wears himself out trying, though!
He is still sleeping in his crib most of the time, but he has also gotten back in the habit of waking up to eat AT LEAST once in the night. I hope we can start helping him to sleep through the night asap.
Kenneth has been on a train trip to Philadelphia, a plane trip to Kansas, and this month he took his first road trip to Maine. He was, once again, an excellent travel baby, but ten days away from home started to get tough by the end of the trip. There were some tears on the car ride home, but we made it.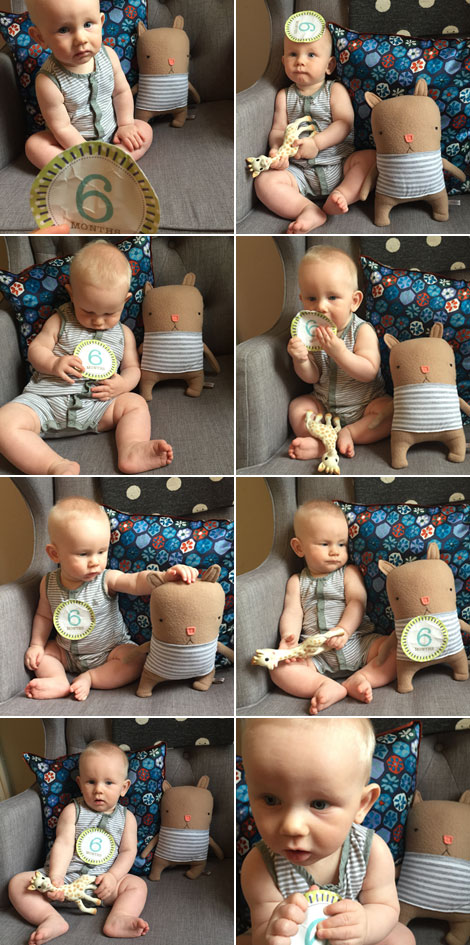 Mama thoughts:
Ken is such a good baby. Smart, and fun, and sweet. I really have no complaints about him. (Well, except for when he pinches me or pulls my hair, but we are working on that.) But being a mom is tough. Especially when I am trying my best to be a "work-at-home-mom" and keep Swap-bot running to some degree.
I have always known that taking care of children is hard work, but I regret that I also secretly questioned work-at-home-moms who hired nannies so that they could take a nap, go to an exercise class, or, your know, work. I thought for sure I could handle it all on my own, but having zero family help or child care options is becoming untenable. Sure, I can throw in a load of laundry, empty the dishwasher, or read a few emails while Ken plays, but working on complicated design projects or composing email responses and blog posts is much more difficult to do with one hand and half of your brain. Nap time is key, but it is never guaranteed. So… I have started looking into child care options. I am not sure how it will play out, but I daydream about having a few extra hours of work time per week.
What else do I daydream about? The end of breastfeeding. I know some will say I'll miss it when it is over, but I'm not convinced. Thankfully, my infections have been eradicated and it is not currently painful, but I still haven't come around to enjoying it. It has NOT helped me lose weight. (I swear that is a lie used to trick women into doing it.) It hinders my fitness aspirations. (Running with jugs of milk attached to your torso is not fun or easy.) And it is getting harder and harder to convince myself that "breast is best" when there are plenty of excellent humans in the world who did just fine with formula. Anyway, protesting and complaining is a waste of time when deep down I know that I am too stubborn to stop anywhere short of my one-year goal, but still! Breastfeeding. Ugh.
Anyhoo, I'll try to end on a positive note… I hope I am a good mom, because Kenneth deserves the best. His smiles and giggles are the most wonderful things in the world. I pray for endless patience and tons of fun and educational play time ideas. I hope he can feel my love.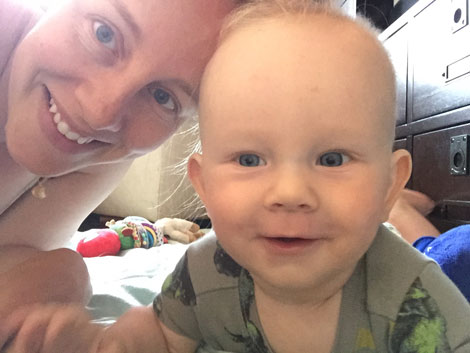 Also, check out Kenneth at one month, Kenneth at two months, Kenneth at three months, Kenneth at four months, and Kenneth at five months.