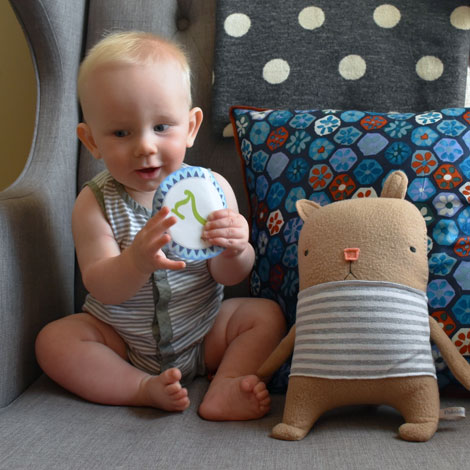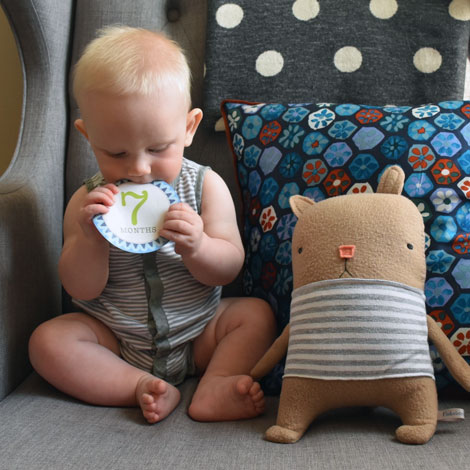 Kenneth is seven months old!! Wow. Specifically, he is 31 weeks old today. He has become such a little BOY lately. He is very mobile and loves exploring everything. Which includes grabbing everything and tasting everything. This is very good for his development, but not so good for accomplishing his monthly photo shoot. He could not resist his sticker this month. I was frustrated that we couldn't get the "perfect" photo, but Travis reminded me that he is just a baby. Oh, right. Maybe I expect too much from him, but he always seems to roll with everything we subject him to. He goes into the city on the subway, checks out museums and parks, goes for hours of rides in his jog stroller, and even flew (on a red eye) to and from Oregon last month without much trouble. He is a cooperative and fun boy!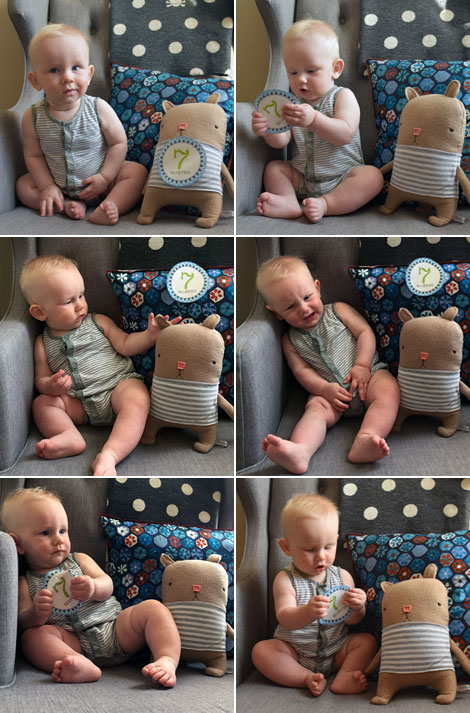 Fun facts about Kenneth at 7 months:
Big news! Ken's first tooth started poking through on July 28th! It is his bottom left tooth and he seems quite proud of it, even letting me touch it and take photos. Ha! Since then his second bottom tooth has poked through.
I'm not sure of Ken's official height and weight, but he is definitely a big boy! We are now dressing him in mostly 9-12 month clothes. I only buy 12-month or larger nowadays.
At the suggestion of our pediatrician, we have been giving Ken some water to drink out of a sippy cup. He amazed me by catching onto holding and drinking from the cup right away. Wow!
He has also been eating a lot more solid ("human") foods, including his first Cherrios. Yum! He can feed himself from the baby food pouches and he eats in his high chair with us at nearly every meal. In addition to the usual fruits and veggies, he has had bread, smoothies, and a little cheese. Last week he had his first taste of animal: chicken! And yesterday, he had his first little taste of a Shake Shack burger!! He loved it and wanted more.
He loves grabbing ANYTHING… and promptly putting it in his mouth or throwing in on the ground.
Kenneth's greatest passion of late is cords. He loves cords. He can somehow find and propel himself toward any and all cords in the house. Which isn't good because they aren't exactly safe baby toys. We are keeping an eye on him.
He isn't technically crawling yet — just spending a lot of time wiggling around on all fours — but he is scooting, army crawling, rolling, planking, and pushing himself all over. He spends a lot of time playing on the living room floor. He also likes trying to climb things and standing up while hanging onto the coffee table. He can pull himself up to standing from sitting, but it is still really tough and wobbly for him. He works especially hard at trying to throw his body off the changing able at every diaper change, which I am trying hard to discourage.
He is definitely exploring his voice and loves squealing and saying "dada" over and over. He also seems to say things like "hi" and "hey" in response to us, but I can't be sure if he is really trying to use language or just making noise. I think we still have some time before he officially says a first word.
Kenneth is very interested in Crusher and other kids. He loves to pet Crusher, but Crusher has to be bribed with treats to allow it to happen. We've taken Ken to a few parks, but I need to get him enrolled in some sort of class so that he can interact with other babies.
On August 2nd, Kenneth went to his first Mets game. He has now been to four baseball games at four different MLB stadiums… and has game balls from each to prove it!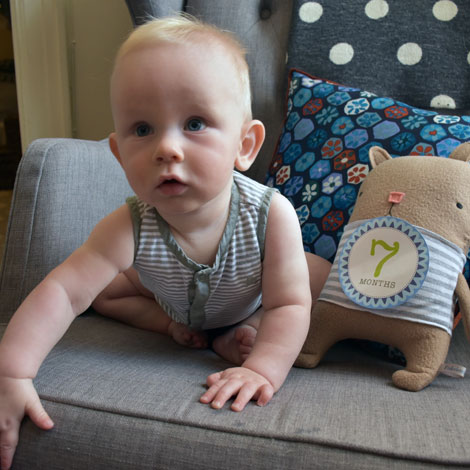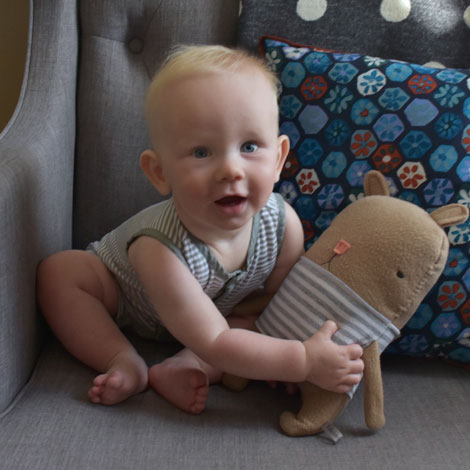 Mama Thoughts:
Overall, I am feeling extremely happy with being a stay-at-home mom these days. Ken is a lot of fun and I am so glad I get to spend time with him. My only complaint is that I REALLY WISH I could get more non-mom tasks accomplished. I have so much on my Swap-bot to do list! I haven't figured out child care yet, but we have actually booked our first babysitter for tomorrow night, so we will see how that goes.
Breastfeeding is actually becoming comfortable, which is really nice. With all of his extra solid food consumption, Ken seems to be nursing less. It makes me hopeful that the weaning process will happen naturally over the next few months. I still stand by my many previous statements that I won't miss breast feeding, but it does feels a little sad to know that he is growing up and won't need me for food for much longer.
I didn't think I would be a very sentimental mom, but I have found myself crying on more than one night when thinking about him growing up. He already pushes my hand away when I try to wipe his face. He will be a boy soon. And he will be embarrassed of me and tell me not to talk to him at school. Then he will be a man, and get married, and move away, and never need me again. But I guess that is actually the best case scenario and I shouldn't dread it. I am just really glad that I get to experience him and his development. Certainly, having kids is not for everyone, but I am enjoying being a parent even more than I thought I would. I am just grateful that it is part of my life experience.
Kenneth is awesome.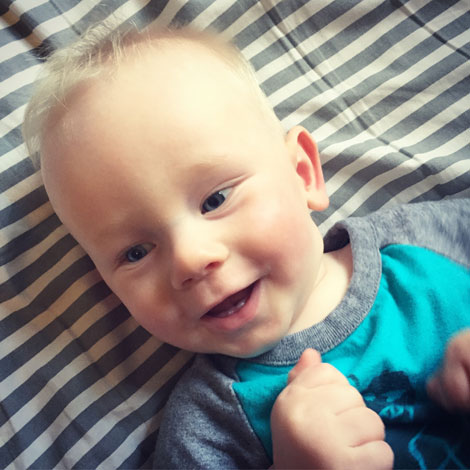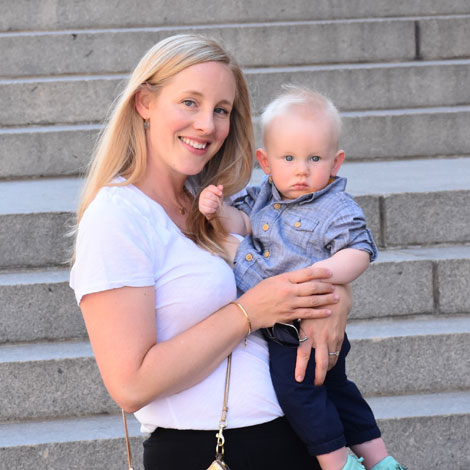 We have taken SO MANY photos of Ken! Check out all of mine in my Kenneth Gunner Johnson Flickr photo album. Nearly 7,000 photos at 7 months old, that seems about right, right? (Travis has also taken a few photos of his son… view them on his Flickr.)
Also, check out Kenneth at one month, Kenneth at two months, Kenneth at three months, Kenneth at four months, Kenneth at five months, and Kenneth at six months.