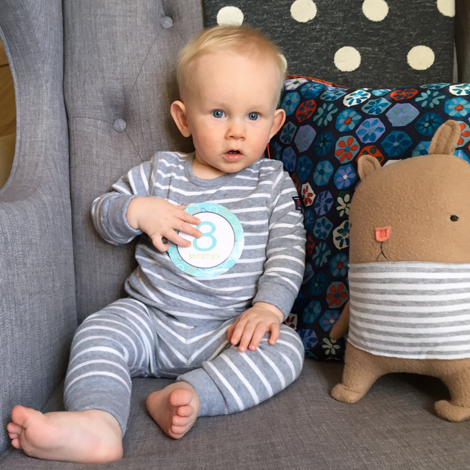 Kenneth is growing up so fast and learning so many things! As of yesterday, he is eight months old. It is amazing, but also a little scary. He no longer seems like a baby. He does things. He has plans and goals. He goes and gets what he wants. He is so fun right now and I love him so much. I keep wishing I could freeze time. But I also feel guilty saying that because I never wanted to be a parent who didn't want their kids to grow up. I want him to have a full, fun, long life, but I just wish I could keep revisiting these moments with him as an 8-month-old forever.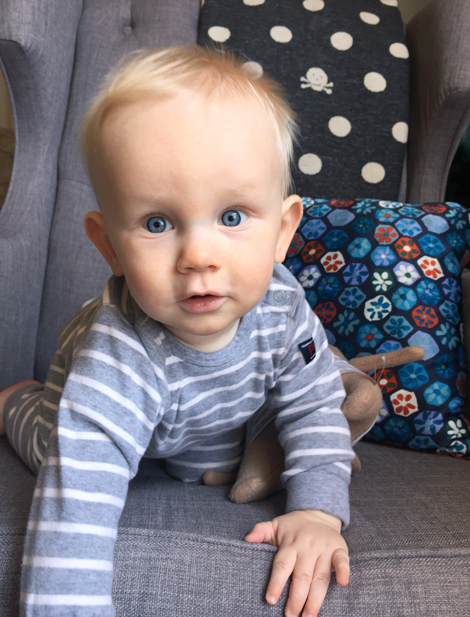 Fun Facts about Kenneth at Eight Months:
You guys! Kenneth can high five! I worked on it with him for one day and now he can pretty much do it on command. It is really cute. He will also usually give you a kiss when you ask for one.
We did an at-home measurement, and Kenneth seems to be at least 30 inches tall. He is catching up to his dad!
He crawls at top speed and can make it all over the apartment in minutes. He grabs and reaches for EVERYTHING! He has really put my cleaning to the test. I vacuum everyday just so that he doesn't find anything gross on the ground.
He can easily pull himself up to standing all on his own now. And he does it as often as possible. He seems determined to practice standing at every opportunity. He has even been doing a bit of cruising, walking along the couch while holding on. I think he is going to walk soon, which is crazy!
This baby LOVES music! He only pays attention to the tv when there is music playing and he loves carrying around my phone when it is playing music. He'll dance along by wiggling his body. SO cute! I took him to two group sing-a-longs at a local toy store this month and he adores them. He pays attention the whole time and uses the instruments. I sing (poorly) to him every day, but I feel guilty for not doing more music activities with him previously.
I only nurse Ken 4-5 times a day now. A few months ago, I thought it would be impossible to feed him so few times a day, but the solid food transition seems to be happening naturally.
I've been really, um, not strict (relaxed?) with giving him all sorts of solid food. He feeds himself tiny pieces of fruits, veggies, bread, meat, cheese, cereal, etc. He has had peanut butter, eggs, and strawberries without having any reactions, so there's no evidence of food allergies at this point. His favorite foods seem to be avocado, plums, and plain yogurt. He LOVES yogurt! He doesn't like cucumbers or pureed baby food containing meat.
Kenneth is still very passionate about cords and he has developed an extreme interest in the vacuum. Which is good, since I have it out every day to clean up his food messes.
Ken got his first stomach bug this month. He had a slight fever, lower appetite, and lots of icky diapers. I took him to the doctor even though I probably didn't need to. He got over it in a few days.
He has the bluest eyes and lots of blonde hair growing in… I can't be objective, I think he is cutest baby in the world. I know I am losing my mind a bit and I'm not being rational, but he seems perfect to me.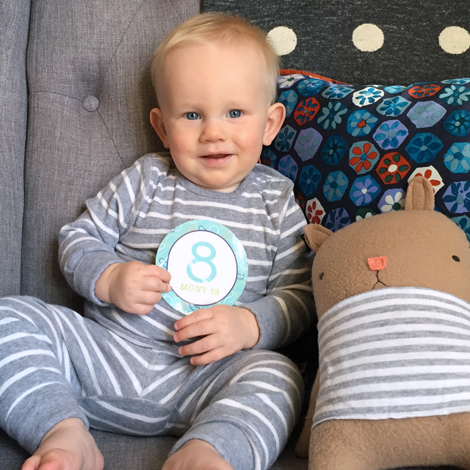 Thoughts on parenthood…
A friend of mine from grad school lost her six-year-old daughter this month to cancer. I have cried many tears over the last weeks just considering the loss she and her husband are experiencing. I truly can't imagine what they are actually going through. I think about them every day. Add on the heart-breaking refugee crisis in the news and the recent death of a childhood friend, and it has been an emotional month.
Being a parent is scary. The love is so intense and the heart-stopping fear of losing your child is ever-present. At least for me. But I am trying to be brave. I won't allow fear to rule my life. Or Kenneth's. Because being a parent is also so fun! More fun than I ever pictured. The first few months were tough for me, for sure, but now I am so happy. It surprises me. There are still personal things that aren't perfect (I still can't really run, I've been sick with a terrible cough, my weight loss has slowed/stopped, etc) but being a mom to Ken trumps all of it. In my pre-mom life I dreaded the thought of parenthood taking over all of my interests and hobbies, and I still hope to never lose my self, but parenthood feels good. It is difficult, it is emotional, and it is tiring, but it has brought me a lot of peace. I'm not trying to evangelize, I promise. I am just sort of amazed. The really crazy part? I am having thoughts about having a second one!! Ahhh!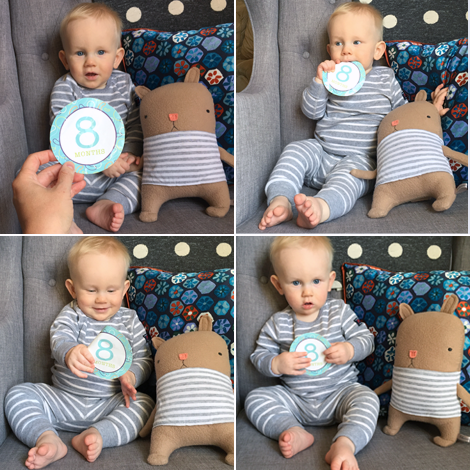 Kenneth's original flickr album has gotten way too large (with 7,000+ photos) and now I can't load it or edit it. Eek. So I started a new one for 8-12 months. Check it out.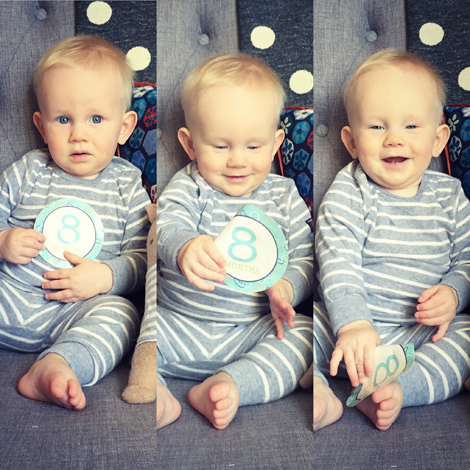 Also, check out Kenneth at one month, Kenneth at two months, Kenneth at three months, Kenneth at four months, Kenneth at five months, Kenneth at six months, and Kenneth at seven months.