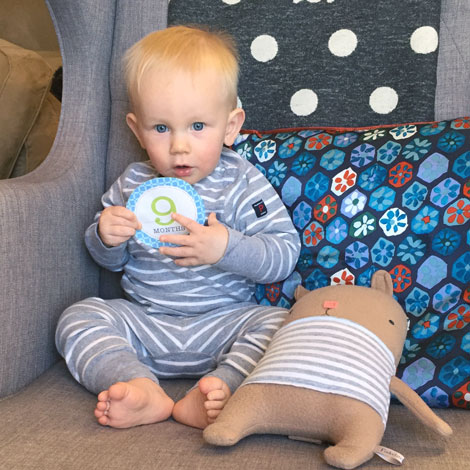 My baby boy has been on this earth for 40 weeks — 9 months as of last week! That is equal to the amount of time he spent inside my body, which feels like a milestone. I've devoted 18 months of my life to growing this new, little human. It has taken effort and energy and endless love… and gosh, it has been worth it!
Kenneth is a small person now. He learns new things everyday and he is figuring out how things work. He loves inspecting textures and studying mechanical systems. I sometimes forget that he cannot talk, because he is able to communicate so well. He tells us what he wants (and what he does NOT want) and he shows affection and concern. He plays on his own and is very serious about getting his (self-imposed) tasks done. He is feeling much more like a toddler and less like a baby.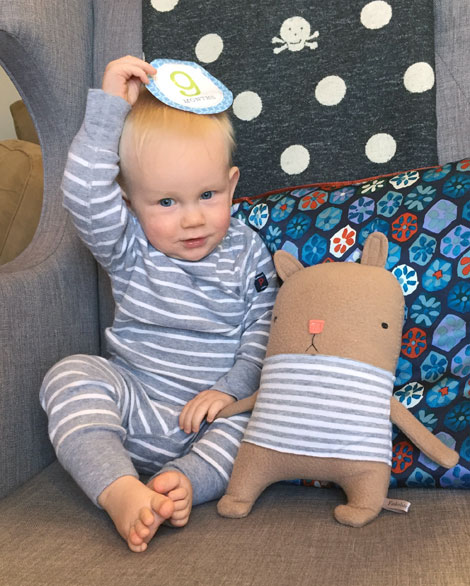 He is a fun, usually cooperative boy, but taking Ken's portrait each month is not an easy task! This month it took two photo shoot attempts and a lot of patience. Baby portraits are hard!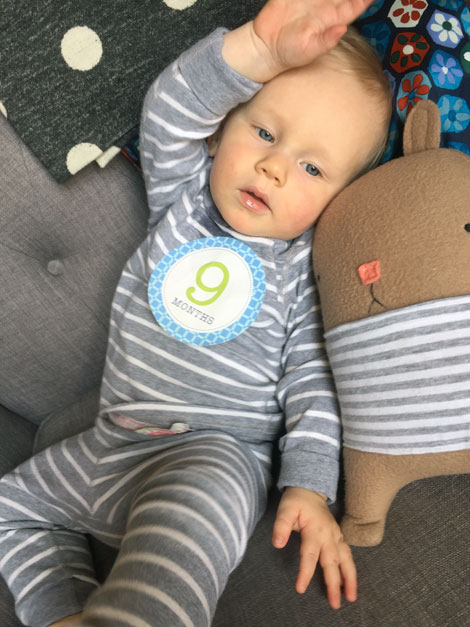 Fun Facts about Kenneth at nine months:
More teeth! Kenneth's two top front teeth started coming in on September 28th. He now has four teeth in front and can bite and do a little chewing. He is constantly feeling out his teeth with his tongue.
Ken has been eating just about everything. For a while his favorite food was raspberries, but now it seems to be avocado. Recently he has been refusing to eat sweet potato. At each meal he usually has some sort of finger food (fruit, cheese, bread, Cheerios, etc), some baby food puree (in the store bought packets which he uses to feed himself), and some greek yogurt. He still loves yogurt!
Kenneth can clap! It is a new skill he started doing two weeks ago. Now he claps all the time, especially to music. Waving is still a little hit or miss. He does it spontaneously sometimes, but won't really do it on command.
Kenneth is still a speedy crawler, moving all over the house and playgrounds with ease. He stands whenever possible and has pretty good balance and can walk as long he is holding onto something with at least one hand. He has tried freestanding a few times… but it has always ended in a fall.
Speaking of playgrounds, the weather has been so nice lately that we go nearly every day. Ken has gone down slides (with a bit of assistance), climbed stairs, crawled across a wobbly bridge, and played with lots of other babies. But his favorite things at the parks are the leaves. He loves finding and inspecting leaves. Sticks are also cool.
Kenneth got a little head cold this month with a bad runny nose. He had some trouble nursing for a few days, but recovered quickly.
Kenneth is still in love with music! I signed him up for a weekly group Moozika class on Fridays, which he really enjoys. Kenneth also got a few music instruments this month — maracas, tambourines, drums, etc. He LOVES using them and he LOVES drumming on any surface to hear the different noises. Travis got a ukulele for his 35 birthday and he and Kenneth play music together most mornings.
Kenneth is obsessed with the clock radio in our bedroom. So much so that we hid it for a while so that he could focus on eating and sleeping in the room. He figured out how to press open the cd slot and turn on the radio. Each time the radio comes on he does a little dance. It is so ridiculously cute.
Kenneth LOVES Crusher. He cracks up every time he sees him. He chases him around the apartment giggling and they play together nearly every day. Crusher is still a little wary of him, but they are getting to be better friends.
Ken's Grandma Lamble came to visit him this month. He loved hanging out with her and going on his first trip to Coney Island (he rode the Wonder Wheel!) and the Brooklyn Children's Museum. He talks with his Grandma and Grandpa on Facetime a couple times a week.
Hoot n Nanny also came to visit Ken this month. He remembered them from seeing them on Facetime. He had a lot of fun hanging out with them for a week and showing them off around Brooklyn.
Kenneth is a smart, busy, determined, inquisitive boy. I love watching him figure out the world.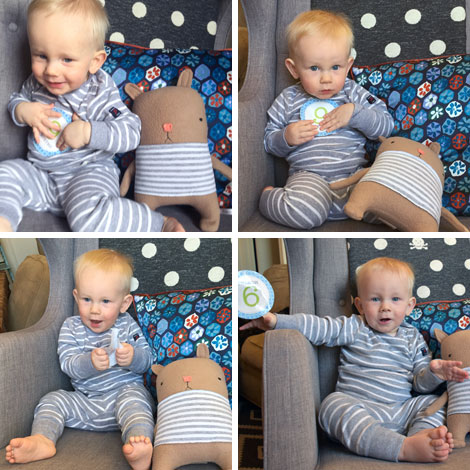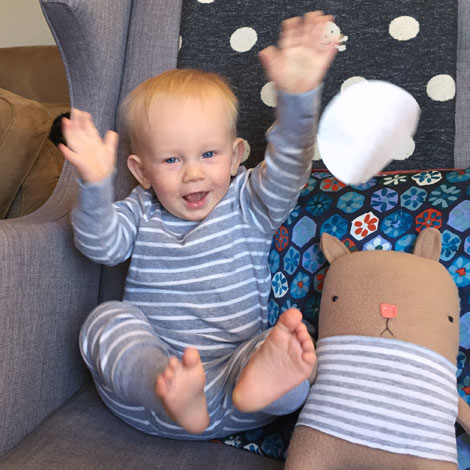 Mama Life:
Ken is such a fun, cute boy. (If I do say so myself.) I am very happy. I'm having a lot of fun being around him every day. The great fall weather is also pumping up my mood. But… that doesn't mean it is always easy. Most days I am exhausted by 6 pm and desperately ready for Travis to get home. The daily effort level is set at a higher "mom level" already — picking up a 20+ lb human all day, crawling on the floor, doing tons of laundry, breastfeeding, etc — but there is also a huge amount of effort involved in living in the city with kids.
I know I don't have any other experience to compare it to, but my days are filled with a LOT of activity. To leave the house, I have to carry a 20+ lb human down and up three flights of stairs. Sometimes I also carry a 25 lb jogging stroller. Often I am also carrying groceries. We walk everywhere, which adds up to about 3-10 miles a day. I am also trying to keep up some running training. And my physical therapy exercises. And I try to walk Crusher a few times a day. Plus, you know, the cooking and cleaning, and oh ya, trying to keep Swap-bot afloat. It is a lot. I want to keep trying to do it all. I am really enthusiastic in the mornings. I ALWAYS say I am going to do more work once Ken goes to sleep at night. I rarely do.
I'm too stubborn to give up anything or to slow down. So I'll just keep trying. I get done as much as I can each day and then try to accept that I am doing my best. I am trying to embrace the chaos. This is my life. I often wish I could be a supermodel/successful career woman, but for now I am a mom. I am trying to enjoy it as much as I can… because I know I'll miss these baby days as soon as they are gonne. … Plus, I've got plenty of time to become a supermodel later, right??
Need more cuteness? See SO MANY more photos of Kenneth in his 8-12 month Flickr album.
Also, check out Kenneth at one month, Kenneth at two months, Kenneth at three months, Kenneth at four months, Kenneth at five months, Kenneth at six months, Kenneth at seven months, and Kenneth at eight months.