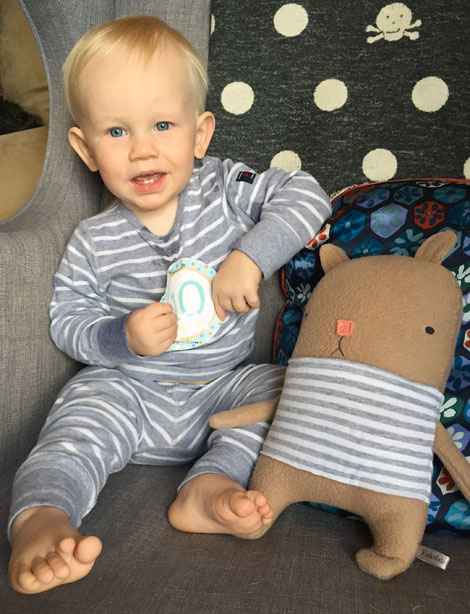 My sweet, little guy is 10 months old! Well, actually right now he is 10 and a half months old… we were traveling during the actual milestone. Fitting in picture taking and blogging is never easy, not to mention when you have just gotten home from a big trip! And, getting this baby to pose for his portraits was nearly impossible. He just wants to stand and move and climb! But I guess that is perfectly representative of his current stage, so we'll just go with it. We do the best we can and call it good.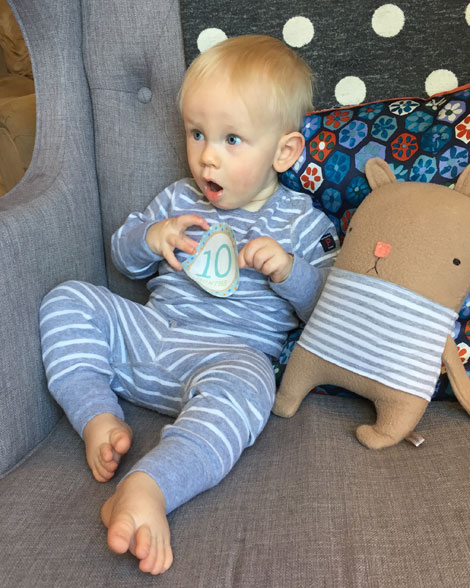 Kenneth is a big boy now! He acts like he is totally independent and not in need of parents any more… well, except for all the diaper changing and food providing. But he barely has time for those boring things anyway! He loves playing and exploring. He wants to inspect and deconstruct anything new to him, like the trash can, dog food bowl, file cabinets, laundry hampers, etc. He is a curious guy who gets really excited about his new discoveries. It is fun to watch him investigate and conquer his world!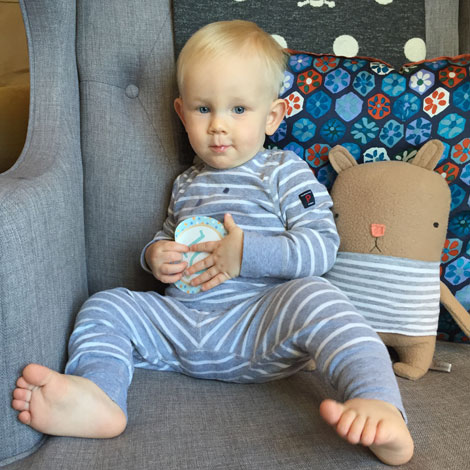 Fun Facts about Kenneth at 10 months:
Ken has five teeth! His top right lateral incisor is poking out and the left one is just about ready to erupt. He likes his teeth and often does a funny open-mouth grin to show them off.
Kenneth can stand on his own! He has been walking and standing while holding onto things (furniture, walker toys, mom or dad) for a while, but now he often "free stands" without holding onto anything. He seems to be doing it just for fun sometimes and can balance for quite a while on his own, but still choses to squat down and start crawling instead of taking any unsupported steps yet. Crawling is still faster and more efficient for him than walking. But we'll see how long that lasts…
I think Kenneth is using language! He DEFINITELY says "dada" in reference to Travis. He also seems to say "dog" when Crusher is around. And I swear he says "hi" back to me and "ya" in response to my questions. Of course, he also babbles a lot, and squeals, and laughs, and grunts and reaches for things he wants.
He basically eats anything. He really likes berries and yogurt and cheese, but he gets a taste of nearly everything I eat. He can drink from a straw and often shares a smoothie with me. (I also still breastfeed him four times a day.)
Kenneth has gotten into a fairly set routine. He wakes up around 6-7, naps at about 9 until 11-12, naps again around 3 until 4-5, and then goes to sleep around 7-8. He doesn't HAVE to have both naps everyday, but he is in a better mood if he does!
Kenneth still LOVES: music, Crusher, other babies, and playgrounds. He also LOVES when his dad gets home each day. He excitedly crawls to meet him as soon as he walks in the door and reaches to be picked up. It is very sweet.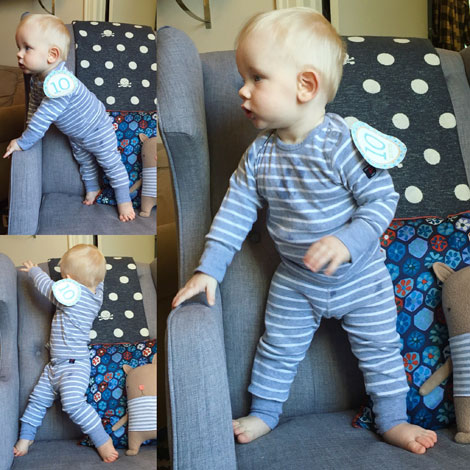 Traveling with a 10-month-old:
Earlier this month we took an eleven day trip to Hawaii and Los Angeles. We went to Hawaii with more than a dozen of our Brooklyn friends for Brian and Jeanette's wedding. It took 13 hours of travel to get there. I can't tell you that I wasn't nervous about bringing a baby on flights that long, but it was actually ok. I tried not to get anxious about it and I think treating it like no big deal rubbed off on Ken. He was perfectly fine, if really fidgety and NOT sleepy, on the flights there. Travis had upgraded our seats to the bulk head area with extra room and I had packed a bunch of toys and books, but I don't think either was necessary. Ken basically just loved exploring the plane stuff and playing Peek-a-boo Barn on my phone the best. Snacks (for everyone involved) were a necessity. Also necessary were our own car seat and stroller, which we checked (for free!) on the flights.
We stayed with 13 friends in an Air BnB house for the first five nights in Hawaii. It went really well. I was worried about Ken crying and keeping people awake, but we just tried to not let him cry much. The huge time zone change messed us all up somewhat, so we basically just ended up waking up really early. But that meant that Ken got in his good morning nap before much activity started each day. The house came with a high chair and pack-n-play, which was really handy. For the additional two nights in Hawaii, we switched to a hotel. They also had a crib for us to use and even provided nice baby toiletries and some new toys!
Ken liked swimming in the ocean and pools. He was enthralled by the luau at the wedding reception. He was a real trooper and happily tagged along on all of our sight seeing around the Big Island. Getting him in and out of his car seat was a hassle, but otherwise, it was fun having him around and not too much of an inconvenience. I hope our friends felt the same way. Travis and I each did one solo adventure (surfing for him, snorkeling with manta rays for me) while the other stayed with Ken, which worked out well.
By the time we were on our way to LA, Ken was just chronically tired. He didn't do as well on the flight there. He cried a lot and Travis stood and held him for much of the flight. I was stressed. Thank goodness that plane was nearly empty. No one seemed perturbed by him at all.
It was great for Ken to meet his family and friends in California. We spent a whole day with his great aunt Carol and great uncles John and Glenn. He got in some good naps, but he was still tired and totally out of his routine and time zone. On our final day we took him to Disneyland! It was really fun for Travis and me, but Ken could barely stay awake at the park! He fell asleep DURING the Haunted Mansion ride. The entire trip had finally worn him out.
All in all, traveling with a baby is totally doable. Even fun! Of course, it is way easier to travel without a baby… but traveling with one is still much more fun than staying home!
Travis took this photo of Ken in a hammock in Hawaii right after his 10-month "birthday." I think he looks so old in it. I am so glad we've gotten to share so many experiences and adventures with him already. I look forward to a life time of many more!
————
Also, check out Kenneth at one month, Kenneth at two months, Kenneth at three months, Kenneth at four months, Kenneth at five months, Kenneth at six months, Kenneth at seven months, Kenneth at eight months, and Kenneth at nine months.