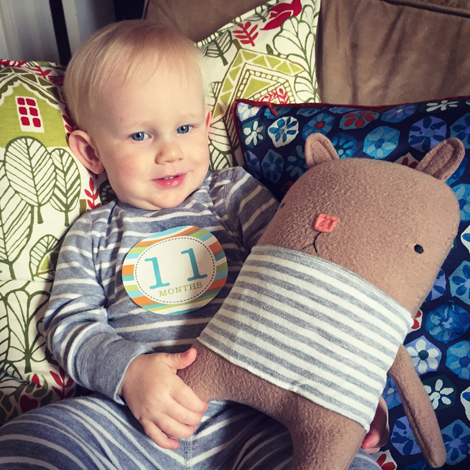 Kenneth is getting so close to being a one-year-old! He passed the eleven month milestone a week ago. It is hard to articulate, but he is feeling and looking like such an older boy these days. I can catch glimpses of what he will look like as an older kid, even a teenager at times. Over the last month he has been so much fun. I used to be worried about him being too serious, but he has gotten a lot more goofy and fun-loving lately. He is still slightly stingy with his big grins and belly laughs, but they seem to be happening more frequently. He loves surprises and tickles and going down slides. He really is an awesome baby and I am so glad we get to spend so much time together.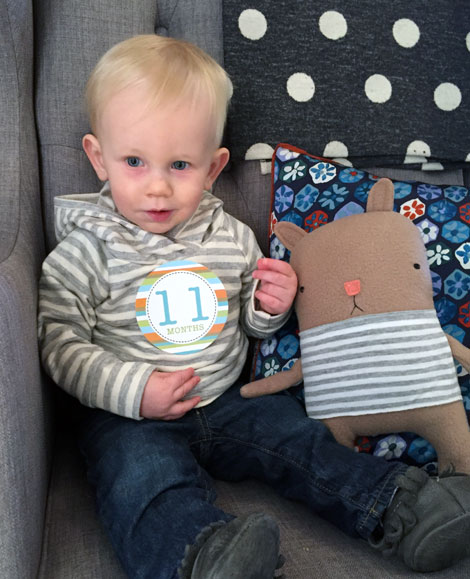 Fun Facts about Kenneth at 11 months:
Ken got a bad head cold last week which came with a wonky eye infection. His right eye got puffy and red, so I took him to the doctor and she gave him antibiotics. You can see his red eyes in the photo above, our first of two photo shoot attempts this month.
Kenneth has his own room! We moved him into the office room of the apartment over the Thanksgiving break with the help of his uncle Seth. I was really surprised at how easily he took to sleeping alone in the room. He really didn't fuss about it at all. And we are all getting better sleep. He sleeps up to 12 hours a night!
Even though it is sort of against the parenting rules, Ken keeps some stuffed animals in his crib. He plays with them before going to bed and after waking up. It is really cute. He hardly fusses at all when we put him down for naps or the night, and he can entertain himself.
Ken has six teeth! Four up top and two on the bottom. He can bite off pieces of food (like bagels!) and chews food, too. He also loves to give a toothy, scrunched nose grin.
Kenneth is still working on walking. He is so very close! He can stand unassisted, and will take one or two little steps on his own, but then he decides to skillfully squat down and start crawling instead. I think he is just being cautious. I am fighting my Type A drive to push him to walk more before he is ready. He will get there at his own pace. Plus, he gets around fast enough as it is!
Crusher and Kenneth play with each other just about every day, chasing each other around the apartment. They both love it. Crusher has been much sweeter and more patient with him lately.
He attended his last Moozika class of the fall session today. He loves the class and always gets right up in front to pound on the big drum. We are going to take the class again during winter session. He still loves music and is obsessed with his dad's guitars.
Kenneth is also obsessed with the Pat the Bunny books. He gets them out on his own and is still fascinated by them even though we read them many times a day. But now he wants all books to be interactive and is disappointed when they aren't.
Ken is making many more sounds lately. He seems to be saying "yes" and "mmmmamama" pretty consistently. He tries to repeat a lot of things we say (but I don't know if he really understands it, just repeats sounds) and he is always singing and babbling to himself.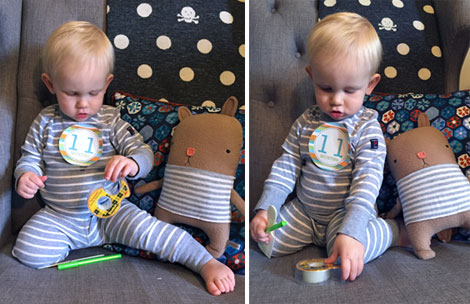 I know I say this every time, but taking baby portraits is so hard! We did two different days of photo shoots this month and I wasn't really happy with either. Ken is just a busy guy! And he likes to be in charge of anything he can hold in his hand, like the pen, comb, and tape seen above. I am just hoping I can get a few really good shots next month to celebrate one year!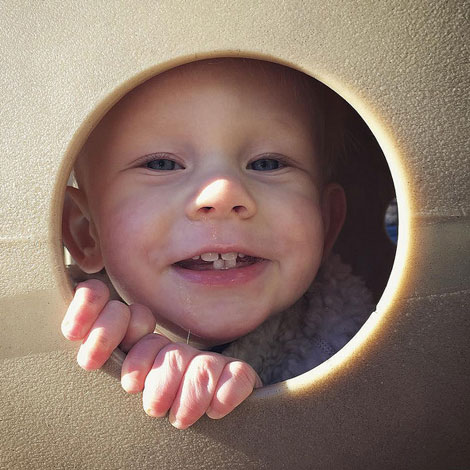 I LOVE THIS BABY!
Also, check out Kenneth at one month, Kenneth at two months, Kenneth at three months, Kenneth at four months, Kenneth at five months, Kenneth at six months, Kenneth at seven months, Kenneth at eight months, Kenneth at nine months, and Kenneth at ten months.