Wow! So by now you already know that Travis and I are expecting twins this summer. A major surprise! I didn't keep as detailed a log as I did during my first pregnancy, but I wanted to publish some of my thoughts as a record of how we got here…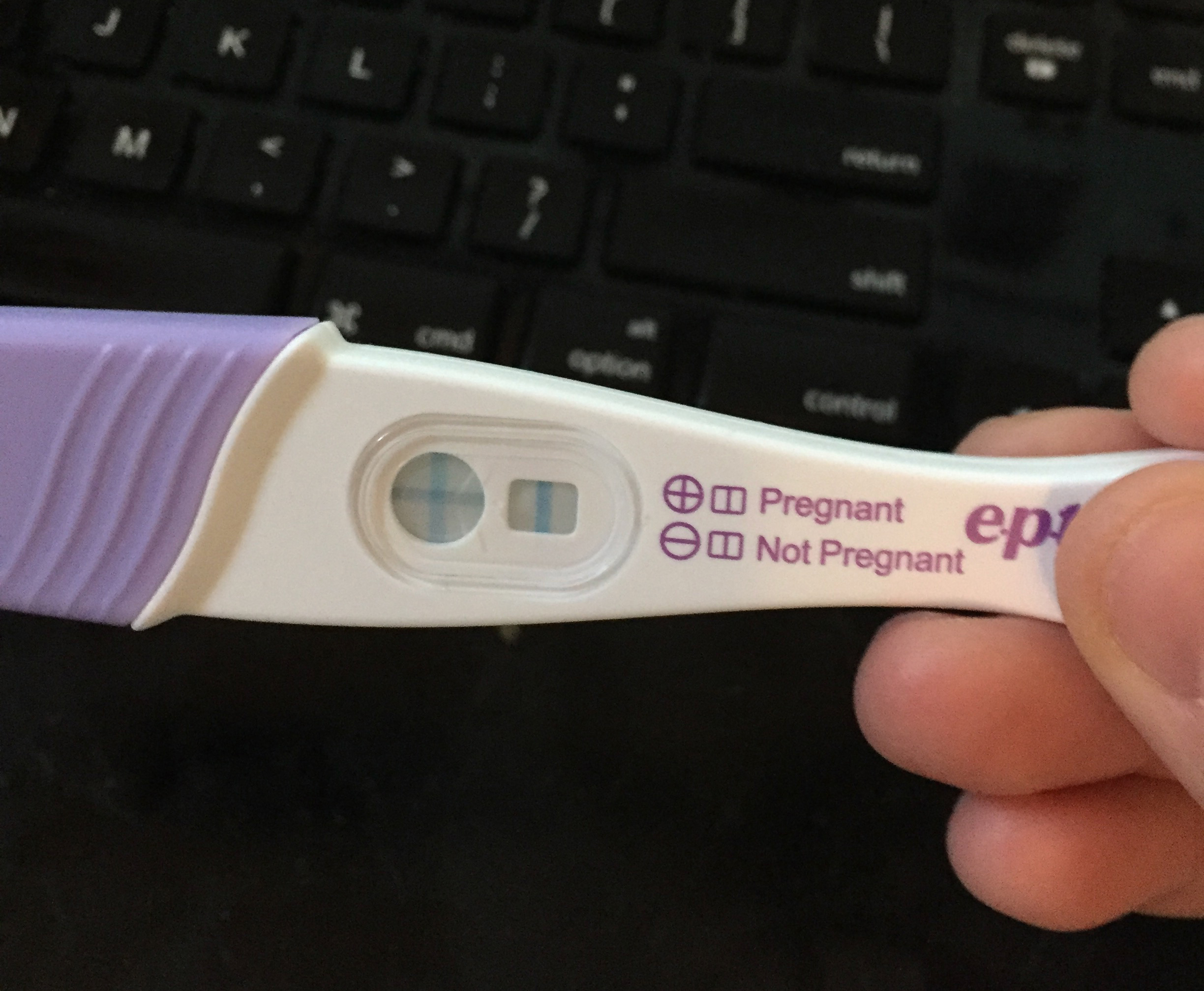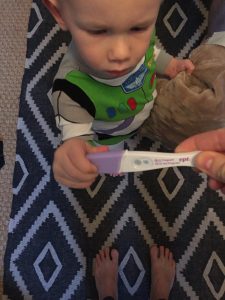 In the beginning… I ran the NYC Marathon with my dad on November 6th — fun! — and for TMI, I also happened to be on my period that weekend. My last period for a while, it turns out. Travis and I had already planned to start trying to expand our family after I finished the marathon, we just really didn't expect it to all happen so fast. We were pregnant two weeks later!
Weeks 3-4: I really wasn't expecting it, but in the week before I was supposed to have my next period I experienced three things that hadn't happened since I was pregnant with Ken: 1. I had bad heartburn, 2. I had cramping in my lower ab muscles, 3. Crusher started sleeping with me in bed right by my belly every night. I thought, "hmm, that is weird, but even if I WAS pregnant, there is no way I would already have symptoms. It is too early." (It was technically only week 3 at this point.) But I took the pregnancy test on December 2nd (a day before my expected period) and it was positive! Very exciting, but pretty baffling that it happened in basically one try!
Sidenote: I was trying to get into a new OB/Gyn practice (Downtown Women) and had made an appointment in early November. But the appointment was cancelled by their office and rescheduled twice. By the time I was rescheduling it the final time, I was pregnant… and THEY DON"T TAKE NEW PREGNANT CLIENTS! So… I am once again at NYU Langone OB/Gyn, and I actually couldn't be happier. I really like Dr. Fanti and Dr. Conroy and have had a really positive experience at all of my visits so far. I just wish the hospital and offices were a little closer to home…
Weeks 5-9: Because of the holidays, I wasn't able to schedule my first doctor appointment until January 11th. I didn't want to let anyone (other than Travis) know about the pregnancy until after it was checked out — I am a little bit cautious/superstitious about that kind of thing — but I slipped and told a few close mom friends in December (only because they knew that we were trying). I felt really fatigued and nauseous in December, but it hit me hardest while we were in Kansas City visiting family for Christmas. Weeks 7 & 8 were brutal. I was so tired and really nauseous all the time. This pregnancy felt a lot harder than Ken's, but it is difficult to tell how much is just in your head. BUT, I am trying to trust myself more and remind myself that I am objectively NOT a wimpy person and if something feels really tough, it probably is. So, I really did have a feeling that this pregnancy was different, and I was actively worried that it might be twins. This is a photo of me partying on New Year's Eve…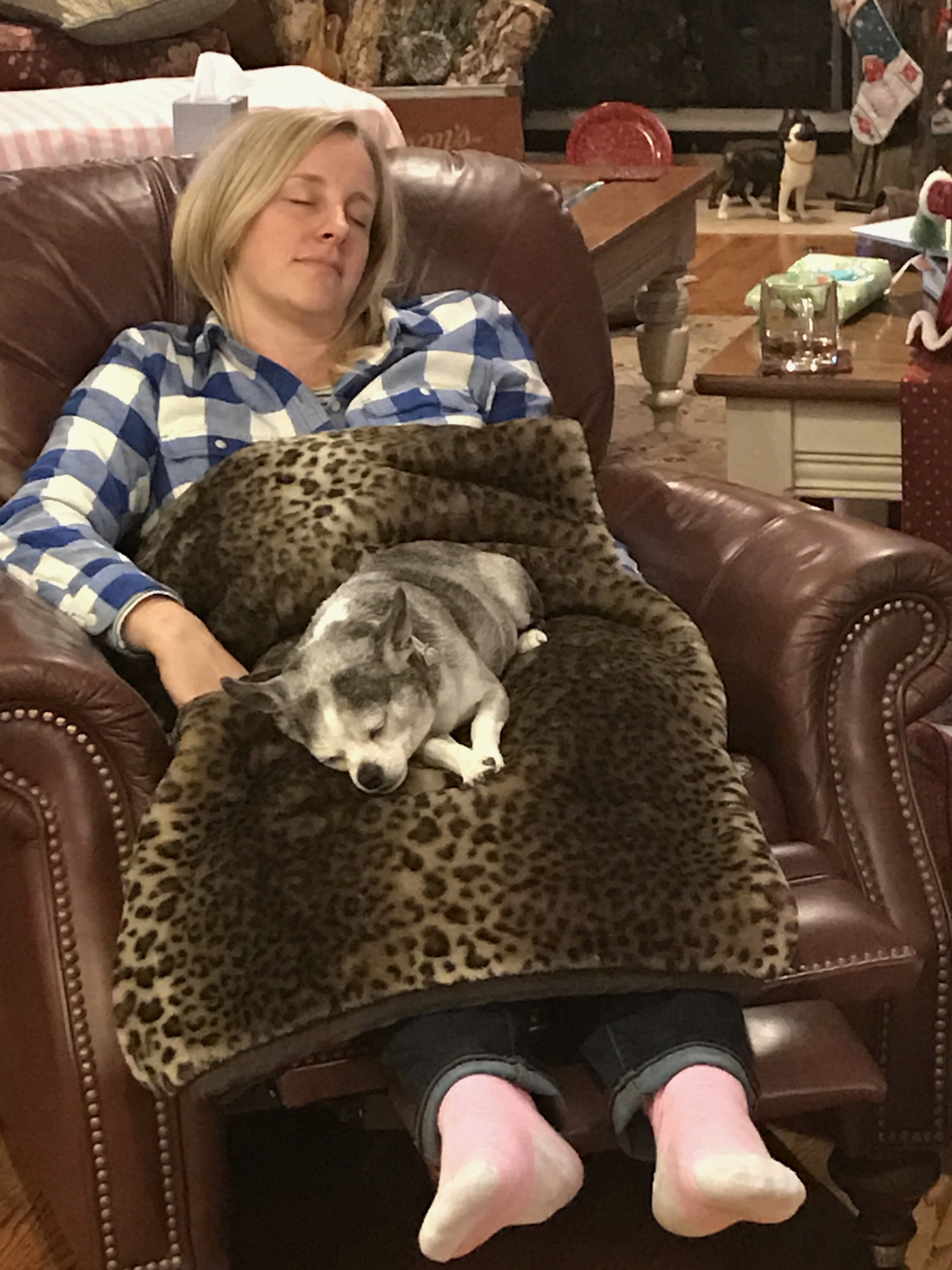 We hadn't planned to tell our families about the pregnancy over the holidays, but it couldn't exactly be avoided. Many people noticed that I wasn't running or drinking coffee or alcohol, and then my sweet in-laws gifted us a summer vacation for Christmas… and we had to let them know that I might not be able to travel. Everyone was excited, but I think also a little overwhelmed since there was already so much excitement happening over the holidays. Oh, and our whole family got a terrible stomach bug at the end of our trip and were barfing and super sick the first week we were back in Brooklyn in January. Not good. I was worried about the pregnancy when I was barfing and barfing, but it seemed unaffected.
Weeks 10 – 13: I already said it, but this pregnancy has just been HARD. I am out of breath basically whenever I do any activity. I ran a few times early on in the pregnancy, but by week 10 it just didn't feel worth it to waste my energy. I have to save it to carry Ken up all the stairs to our apartment! I regret that I have not exercised much during this pregnancy at all, but I am staying active and walking a lot, chasing Ken around, plus trying to do some random strength exercises here and there. In addition to breathlessness, I also have a lot of nasal congestion and tons of heartburn. Ugh.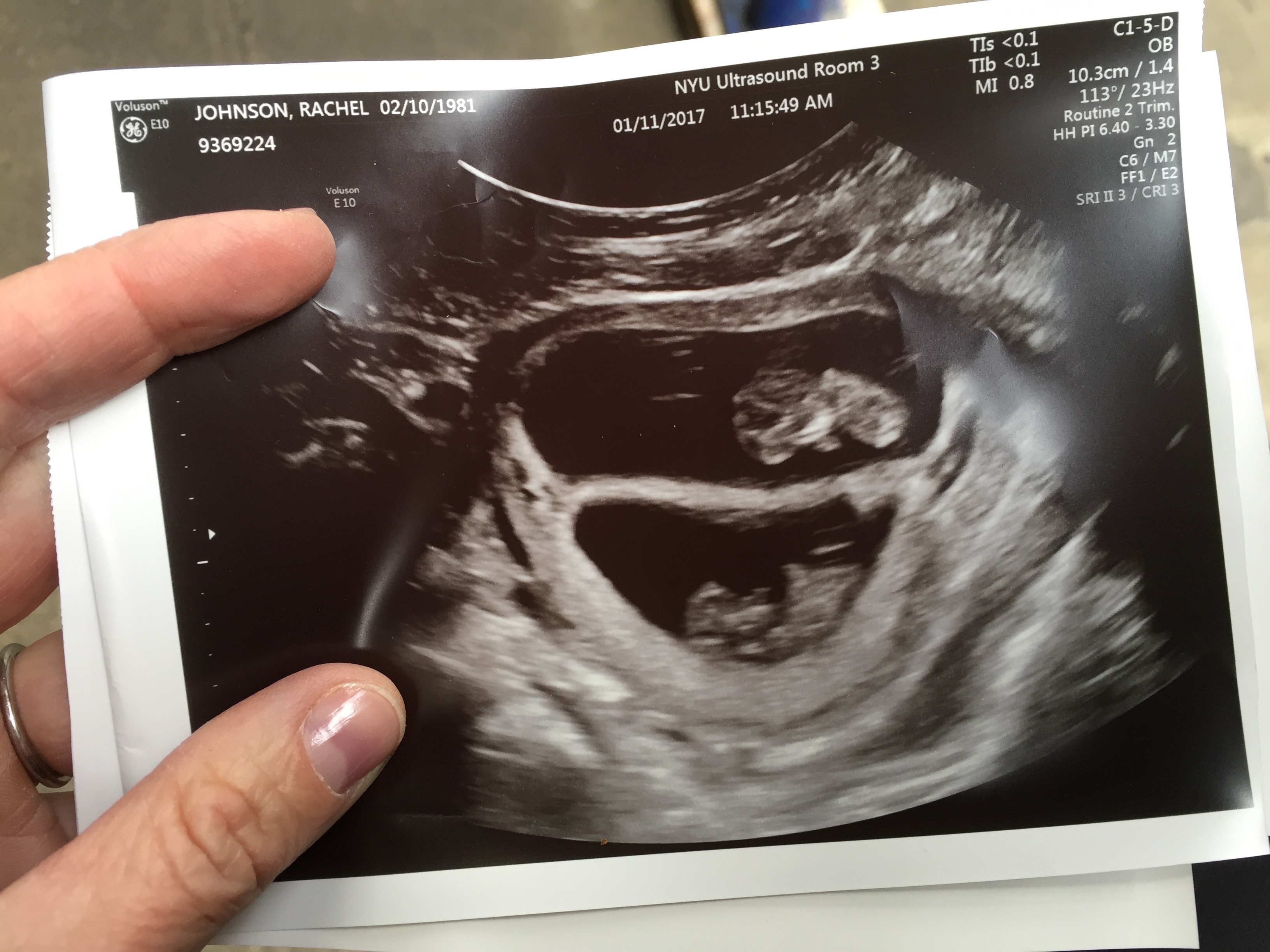 On January 11th, 2017 (during week 10), I had my first ultrasound and doctor's appointment. Travis didn't come because he was watching Ken, but I wish he could have been there. As soon as the tech put in the internal ultrasound wand, she said, "IT'S TWINS!" It was a fun/shocking/happy moment that I hope I always remember. I think I said something like, "Thank goodness I'm not crazy!" I just had a feeling it was twins all along. But it was still a mind-blowing moment to have it confirmed. (I should note here that my mom and my paternal grandmother also had fraternal twins, so it was on my radar.)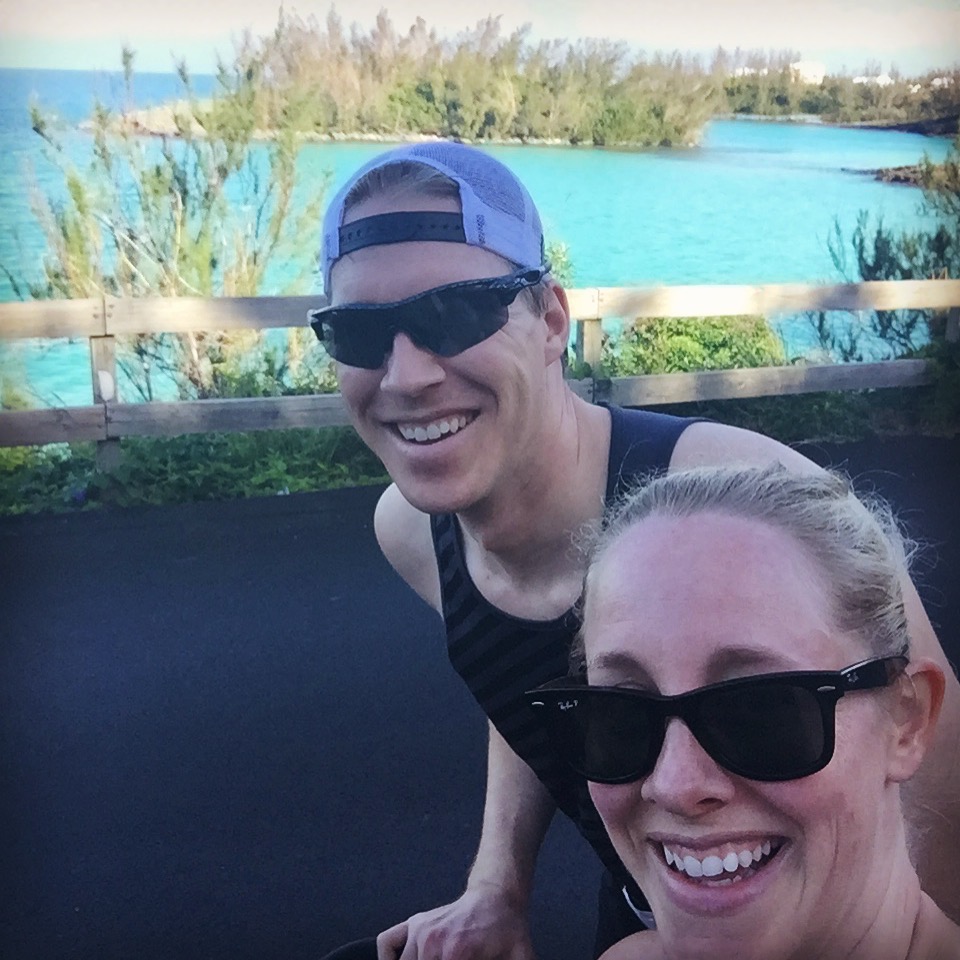 The day after we found out that we were having twins, we left for Bermuda! We had planned the trip over six months prior so that Travis could run the Bermuda Triangle Challenge. I ran/walked the 10k with him. It went really well, but I didn't feel like pushing my body too hard. The trip was a lot of fun and felt like a mini babymoon. And the next weekend (Week 11) I went to DC with my friend Jessica for the Women's March. It was another successful trip and I was able to walk many miles without much fatigue.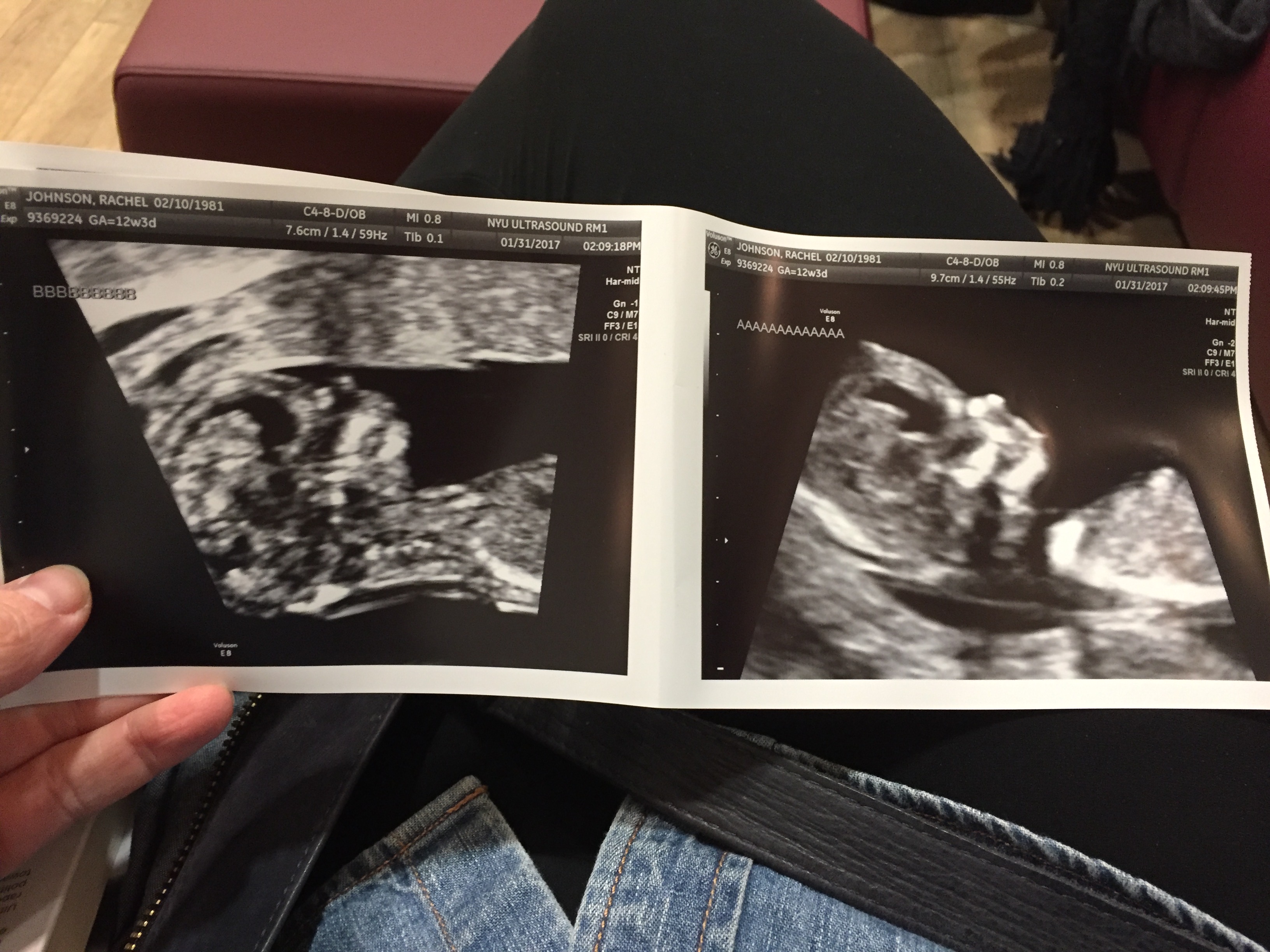 I had a second ultrasound and a meeting with a high risk doctor on January 31st (during week 13). The babies both looked great — moving around like crazy! — and I also checked out all good. I started this pregnancy 2-3 lbs heavier than my previous pregnancy, which of course irked me, but I guess it isn't too bad. I lost a few lbs in the first trimester, but basically stayed pretty steady and was still wearing all normal pants and clothes at this point. The doctor emphasized how much more of a metabolic load growing two humans is and stressed that I may have trouble eating enough calories each day. (Up to 700 extra calories a day!) I scoffed. Eating enough is never my problem! But… with all the heartburn, fullness, and fatigue, it may actually get more difficult…
We ended week 13 by signing a lease on a new rental house in Bay Ridge, Brooklyn. When we learned we were having twins we just knew we had to leave our fourth-floor walk-up apartment. The small size could be doable, but it is just too hard to climb the stairs while pregnant, not to mention with three kids! Despite being farther from the city, the house should be very nice (with a garage, yard, and basement!) but there have been a few delays with our move-in date. We hope to be in it by the end of April.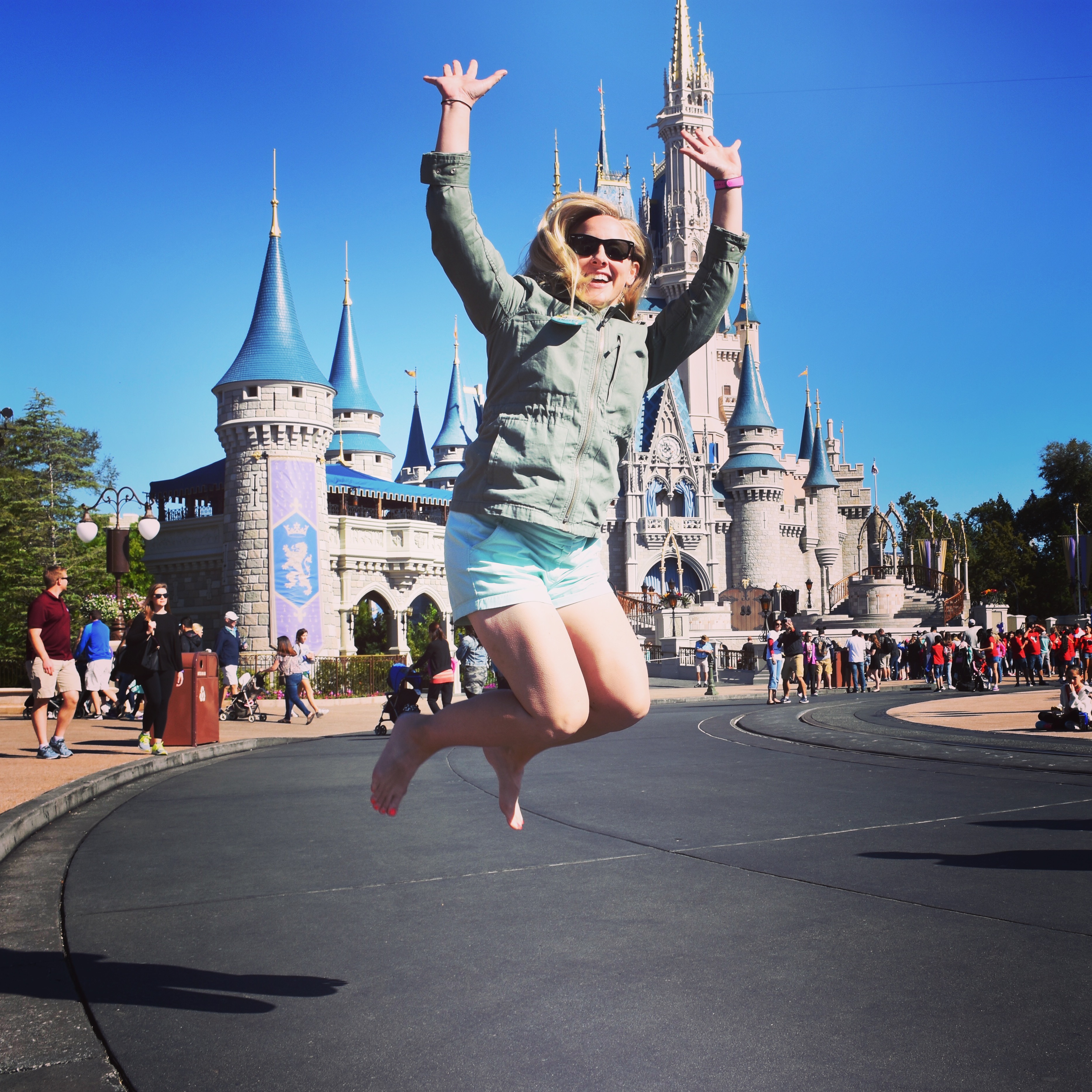 Week 14: When we found out we were pregnant, Travis and I couldn't resist booking a trip to Disney World with Kenneth! We wanted to really spoil him and celebrate him for his second birthday before his siblings arrive. We had a wonderful trip with him! It was so fun to spend four days straight as a family, just making sure he was having a blast. I was feeling a little better nausea-wise at this point, so the trip was actually pretty easy. BUT it also seemed to be the week when my belly started to pop out. I had brought all normal pants and shorts and they were feeling tight! By the last day, I had to resort to stretchy pants! (Seen below.)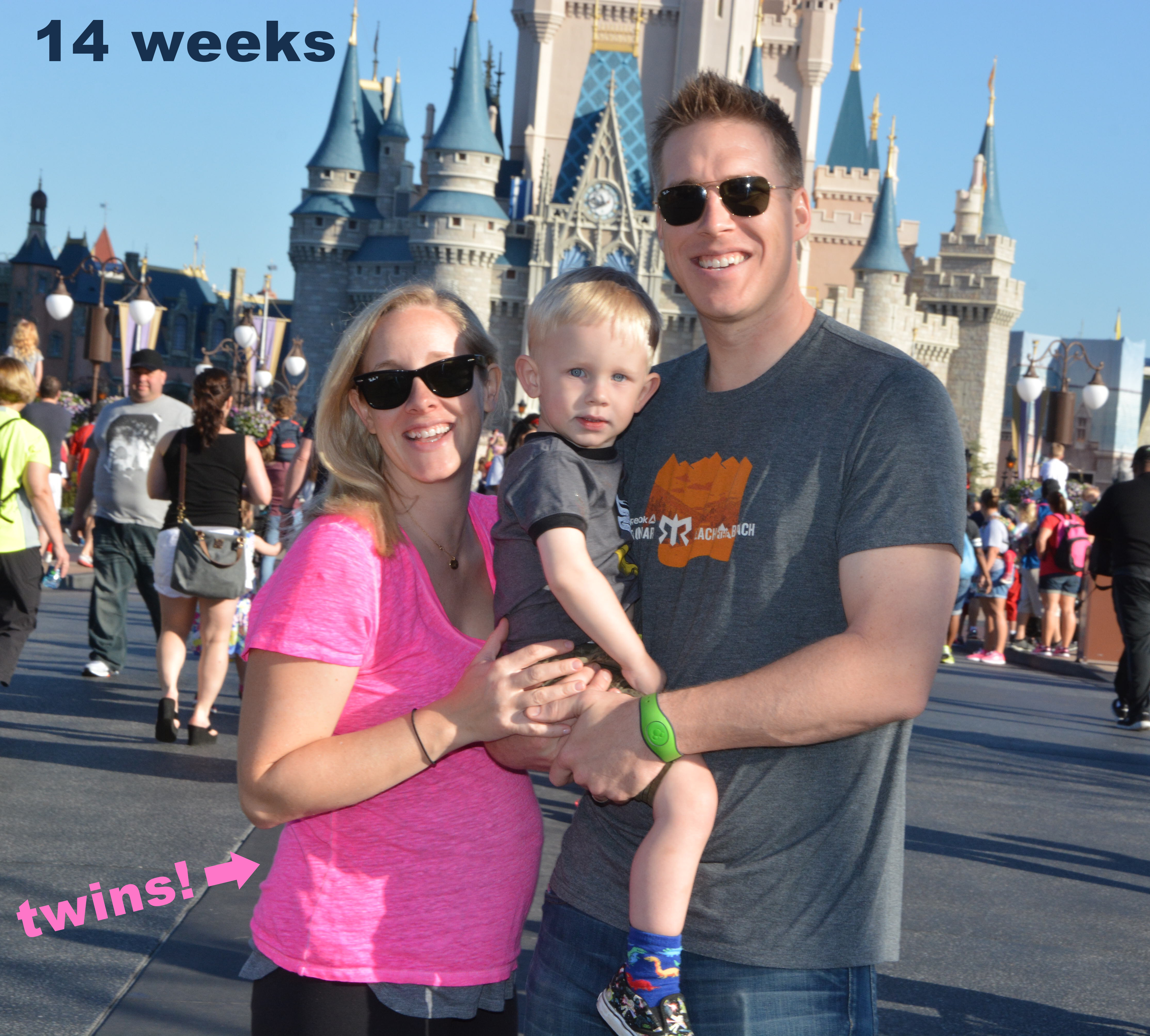 So… we are on our way to becoming a family of five! (Six if you don't forget Crusher.) We are really excited and a little terrified. But mostly I feel very grateful that everything has gone smoothly so far. I am constantly aware that pre-term labor or other complications are more likely with multiples, so I am trying to be mindful about taking it easy and listening to my body. I will keep you updated on my progress in future logs… stay tuned!