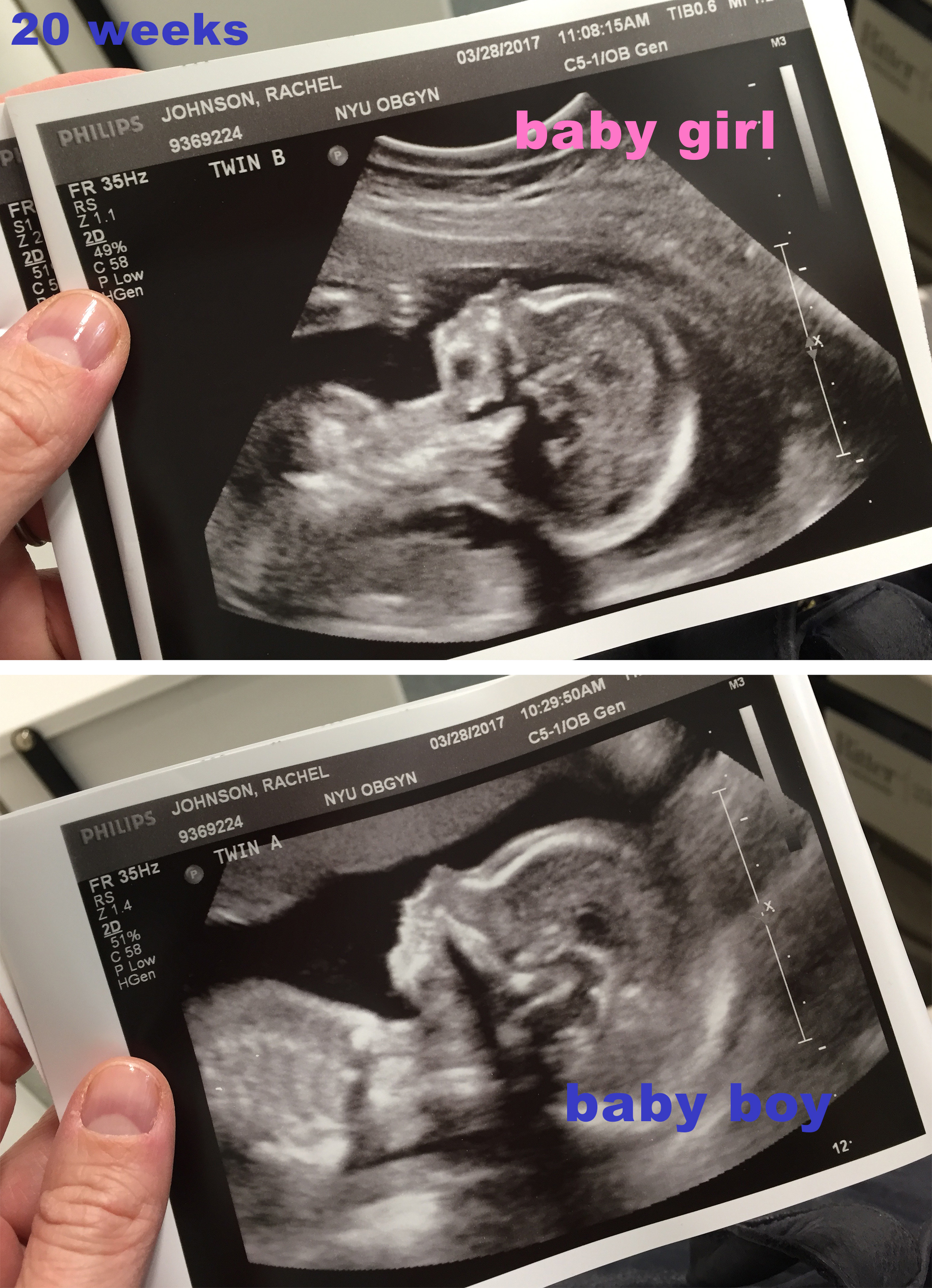 Week 21: I had my second anatomy ultrasound on March 28th, 2017. It took over 90 minutes! They checked all of the babies' systems and bones. The ultrasound tech kept saying how beautiful they are, so I took that as a really good sign. The boy is approximately 14 ounces, and the girl is about 12 ounces. They are slightly big for their "age," so they are growing just fine! The boy is head-down closer to the exit and the girl is a little higher up on my right, but they are still moving around a lot. My vitals are also very good — whew — but the weight gain has taken off. I am gaining about 1.5 pounds per week now, which is good and normal, but gah! I am going to gain a lot. The doctor said it is fine if I gain 60 pounds!! I am aiming for 40. (I've already gained about 10.) The doctor also said I really need to take it more easy and not worry about exercising. She was concerned with my uterine cramping and the tendency for twins to cause pre-term labor. She said I should try to NOT pick up Ken anymore, which will be hard. But if I don't take care of myself, I could be put on bed rest!!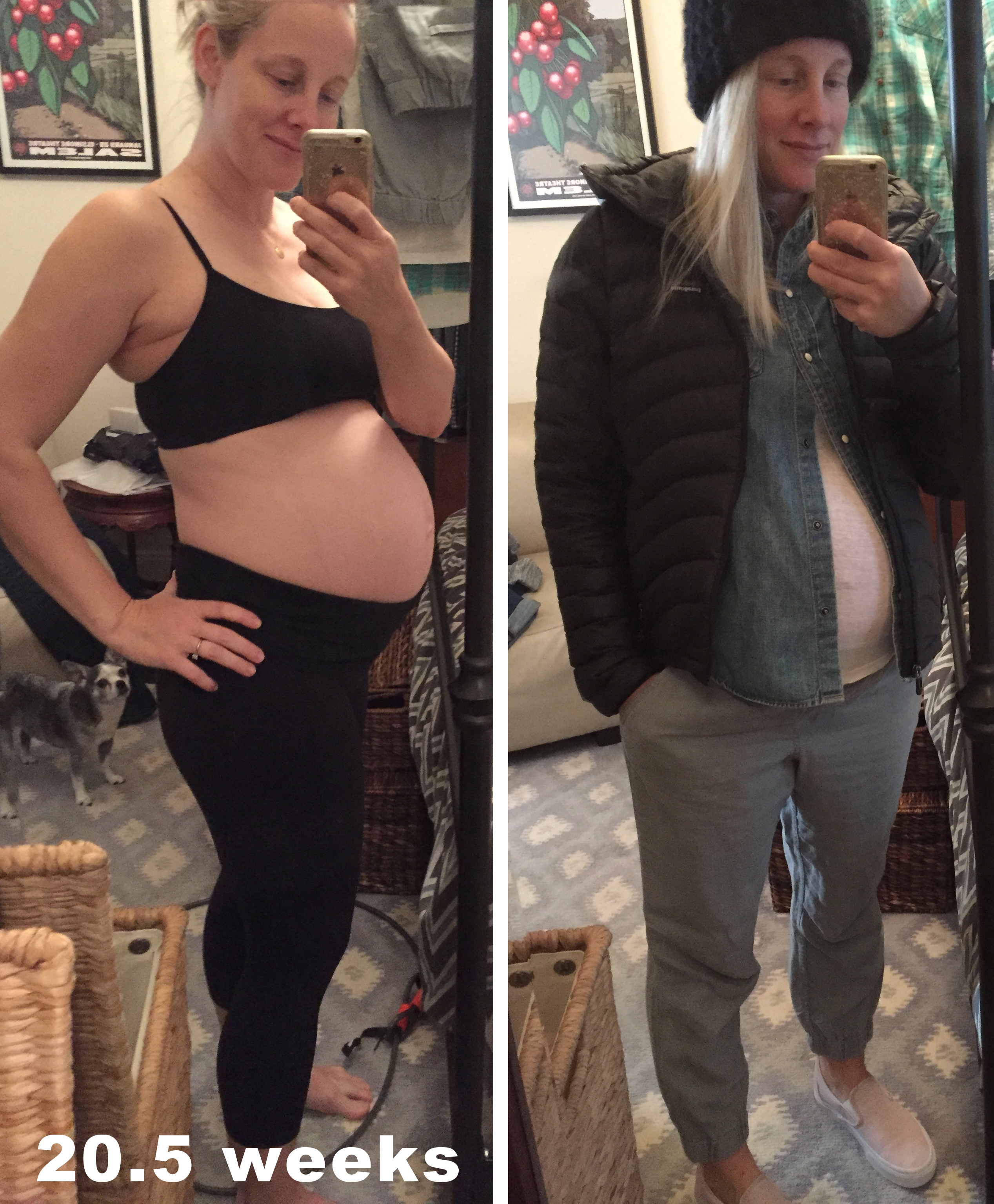 I can feel the babies' movements really well now, which is mostly fun. There are still tougher days and easier days, but I've actually gotten some good sleep lately. And I've had a few days straight of NO HEARTBURN, so that is exciting! On the advice of a pregnant friend, I got some doTERRA DigestZen oil and I think it actually works to prevent heartburn. I need to keep testing it, but right now, I'd recommend it!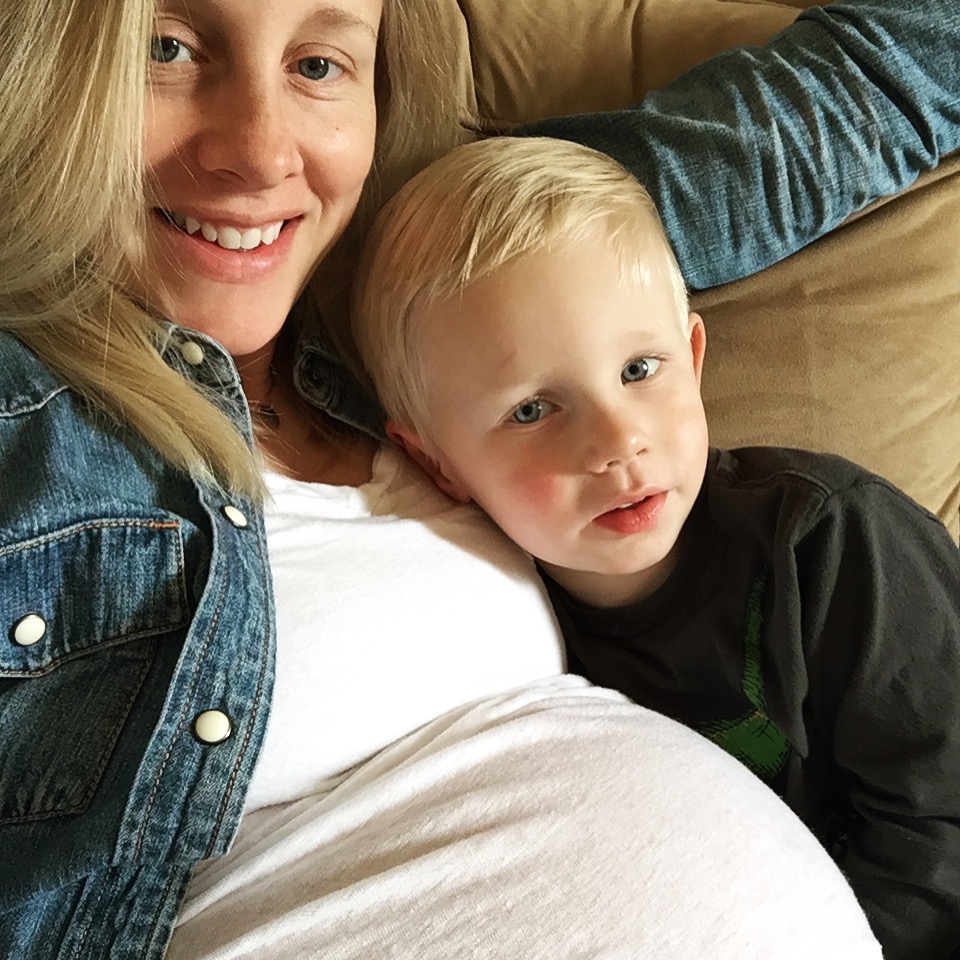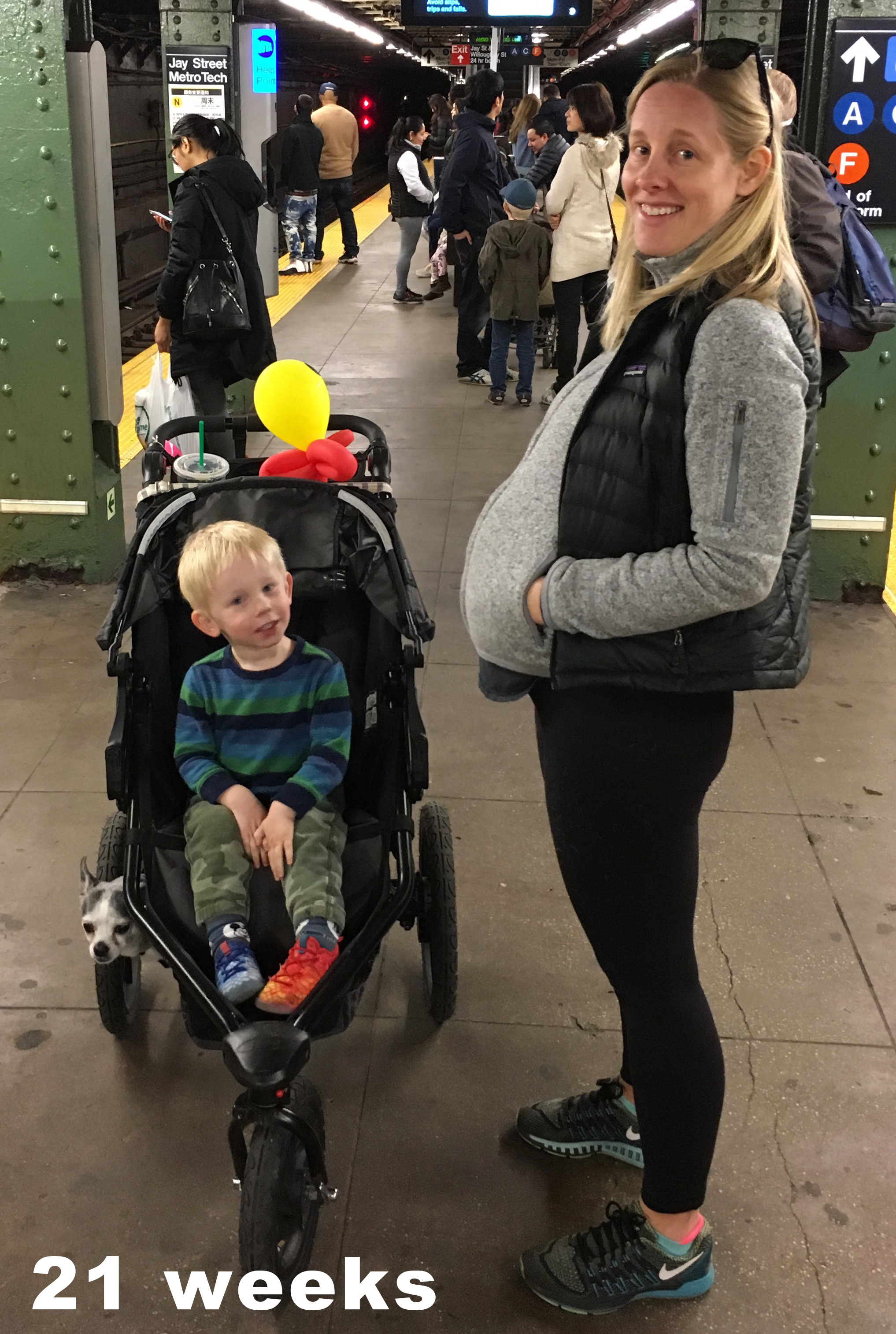 Week 22: I definitely have good days and bad days at this point. Sometimes I am up to tackling most of my usual activity — housework, walking all of Brooklyn, carrying Ken up the stairs, etc — but there are other times when I get out of breath just standing up. I've also had a few days of some cramping and pelvic pressure, so I have been trying not to push myself too hard. We had a really busy weekend with lots of fun with friends and I felt pretty good, so that is encouraging!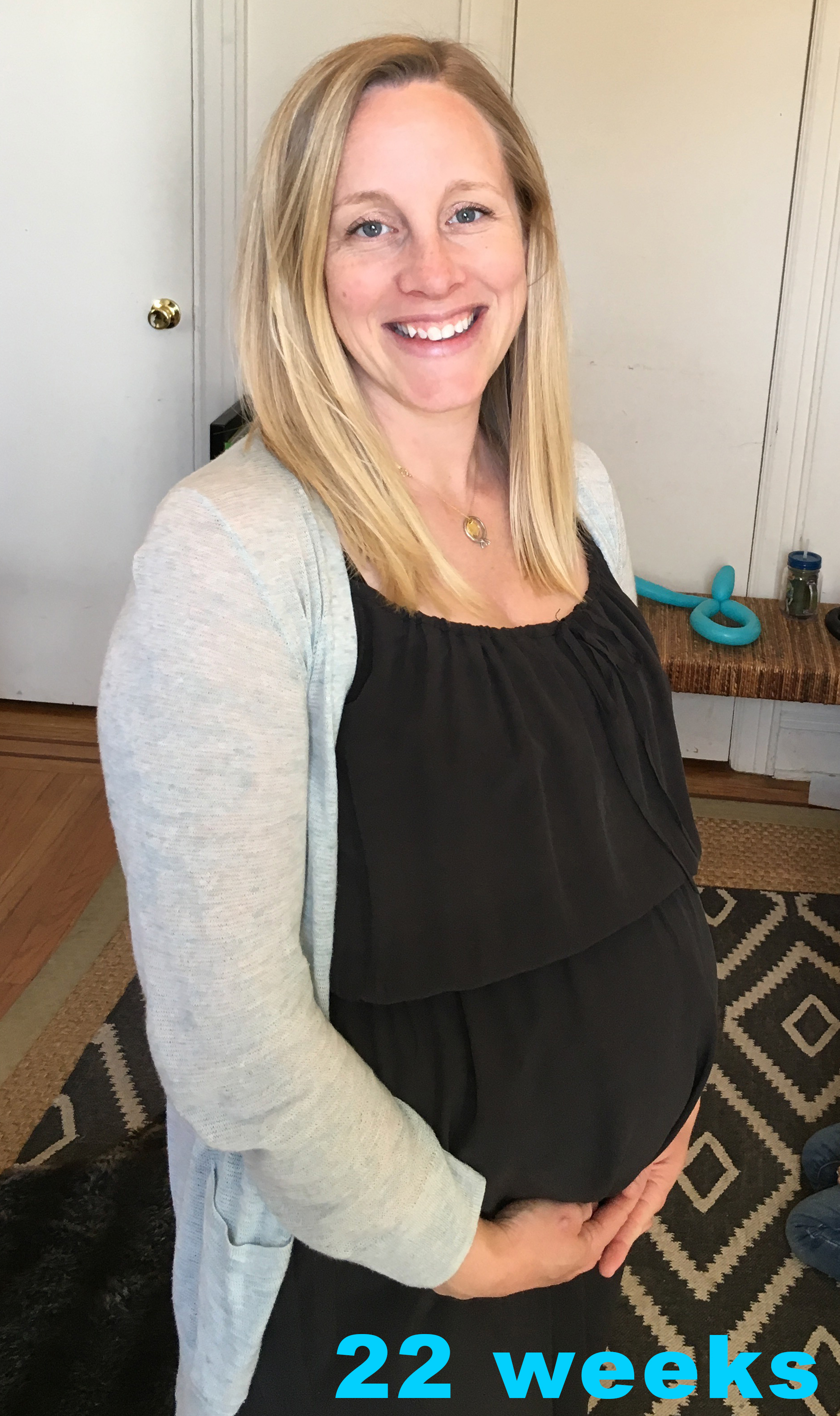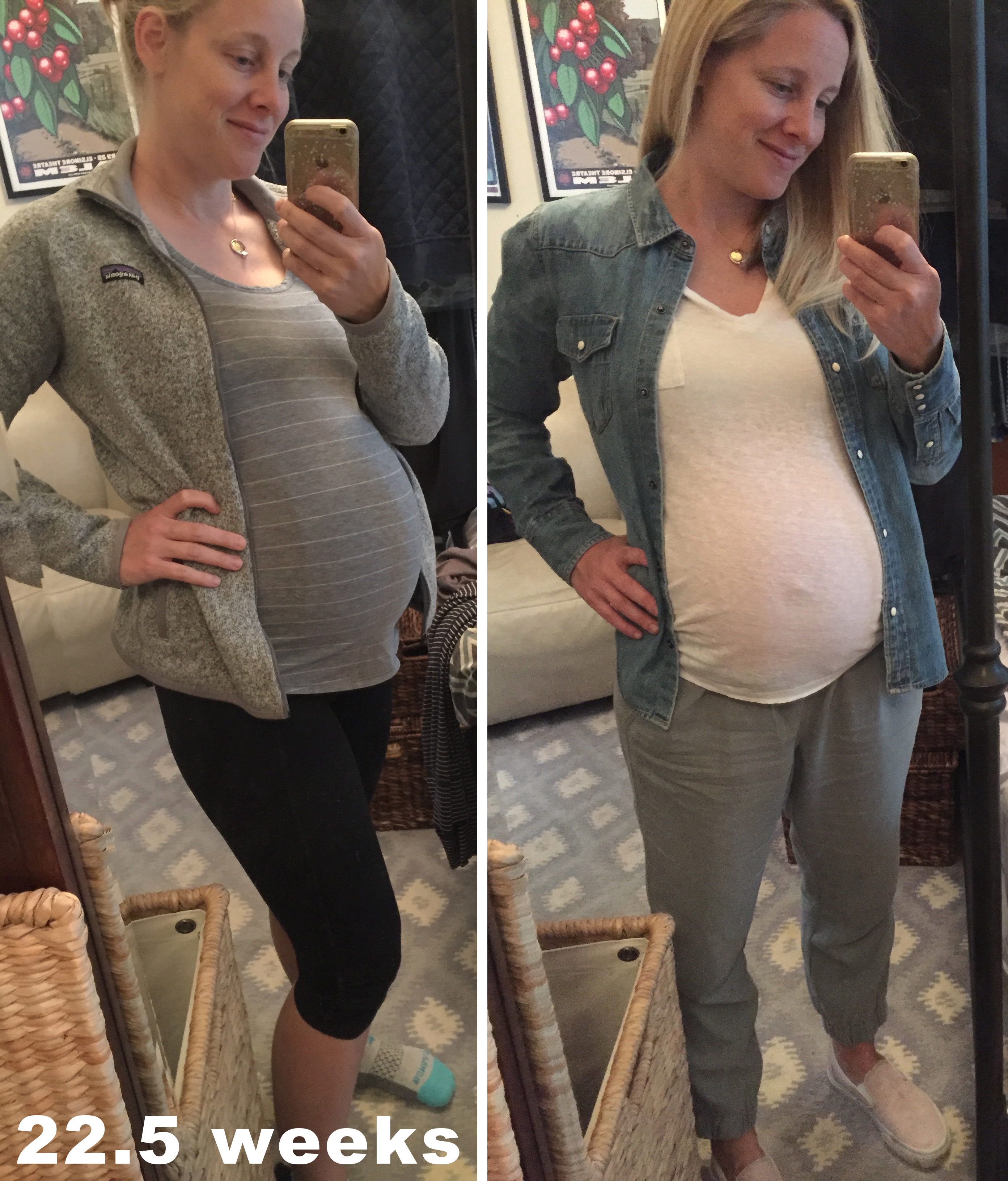 Week 23: This has been a pretty good week. My belly is definitely growing (and itching! I need to get some belly oil. Or just use all of the coconut oil I have on hand!) and the babies are moving around a lot! I had a quick ultrasound on Thursday and my cervix looks good. I had been worried because of my previous uterine cramping, but things seem to be progressing smoothly. The babies have moved positions slightly. The boy is still on the bottom, but he is slightly breech now, and the girl is laying transverse on the top with her back facing out. Neither would really cooperate for any good photos.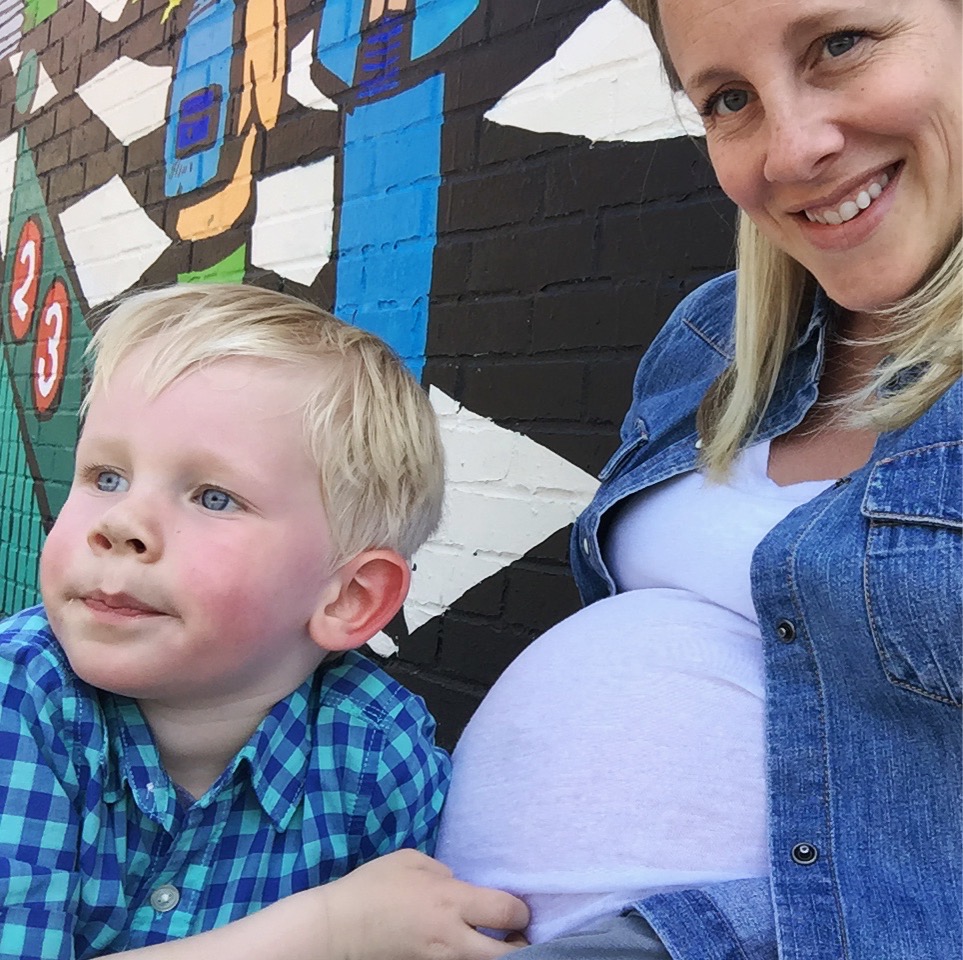 Week 24: I made it to the viability milestone! Hooray! That basically means that if the twins were born today (at 24 weeks), they would most likely survive. But of course, we want them to stay in for as long as possible. The doctors have just been very serious about pre-term labor, so it feels good to have at least made it this far.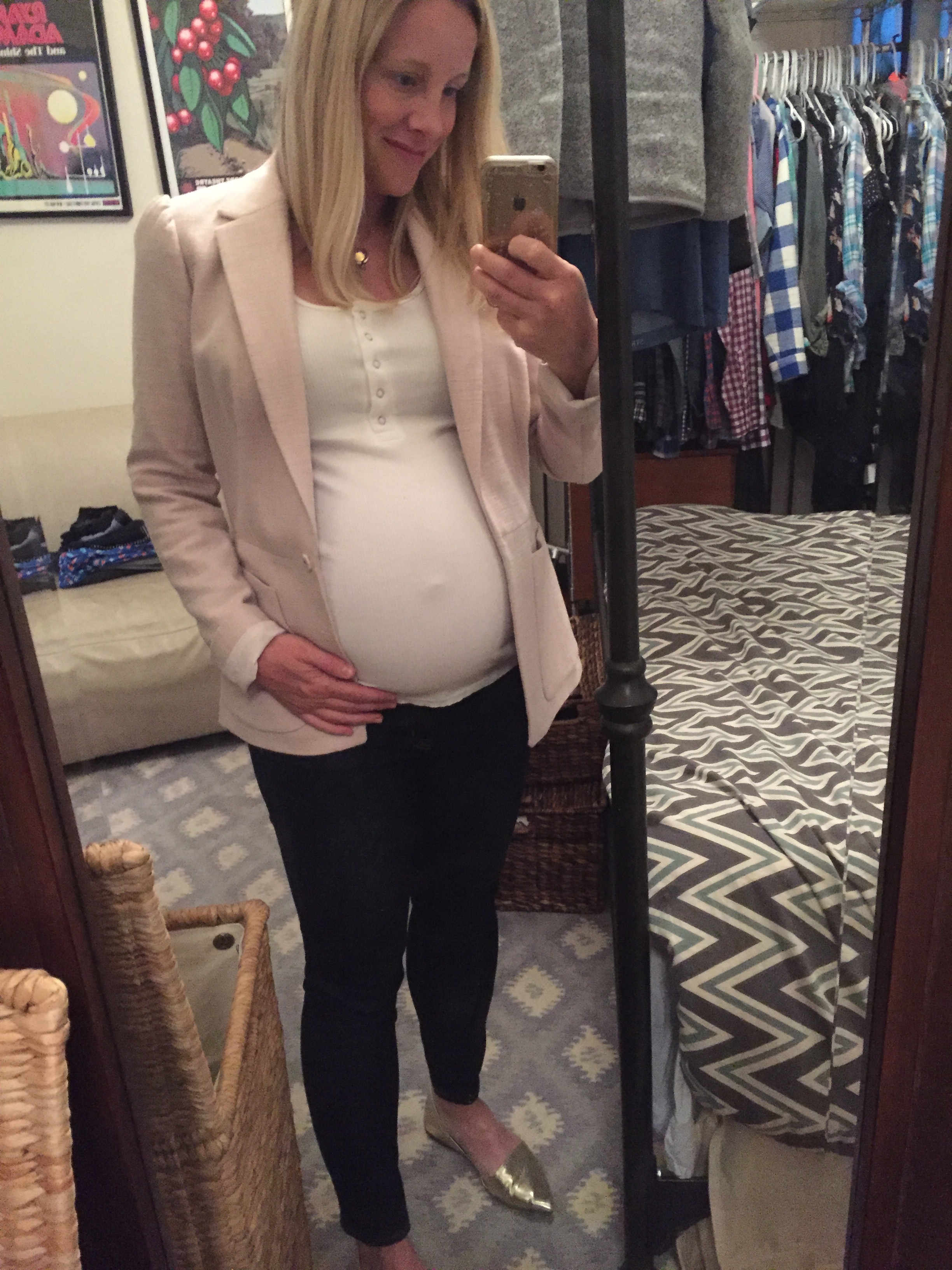 I was really strict when I was pregnant with Kenneth and tried not to touch any type of caffeine. This time around I have been a little more lenient with tea and decaf coffee… but it isn't worth it! It gives me so much heartburn! Especially anything from Starbucks. So, I am rededicating myself to abstaining as much as possible. It is hard. I have also been avoiding a lot of different foods (salads, deli meat, cold sandwiches, etc) because I am really scared of getting food poisoning ever since we caught those two big stomach bugs over the winter. It is a little irrational, but I just don't want to get sick again. Barfing while pregnant is not fun. I am worried that my nutrition is not quite as stellar this time around.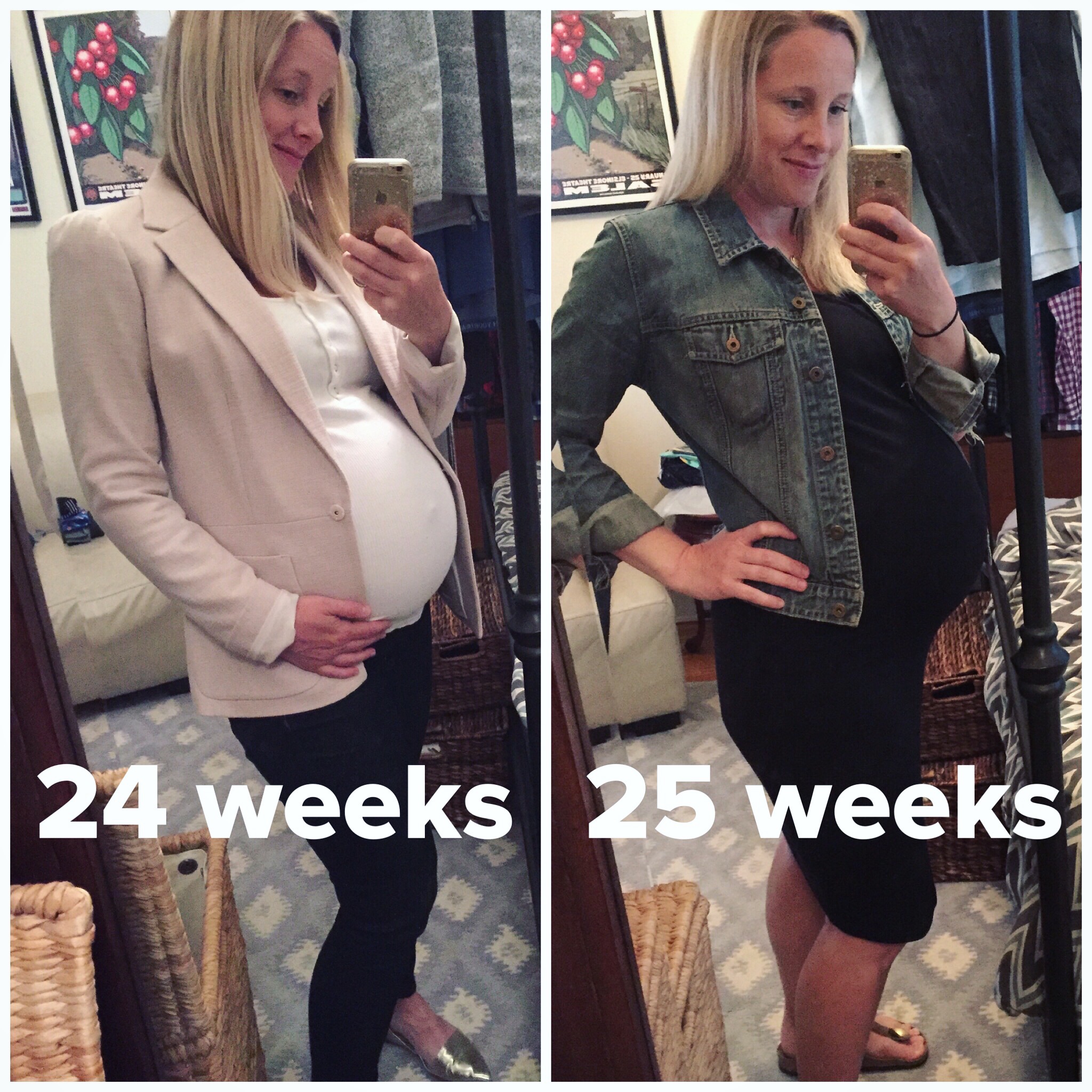 Week 25: This pregnancy is getting hard! I know I have said that before and I know that it is only going to get harder, but man, it is starting to really affect my day to day life. I have some back pain and lots of heart burn. I pee all the time and don't sleep great. Everything makes me out of breath, like standing, walking up hill, blow drying my hair, etc. And I have so much nasal congestion, which you would think would be the least of my problems, but only breathing out of your mouth for months at a time gets really gross and uncomfortable.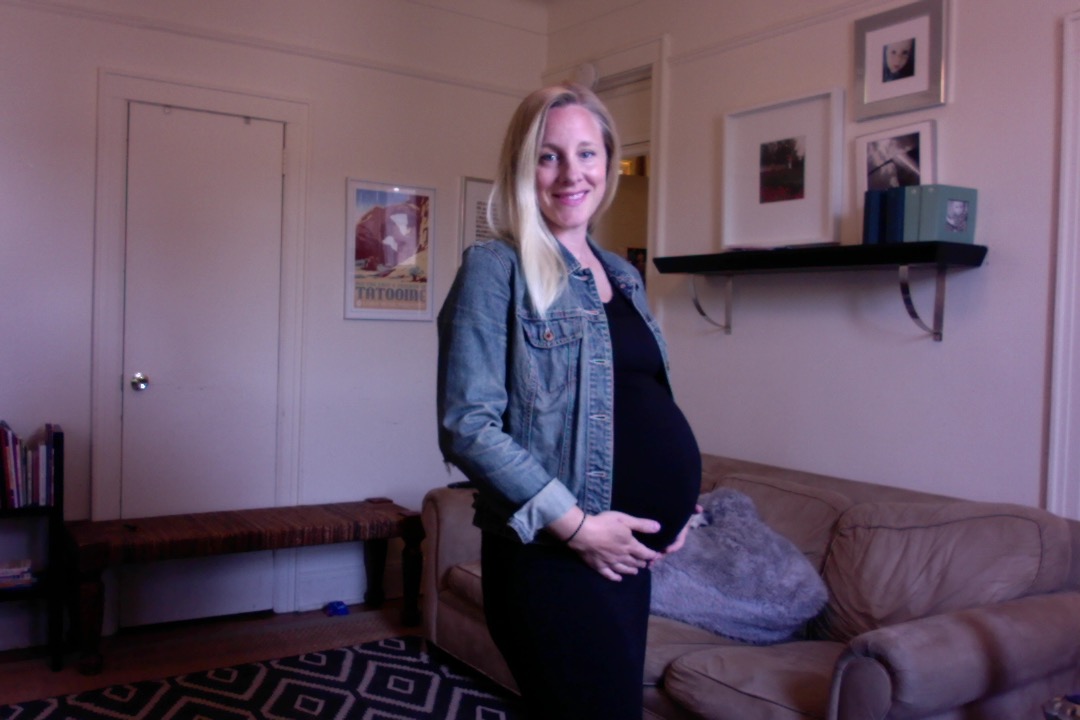 Want more unsolicited ranting?? Daily tasks (like picking ken up at school, shopping, walking up stairs) are getting very difficult and it feels like no one outside of myself has any concept of how difficult. I walk down the street with a giant belly, a 33 pound toddler in a stroller, a diaper bag, and bags of groceries, and there is like only a 25% chance that people will even move out of the way on the sidewalk ramps. I really feel like the attitude in NYC is that if you choose to have kids, you have to deal with it 100% your self. No mercy for the weak. I am a very independent person who is up for the task… but would it hurt the single young men without even a messenger bag to weigh them down to maybe let me have the right of way on the sidewalk ramp?!
Now, of course, there are always some very nice people out there holding doors and being patient with Ken. And certainly, I don't know what is happening in the lives of those single guys, so I shouldn't really judge their behavior. And my pregnancy is progressing so well and I know that is an extreme blessing. But PREGNANCY IS HARD. Not to mention twin pregnancy while wrangling a toddler. And did I mention Travis was out of town for three days this week? And I have no family support in town? And we are MOVING on Saturday? And child care costs anywhere from $15 to $100 an hour? I guess I am just feeling like no one is acknowledging how hard it is to grow, birth, and raise babies full-time… but isn't that the unending, unheard complaint of women since the beginning of time?? My only choice is to suck it up and keep working. No one is coming to save me.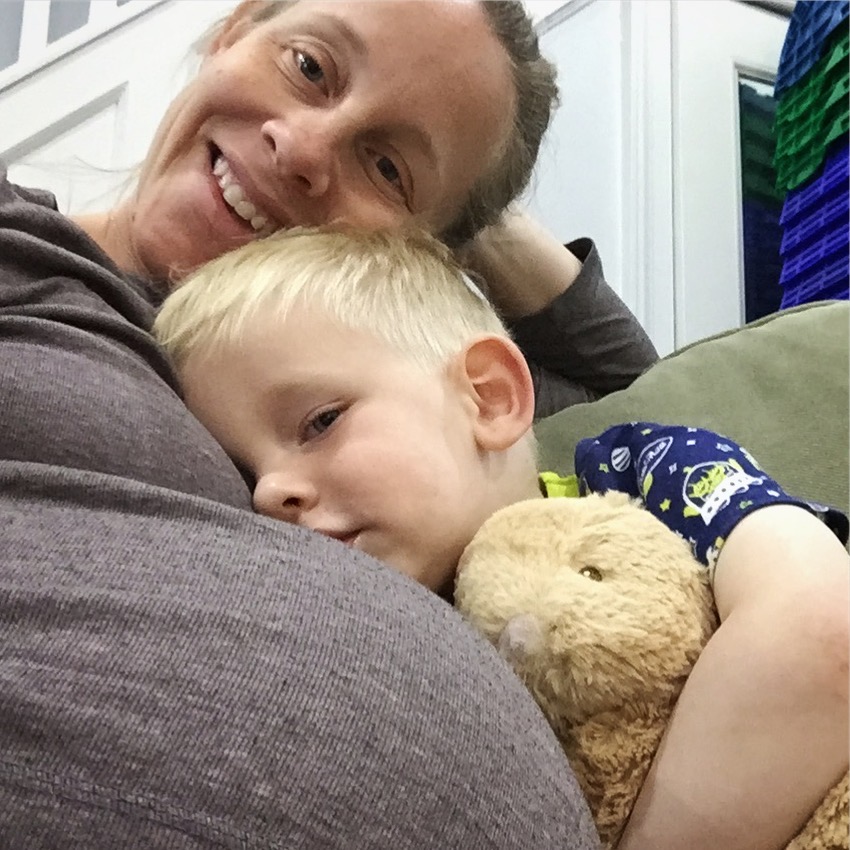 My weight is really spiking. It feels like my belly (and boobs) got considerably larger this week. But I am also afraid the rest of my body is getting fat. My weight gain is a month ahead of what it was during the last pregnancy and I think my belly is as big as it was right before Ken was born! Even if the rest of my body isn't necessarily larger at this point, my body fat percentage is definitely higher. Which is very normal for pregnancy, but I just hate thinking about all the work it will take to get back in shape. Ugh. I am so worn out all of the time these days that even light exercise feels ridiculous. I did some squats and I nearly passed out.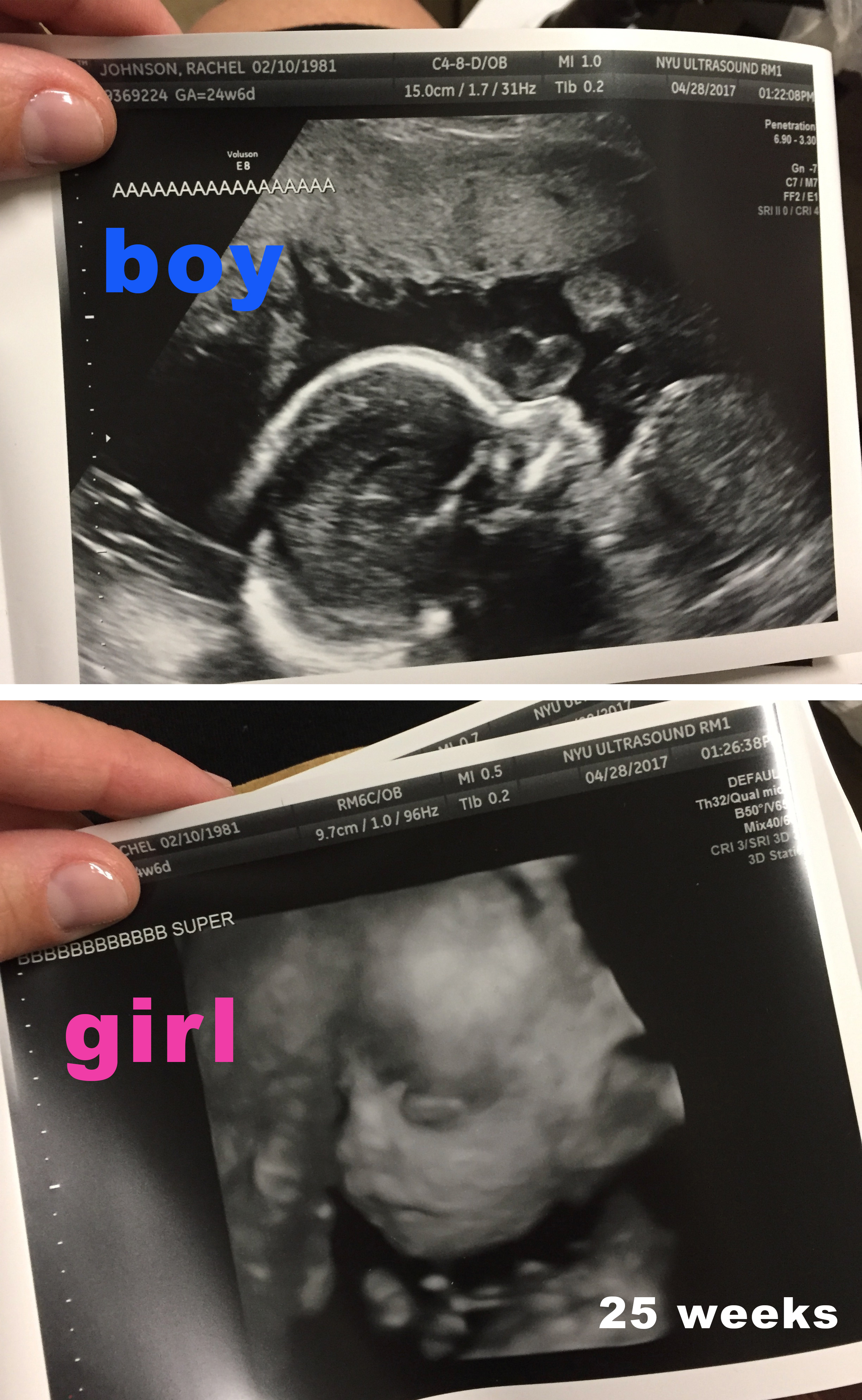 I had an ultrasound and doctors appointment on Friday, April 28th. All looks good and the babies are laying transverse with their heads on the left. We were able to get a pretty cute 3D photo of baby girl, but baby boy wouldn't quite cooperate. Baby boy weighs and estimated 1 lb 12 oz (64% percentile) and baby girl weighs 1 lb 8 oz (21% percentile). It is always fun to see them and be reassured that they are doing just fine in there.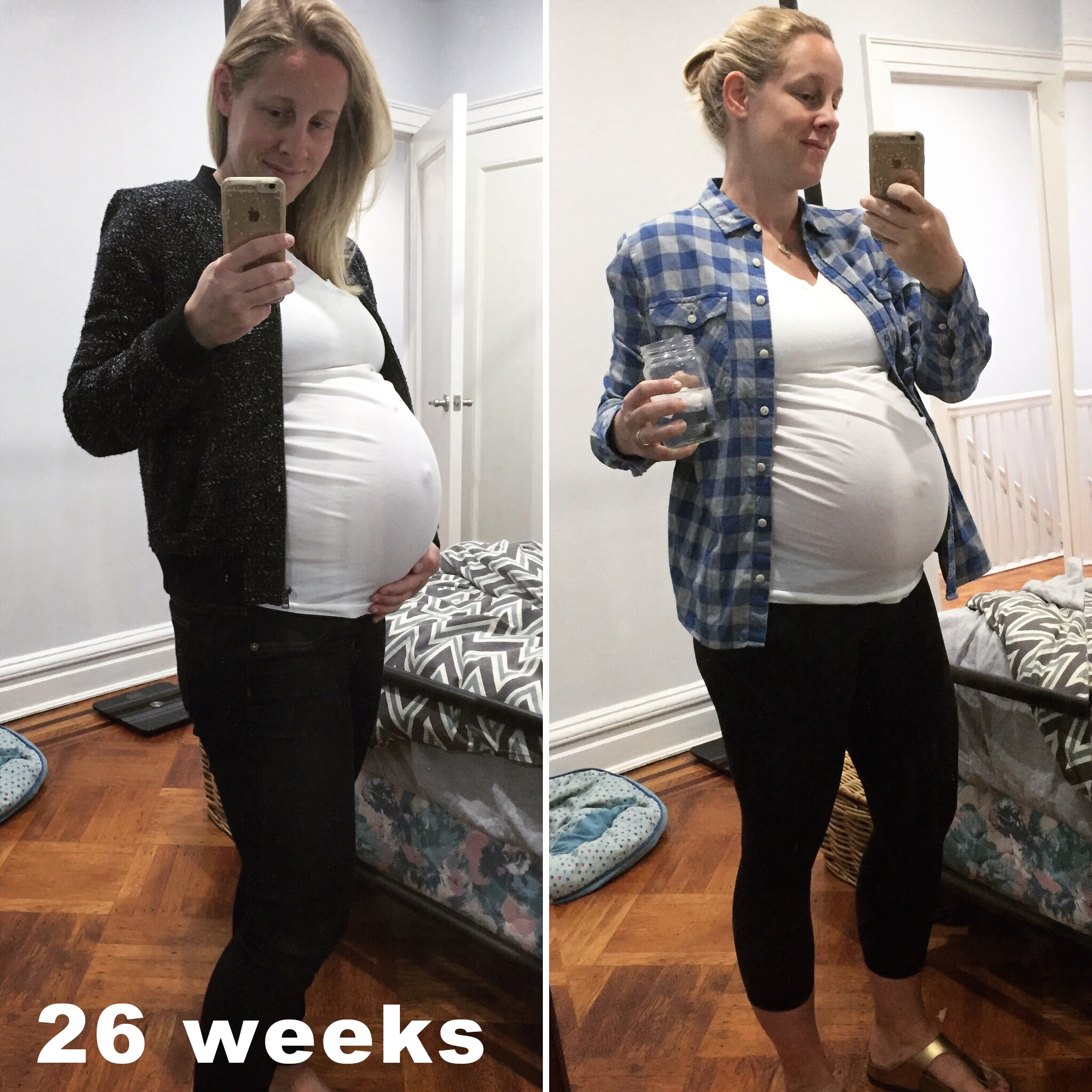 Week 26: This was a tough week. We moved into our new (rental) house last weekend but didn't have gas service all week. Which meant no cooking and no warm water. I had to go back to the doctor on Thursday for the second gestational diabetes glucose test. Bummer. (And I seriously almost passed out after the test while trying to do some shopping in the city. Turns out you need more than some almonds and water to eat after fasting for 18 hours and having four blood draws!) Then yesterday our basement flooded. Not great. All of it has set back our unpacking, so we are still living out of boxes and spending way too much on take out food. When I get stressed and tired my emotions sort of just settle on self-pity… so it hasn't been easy to "cherish every moment" of this pregnancy lately… BUT the good news is the gas got turned back on tonight and I took my first real shower in a week!! So things are looking up!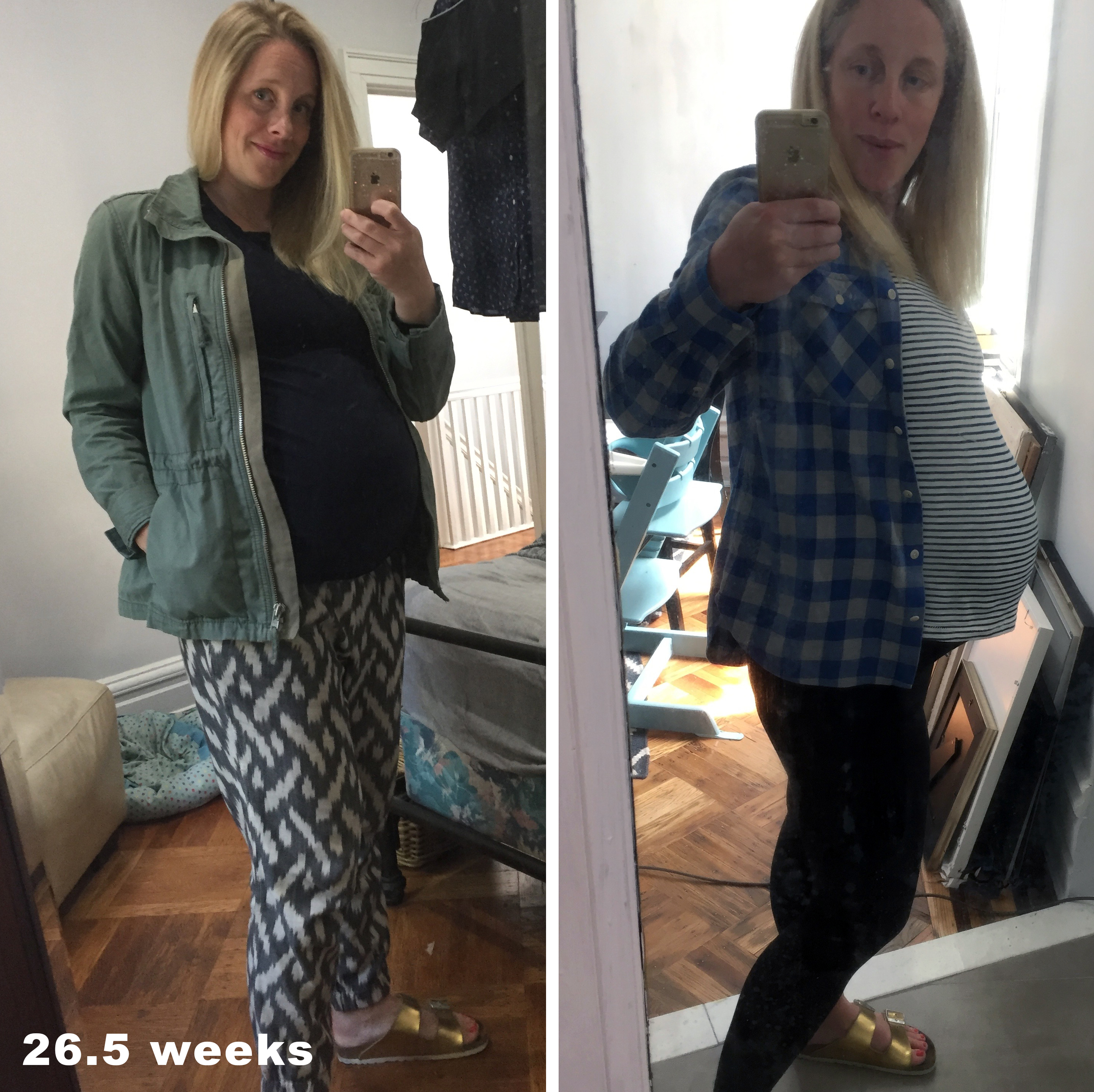 Week 27: This week marks the end of the second trimester. (Or maybe next week? Depending on which pregnancy calendar you follow.) It is kind of mind blowing, but I also can't believe I have so many weeks left. At this time during my first pregnancy I was still running! That seems completely inconceivable at this point in this twin pregnancy. My belly is huge. I think just as big as just before I delivered Ken. Stretch marks are starting to show up. Ugh. The good news is that I passed the second gestational diabetes test with totally normal numbers. Whew. Thank goodness because I am really craving a lot of sweets. Also trying my best to eat a lot of protein and fruits and veggies, don't worry.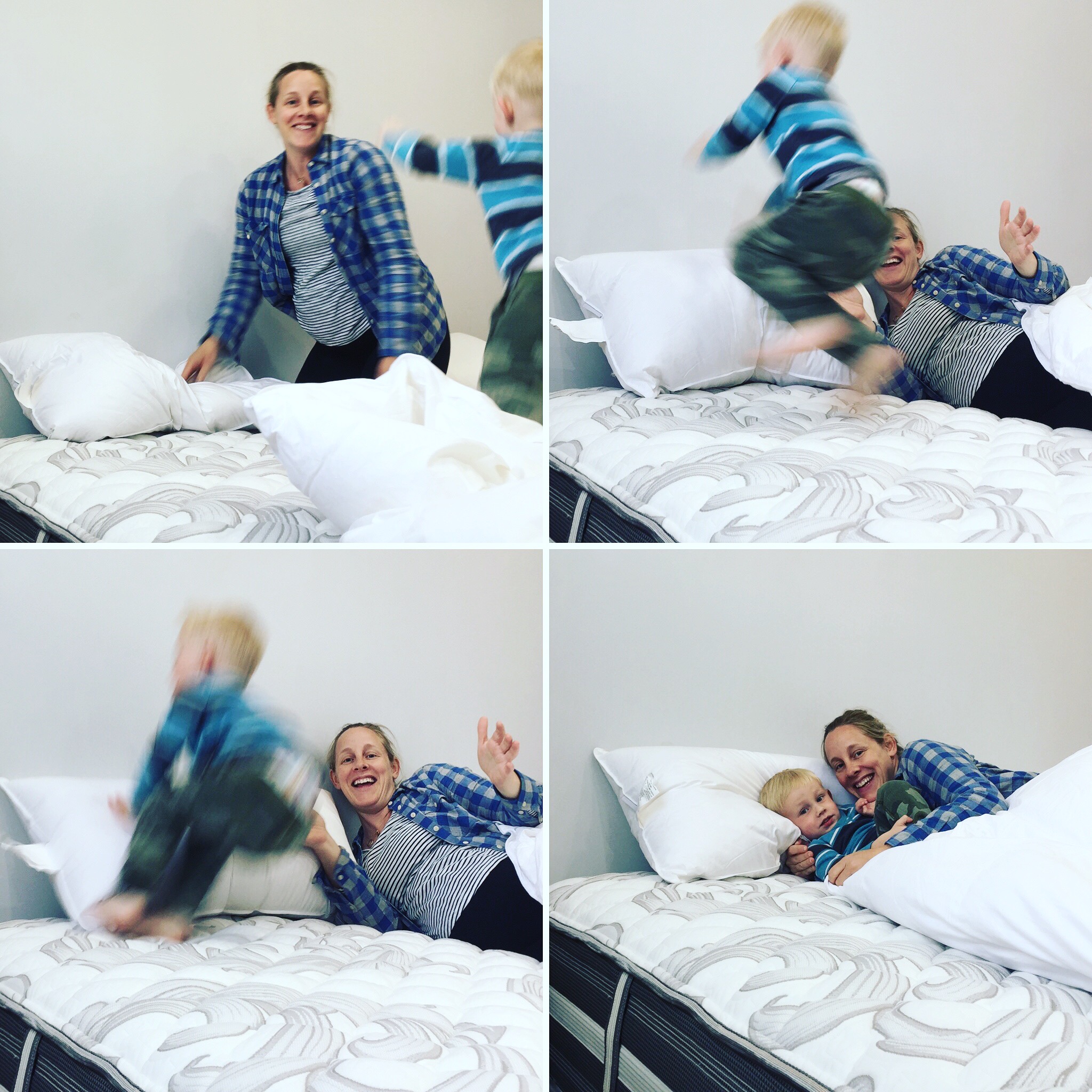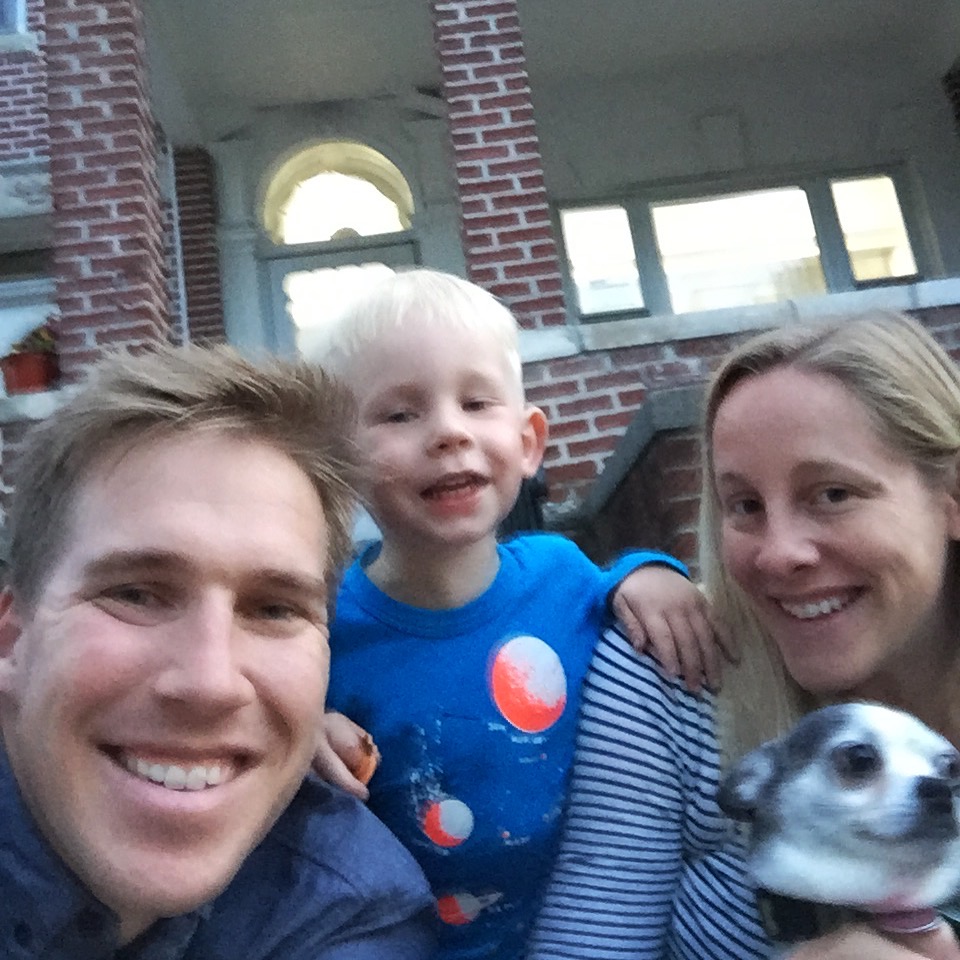 We have settled into the new house a bit more, which feels great. but we still have a lot of organizing to do. Of course, I want everything to be as ready and clean and organized as possible before the twins arrive…. but there is so much to do! And so many more things to buy! Ugh. Dressers, strollers, car seats, and oh ya, maybe a car?! We need to stay on task!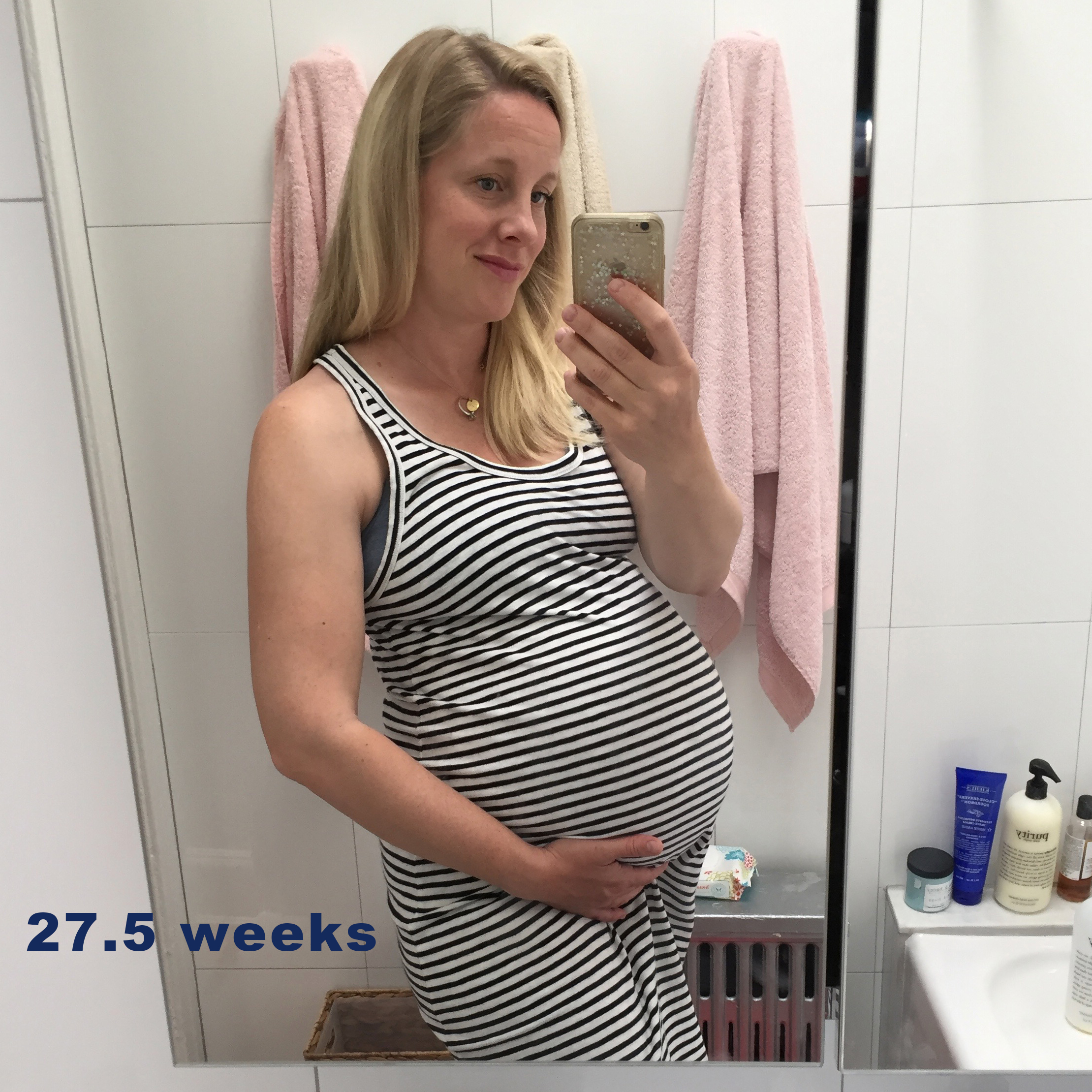 Week 28: Happy/scared to be officially into my third trimester. My body is definitely showing it! I had an ultrasound and doctors appointment on Tuesday, May 16th. The babies look "beautiful" as the techs and doctors keep saying (but we didn't really get any good ultrasound pictures) and all my stats are looking good, too.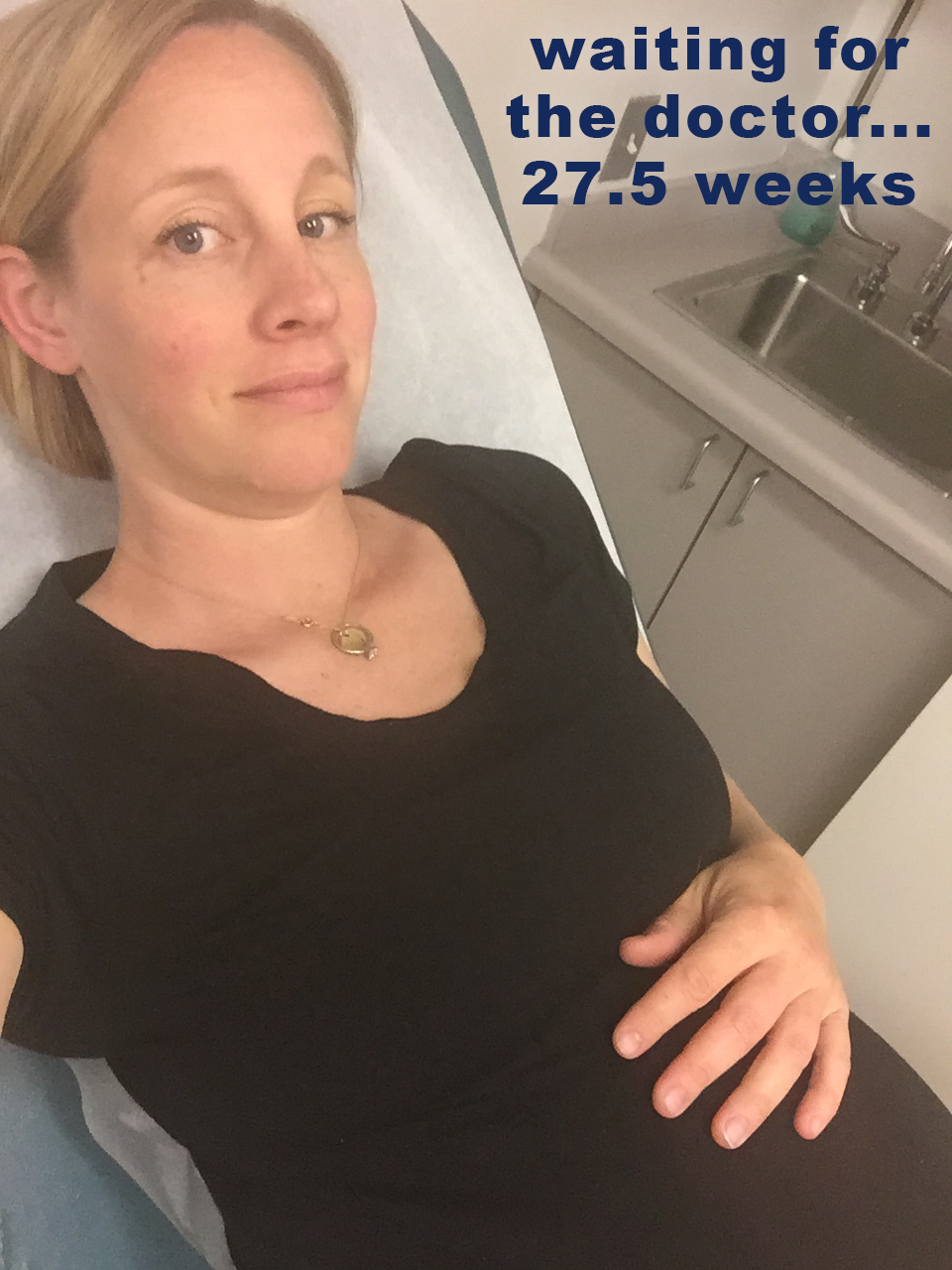 The girl is still positioned on top and the boy on the bottom. They are still transverse, but they flipped sides and now have their heads on my right. I am slightly nervous about them getting into birthing position (head down) but they are moving around a ton (sometimes it is pretty uncomfortable) and they still have lots of time to get ready. I am very thankful that this is basically turning out to be an optimal twin pregnancy, but man, it is getting REAL! The doctor measured my belly and it is just as large as a 39 week belly for a singleton pregnancy. And I have at least two more months to get so much bigger! I really can't wrap my head around it. I already feel gigantic. They doctor is totally happy with my weight gain — I've gained about 22 pounds. Not bad really, but I also started a little heavier than I'd like. I'm probably going to gain 20 more pounds before this is all over. I am trying to be ok with it… but my rear end is getting fat! ugh.
I finished up week 28 by attending the wedding of our dear friends, Joel and Amanda. (Grandpa was in town for a half marathon and generously babysat Kenneth. Hooray!) It was a beautiful, fun event and it made me really happy to have such good and supportive friends. And I am glad that I am still somewhat capable of socializing late into the night… but oof, I was so sore just from standing for a few hours. There is a lot of pressure on my hips, pelvic floor, legs, feet, etc. I want to keep pushing myself to do as much as I can during this pregnancy, but it is getting more uncomfortable. And oh right, the doctor says I need to rest more, not pick up Ken, not worry about exercising, and even cut out too much walking. Oops. I am not good at any of those things.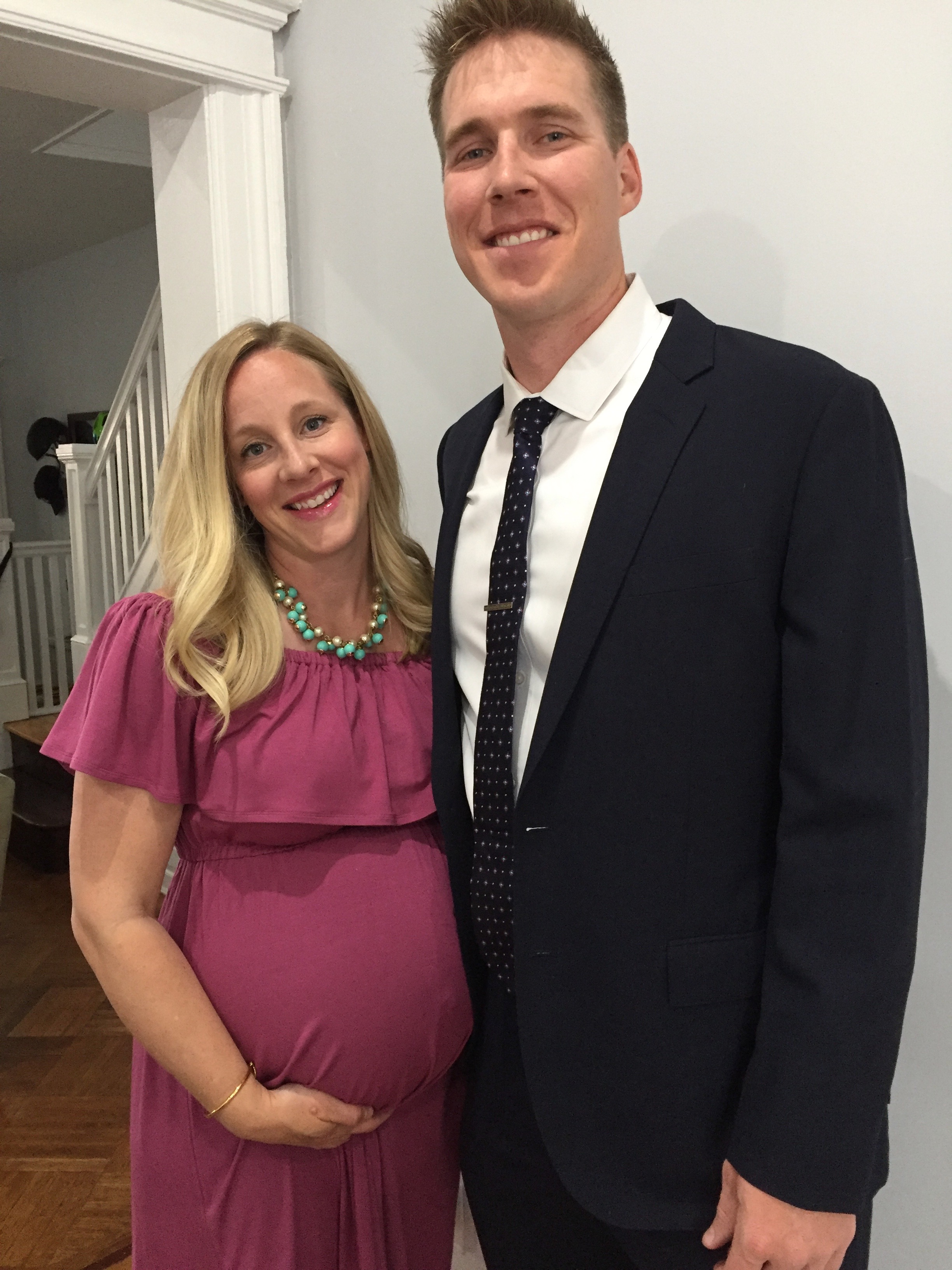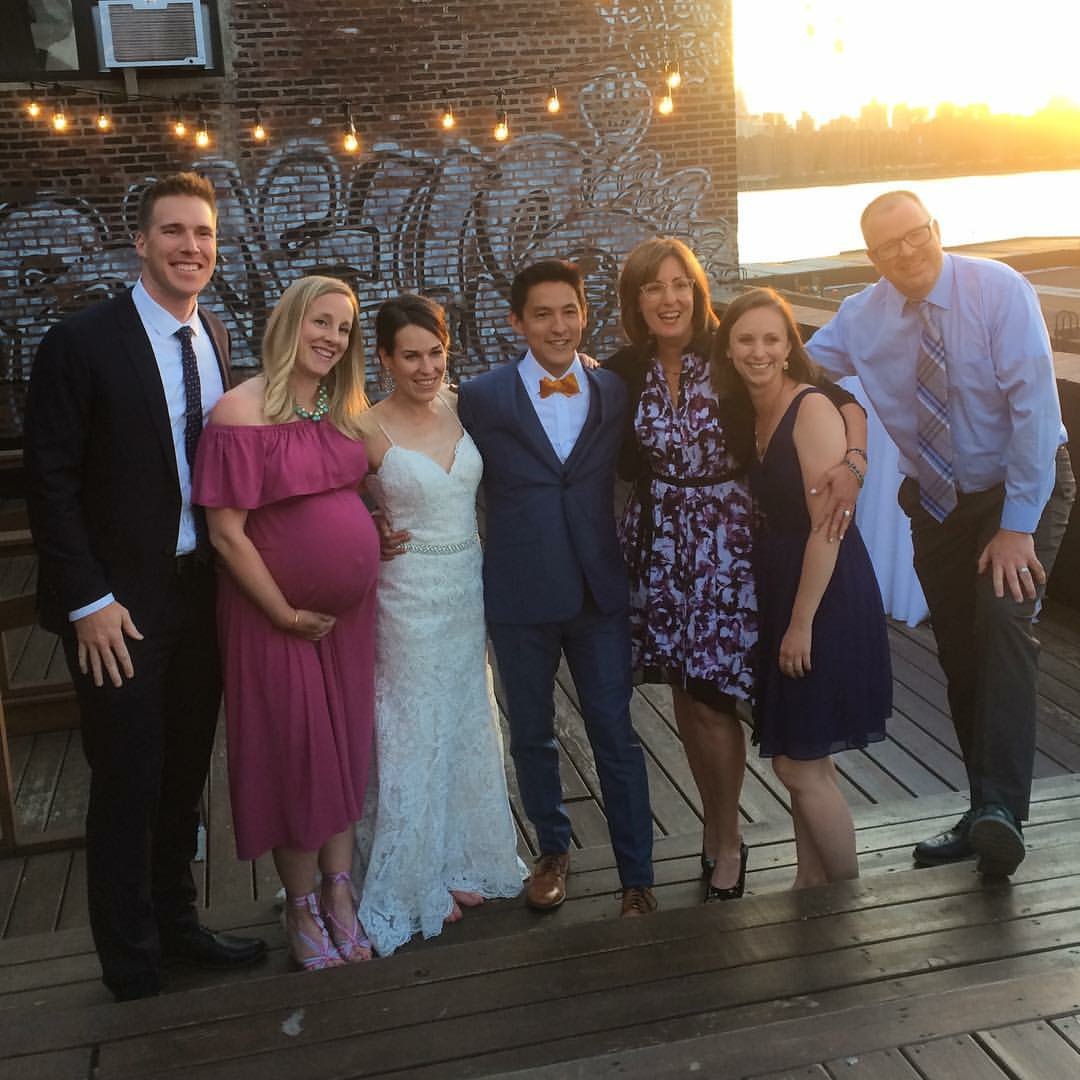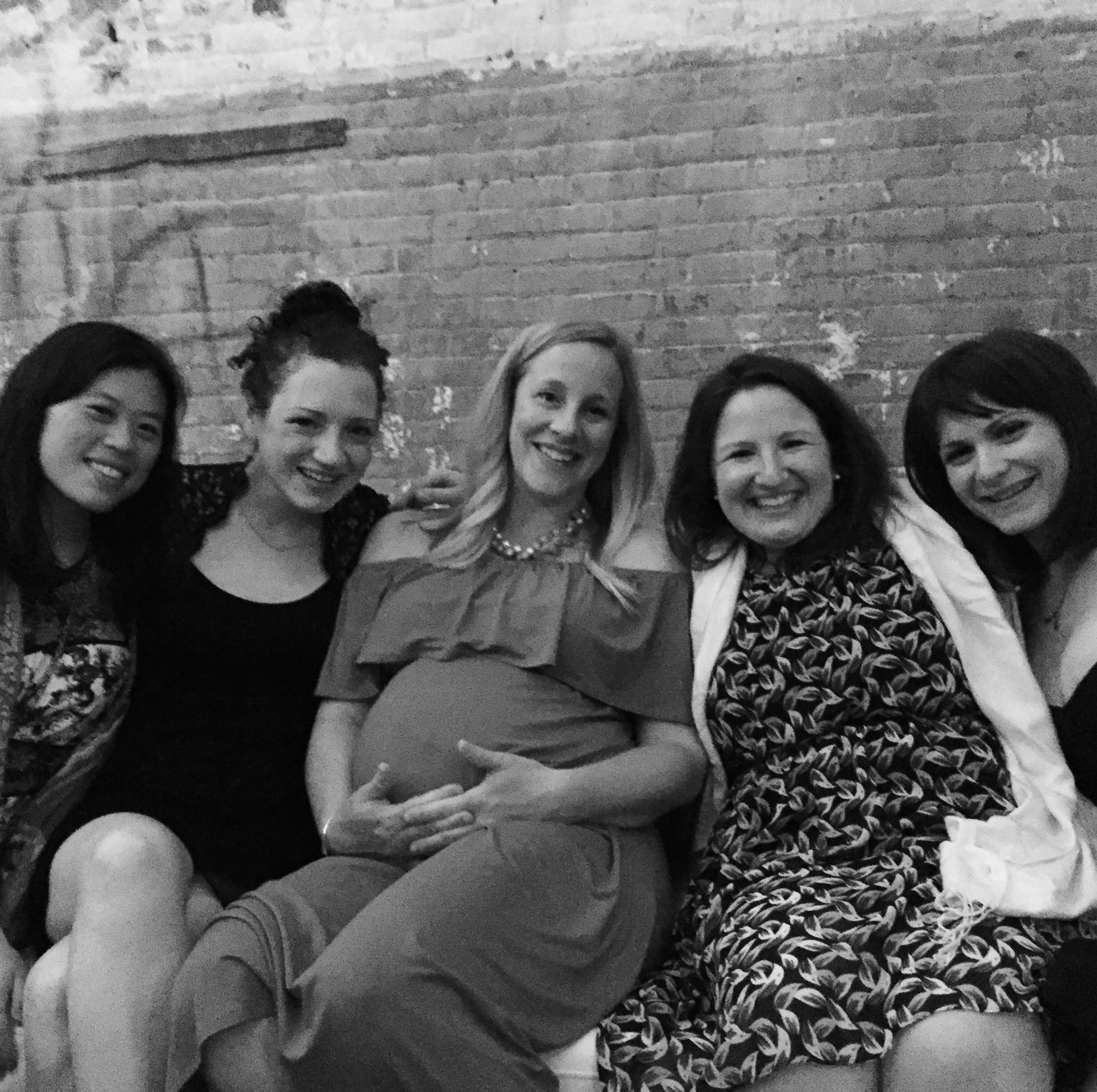 Anyway, I am scared about what will happen to my body, but I also know that being pregnant with twins is a really unique experience that not many get to go through. I am trying to take it all in. Like a lot of things in life (like raising children?) I think the experience, despite its amazing parts, is just difficult enough to not really make you want to do it all again… but I also know we will look back on this as one of the most magical, wild, fun times of our lives. It is strange and wonderful how life works out. We couldn't have planned it this way even if we had tried, but we are up for the adventure!