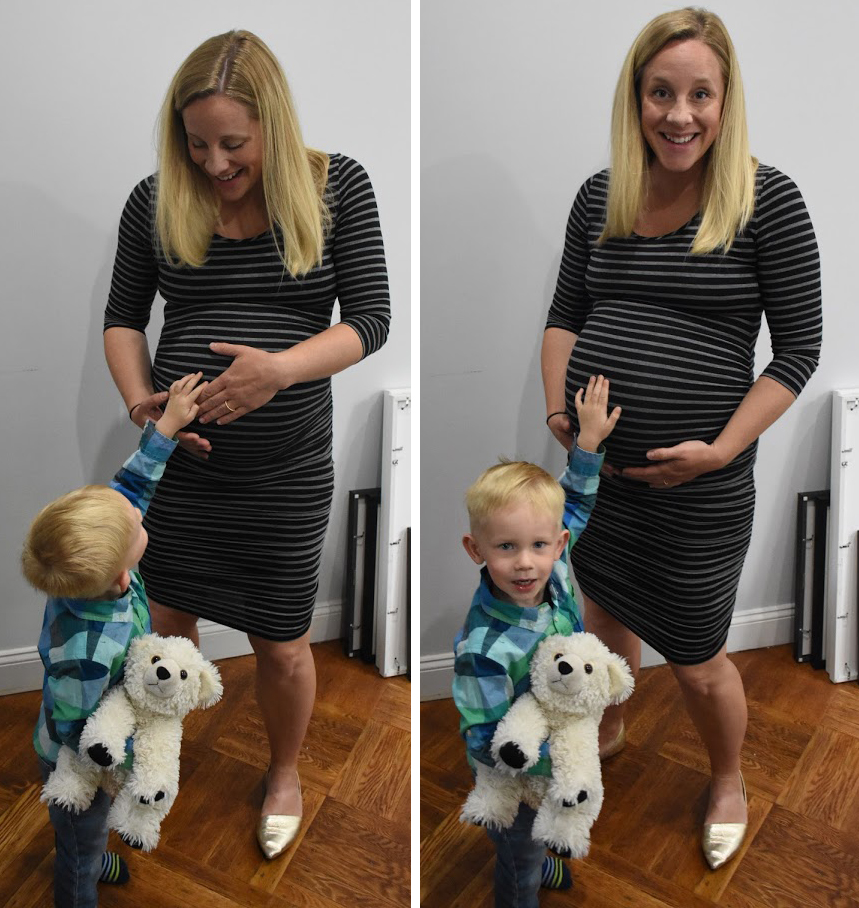 Week 29: I am feeling very happy and fortunate. I had a really good ultrasound on Friday, May 26th, to check on the twins' growth. They are doing wonderfully! Boy is about 3 lb 3 oz, and girl is 2 lb 14 oz. Big and thriving by all accounts! I am very thankful. Both babies have also now rotated into a head down position, which I think I am even more happy about. I was worrying (somewhat irrationally) that they would stay transverse forever. Head down means that I am still a great candidate for a vaginal birth, which is what I am hoping for. (But also realizing that anything can happen with a twin birth, so I am staying open minded.) I celebrated by getting some fried chicken for lunch! I have been craving fried chicken all pregnancy but tried to stay away… it hit the spot. The babies DO need a lot of fat and protein at this point!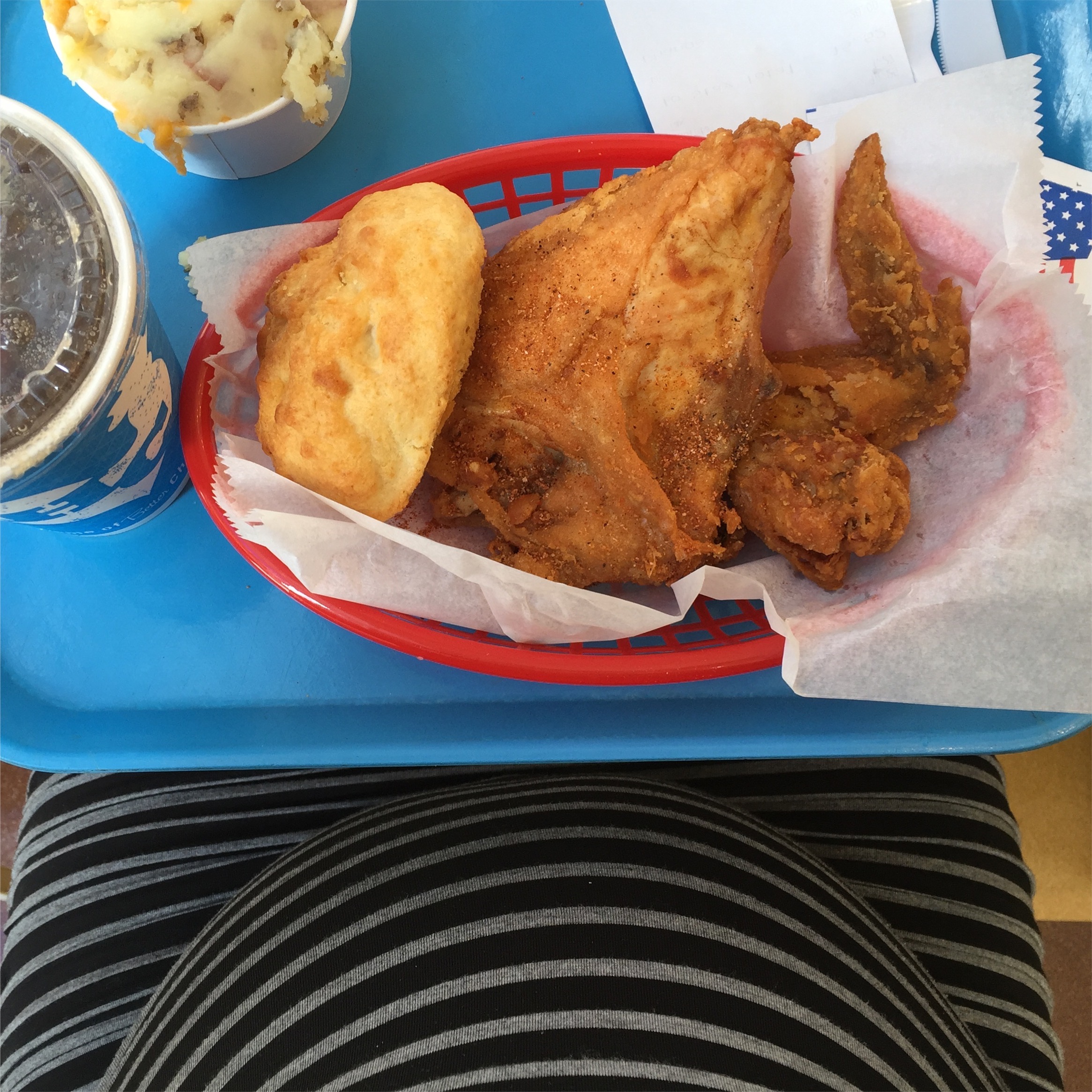 Week 30: Our new home is starting to come together. Travis spent his Memorial Day weekend hanging curtains, shelves, art, and mirrors, but we still have a lot to do. We have an obscene number of framed photos to hang! I am definitely nesting at this point, which makes me feel more stressed than necessary over all the things we still need to hang, organize, buy, and wash before the twins get here. But all we can do is our best.
That is me and the twins that you see in the mirror below at almost 30 weeks pregnant…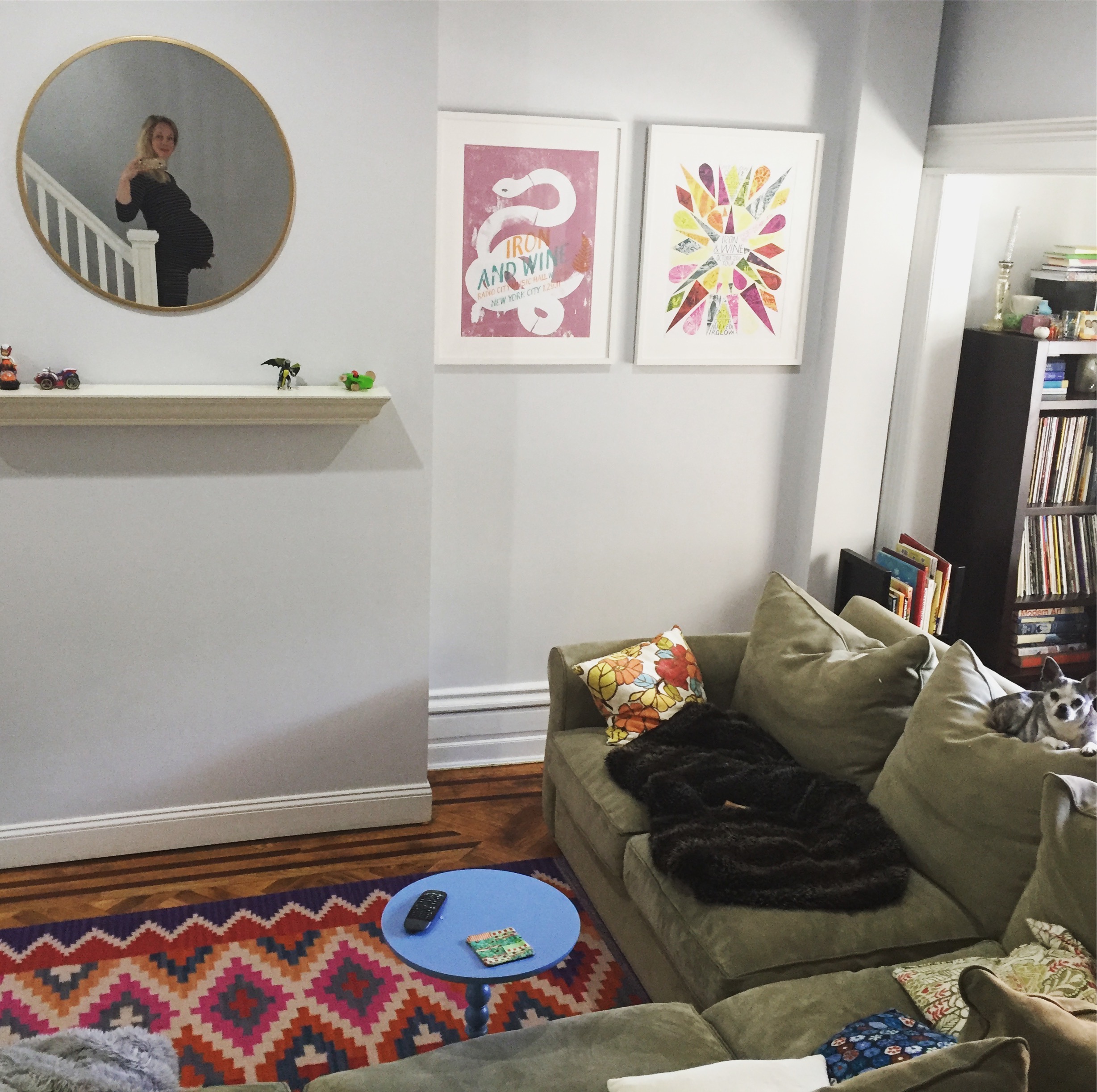 The belly is unbelievable! It is sticking out like a shelf now. Up until now I could sort of wear some of my roomier regular clothes, but that is no longer possible. Only maternity clothes work now. And I only have a few pieces — two dresses, some black tights, one pair of jeans, one pair of shorts, and a few t-shirts and tanks — but I am just going to stick it out and keep them in heavy rotation. I don't want to buy any new maternity stuff at this point.
Before hitting 30 weeks, I felt like a relatively "cute" pregnant lady with a baby bump… now, I am just huge. People look at me in shock. I was feeling embarrassed about it all — having your personal, physical business out there for all to see and judge — but now that I am getting closer to the end, I am feeling a little more ok with being the obviously pregnant lady. I probably won't ever be pregnant again, so even though it is tough, I am also trying to enjoy/absorb/appreciate the experience.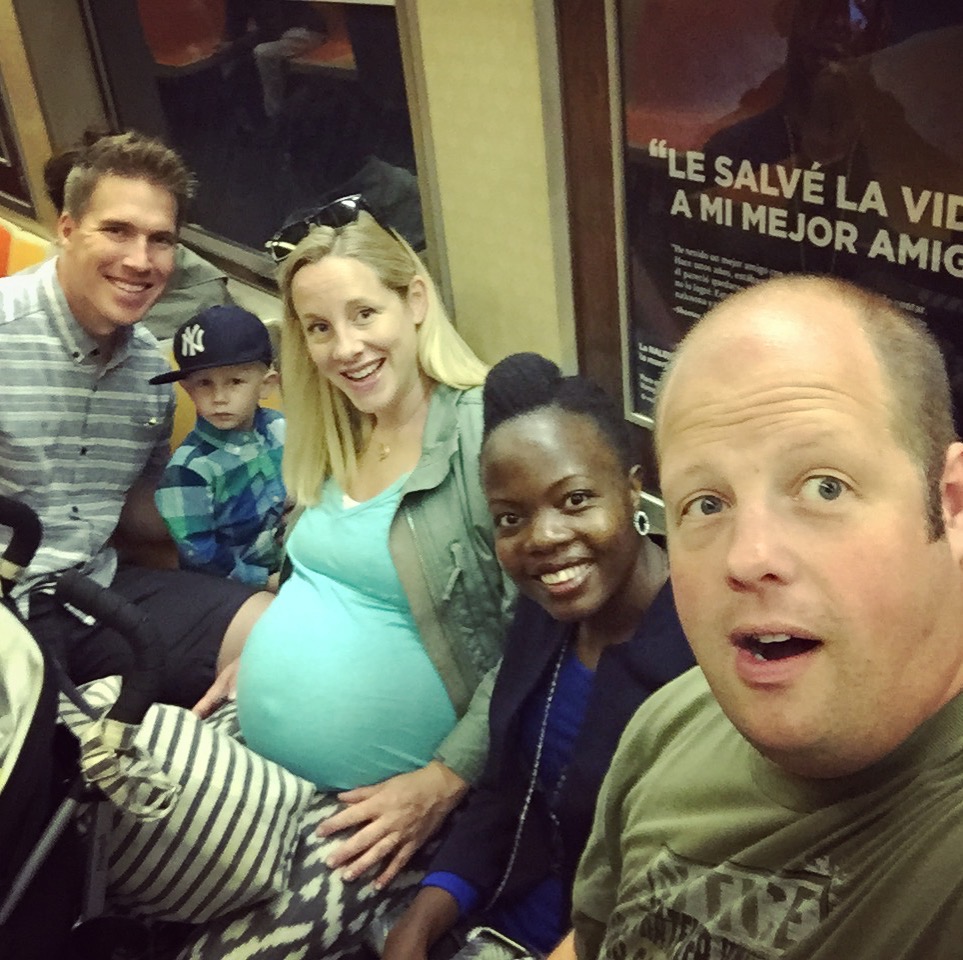 We've had some visitors over the past few weeks. Grandpa (Ken's grandpa, my dad) was here two weeks ago and my brother Seth and his new wife, Celestine, are in town this week. I was a little worried about having people stay in a house we haven't quite set up fully yet, but it has all gone smoothly. It has been especially nice to have a few extra people around to play with Kenneth. I can't do as much sight seeing as I would like, but I did manage to do the Brooklyn Bridge on Saturday. (At exactly 30 weeks pregnant!)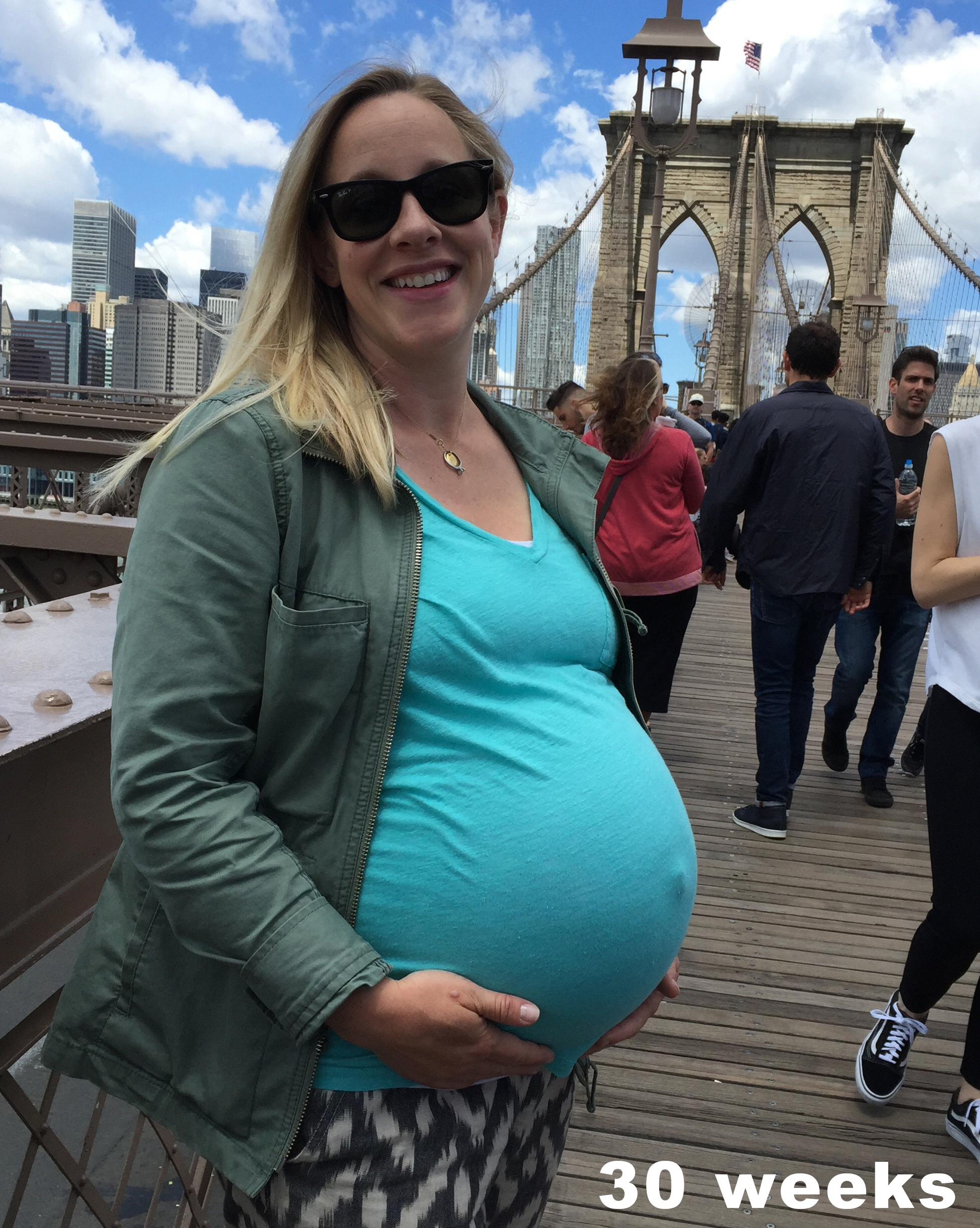 Week 31: Some venting: I'm almost 31 weeks pregnant with twins and it is getting REAL. I know I've already talked about this pregnancy being harder than my singleton, but I've just got to vent a bit more… Previously, this pregnancy has been harder in comparison, but still manageable in a being-able-to-function-day-to-day way. This week it has hit the unmanageable stage. I am maybe a pound or two away from hitting my max weight from my pregnancy with Kenneth. My belly is definitely bigger. I physically cannot bend over or twist my body. And not in some cute "I can't tie my shoes" pregnant lady way. Like, it is physically impossible to reach the ground or lean forward very far. Heartburn is back with a vengeance. I wake up every hour to pee. My brain is seriously not working it's best. And I am nearly always out of breath. I think I might be at about 25% capacity for what I can accomplish each day, which frustrates me to no end. It is all really making me think hard about the privilege that able-bodied folks have and how I should never take it for granted.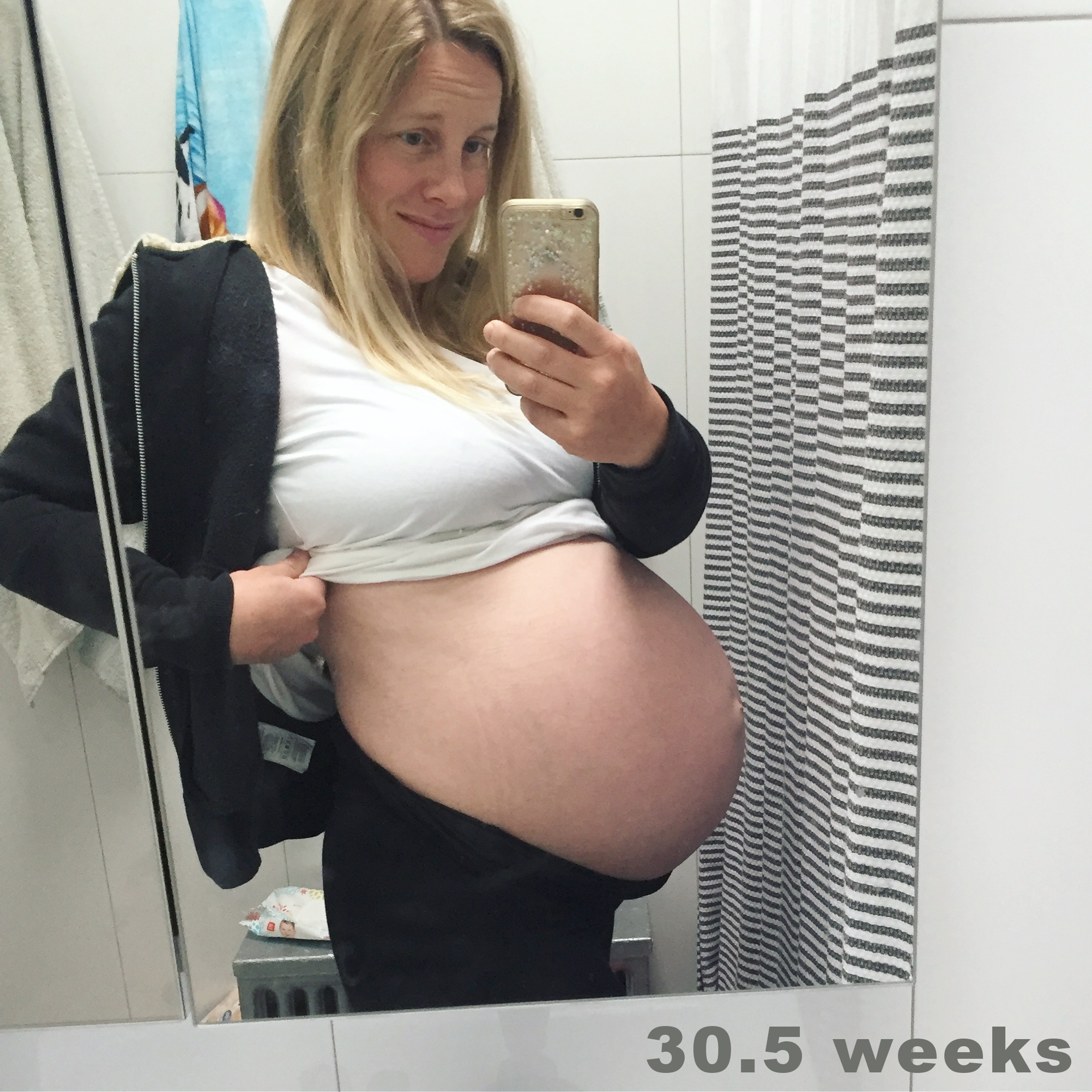 Now, of course, I know that technically my body is doing great. It is just in the process of making two more bodies… but it is difficult for me as a normally active person to be so restricted. The babies are moving around a ton and by all measures are thriving, so I am very very grateful for that. Worrying about whether your kids are healthy is the scariest, hardest part of pregnancy, so I know that all these other complaints and discomforts are pretty inconsequential.
But you guys, I still have TWO MONTHS until my due date! I think this twin pregnancy already qualifies as the hardest thing I've ever done… and I have a feeling it is just getting started… but I do get to eat a lot of ice cream!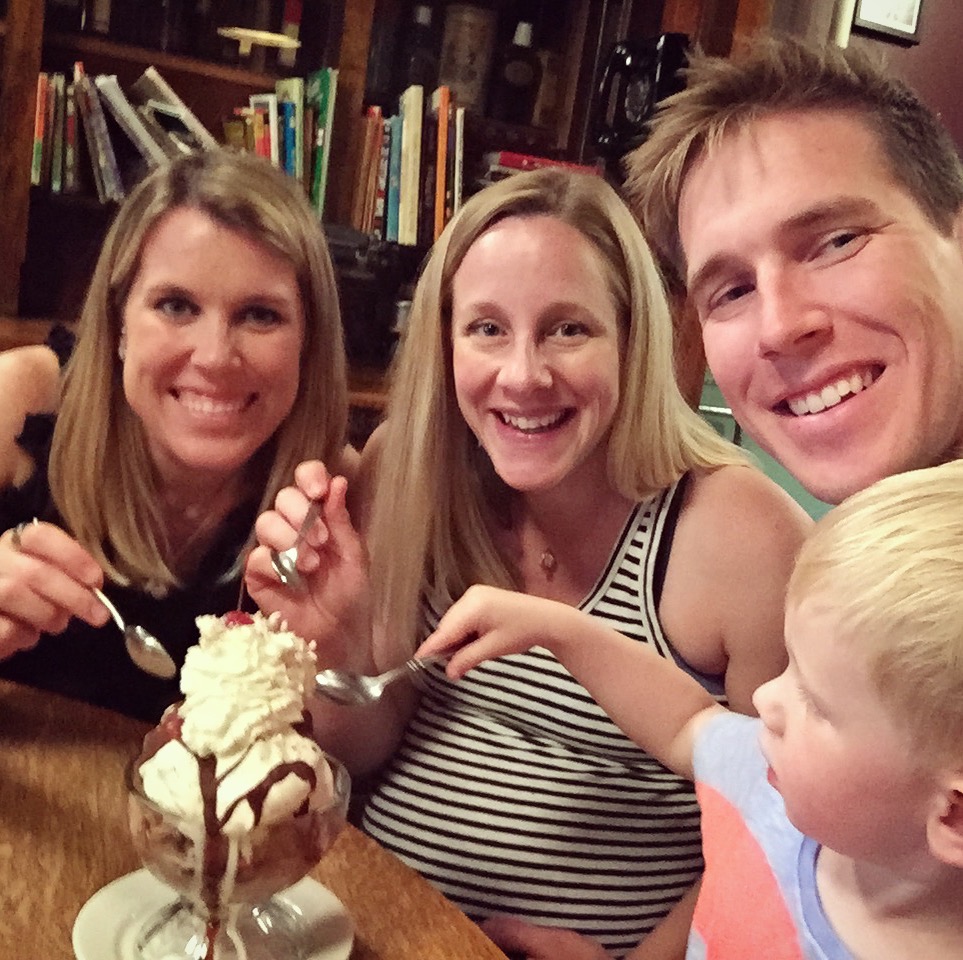 My sister-in-law Chelsea was visiting this week and she was a HUGE help. She played with Ken a ton and even helped me do stuff around the house. We didn't do much sight seeing, but did take the new Bay Ridge ferry to Ikea on Sunday in the heat. I did ok, but at one point I turned around in the store and people's jaws dropped in shock at my belly. I totally understand. The belly is pretty shocking. Walking is getting tough. And my hands and feet are a little swollen, especially after being in the heat. (I have only been wearing Birkenstocks sandals, but my swollen feet are even busting out of those!) But otherwise, feeling pretty good and happy.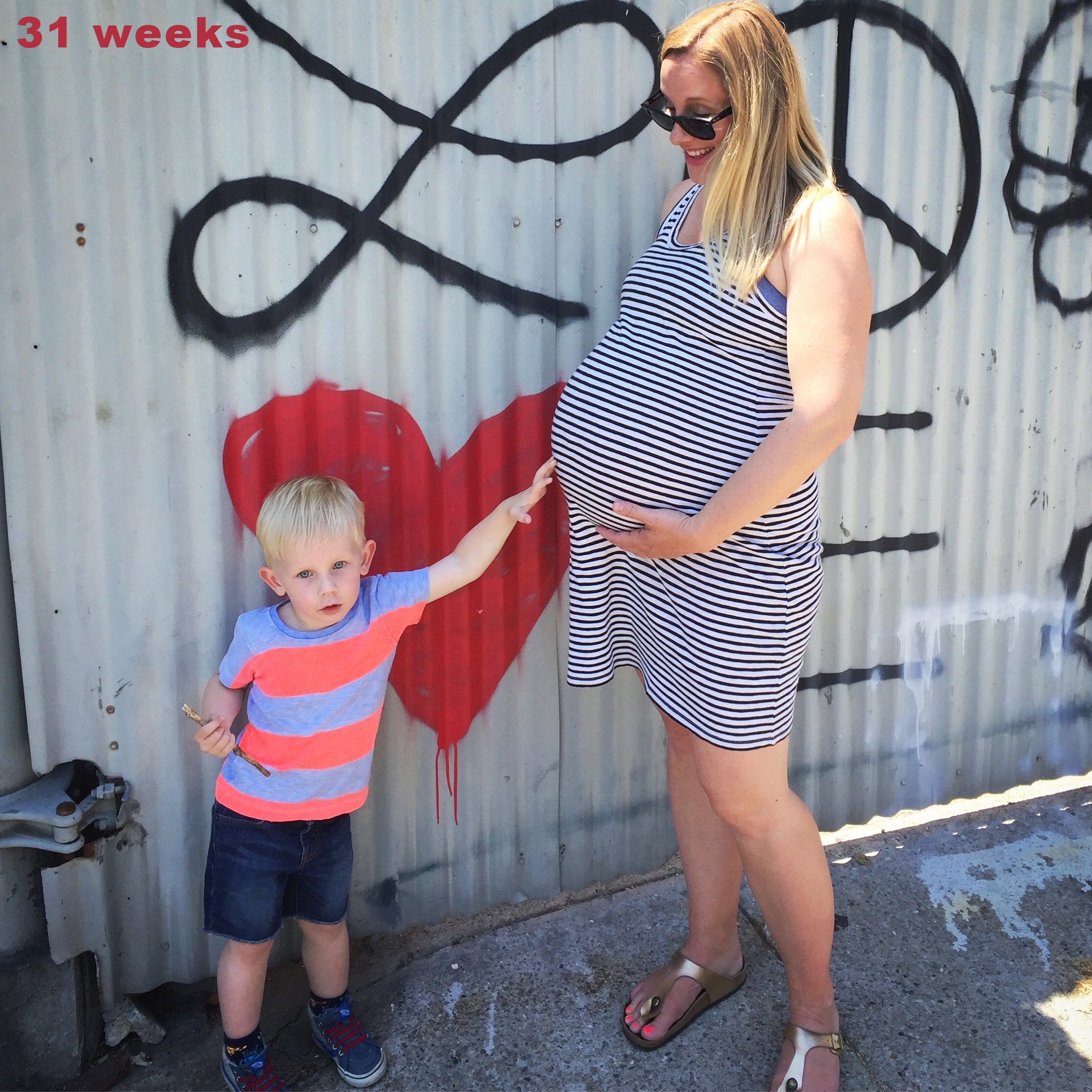 Week 32: Oh boy. Life with my giant belly is getting hard. My sleep is really suffering now, which makes it hard for me to be productive during the day. I am really worried about being a bad mom to Kenneth. We used to do everything together and now I can't really get on the ground or run around playing with him. I know he and I aren't going to have as much one-on-one time once the babies arrive and it is breaking my heart.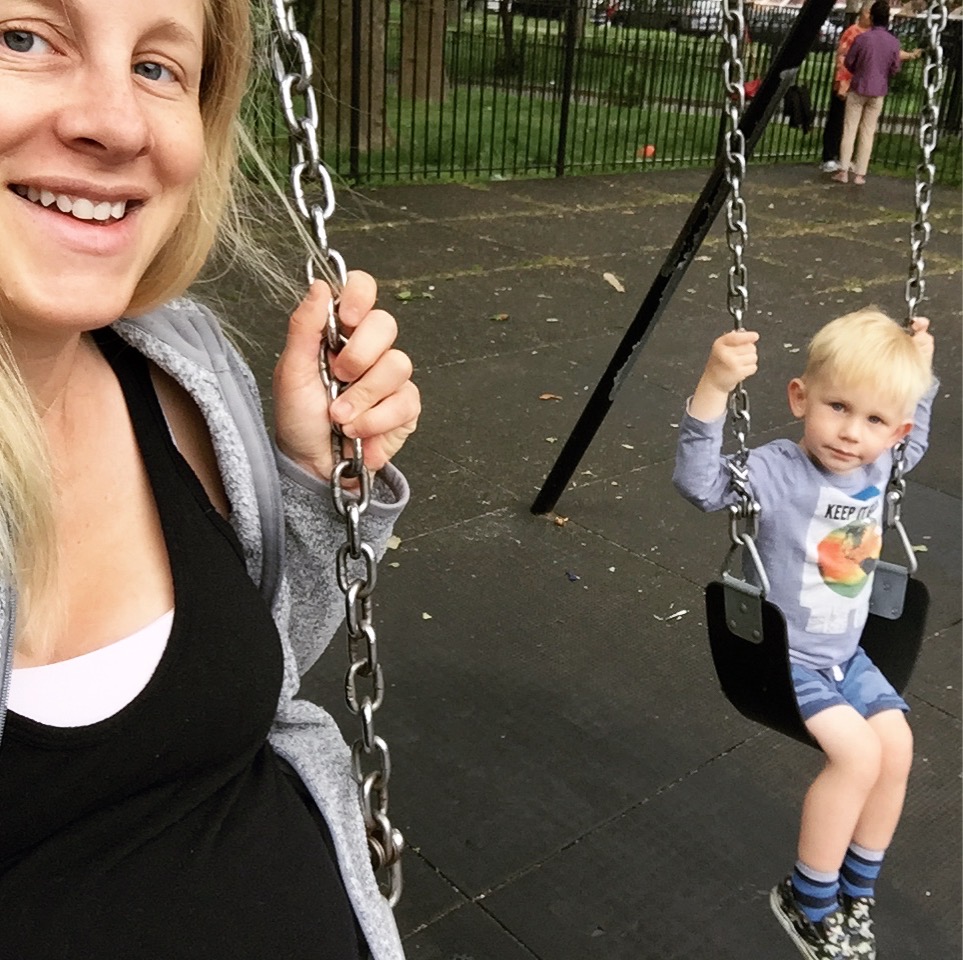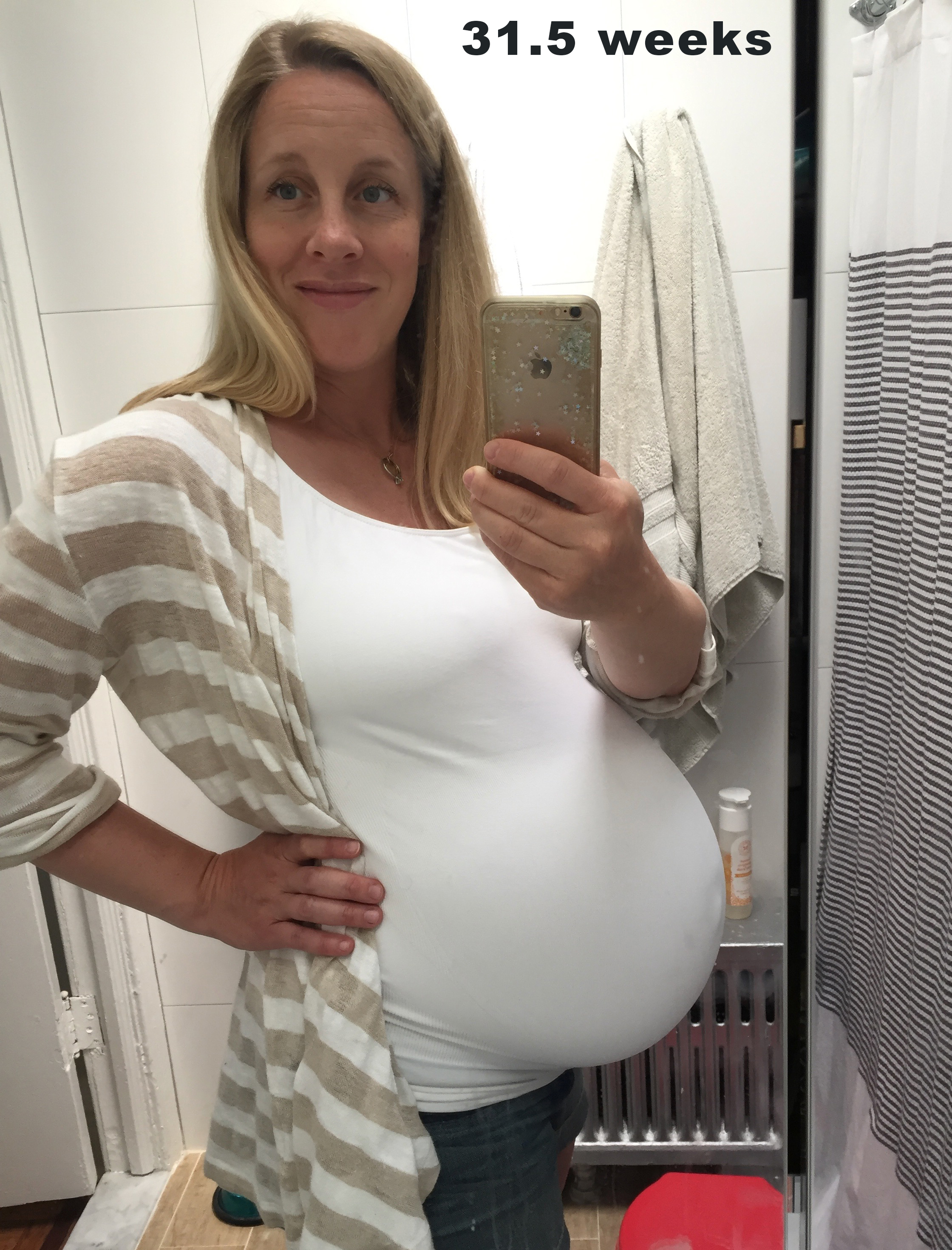 Thankfully, we have had a lot of family visiting who have played with Ken a lot. He had a blast with Aunt Chelsea. It was a huge help to me.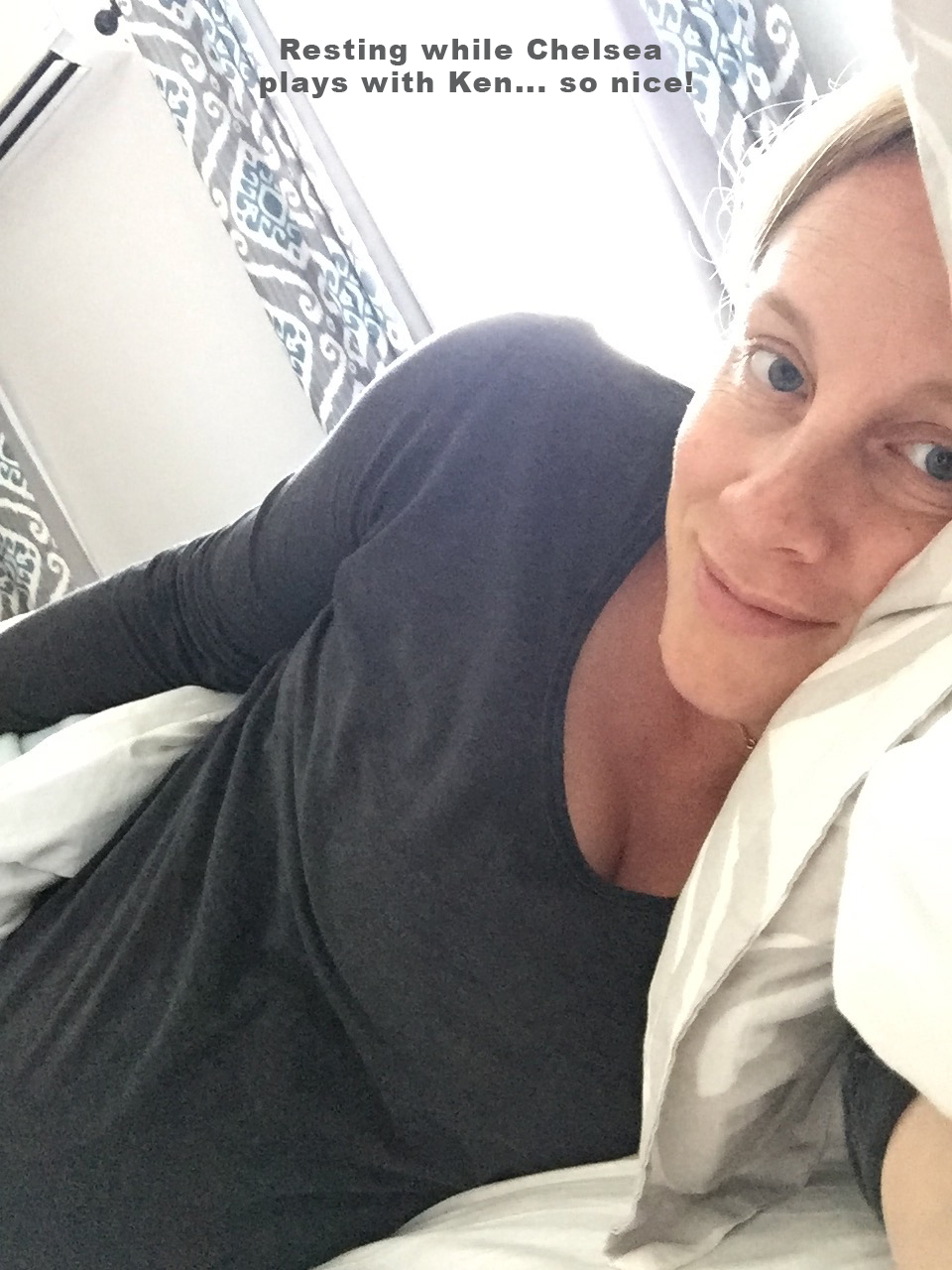 I'm still having swelling in my hands and feet. It is only mildly uncomfortable, but I don't want it to get worse. My hands also go numb easily when my arms are bent while sleeping and even during the day. Oh and I also have sore joints! Eek. All of it combined has made it hard for me to grip things, like my tooth brush. I think it is similar to carpel tunnel, but I don't know for sure.
My pregnancy limitations often cause my thoughts to wander to how much my mobility is going to decrease as I age… I hope this isn't the beginning of the inevitable decline… but I had a prenatal check up appointment on Wednesday, June 14th, and the nurse practitioner was not concerned. I had joint issues with Ken's pregnancy, too, and they resolved. The symptoms are just more intense with twins due to extra hormones, weight, blood volume, etc. I am trying to rest more, but it is hard to not get much done each day.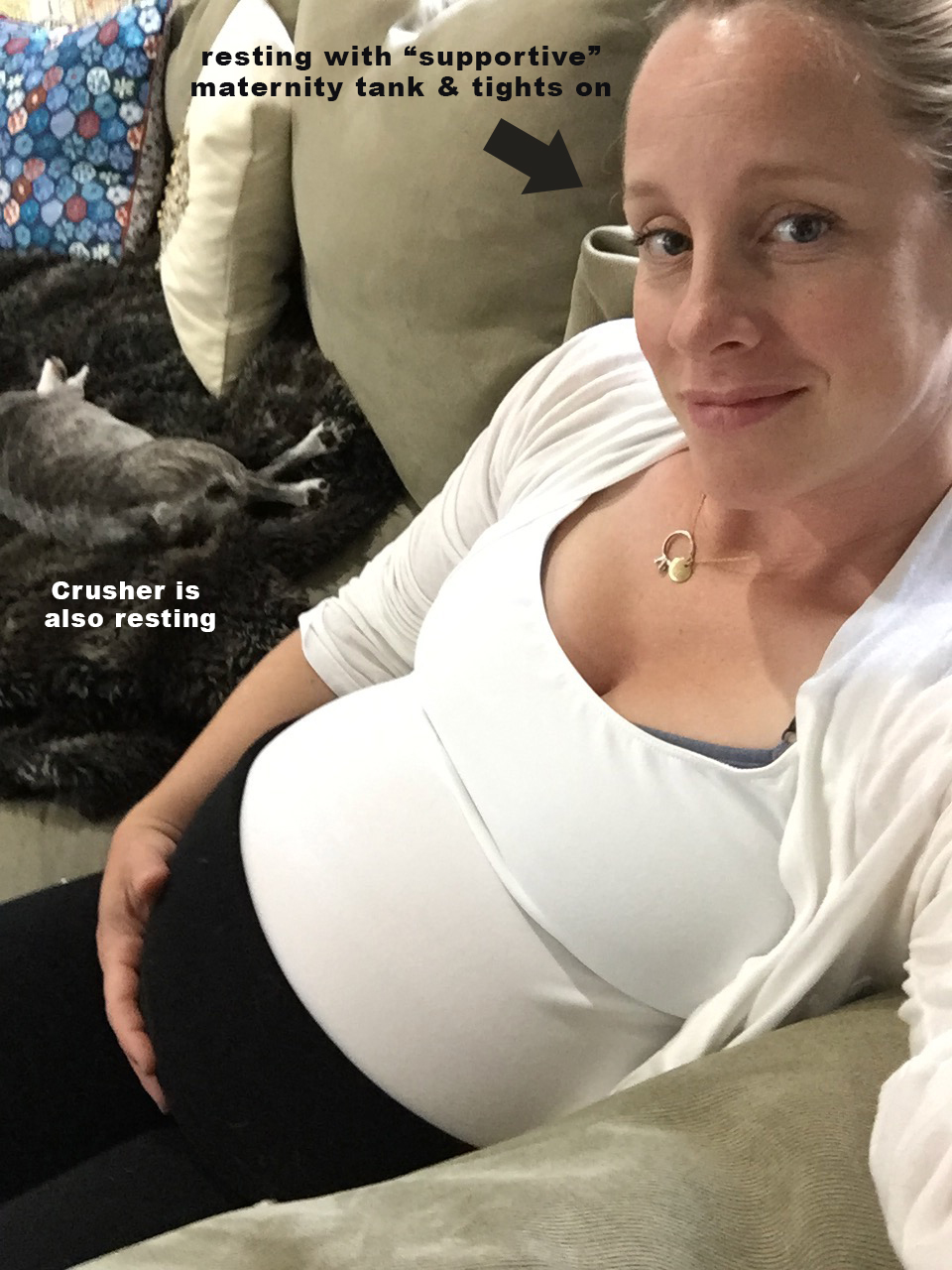 I also had another quick ultrasound on Wednesday. Both babies are still head down and are looking great! (Although, they are so big now that it is hard to get fantastic ultrasound pics.) I didn't get an official growth estimate, but they are probably around 4 lbs each now. Strong heartbeats and lots of movement. Their movements are intense now. Not huge, but they put a lot of pressure on my internal organs (like bladder, intestines, stomach, lungs) and on my belly. Oof.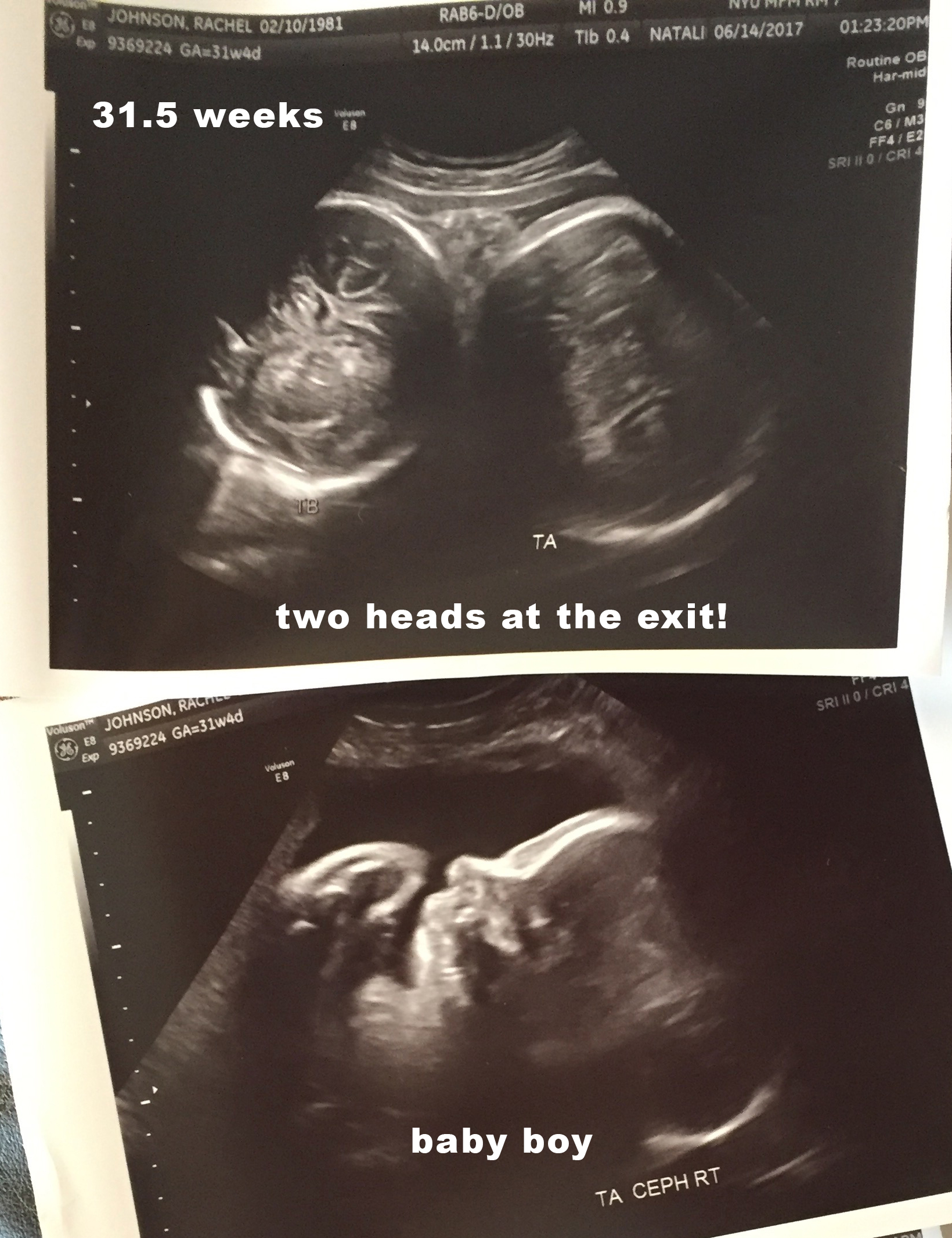 You can see the babies moving around a bit in this video:
My belly feels so stretched out! Sometimes it is painful. I got a few stretch marks on one side of my belly at the end of my first pregnancy… and those are definitely back and larger, plus more on the other side of my belly, and some really gnarly ones around my belly button. (I would totally post a photo of them, but don't want to disturb more people than I already have. ha!) I'm not as stressed about them as I was the first time around, but it is hard not to wonder how destroyed my body will be after all of this… it's not like I need to worry about being a super model post-pregnancy, but I don't want to give up completely on my fitness and self confidence. I'm feeling really bloated and flabby. I've already gained 30 pounds, which is on target, but still feels incredibly daunting. I'm trying to keep things in perspective and not hate on my appearance too much… But I'm officially larger than my previous pregnancy now, so we are in uncharted territory!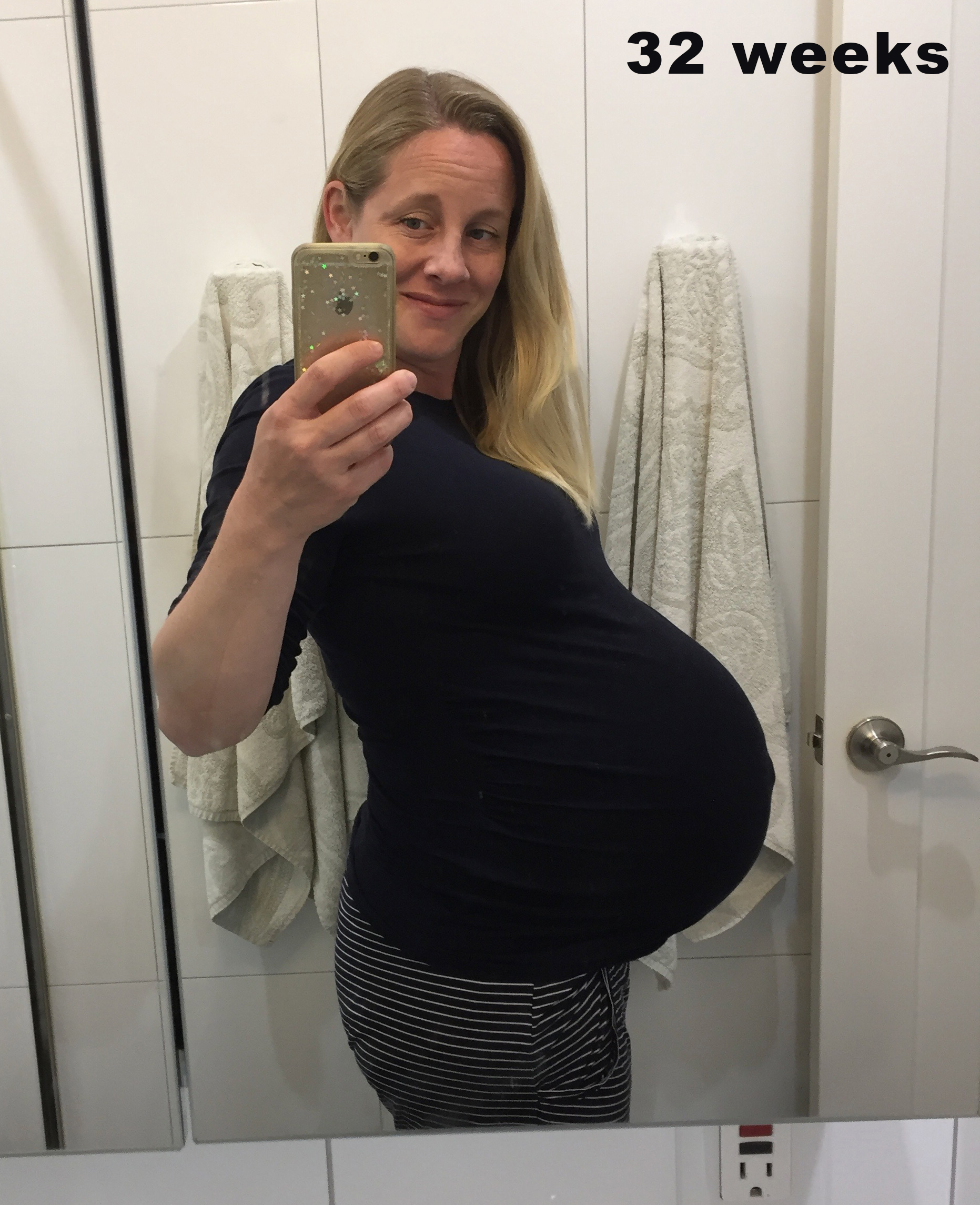 The super good news is that 32 weeks marks a huge viability milestone! The babies can basically be born at any point now and have a great chance of being healthy. I think I will probably deliver at 36 or 37 weeks, but we'll see… It is sort of nerve-wracking to officially be on "labor watch" now!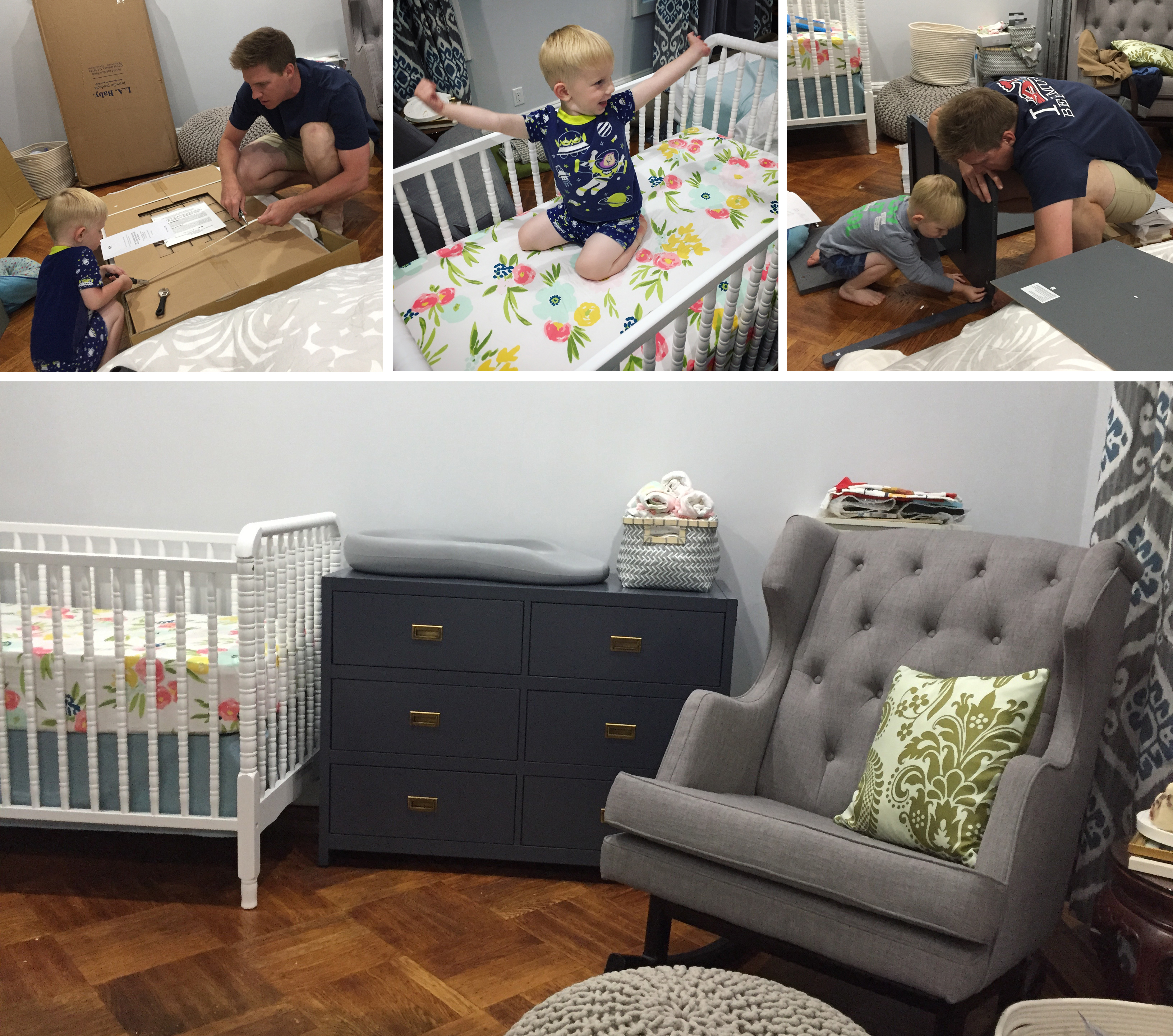 Travis (and Ken!) helped set up the new crib and a new dresser for the twins this week. We are also working on setting up two bassinets that we have borrowed from friends, and we are going to order a new stroller and car seat asap. Plus, we are working on buying a new car! eek. I still need to wash a lot of baby clothes and put up some of my "nursery" decor… even though the nursery is basically just the corner of our room for now. I guess I also really need to get my hospital bag ready!! It does feel good to be getting things ready for the twins' arrival… I just hope we will be all ready in time!