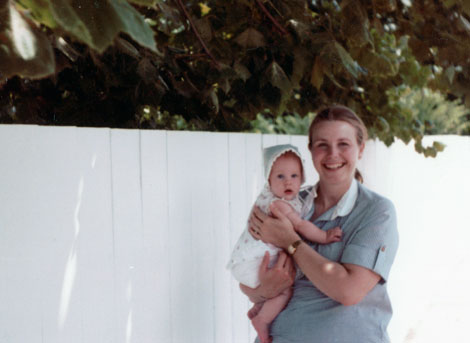 I can't help sharing the old photos I scanned over the holidays. They make me happy. This photo was taken 30 years ago. Isn't my mom pretty?!
I've been a bit scatterbrained lately. I've still been trying to catch up on holiday work while simultaneously getting prepped to attend the Alt Design Summit in Utah next week. I am looking forward to the trip. I think it will be a fun conference.
What else have I been up to?
Well… I've been doing a lot of writing over at Ace Dept:
I am also hosting two Valentine swaps over on the 'bot:
Come join us and receive some fun February mail!
Oooo!! I saw The Girl with the Dragon Tattoo on Saturday (the new American one) and I actually liked it better than the book. They omitted many of the aspects of the book that I thought were silly/unbelievable/inconsistent. Plus, Daniel Craig's attractive confidence made it more believable that every woman in the story wanted to sleep with him. I want to watch the Swedish version of the movie asap.
Ok, now I'm off to do our weekly run by the East River, under the Brooklyn Bridge, and over to the Brooklyn Shake Shack… yum… shakes….