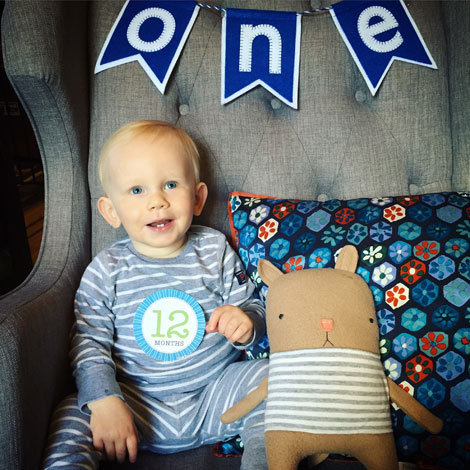 Happy birthday, Kenneth!! One year ago my sweet, funny, determined, cute, wild, magical baby boy was born. It was the best day of my life. Now he is a one-year-old. I am excited, but emotional. I am sad that one whole year of our time together has passed. I've loved having him as my little baby.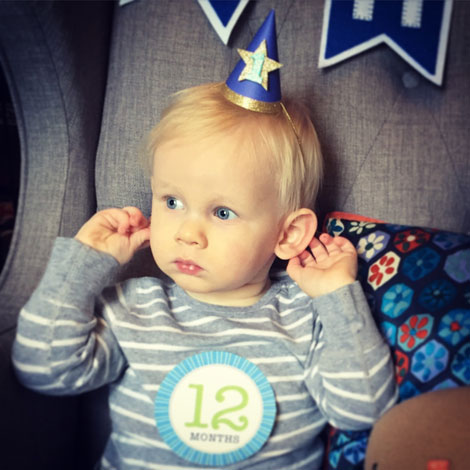 Fun Facts about Kenneth at one:
Ken is often a serious boy, especially when tired, but he is loosening up and finding his sense of humor. He loves being chased, caught, and tickled. He loves feeding food to Crusher. It cracks him up every time. He still likes peek-a-boo and doing pop-ups behind the coffee table. He likes his toys, especially his new ones. And, he loves throwing around balls with dad and Crusher.
Ken absolutely adores music. He does a little bouncy dance whenever he hears music, and he wants to play ukuleles with his dad every day. Hoot n Nanny (grandma and grandpa Johnson) gave Ken a child's guitar/ukulele for his birthday and he already knows how to hold it and strum it. We re-enrolled in the winter session of Moozika class and he enjoys all the familiar songs and new instruments to play.
Ken is walking! Sort of. He has been taking unsupported steps for over a month now, and can do quite a few steps in a row… but he still much prefers crawling. I want to encourage him to become a true walker, but he is stubborn when prompted to walk on command. He seems to only walk in significant amounts when he is playing on his own and isn't really thinking about it too much.
Ken can climb stairs! He even climbs up many of the stairs up to our apartment, and feels quite proud of himself when he does.
Ken's favorite books right now are the "Pat the Bunny" series. I keep them on the nightstand in our bedroom and he crawls in there at least once a day to pull them out and play with them. He thinks all books should be interactive and is disappointed when they aren't. Travis and I got him "Pat the Christmas Bunny" and "Pat the Birthday Bunny" for the respective holidays.
I've started the weaning process with Ken. I am really surprised I made it a full year with breastfeeding, but now that it is easier and more convenient, I am surprised at how reluctant I am to let it go. Like all things related to being a mom, there was a lot of pressure to breast feed. Now, I feel like there is a lot of pressure to get him weaned asap. I think I could do it really quickly, if I wanted, but for now I'm taking it slow and trying not to cause him too much distress. He is down to 1-2 feedings a day, so we are getting there.
He loves giving and receiving kisses, as seen below. We are working on teaching him how to blow a kiss.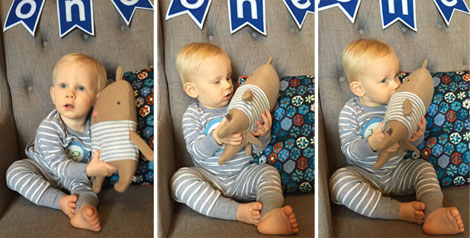 Ken's Birthday Party:
We traveled to Kansas City for Christmas and New Years, and we decided to stay an extra week so that we could celebrate Kenneth's first birthday with family. The party was a success! We decorated Hoot n Nanny's house, brought in some barbecue, and I even made a #1-shaped cake! Lots of family came to celebrate, which was wonderful, but it also overwhelmed Ken a bit. He did really well, but it was hard to get any photos of him smiling.
I made him a little "smash cake" of his own to try. He was sort of interested in it, but didn't do a full-on smash with it. I probably took it away from him too early, but his grandma was really worried about him eating too much. He also got to try some ice cream and chocolate. He loved them both!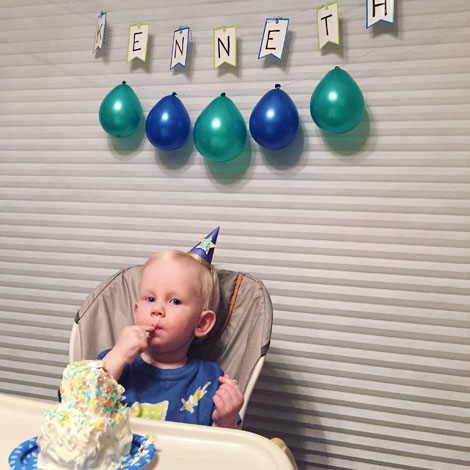 Kenneth received so many fun toys for his birthday and Christmas, including an awesome drum set, a mini guitar, a new puffy coat, and so much more! He is a lucky boy. We were able to bring much of his new loot home and it hasn't quite pushed us out of our apartment yet…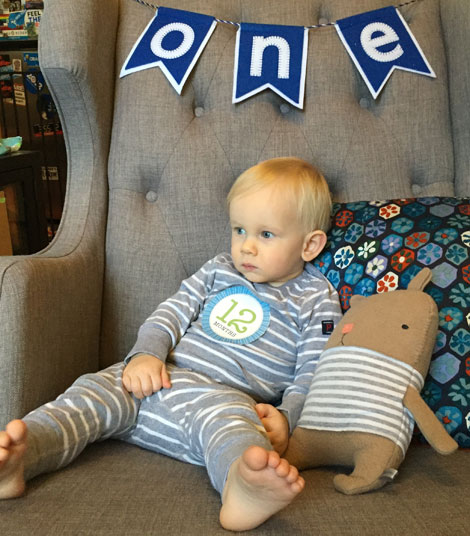 After twelve months of publishing these updates, I know I am getting repetitive, but it is such a privilege to watch this new, little human figure out the world and grow up. Nearly everyday — even through the crying and poop and carrying the stroller up endless stairs — I am thankful that parenthood is part of my life experience. It isn't easy at all. Staying home with an energetic, inquisitive, nonverbal entity nearly 24-hours a day can be monotonous and overwhelming sometimes, but I enjoy it. My love for this little person has transformed my life. I look forward to all of our future years together.
————
Also, check out Kenneth at one month, Kenneth at two months, Kenneth at three months, Kenneth at four months, Kenneth at five months, Kenneth at six months, Kenneth at seven months, Kenneth at eight months, Kenneth at nine months, Kenneth at ten months, and Kenneth at eleven months.