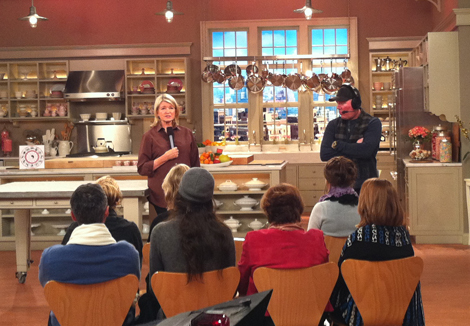 I was lucky enough to attend my second Martha Show taping yesterday. (You can read about my first taping here.) I follow TheMarthaShow on Twitter and they often tweet about upcoming shows that have seats available. If you live in the New York area and have a flexible schedule, you can contact them when you see a tweet about available tickets. As a single attendee, like me, I think it is easier for them to squeeze you into less than full audiences.
I attended the afternoon taping (they had taped a live show in the morning, too) and was at the studio for almost four hours. It took a big chunk out of my workday, but it was totally worth it. I love seeing Martha and her team in action. They are all so professional and nice. (They also all dress extremely nice – casual, but completely fashionable and neat.) They really work hard to make sure the audience has a fun time.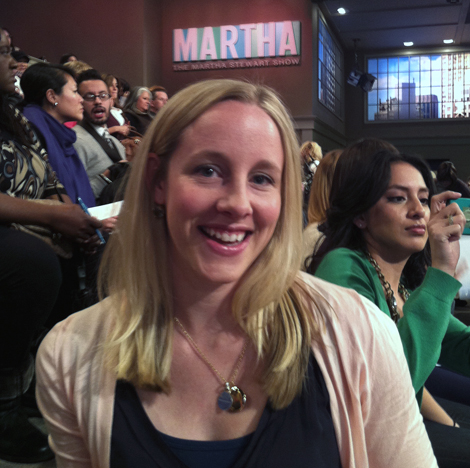 The show will air tomorrow, Thursday, February 3rd at 10 am on the Hallmark Chanel. I am sitting in the front row of the upper audience section and I think they caught me on camera a few times… I hope I don't look too dorky. I think I was wearing too much blush and I really hope I don't come across as someone desperate to be on tv….
Anyhoo, the show was great. The girls from Crafternoon were there to make vintage-inspired valentines and Grace Young, a Chinese chef, was there demonstrating two kinds of stir fry. The best part: we got to take home a bunch of free gifts! I try not to get my hopes up for free stuff, but it is definitely always welcome. We received the Crafternoon book (yay!), the cookbook, Stir Frying to the Sky's Edge, and a handy, little slicing tool from Grace Young, and a Sony Pocket eReader!! Martha had on Abraham Verghese, the author of her latest "Books I'm Reading" selection, Cutting for Stone — which looks very interesting — and we got an e-copy of his book on the eReader! Very cool! I am charging mine right now and can't wait to play with it and start reading.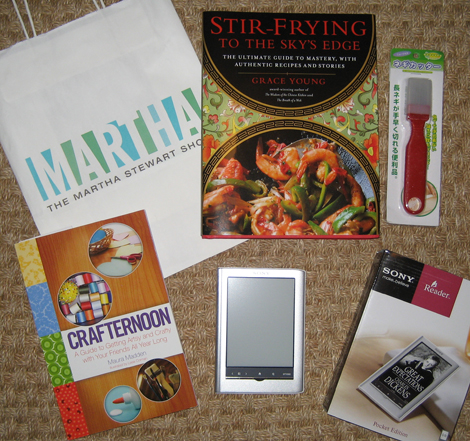 An exciting tidbit: I got to ask Martha a question after the show! They allowed a little time at the end to ask her a few questions and I raised my hand to ask about her lip. She had cut it pretty bad a few weeks ago and posted about it on her blog. She says it is pretty much healed and it does look fantastic — you couldn't even tell she had been cut. One more exciting tidbit: maybe I shouldn't share too much, but Martha used the word grandchild during the Q&A session!! Sounds like she may have some good news to share soon!
All in all, it was another great experience at The Martha Show, but I have a question: how many tapings do you think you have to attend before they put your name on the "crazy fanatic/groupie/stalker" list? I sure hope I'm not on my way down that path! I do love Martha, but maybe I should tone down all of the Martha tweeting and Martha blogging… what do you think?