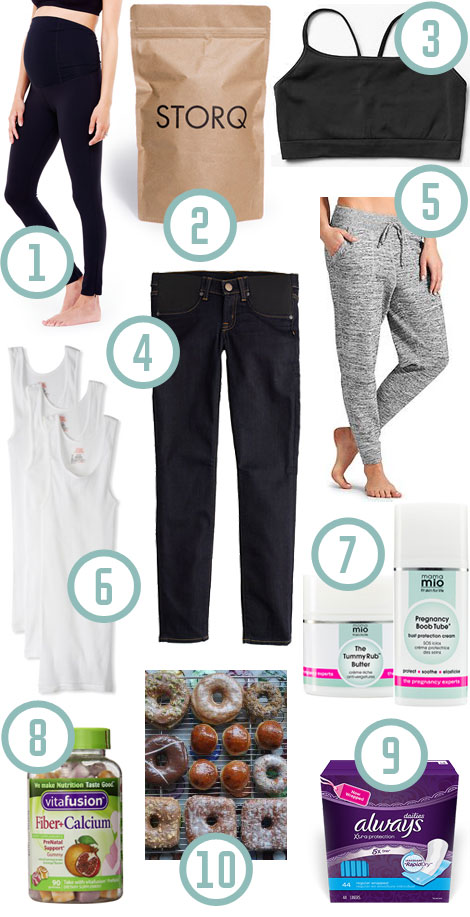 Well, I am already more than a month into my third trimester, so these faves are a little bit delayed. The good news is that most of them are still working out for me in my current giant-belly phase. If you are entering the heart of your pregnancy, I can't recommend these items highly enough!
Some notes on fit: When buying maternity clothes, I basically stuck to my normal size. Usually a medium. When buying regular person clothes for use during pregnancy, I usually sized up. Despite wishing I was a more sophisticated and fashionable lady, comfort has really won out during these last few months.
Second Trimester Pregnancy Favorites:
Ingrid & Isabel Active Pant – Comfortable pregnancy workout gear was a priority for me since I basically wear it all the time. I bought THREE pairs of these maternity active pants, the knee length, capri, and full length. I love these tights because they can be pulled up over the belly or be folded down for a yoga-style waist band. They are supportive and flattering. They are still accommodating my belly perfectly into the third trimester, and I think they will be fine to wear post-pregnancy with the waist turned down.
Storq bundle – Leggings + tank + dress + skirt. Love the comfy, above-the-belly leggings, and the simple dress. I wear them ALL THE TIME. I haven't worn the skirt as much and the tank top is a little thin to be worn without some other coverage, but both are comfy and practical. The tank has become more of a staple now in the third trimester since I need REALLY long base layers to cover my huge belly.
Gap Body soft bras – Maybe I gave up too quickly, but by the second trimester, underwire bras just no longer felt worth it. I've been wearing these soft, pullover style bras ever since. I wear them all the time, to sleep, workout, live life, everything. I think I have six or seven of them at this point. They are supportive and comfortable, although perhaps not the MOST flattering. I am scared because I read somewhere that wearing an underwire bra ALL through pregnancy (like 24 hours a day) and after will help your breasts stay higher and perkier… but then I also read that tight underwire bras can irritate some of your milk ducts. So, I am trying to do something in the middle. I'm keeping the girls relatively supported all the time and hopefully I'll be able to live with the final outcome…
J.Crew Maternity Jeans – Since I don't have to dress up to go to an office, I've really gotten away with buying a minimal amount of maternity wear. I've only bought ONE pair of these maternity jeans. Instead of front pockets, these jeans have stretchy elastic panels along the waist band in the front. They are totally comfortable (and would probably be awesome comfy jeans any time, not just when pregnant!) but since they don't go over the belly, they have a tendency to ride down. Even so, they have worked well for me throughout my whole pregnancy.
Athleta Techie Sweat Ankle Pant – I LOVE these pants! They are NOT maternity pants, but I saw a very pregnant girl at prenatal yoga (I think she was due that day) wearing them and had to ask where she got them. I have been wearing them nearly every day since then. It may be getting a little gross. They are basically casual lounge pants, but I feel like they are stylish enough to wear on the street while walking Crusher and running some errands. They sit below my belly. I ordered them in a medium and they are still fitting fine… but I did just order a second pair in a large just so I have some super-comfy lounge pants for the final weeks of this adventure.
Travis' Hanes cotton tank tops – Starting at about week 23, his tanks tops were the only top I wanted to wear. They were long enough and covered the belly in a flattering way. The sad news is that they are starting to get a little too short for my third trimester belly.
Mama Mio body lotions – I had REALLY itchy skin during the second trimester. My belly, boobs, and even legs were dry and itchy constantly. The Boob Tube and Tummy Rub Butter were daily soothers. Travis even helped apply it sometimes! (Probably any good lotion would work to relieve itching, but I am a sucker and I like that these contain a lot of different natural oils and promise to be safe during pregnancy and nursing.)
Panty liners – What can I say, pregnancy is a little messy. There is so much extra liquid in your body and it leaks out at a higher rate than usual. I constantly have a runny/congested nose, and yes, more discharge down below, too. I suppose it is a good thing because it is helping to prevent any infections in the birth canal, but still, yuck! I'm not a panty liner type of girl in my regular life, but I feel like they are a necessity during pregnancy.
Calcium & Fiber supplement – I was craving dairy in a major way at the beginning of the second trimester. Research suggests than cravings don't necessarily indicate nutritional deficiencies, but I didn't want to take any chances. If you aren't getting enough calcium during pregnancy, the baby will steal it from your bones… and I would prefer not to get osteoporosis in the future. So, I started taking these Vitafusion Fiber Plus Calcium Prenatal Support Gummy Vitamins. They have 500 mg of Calcium (half the daily recommended amount for pregnant women) and fiber to help keep you regular, which is also a plus!
Doughnut Plant donuts – My sweet tooth came back in a major way for the second trimester and Doughnut Plant donuts have been a major craving ever since. The Creme Brûlée and Tres Leches are my favorite flavors. I haven't actually broken down and gotten them very often (only 3-4 times, I swear!) but that may change now that they just opened their new Brooklyn location!
Are you in your second trimester of pregnancy? Or recently survived it?? What were your favorite things that helped you stay comfy and happy?