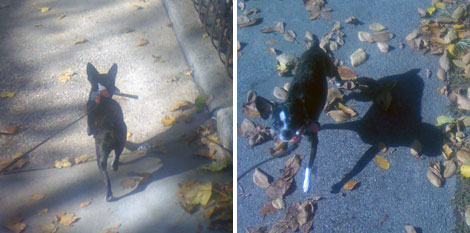 The rain finally let up, so Crusher and I headed out for a long walk today. We hit our usual spots – Prospect Park, the doggy beach – and we checked out a new pet store on the way home. Crusher picked out a chew treat and carried it proudly all the way home. I am so glad the weather is still perfect for long walks!
The photos above were taken with my iPhone, which either has a perpetually dirty lens or has something wrong with it. All of my iPhone photos turn out really hazy. Hmmm…
I am gearing up for NaBloPoMo again this year! (This post is a little practice.) For the whole month of November I plan to make a blog post every day. I did it in 2006, 2007, 2008, and I don't plan on breaking the tradition now!