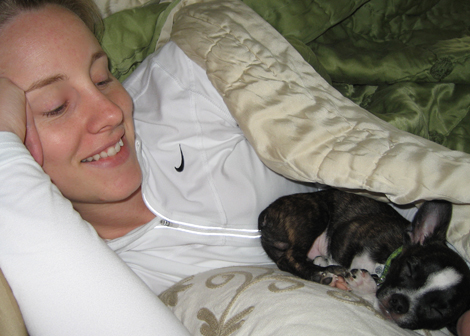 This time I really was not trying to get so busy. Life just always manages to pack itself full. Crusher is taking up a good amount of time, but he is so sweet and cute that it seems totally natural. He has learned how to sit and stay, and he is working on laying down on command. Today he is very tired because we took him on a long walk and he helped work in the backyard. We cleared out a bunch of vines and trimmed some trees. Sunlight actually reaches the ground back there now!
Work is fine, but it is hard going everyday and keeping up with my websites. I am perpetually behind on Swap-bot. I don't know if I will ever catch up on the support emails…
I am still walking to work a lot, and I am also running in the mornings with my friend, Missy. I want to do a 6 mile race on the 4th of July and maybe, just maybe, run the Portland half marathon in October. Softball season has also started, so we do that every Monday. I am still awful at it, but I try. I have NOT been going to the gym. That is bad because I MUST lose at least 10 pounds stat. I need to start going to the weight-lifting class again… hmmm. I feel that I am really active, but it takes a lot to counter-act sitting at a computer all day at work. Boring.
Life is good. Always something to do. Travis and I are still making our way through the entire Star Trek: The Next Generation series. He is hating it, but sticking with me. We are on season four. Slow but steady. Tonight we are going to a friend's house for a barbecue and then I need to do two loads of laundry and answer more Swap-bot emails. Fun times!