CRONUTS! So hot right now.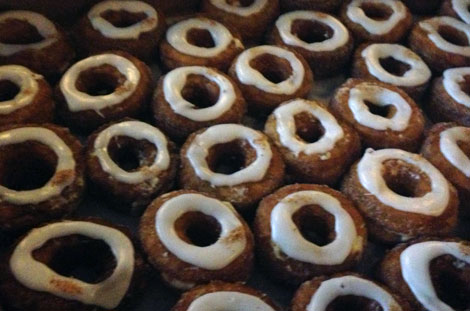 I am actually not a very big fan of croissants — weird, I know — so I didn't initially jump on the Cronut (croissant-donut) craze. But ever since their debut in May, the obsession over Cronuts in the city just kept getting more and more intense. I couldn't ignore them any longer.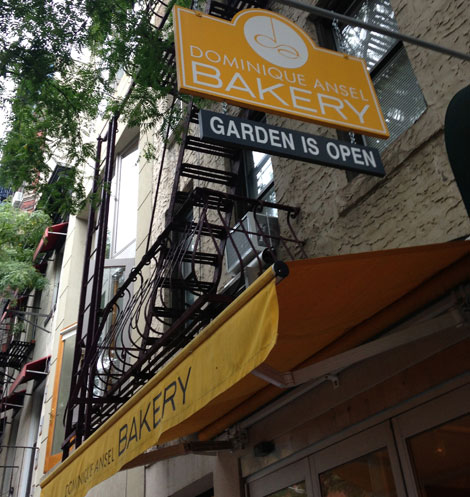 Last Saturday, after completing a run in Manhattan during Summer Streets, I jogged over to the Domonique Ansel Bakery in Soho to check out the scene. I don't know what I thought would happen. People line up outside the bakery for Cronuts as early as 5 am, seven days a week! I didn't really expect to be able to buy a Cronut. I thought they'd be sold out by the late hour of 9:30 am, but I was surprised to see the long line to the bakery still going strong. I joined in the line (between two groups of tourists) and texted Travis to tell him that it might take a while.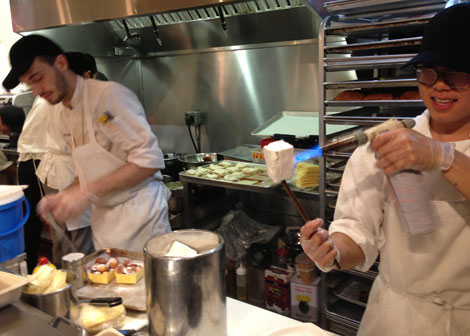 We could have waited and I think we would have actually been able to buy our allotted two Cronuts before they sold out for the day, but after an hour in the line, Travis and I gave up and decided to just join the normal, non-Cronut (short) bakery line and order other delicious pastry creations. We bought a chocolate croissant, a DKA (my favorite), a cannelè, and Dominique Ansel's other signature summer creation, the Frozen S'more.
The Frozen S'more was pretty awesome. It consisted of a chocolate covered cookie and vanilla ice cream wrapped in a marshmallow. Each S'more is toasted by hand while you watch. You can see my S'more getting fired (above) by one of Ansel's hard working assistants. (Ansel is standing next to him prepping madeleines.) It was delicious, but very sweet. Perhaps a little too much sugar for breakfast, but I was thrilled to try it!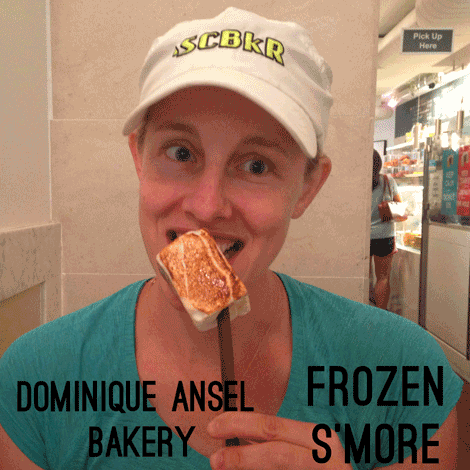 I left the bakery happy and satisfied, but a little bummed that I did not get to sample the famous Cronut… but do not despair! My fate is inextricably entwined with that of the Cronut!
Later in the day, I attended a lovely bridal shower for my beautiful bride-to-be friend, Sarah Yuen, and what did we have for dessert?? CRONUTS! Her amazing bridesmaids had ordered fifty of them a month ago for the event. What a surprise! The ladies at the shower (including me, of course) all went wild when they were presented. We all had to take photos and post about our good fortune on Facebook.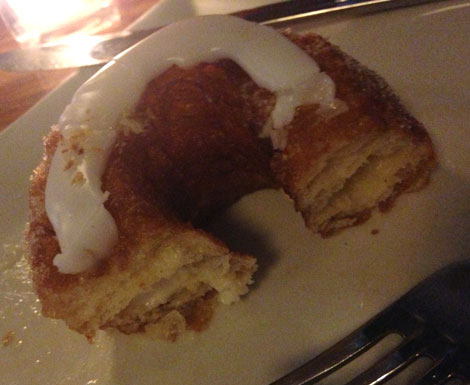 The Cronut flavor of the month is coconut and it was divine. The coconut flavor was not too strong, and you could taste lime in the light cream filling. The Cronuts are also rolled in cinnamon sugar and then topped with more icing. Definitely very sweet and rich! I could have been happy eating half, but when presented with a serendipitous Cronut, you must take advantage. I ate the whole thing. Yum!
So, are Cronuts worth the hype? Maybe. They are definitely delicious and impressive, but there are many places to get excellent donuts and croissants in the city… BUT I will say this: Dominique Ansel is LEGIT! The French pastry chef is at his bakery every day working and greeting the Cronut-crazed masses. It takes three days to make each trademarked Cronut and he does not skimp on quality or technique. He does not allow celebrities to cut the Cronut line and he even started a charity to spread the Cronut wealth. I will definitely revisit his bakery and watch for his future culinary inventions!
FYI: You can follow Domonique on Twitter to get the latest Cronut news.
Have you tried a Cronut? What did you think?