Trying out the #Vine video app on my sleepy puppy. vine.co/v/bJ1xE2XgePa

— Rachel Johnson (@rljart) January 28, 2013
They've been telling us that video is the next big thing on the web for a decade… and obviously it IS a major part of the online world. (YouTube was the third most visited site in 2012.) But I am still skeptical. I hate the long load times, the 30 second ads you have to watch before getting to your content, and the long length of the videos. My time online is spent so frantically — always something to do, always new links to click — that I rarely take the time to watch video.
So… what am I doing using the video app, Vine??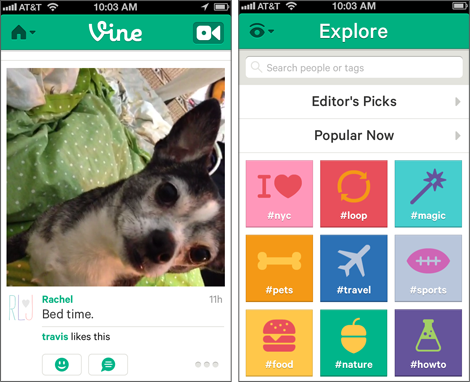 Vine is a free, cute, little iPhone app that allows you to take tiny, 6-second videos and share them online. It's format and usability is similar to Instagram, so it is easy to dive right in. A few of my favorite bloggers have been buzzing about the Twitter-owned app since it was officially released last week, so I had to give it a try!
So far, I think I've made seven vines, but my favorites are:
Vine Positives: It is free! No ads! (yet.) I LOVE the short format. Six-second videos are just my style! The app is easy to figure out and use. The videos are easy to browse on your phone — they load and play immediately — and give a fun glimpse into the lives of your favorite bloggers and Twitter-ers. Many users have already mastered the stop-action format and have posted some amazing stuff.
Vine Negatives: Well… porn. Boo. Porn was the first thing I saw on Vine when I downloaded the app on Monday. A porn video was accidentally tagged as an "Editor's Choice" and showed up in everyone's feed. It caused a bunch of controversy and even got the app dropped from Apple's featured apps section. But the issue has now been fixed and I have not seen any porn since, so no big deal. One serious complaint: I don't know how to tell you to follow my Vine feed… I think you must search by my Twitter handle (@rljart) or by my full name (Rachel Lamble Johnson). I wish I could give you a straight link to my Vine profile.
Have you tried Vine? What do you think? Please link to your Vine videos in the comments!