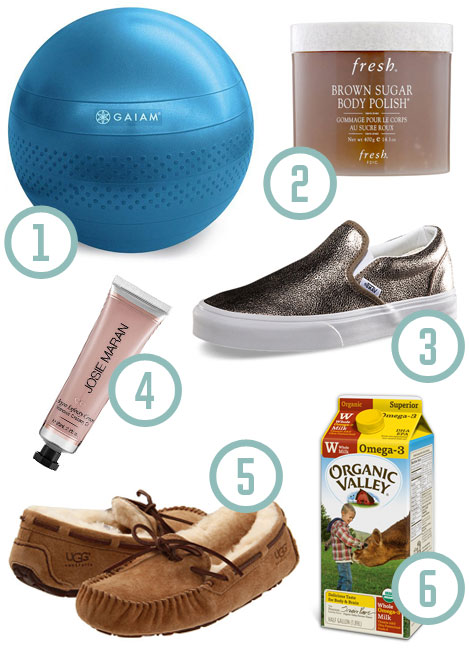 Well, guys, this pregnancy adventure is getting very close to completion! The third trimester has definitely been the most uncomfortable for me, but I also feel really happy and excited about what comes next, so I can't complain… too much. These are a few of the things that have helped make the last three months more enjoyable.
Third Trimester Pregnancy Favorites:
Exercise/birth ball – Our Prepared Childbirth class instructor told us that sitting on a birth ball was one of the best ways to prepare for labor. I have been sitting on mine at my desk while doing computer work. It definitely helps me sit up straight and loosens up my hips. I am not sure it is is doing anything beneficial for my perineum, but I guess we'll find out when this baby decides to make his debut!
fresh Brown Sugar Body Polish – I have itchy skin!! Especially on my legs these days. It is weird. I had a sugar scrub during a pedicure that felt so good that I begged Travis to get me this body polish and scrub my lower legs for me. I can't really reach my lower legs any longer to do it myself. Good thing my husband is so sweet!
Slip-on Vans – I can no longer really bend over to tie my shoes. Or put on socks, for that matter. Travis helps me when I must wear tied shoes, but otherwise, I am wearing these Vans or other slip-on shoes.
Josie Maran Argan Infinity Cream – I ran out of my fancy face lotion and had some of this oil/cream on hand that I have been using instead… and I love it! I like that the ingredients are all natural, so I feel ok using it while pregnant. Plus, it absorbs quickly and makes my skin really soft. And you can basically use it anywhere on your body, which is great since I am trying to simplify my entire hygiene and beauty routine.
Comfy UGG Slippers – I've been spending a lot of time at home these days, and it is just fun to have a nice pair of slippers to wear around during the day. Travis got me these new UGGs for Christmas! …I sometimes think I should make an effort to change out of sweats and slippers, but why?
Milk – I am still craving a lot of dairy and I am drinking a good amount of milk. I am still drinking whole milk, and trying to get the Omega 3 stuff when I can. BabyJ's bones are ossifying during this trimester, so I definitely don't want to skimp on any calcium. Plus, it helps with my heart burn.
Dried Fruit – (Not pictured) I have been snacking on dried prunes and apricots daily, along with a few nuts, to make sure to get some extra fiber in my diet. I have stayed regular throughout this entire pregnancy, which I classify as a major accomplishment!
Are you in your third trimester of pregnancy? Or recently survived it?? What were your favorite things that helped you stay comfy and happy?
————
Check out my First Trimester Favorites and my Second Trimester Favorites!
————
Things I did NOT use during pregnancy:
Since I've talked about all the things that I've found really helpful during my pregnancy experience, I thought I should share my warnings about pregnancy-related things that many women recommend, but that I did not find useful.
Bellaband – This was one of the very first things I bought when I found out I was pregnant because it is recommended on nearly every blog and pregnancy website. It is basically a band of fabric that you can wear over your belly and pants to avoid showing skin or an unbuttoned waistband. In theory it sounds helpful, but I just never wanted to wear an extra item. I just relied on long tank tops and NEVER used the Bellaband once. But… maybe I'll want to use is post-pregnancy to cover up my wobbly belly… we'll see.
Giant Full-body Pregnancy Sleep Pillow – I will admit that sleeping during the third trimester is not fun, but I never broke down and bought one of the huge full-body pillows. I am sure they are comfy, but I just could not imagine fitting one in my Queen size bed with my 6'6" husband and space-demanding dog. I also didn't want to worry about storing it or getting rid of it later. So, take it from me that you CAN live without one if necessary.
Tracy Anderson The Pregnancy Project – I am a sucker for workout programs and this set of 9 DVDs (one for each month of pregnancy) seemed like a great way to stay motivated and active. I bought it before I was even pregnant! To be clear, I DID do each of the DVDs… at least once. AND if you did these workouts every day (like Tracy suggests) I have NO DOUBT that you would have the best pregnant butt ever. BUT the workouts are boring. And they are basically all the same: 30-60 minutes of strangely contorted leg lifts. I was more likely to choose taking my dog for a walk or going to prenatal yoga over popping in a DVD, so I can't really recommend The Pregnancy Project.
Any other items that you did not find helpful during pregnancy? Or, that are overhyped and not necessary?