Dec 19th 2012 09:06:48 pm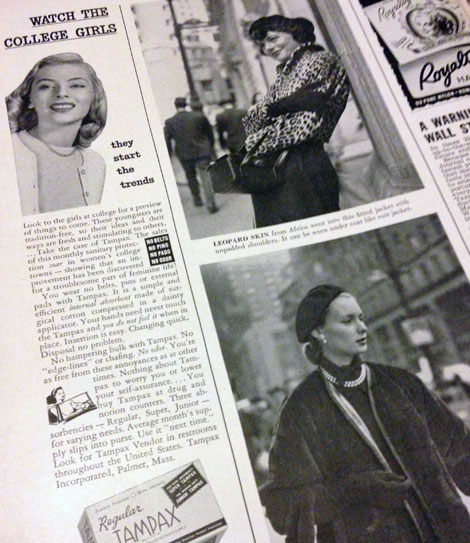 I spontaneously decided that I NEEDED to rearrange our bedroom today. I think the process was successful, but more interesting was my discovery of two old LIFE magazines from 1948. Above is an image of the October 18th, 1948 issue's cover story spread on New Fur Coats. You could purchase a (super-cute) leopard fur coat in 1948! Wild!
The Tampax ad on the left reads:
"Look to the girls at college for a preview of things to come. These youngsters are tradition-free, so their ideas and their ways are fresh and stimulating to others. …Take the case of Tampax."
Those college girls and their newfangled ways!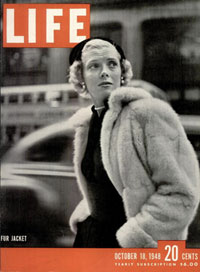 I think I grabbed the magazines from the trash pile when we went to visit Travis' Grandma Johnson after his grandfather passed away. I am glad I did. They are fascinating. SO packed full of advertisements! Mostly the ads are for liquor, cigarettes, canned vegetables, hand lotion, the modern wonder of linoleum, and nylons. Lots of nylons and stockings. And foundations. Including one "camisole" from Springmaid Fabrics that will help you "avoid dancer's diaphoresis and the steatopygic stance," which I think means it helps with excessive sweating and a fat butt.
In addition to the season's latest fur fashions, the issue also includes profiles of Lena Horn, Laurence Olivier, and Karl Marx, plus a photographic essay on Vienna, and an article exploring "How Livable is a Modern House?" There is also an editorial regarding the presidential race between Dewey and Truman, titled Dewey Promises the Most Effective Use of Our Goodwill and Power:
"With the election only two weeks away Thomes E. Dewey looks like a shoo-in for the presidency. Since LIFE views the prospect with general satisfaction, the temptation is strong to let the inevitable happen without editorial prodding. Come silence or come shouts, the arithmetic of the ballot box will probably remain the same."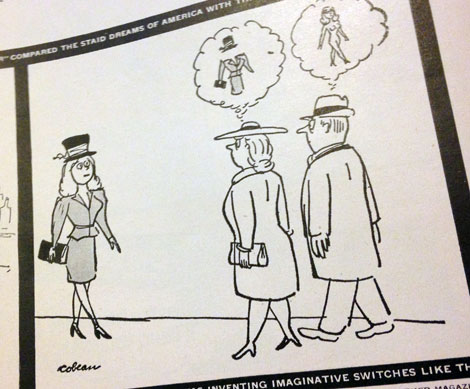 My other favorite quote comes from the lead-in to an article about the naughty cartoons of Sam Cobeam:
"Ever since women took to wearing clothes men have been trying to visualize how they looked without them. As an international, nonseasonal pastime this pleasant sort of daydreaming has long outranked stamp-collecting, bird-watching and sidewalk-superindtending."
Actually, I could quote the whole issue. …But I don't have to because Google Books has the whole thing archived online. View it here. I may spend the rest of my evening taking a trip back in time…
(p.s. As I write this, I am also watching Bing Crosby in 1954′s White Christmas. I guess I am in a mid-century type of mood.)
2 Comments » Categories: Clothes, history, Magazines