I work from home. I have been doing it full time for over two years. I know that many home workers recommend setting a strict schedule, waking up early, showering, and getting dressed and prepared the same as you would for an office job. I choose to do the opposite.
One of the luxuries of working for yourself is setting your own schedule, so I do. I wake up a little after Travis, do some house chores, then get right to the computer and start working. I don't get dressed up in business clothes in order to sit at my computer all day alone. I am usually wearing workout clothes or jeans. Due to this very lenient dress code and my year-long marathon training adventure, the majority of my recent clothing budget has been spent at Lululemon.
I am fine with my casual wardrobe. It means I don't have to do a lot of ironing or spend a bunch on dry cleaning. But this fall things may need to change a bit. I have a number of professional events coming up that will require some nicer outfits. Because I dress professionally so infrequently, it wouldn't be smart to invest in trends. I need just a few quality, basic pieces that I can pack for conferences or wear to networking events.
One of my goals is to look like Annie Walker (Piper Perabo) from Covert Affairs. I've only seen two episode of the show, but she always looks professional, yet hip and pretty. Plus, as far as celebrities go, I think Perabo is a reasonable equivalent to my coloring and (goal) body shape.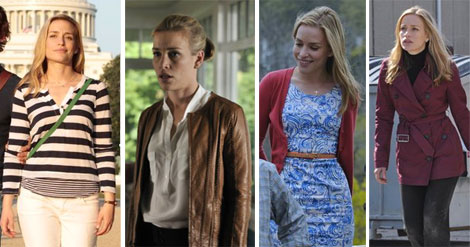 These photos of her aren't very impressive (they are all I could find online), but her outfits are always basic, but with just a tiny bit of style (like a colored blouse or belt, or cool jacket) and great shoes. Annie Walker was my inspiration for this set of J.Crew basics I wrote about for Ace recently: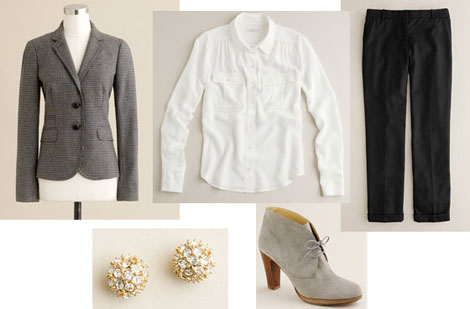 Very plain, but slightly updated with the cropped trousers and silk blouse. I think I could pull off any of these pieces and mix and match them with what I already have in endless ways. Practical!
A huge trend for fall is leopard print. I am usually not an animal print girl, but I am trying to be open minded. I put together this collection of possible leopard accent items for a post on Ace: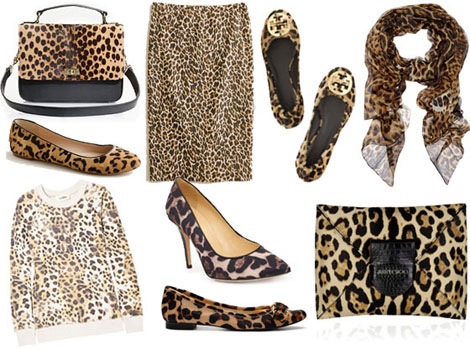 So, as you can see, I have been doing my research, and last weekend, I put it to the test. Travis kindly accompanied me on a shopping trip with the goal of getting a few nice outfits that I could wear to the upcoming BlogHer Handmade conference. I focused most of my shopping energy on J.Crew and I found a few key pieces that I absolutely love!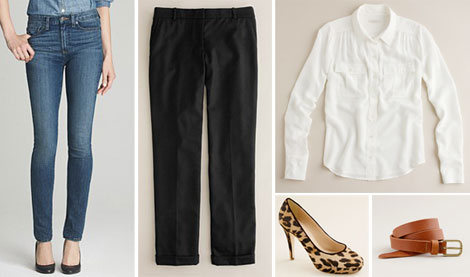 The NY Times style section listed their five things you need for fall. Here are my suggestions:
Such basic pieces, but I am a basic girl. I'll add some flair with some jewelry or a jacket and pair the pants with tops I already own. Lady-like and refined is the goal.
What are your suggestions or top picks for your fall wardrobe?
—–
FYI: I know that I am a bore for sticking with J.Crew, but it is just so easy! If you visit the Soho store, ask for Caitlin. She is one of the personal shoppers there and she is amazing. She helped me with sizes and was the one who suggested the high wasted jeans. I never considered myself as someone who would utilize a personal shopper, but she was very helpful (and her services are free).