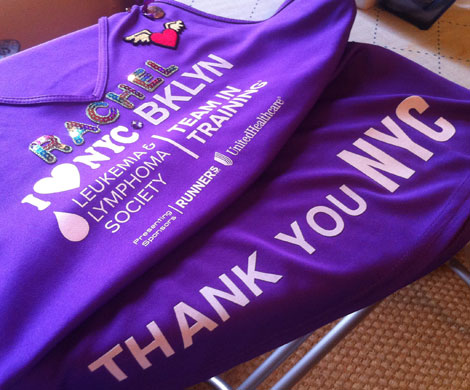 This was the top I was going to wear while running the NYC Marathon on Sunday. The race was cancelled due to controversy after Hurricane Sandy.
I have a lot of conflicting and sad feelings about the entire situation. I wanted to run the NYC marathon for the second time because I love this city. I am ok with the cancellation, but there were a lot of hurtful things said about runners in the past week that really discouraged me.
Of course, my running team has been helping out after the storm. We are a charity organization, after all. We've given money, food, gear, and more than 100 Team in Training runners (who had raised 2.2 MILLION dollars for cancer research while training for the NYC marathon) went to Staten Island on Sunday to help the recovery and clean up process. We will continue to help.
A few related links: Some thoughts on why the NYC Marathon could have been good for the city. | My friend Carmen sums up the roller coaster week. | If you want to volunteer to help Hurricane Sandy recovery in NYC, check out NYCservice.org. | I'm hosting a "Swap-bot for Sandy" hurricane relief donation drive. Our site members have already donated more than $700 for the Red Cross. Join us!