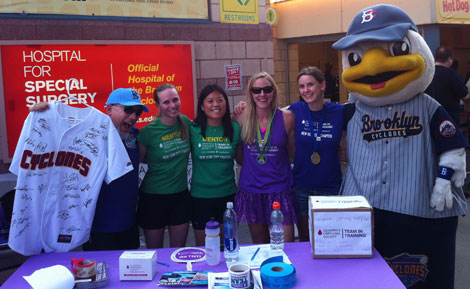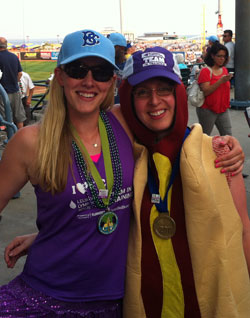 I have been spending a lot of time volunteering for Team in Training and the Leukemia & Lymphoma Society this season. I am the Brooklyn borough TNT Social Captain and I had the opportunity to help plan a fundraising/awareness/social event with the Brooklyn Cyclones minor league baseball team this month.
Participants could purchase the tickets for a low price and then sell them for more to raise money for their personal TNT fundraising. Our TNT crew bought and sold 500 tickets to the game!! I was blown away by the response.
The game happened on Tuesday night at the Coney Island stadium and it was truly a fabulous time. So many of our Brooklyn friends were there and it seemed like everyone had fun. Brooklyn team members participated in some on-field fun (including a hot dog race!), sang Take Me Out to the Ball Game during the 7th inning stretch, and ran the bases at the end. Lots of crazy fun! We also manned a TNT info table (where we raffled off a signed Cyclones jersey and made over $600 for LLS) and a bone marrow donor registration drive inside the stadium. All in all, a very successful event. Fun and fundraising for a good cause — can't beat that!
I have been putting a lot of time — maybe too much — toward TNT this season, but it is rewarding and fun. There are so many incredibly good people on our Team, I feel lucky to be a part of it.