Jul 7th 2011 12:00:18 pm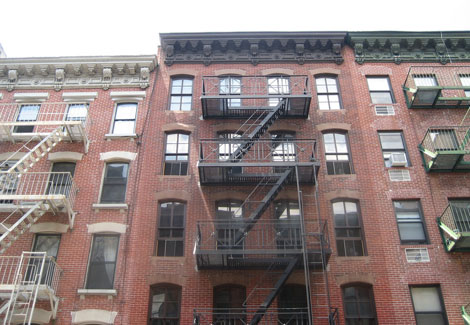 I love the Tenement Museum. I wrote about my first visit to the museum two years ago and I've been a member of the museum ever since.
Since Chelsea and Scott were going to be in town visiting, I jumped at the chance to buy member-only tickets to the brand new Taste of the LES Walking Tour on Saturday. The tour promised to feed us local food while also "exploring the immigrant experience and some of the ways immigrant foods have shaped American food." The LES is one of the oldest neighborhoods in New York and at times has been one of the most densely populated and ethnically diverse places in the world.
We showed up at the museum hungry and ready to expand our food horizons. Our tour guide was fun and friendly and gave us bottled water for our journey. Throughout the tour we got to taste nine different foods…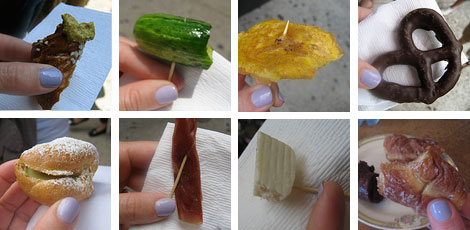 First, we tried a soft pretzel which represented the earliest history of the Tenement Museum, when the neighborhood was called "Little Germany" (Kleindeutschland) and there was a saloon in the building's storefront. Our tour guide told us that the saloon owners sold salty pretzels in an attempt to get their thirsty patrons to buy more beer.
Next, we had delicious "new pickles" (my favorite) which represented the neighborhood's Jewish heritage and past identity as the "pickle district." The Pickle Guys is the last exclusive pickle vendor in the neighborhood now… and sadly it was closed on Saturday.
Our next stop was El Castillo de Jagua, a latin food restaurant where we got to try a fried plantain. I believe the restaurant is technically Dominican, but our stop represented all of the Latin influence on the LES, including the large number of Puerto Rican immigrants.
Next, we stopped by Economy Candy and tried their best selling item, chocolate covered pretzels. Yum! A family owned candy store that was originally opened in 1937 as "Economy Shoes" but soon found more customers in the candy business. They have a huge selection of hard-to-find and international candy.
Next, we explored the concept of "fusion" and tried delicious mini creampuffs with green tea filling made by a second generation Chinese American bakery owner. I loved them (and had two) but not everyone liked the unique filling.
My least favorite taste test was of the cured, sliced beef – sort of a cross between prosciutto and beef jerky. We tried it outside the University Settlement Neighborhood House where we discussed the role of reformers who came into the neighborhood to try to better the lives of the poor, but often added to the forced assimilation into "American culture."
We continued on to Essex Street Market, the one-stop shop for LES residents. From the website: "Essex Street Market began in 1940 as part an effort by Mayor Fiorello H. LaGuardia to find a new place for street merchants to do business. At the time, pushcarts and vendors crowded the city streets, making it difficult for police and fire vehicles to easily pass. To ease congestion, Mayor LaGuardia created the Essex Street Market and several other indoor retail markets throughout the city." The market contains both artisinal vendors and local specialties. We tried both the Latin Queso Blanco (seen above) and a locally made sharp cheddar cheese.
Not pictured are the dumplings we sampled from Vanessa's Dumpling House. The Lower East Side borders (and sometimes merges) with Chinatown to its South and you can find unending options for asian food of all kinds. Vanessa's serves some of the best deals, with dumplings costing as little as six for a dollar!
Since it was Saturday, many of the Jewish stores were closed, including Kossar's Bialys. I have never tried a Bialy – something like a Polish bagel – and would have loved to, but instead we got to sample donuts from the nearby Donut Plant. I suppose that the Donut Plant represents the current wave of gentrification in the LES and the young entrepreneurs who are creating new businesses centered around nostalgia for an older way of making things by hand.
We sampled a wide variety of food, just like the wide variety of neighborhoods in Manhattan!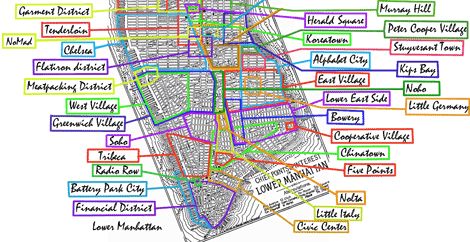 The food was all good and the four of us had a fine time on the tour (despite the heat). Our tour guide was great and it was fun to explore the Lower East Side on foot, but I came away slightly disappointed by the tour. I guess I was hoping that we would get to go into more of the shops and meet more owners. I was also expecting to get to taste larger portions of the food… but maybe then we would've all been way too stuffed! (As it was, Chelsea, Scott, Travis and I were still a little hungry afterward and continued on our own personal food tour to Tiny's Giant Sandwich Shop and then to a brand new macaron store.)
Overall, the tour was truly a great experience, but I think next time I have family in town I may just plan my own LES food tour. There are so many more places I would have loved to have stopped at, like Russ & Daughters deli, or the 100-year-old Yonah Schimmel Knish Bakery, or even the vegan Babycakes cupcake bakery. There is a lot of amazing food in such a diverse place!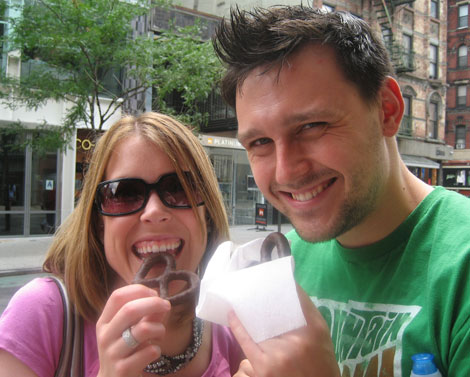 4 Comments » Categories: Family, Food, museums, New York, NYC Museum Review