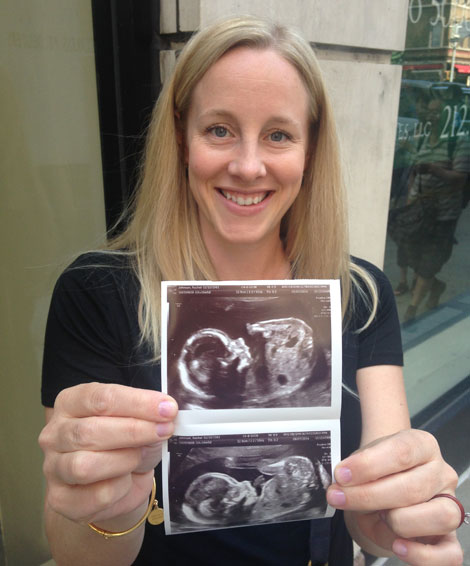 Friday, August 8th – What an exciting time! We closed out my 16th week of pregnancy with Chelsea and Myles' wedding, and then by spilling our big baby news. The trip to KC was a lot of fun and we are feeling very happy and fortunate. Now I am already almost done with week 17 of this pregnancy. Wow. Yesterday we went in for our third ultrasound. BabyJ is looking awesome and BIG — measuring at 18 week size instead of 16.5! We found out that BabyJ is a BOY, which is what I have been sure he was all along. I'm glad I am not crazy. I am also very happy. I think a mini Travis will be so wonderful. His heart was beating at 139 beats per minute, and we saw a lot of his anatomy: heart, stomach, brain, spine, hands, feet, leg and arm bones, lips, etc. The technician said everything looks good, but I'll see the doctor again on Wednesday. After the scan, Travis and I went to the giggle baby store in Soho just to check things out. I want to try to be as minimal as possible with the baby gear, but I know that is easier said than done. There is so much to decide on between the stroller, crib, bassinet, car seat, etc… we haven't bought anything yet… just some belly cream for me.
Overall, Travis and I are just feeling extremely happy and excited. I still have a low appetite and have *maybe* gained one pound, but I think that is ok. BabyJ is definitely growing plenty! I still have a little heartburn and abdominal itching and discomfort, but it really isn't bad. And I am used to the nightly pee breaks now, so there isn't much to complain about. I got a little sick this week and am still getting over a sore throat and runny nose, so I am trying to take it easy. We are going to do some running this weekend, so we'll see how that goes…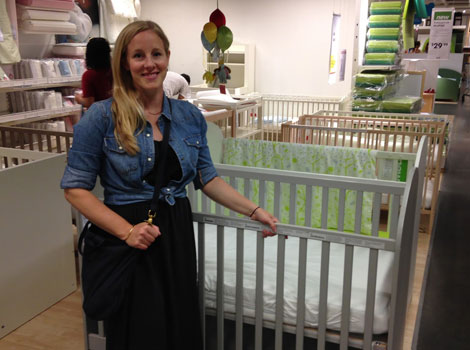 Sunday, August 10th – I am feeling a little over-the-top happy lately. It is just a magical time! That being said, I also have a head cold which is a real drag. I am pretty sick and I feel like it is taking me longer to recover than normal. Yesterday we went to Ikea to look at cribs. I found one online that I really like, but it is super cheap. I don't know if we'll go with it or not… Today we ran a 5-mile race in Central Park. I actually did a run/walk with my friend, Jeanette. It was a lot of fun and I felt better than I expected. The head cold was my biggest complaint. An older Asian man on the subway ride home asked if I was pregnant. When I said yes, he told me to eat a lot of lobster. Ok!
Week 17 seems to have been the week that my belly really popped out. I think I am definitely looking pregnant and I even broke out my maternity running tights, which worked great! Plus, it is most comfortable to let my belly hang out as far as possible. I think I'm pregnant! ha! I am still having heartburn and definite stretching in my lower abs, but otherwise I'm really enjoying the experience. I feel almost weirdly calm.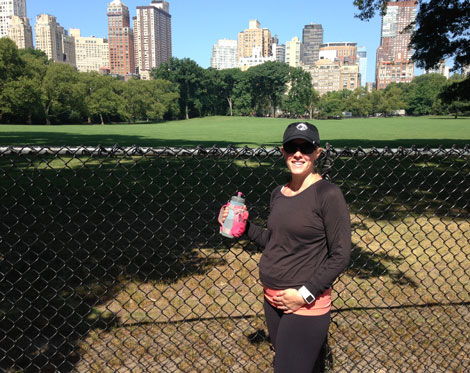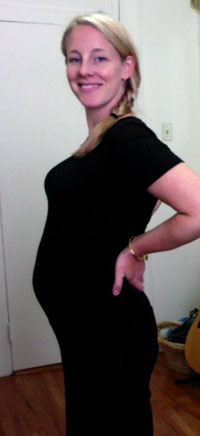 Wednesday, August 13th – I had another prenatal doctor's appointment today. I saw the physician's assistant instead of my doctor. She was fine, about the same as my doctor actually. I know that it is a sign that everything is going really well (and I am so thankful!) but every question or concern I bring up is completely dismissed. I had blood taken for the Quad Screen today and I got to hear BabyJ's heartbeat, but otherwise I feel like the doctor's appointments are a waste of time. Of course, I know that prenatal care is very important and I would never want to discourage anyone from seeing their doctor, but it is hard to trek to the city for less than five minutes with a dismissive doctor (or assistant). But, oh well. It is just once a month. Officially, I still haven't really gained any weight, but BabyJ is in the 97 percentile for size (a lifelong trend, I'm sure), so I don't think there is anything to worry about. My blood pressure and his heart beat were both very good, so it seems everything is progressing smoothly. I know I am fortunate. Travis and I are trying to be as mindful as possible and enjoy this incredible time. We are happy.
Friday, August 15th – I just published my first trimester pregnancy log and I've gotten a lot of response to it! So many friends are reaching out on Facebook expressing support and congrats, which is so nice. But now I'm thinking maybe I complained too much or made it seem like the first trimester was really difficult… It definitely wasn't easy, but I know I had it much better than others in many regards, so I hope no one worries too much over my logs. It is fun to look back and see what I was honestly feeling at different points along the way. It is so easy to forget or sort of look back too fondly. Anyhoo, week 18 ends tomorrow and Travis and I are going camping with some friends! I think it will be fun, but we'll see how I do sleeping on the ground!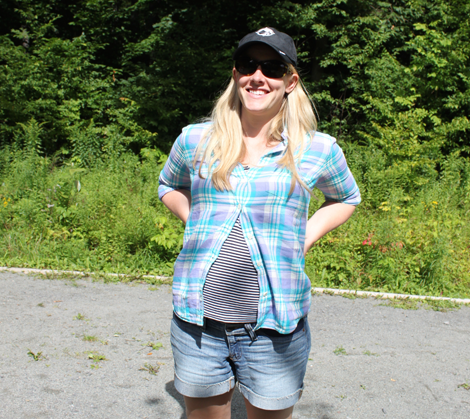 Sunday, August 17th – We finished off week 18 yesterday by taking BabyJ on his first camping trip with our friends Amanda and Joel! The trip was very relaxing and fun, and I slept better on the floor than I expected. I still had to get up to pee each night, but that was expected. I didn't do any running as I had planned to — someone had to watch Crusher! — but I think I am finally feeling ok about cutting back on my running. It is a little scary to give up that type of fitness, but I am still being very active and feeling really good and calm, so I think it will all turn out ok. We ate some excellent food (grilled veggies!) and some junk food (don't worry, the hot dogs were nitrate free!) and basically just hung out around the fire. Good times. In other news, my belly is definitely more prominent now. I think everyone can tell I am pregnant at this point. I am still having some lower ab pain/discomfort from everything stretching out and my belly button is getting a little stretched. It will be crazy when it pops out! Another side note: I am NOT having any type of extra body hair issues. All of the pregnancy apps say to expect more facial hair, body hair, etc, but I haven't noticed anything. I also don't have the linea nigra yet. I HAVE noticed sensitive skin. I need to be more careful about not getting burned. But all in all, things are good!