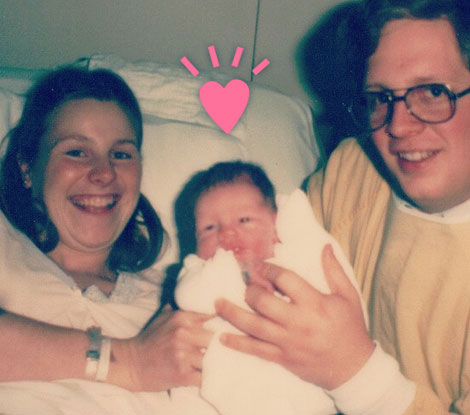 This photo of baby me and my sweet parents was scanned from a Polaroid taken 34 years ago on the day of my birth.
2015 is a very exciting year! My wonderful baby boy was born on January 8th, and we have been entirely focused on caring for him ever since. Therefore, my 34th birthday passed by without too much fanfare. Travis made me french toast for breakfast, got me a delicious ice cream cake from Ample Hills, and he and Kenneth gave me a few fancy gifts. We spent the evening at home snuggled on the couch. Nice!
Due to very limited computer time these days, I am squeezing this list in at the very end of my birthday month…
What now seems like a very long time ago, I made a list of 30 things that I wanted to accomplish before turning 30. I didn't get all of the items completed, so I converted it to a 30 WHILE 30 list, then a 31 while 31 list, etc. I carry the list over each year, crossing off the things I finish and adding new items to fill out the list to match my birthday number — this year, 34!
34 things to do while 34:
♥ Eat at the Chef's Table at Brooklyn Fare.
♥ Go to Canada. I've never been!
♥ Visit Dollywood. Yes, I'm serious. I love Dolly Parton.
♥ Go kayaking in the Hudson. (Or paddleboarding!)
♥ Get super-comfortable using our DSLR camera.
♥ Visit the Museum of the City of New York.
♥ Visit the New York Transit Museum.
♥ Eat the Moules Frites at Balthazar.
♥ Create a new craft tutorial for Swap-bot.
♥ Redesign the Swap-bot homepage.
♥ Set up an online Swap-bot merch store.
♥ Lose 15 30 pounds. (Isn't this on everyone's list?)
♥ Make marinara sauce from scratch.
♥ Visit the Bronx Zoo.
♥ Make Crusher a super-cute Halloween costume.
♥ Buy a brownstone! (A fantasy, but a girl can dream…)
♥ Do all of my mending.
♥ Make cupcakes with some sort of filling.
♥ Reduce my internal negativity.
♥ Call my brothers and sisters-in-law every week (or at least more frequently).
♥ Read a novel. (Maybe this one?) Still not done! I'm not counting Game of Thrones or all the nonfiction birth and baby books I've been reading.
♥ Promote peace.
♥ Get a unicorn face painting!
♥ Be noticeably sweeter to my husband.
♥ Run a full marathon in 4:30.
♥ Run a sub-2-hour half marathon. (This may be impossible.)
♥ Run a trail marathon.
♥ Make a quilt.
♥ Try to live in the moment.
♥ Travel outside of the country with Kenneth.
♥ Attend the opening of the Basquiat exhibition at the Brooklyn Museum in April.
♥ Complete a triathlon.
♥ Complete my 10th full marathon. Hopefully, the 2015 NYC Marathon in November.
♥ Teach Kenneth some baby sign language.
————
Completed items:
This list could get really long!
♥ Embark on a grand adventure! Done! Kenneth is here!!
♥ Travel to Europe! A month traveling throughout Europe with my true love in April was the trip of a lifetime.
♥ Bake a loaf of bread from scratch. I used this sourdough recipe and it was fantastic!
♥ Stop biting my nails. For good. I believe I have accomplished this by keeping my nails polished.
♥ Become an adult. Tough times make tough people… and I think I'm getting stronger.
♥ Eat less candy. I've been having a good amount of success eating whole, real food, and a lot of it!
♥ Start taking a weekly yoga class. Changing this to: Cross train once a week. No problem. I now cross train more than I run: swimming, spinning, yoga.
♥ Experience Mardi Gras in New Orleans! Had a great time with my brother Seth.
♥ Learn to tell a really funny, family-friendly joke. Why did the fish get kicked out of school? ………because he was caught with sea WEED!
♥ Figure out how to style my hair in loose waves/curls. I think this counts.
♥ Visit The Cloisters. Went with mom & dad in June.
♥ Run the San Diego Marathon. For the second time. Done!
♥ Attend a taping of the Wendy Williams Show. Done and it was awesome.
♥ Take an overnight trip with my husband that is not at a relative's house.
♥ Take my donation pile to the thrift store. Housing Works got a big pile!
♥ Buy a really beautiful and practical dress. Thank you Rebecca Taylor!
♥ Go to dinner at Al Di La.
♥ Run the NYC marathon!
♥ Watch every episode of Tosh.0.
♥ Make blueberry pancakes.
♥ Get the Florence + The Machine album on vinyl.
♥ Watch Meet Me in St. Louis again.
♥ Drive upstate to see the autumn foliage.
♥ Visit all five boroughs in NYC (should happen during the marathon).
♥ Get a new laptop. Love my Air!
♥ Reduce the amount of time I spend on Facebook. Done, except for today.
♥ Vote! Always.
♥ Buy awesome, new, flattering jeans. These from J.Crew.
♥ Force Travis to watch Star Trek: Generations with me. He loved it.
————
You can check out my past lists here:
————
What is on your list? What should I add to mine?