So, I have already complained quite enough about my complete lack of talent in all areas of athletics, but I am working hard to change my attitude, cancel the pity party, and work with what I DO have — which is determination and a love of exercise.
I've been so discouraged by what seems like zero progress in my training (read: speed) that I stopped appreciating what I AM able to do… and I've actually been doing a lot.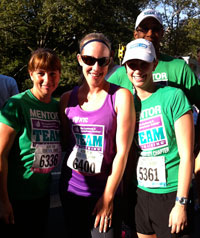 On Thursday, I tackled another tough session with Coach Jaz at Pace4Success boot camp. The boot camp classes are so difficult because we do strength exercises that are unfamiliar and work your full body, not just major muscle groups. I am always sore after the sessions, but I can tell that I am getting a little bit better at keeping up during the workout. I can do real pushups (not many, but still) and hold a plank for at least a minute. That is something!
On Saturday, I ran a four-mile race in Central Park. The photo was taken at the starting line with my teammates Suzy, Casey, and Archie. I concentrated on my form during the race and ended up with a pretty acceptable time (for me) — 39 minutes, sub-10-minute miles. I wasn't full-out racing the event, or pushing myself to major discomfort, but I was taking it seriously. I am glad to have finally had a solid race and a faster pace.
On Sunday, Travis and I managed to get ourselves out of the house by 9 am and meet friends for a long run. We finished 10 miles in the hot sun down Ocean Parkway – I am pretty impressed with our comittment to our training schedule!
And today is my rest day. Whew!
—–
How much exercise does one need to do in order to be considered fit? That is a hard question, because despite all of my effort I still feel that I have a lot further to go…
I have done a lot of exercise in my life. Starting with a childhood full of hard core dance, a high school experience full of volleyball, track, and cross country, a marathon at 19, running clubs, gym memberships, Jazzercise, Pilates, TaeBo, spinning, a cross training club, more road races that I can count, yoga, Zumba, boot camp, and even the Gwyneth Paltrow endorsed Tracy Anderson Method — I feel like I have done it all! (And, yes — A few of my readers have let me know that I may have an unhealthy obsession with Gwyneth. I will seek help.)
I watched the IronMan World Championships on Sunday and compared to those competitors I might as well be a couch potato… BUT maybe I am getting there… not to IronMan status by any means, but by the time I complete my third full marathon this October, I think I will be on my way to actually feeling like an athlete. A slow, silly athlete, but one just the same. And if I can accomplish my goal of losing a few pounds and adjust my attitude on beauty, I think I'll be in a really healthy place! Maybe I'll train for a triathlon next…
What do you think? What does it mean to be "fit"?