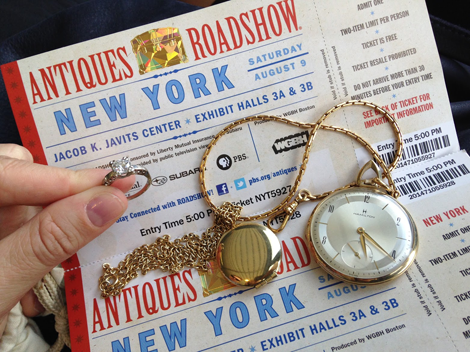 On August 9th, Travis and I were lucky enough to get to attend the taping of Antiques Roadshow in NYC! We had both entered the ticket lottery for the event, but didn't win. BUT then our friend Lawrence came through for us and somehow magically got us tickets! (I still don't know how he did it, but I owe him lots of thanks.)
Antiques Roadshow might just be my favorite television show. Travis and I watch every new episode. Sure, it can be a little bit repetitive (lots of Tiffany lamps!) but I love seeing any of the art and jewelry appraisals. Plus, it is fascinating to see what people collect!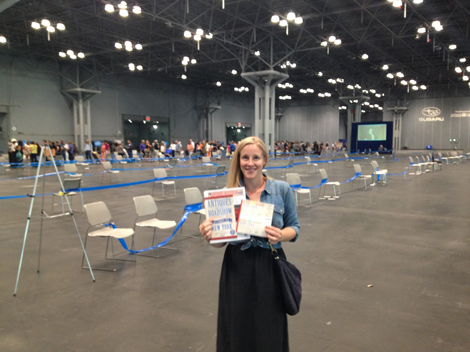 If you don't watch Antiques Roadshow, here is the basic idea: the producers and appraisers go to different cities and locals bring in their antiques to see if they are worth anything. The good stuff gets taped for the show. It has been running (originally on the BBC) since 1979, and it has gotten so popular in the US that they have to limit tickets to each taping event. The taping in NYC was held at the giant Javits Convention Center. Our tickets indicated the latest arrival time of 5 pm, so by the time we had arrived, the lines were apparently much shorter than what they had been earlier. But we still spent more than two hours in line for our first appraisal!!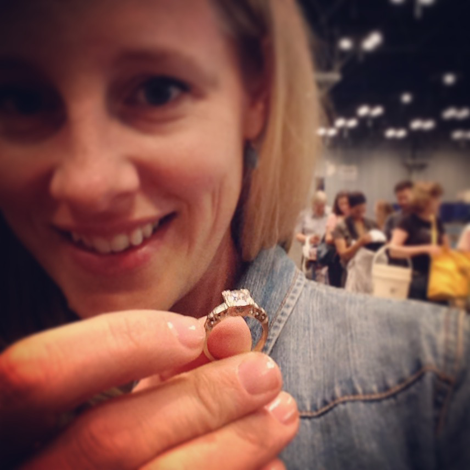 Each visitor to the taping MUST bring at least one antique, and can bring up to two. Travis and I brought: my great-grandmother's diamond ring, my other great-grandmother's locket, Travis' great-grandfather's retirement watch, and our original first generation iPod.
We went in knowing that our antiques were not spectacular, and they ended up appraising for about what we expected… not much. The "collectibles" appraiser thought the iPod was funny, but didn't have any idea of what it was worth. He said to check eBay. Ha. The one surprise was that they said the diamond ring could not have been from the 20s… it was made no earlier than 1938, they said. Hmmmmmm. So maybe it was not my great-grandmother's original engagement ring?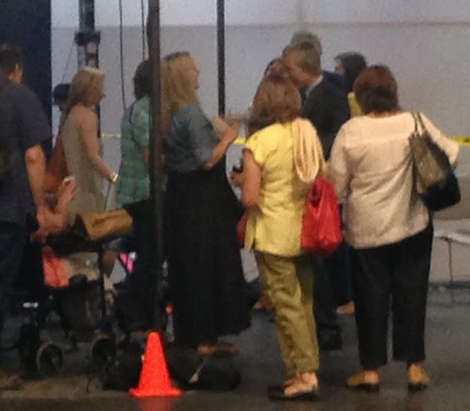 The thrill of the day was when I got to meet the twin furniture appraisers known as the Keno Brothers (seen above) and the show host, Mark Walberg (seen below).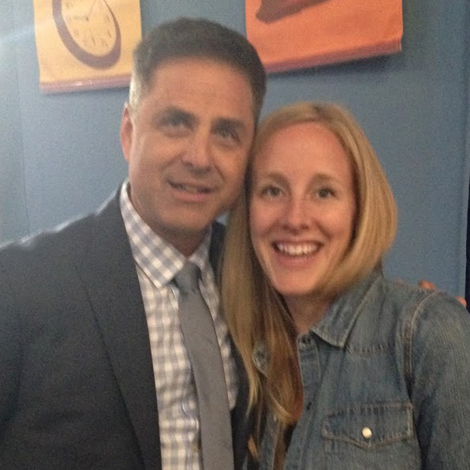 They were all really friendly. I was impressed that they were as chatty and accommodating as they were since it was the end of a very long day for them. I suppressed my embarrassment and asked for each of their autographs! Travis and I had a plan to show off my autographed ticket in the "feedback booth" and say we were bringing it back for Antiques Roadshow 2050… but we chickened out when we saw the line for the booth… too much line standing for one day!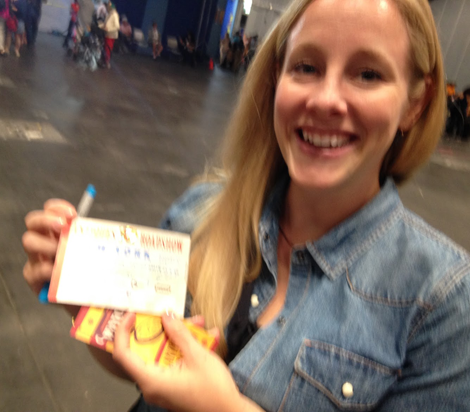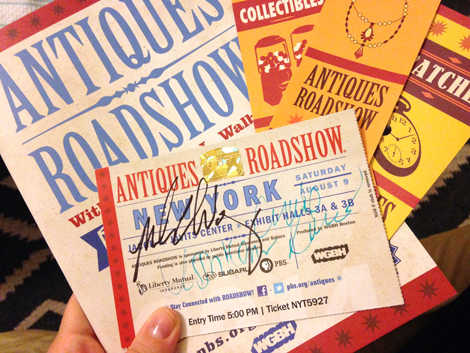 Overall, it was a really fun experience. Lots of standing in line, but it was fascinating to get a peek at what other attendees had brought for appraisal. There were a lot of watches, jewelry, and prints.
I am really excited to see the final episode when it airs in the fall! Travis and I most likely will NOT be on tv, but we *might* be in the background of a painting appraisal… watch for us!!